Anyone who knows rock and roll in Las Vegas knows that Vamp'd is a venue that attracts talent from all over. Yet again, this has proven to be the finest place for rock and roll in the Vegas Valley. John Corabi played an acoustic set opening up for Count's 77, with both acts playing to a packed house of Vegas rock and rollers!
John Corabi's name might not be one you instantly recognize, but to a core group of classic hard rock fans, it is certainly an important one. First making his mark on the music world in a band called the Scream, Corabi would later rise to prominence in the 1990s as Vince Neil's replacement in Motley Crue, singing on their 1994 self-titled comeback record. In the time since his short-lived stint in Crue, he has also played in Union alongside former KISS guitarist Bruce Kulick, and has done a number of other side projects and guest appearances as well. His latest release is an unplugged CD that came out in 2012.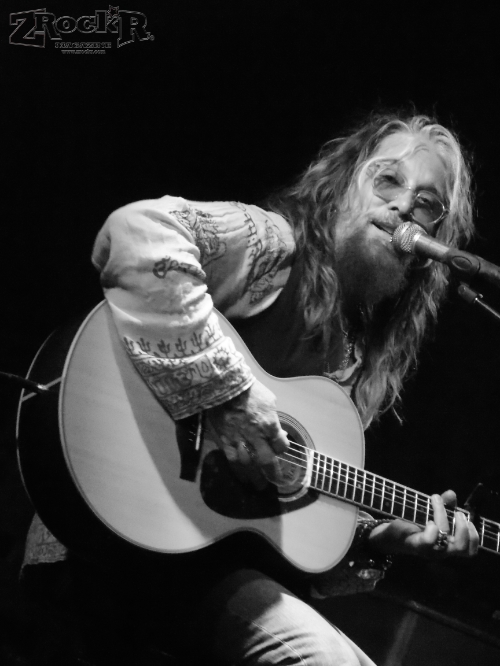 John Corabi's solo acoustic shows are, quite literally, solo shows – this is Corabi on stage with an acoustic guitar by himself, and no other musicians. Despite being the so-called "opener" there is no doubt that countless people in attendance went out to see this rock legend doing his own thing as well. Corabi had done a similar acoustic show a few months back, and it was good to see Vamp'd get him to return to the venue.
When it comes to doing these acoustic shows in a small intimate setting, absolutely no one beats John Corabi. His playing is superb, and his songs cover a variety of styles, from faster paced stuff to more melodic, thought provoking numbers. He also has no shortage of things to say to the crowd, and even interacted plenty with people that were crowded around the stage to watch. Corabi's playing is outdone only by his personality; he had plenty of stories to tell about his past, what inspired songs, and some ridiculous situations he got himself into over the years. Amongst his stories were him humiliating himself around Aerosmith members, one that proved to be a huge hit with the audience based on the level of laughter. Corabi's personality and setlist alike made this a memorable night; some musical highlights included a crowd interaction version of Hooligan's Holiday from his Motley Crue days, and a cover of Aerosmith's Seasons of Wither.
Corabi's intimate approaches to doing acoustic shows always make them the highlight of an evening, even if he is not the so-called headliner. According to recent reports, he will soon be going back out on the road and doing electric shows, performing the 1994 Motley Crue album; here is hoping one of those will hit up Vamp'd as well!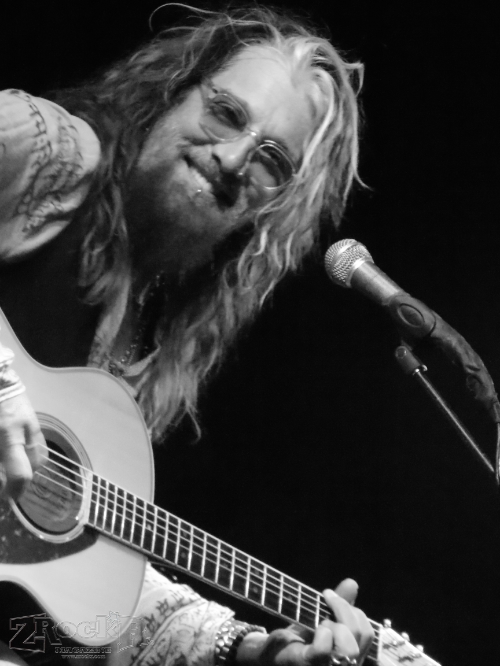 Of course, for anyone that lives out here in Vegas, Danny "The Count" Koker is a man that requires no introduction. As the owner of Vamp'd and star of Counting Cars on the History Channel, he is well known to locals and tourists alike. Koker owns Vamp'd, Count's Kustoms (his auto repair business) and the Count's Tattoo Company at the Rio Hotel and Casino. A few years back, Koker surprised Las Vegans by taking things one further, teaming himself up with some of the best musicians in Vegas. The band, Count's 77 (originally Zito 77) comprises Koker, guitarists John Zito and Stoney Curtis, bassist Barry Barnes, drummer Paul DiSibio, and their newest member, keyboardist Tommy Paris (formerly of Britny Fox). The band released their self-titled debut CD earlier this year on Shrapnel Records, produced by the legendary Mike Varney.
This rock and roll fan will be the first to admit that having Koker sing in a band seemed like a bit of a gimmick at first, but their shows quickly won me over – the man has a rock and roll voice that you might not expect at first glance! Over time, their shows shifted from being entirely comprised of covers to incorporating original material. In fact, the band's CD is all original songs aside from two covers that were put on there as "bonus tracks." The band's shows now are a mixture of covers and original material alike.
The night was made all the more special by the inclusion of a special guest musician who would play on a few tracks with the band – Robyn Robbins. Robbins is a co-founder of Bob Seger's classic Silver Bullet Band. In fact, when you listen to that band's classic Live Bullet LP, this is the man whose keyboard/organ parts you hear!
This show kicked off with a mixture of original material from the band and covers alike; in no time flat Vamp'd was a packed house. Deep Purple and Yes had been doing shows earlier this evening, so it became clear that much of the people traffic stemmed from those other shows ending. In either event, it is great to see this many people coming out to the shows to support some of the best musicians in Vegas.
Robbins first joined the band a few tracks later, and the band played a medley of Bob Seger classics, including Travelin' Man, Beautiful Loser, and Ramblin' Gamblin' Man. It is great to see Koker and company doing justice to the classics as well as their original material; all of this goes a long way in the long run, and it comes as no surprise that they are able to draw in such big crowds at these shows these days. John Corabi joined Koker and company for a rendition of the old blues standard, Train Kept-a-Rollin', much to the delight of fans.
Of course, Koker and company always find ways to keep things fresh, including surprises and crowd interaction alike. They have a charisma on stage that must be seen to be believed, and throughout the night they kept this fan's interest and then some. At one point Koker even surprised the audience by coming out in the middle of the crowd, mid-song, still singing into his cordless microphone! It is little surprises and unexpected occurrences like these that really stick in a fan's mind long after the show is through. The night was closed out with an encore Led Zeppelin medley, which you could tell the crowd was loving.
It should come as no surprise that Count's 77 kept the interest of this audience with their charismatic, high energy stage show, and John Corabi made for an excellent opener. With Count's 77 doing regular tours and festival appearances, you may see them coming to a city near you in the near future. Whether you live in Vegas or elsewhere, seeing a Count's 77 show should definitely be on your to do list. In the meantime, why not pick up their CD? It is definitely one of my picks for best rock album so far this year. Whether live or on their album, you cannot go wrong with Count's 77.
All photos ©Stephy Hayward/ZRock'R Magazine