The Sin City Sinners played Vamp'd with special guest Derek Davis of Babylon AD on Thursday, January 22, 2015.
If you are a rock and roll fan in Las Vegas, there is no escaping the Sin City Sinners. Beginning in 2007, spun off from an older "Sin City All Stars" band, the group has been rocking Vegas for the better part of a decade. Their fanbase has expanded to include people all across the United States, and the entire world at large. What began as a "jam band" of sorts has become something far bigger than the band members likely ever anticipated!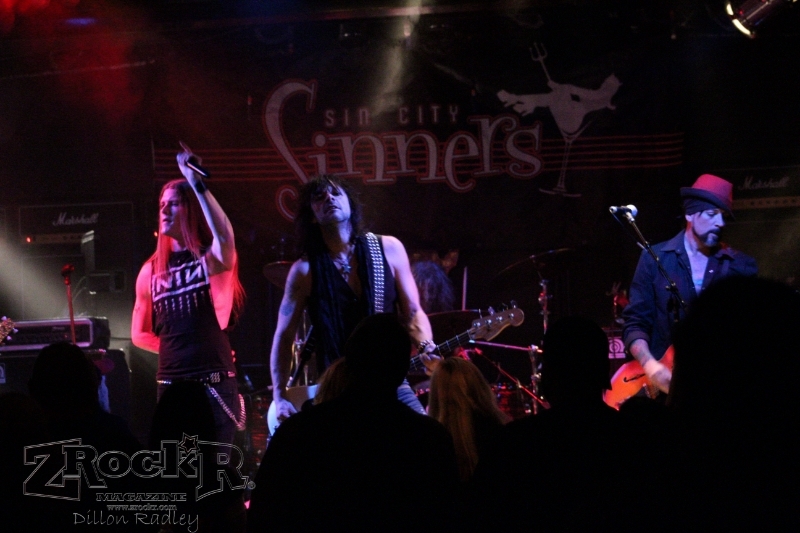 The current lineup of the Sin City Sinners includes Faster Pussycat co-founder Brent Muscat on guitar, Jizzy Pearl Band and Love Hate member Michael "Doc" Ellis on guitar, former LA Guns member Scotty Griffin on bass, former Raging Slab member Rob "Boom Boom" Cournoyer on drums, and Joshua Alan on vocals, formerly of Vegas-based band BlackBox13. However, the band members do regularly rotate vocals on select tracks.
Perhaps the most noteworthy feature of Sin City Sinners shows is the fact that the band regularly has guests join them, from local artists and former legends that now call Vegas home to other artists hailing from other places that have noteworthy careers in their own rights. Well over a hundred artists have guested with the band in their eight years together, with many more scheduled for the near future as well.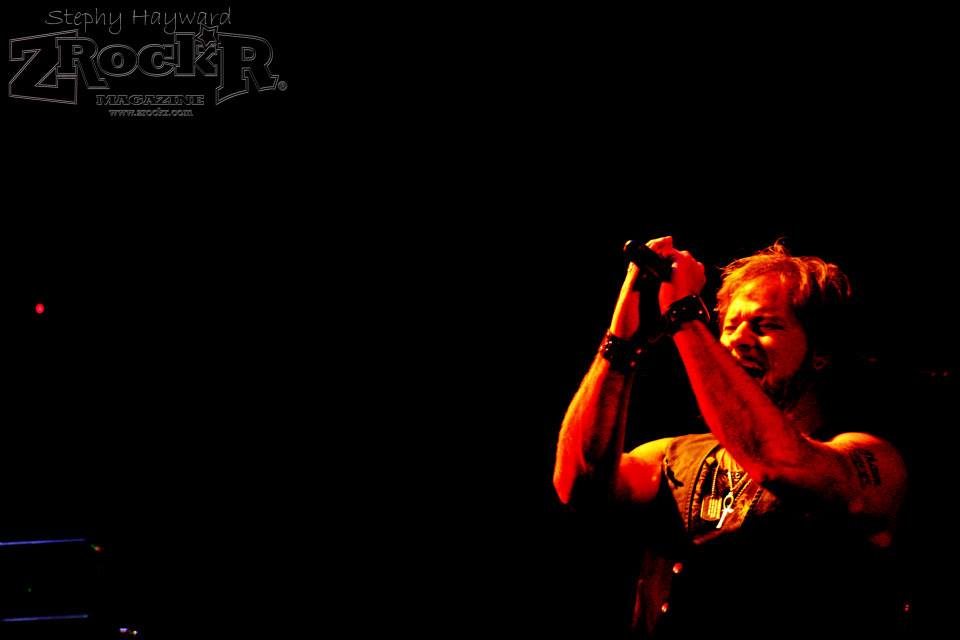 This rock and roll fan was immediately intrigued by the possibility of getting to see the Sinners jam with the great Derek Davis, a member of the criminally underrated Babylon AD. Their debut album was a true classic, featuring gems like "Hammer Swings Down"," Bang Go the Bells", and "The Kid Goes Wild", the latter of which appeared in the film Robocop 2.
A Sin City Sinners show is always full of surprises; you get a mixture of covers and original compositions alike. To date the band has released five CDs, which are an album of mostly original material, an acoustic EP, a covers album, and two Christmas albums. Like their live shows, the albums have included a myriad of guests. The group is currently at work on a sixth album.
This show started off in the typical Sinners fashion for the first half, with the group giving the usual mix of covers and original songs, including a few off the new album they are currently working on. Sinners shows at Vamp'd lately have been, rather unusually, on Thursday nights, but the group still attracted a respectable crowd for it being a Thursday. Tomirae Brown even made a brief guest appearance with the band, singing a cover of "Hard to Handle".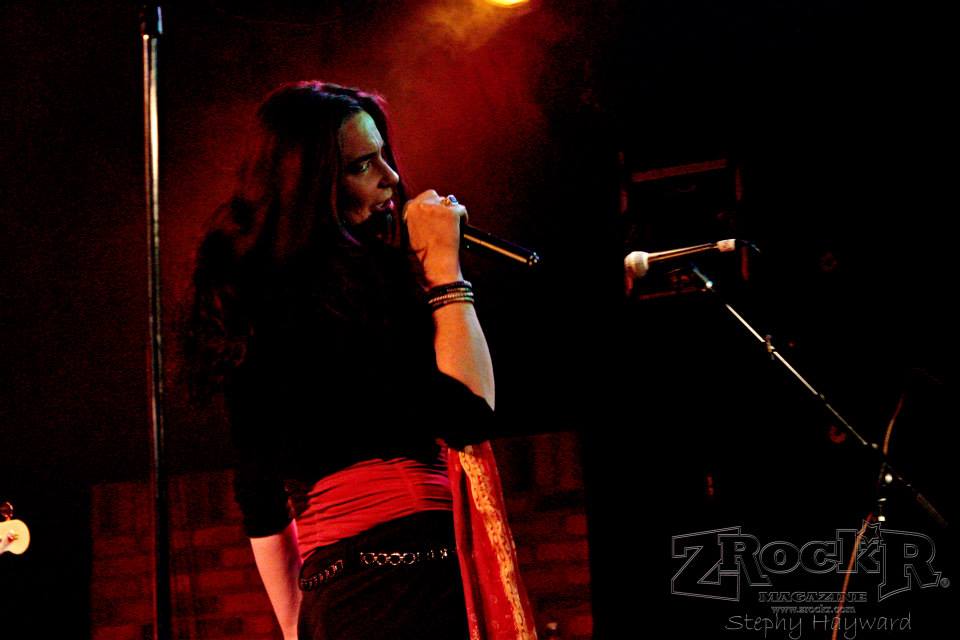 Of course, it was likely the presence of Derek Davis that commanded the crowd; this was his first time playing in Las Vegas in over a decade! Babylon AD never seems to get the proper credit, and it is great to see that the Sinners get guests from all kinds of bands, from mainstream successes of the 1980s to lesser known, more obscure groups who are not as well remembered today. To see Davis in action was definitely a solid experience. In addition to hearing the "Big Three" Babylon AD hits from that band's debut album, we also got to hear him singing some Van Halen and Beatles covers. His "in your face" ferocity on stage has to be seen to be believed; those standing up front at this know definitely know what I mean. Davis was also good enough to come out and sign autographs and take pictures for fans after the show.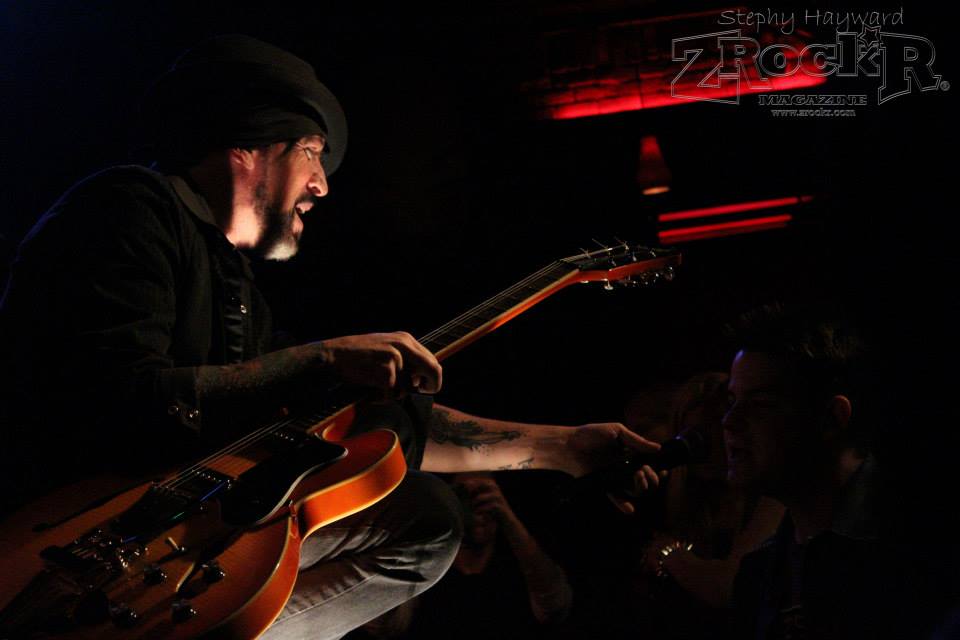 I cannot recommend Sin City Sinners shows enough. You can see these guys a hundred times, and their diverse setlists and guests, planned and surprise alike, keep things interesting. You never get the exact same show twice! If you are a rock and roll fan living in or visiting Vegas, be sure you put their shows on your "to see" list.
All photos © Dillon Radley & Stephy Hayward/ ZRock'R Magazine