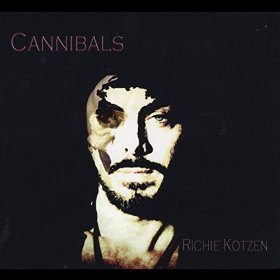 Here at ZRock'R, we are huge Richie Kotzen fans. We love him in Winery Dogs. We love his solo stuff. He sings great, and plays guitar beyond the capabilities of most mortals. We accept the album he recorded with Mr. Big, and we rightfully recognize his album with Poison as far and away the best thing they ever did. Eventually you might get sick of hearing about him, but hopefully not for years and years.
Kotzen's latest album, Cannibals, dropped in the beginning of January. If you only know him for his rock projects, you will definitely be surprised by this one. Cannibals is basically a classic R&B/funk album, with a few rock elements thrown in. Kotzen produced and engineered the album, as well as performing all the instruments on most tracks. He wrote all the songs himself, except for "You," co-written with his daughter August Eve Kotzen, on which she also plays piano.
Overall, it's a solid album, with nothing not to like. However, it doesn't really grab me. One notable exception is the song "I'm All In," which features co-lead vocals from dUg Pinnick, vocalist and bassist of King's X. The song itself is outstanding, and Pinnick's vocals just push it up to the next level. (dUg Pinnick is one of my favorite singers ever, so I thought that might be clouding my judgement. On repeated listening, I just really think it's the standout song on the album.
The album has amazing guitar moments throughout, and is fun to listen to. Kotzen's vocals are fantastic as always. I wish I found it to be more amazing, but it is good. Not great… but good.