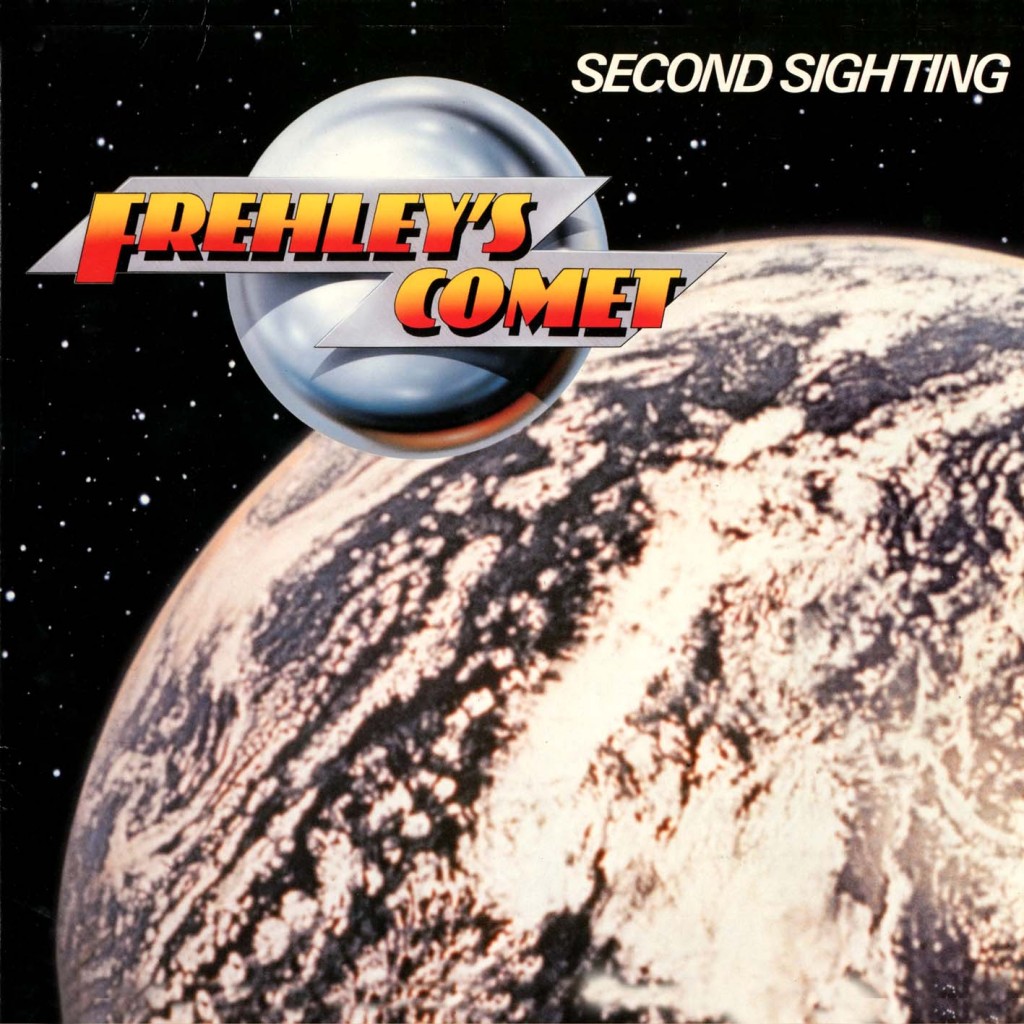 Rock Candy Records reissued Ace Frehley's Second Sighting and Trouble Walkin' albums on CD on November 12, 2013.
In the 1970s, KISS Mania was in full swing. With albums coming out and their name on every product imaginable, you could not escape these makeup-clad rockers. Unfortunately, by the end of the decade, the once great band was largely running on empty. Following the departure of bandmate Peter Criss, Ace Frehley followed suit, leaving the band following the release of their ill-received concept album, Music from the Elder. For several years, the Space Ace was forgotten, fading into obscurity.
Megaforce Records, some years later, saw the potential that this rock icon had, and signed him and his new band, Frehley's Comet, which also featured guitarist/vocalist Tod Howarth, bassist John Regan, and drummer Anton Fig. The debut album from the group, released in 1987, was a success, with anthems like Rock Soldiers and Into the Night leading way for Mr. Frehley's return to the musical spotlight. It was followed up by a live EP, Live + 1, to satiate fans until the next full-length release. An interesting piece of trivia – one of the Megaforce employees who was so strong an advocate to signing Frehley in the latter half of the 1980s was future heavy metal TV/radio host Eddie Trunk.
Rock Candy Records is a UK-based company that specializes in the remastering and reissue of albums on CD, including classic rock, hard rock, heavy metal, AOR, and everything in between, from obscure and forgotten gems to mainstream superstars. Second Sighting (1988) was the second of the two full-length Frehley's Comet records, while Trouble Walkin' (1989) was Frehley's first post-Frehley's Comet solo album, though still using much of the same personnel as the Comet records. It is not clear as to why the first Frehley's Comet album was not remastered and reissued by Rock Candy; legalities may be an issue here.
Second Sighting, the aptly-titled second (and final) Frehley's Comet record, is not quite the classic that their first record was, but that does not stop the Space Ace and company from serving up their share of solid tunes. For this record, drummer Jamie Oldaker replaces Anton Fig, though Fig would return for the Trouble Walkin' album. Some would argue that the sophomore effort tends to be lost in the wake of the first album's popularity and success, but it is one worth rediscovering and revisiting nonetheless.
The major difference between the Frehley's Comet debut and Second Sighting is that on the latter record, fellow guitarist/vocalist Tod Howarth plays a much larger role; this is not surprising considering his compositions on the first record were some of its strongest tracks. That said, this record gives both of these musical visionaries a chance to shine. Opening rocker Insane is one of Ace Frehley's all-time best, and it is a shame this song does not get mentioned more often. Frehley gets another chance to shine in the frontman role in Dancin' with Danger, which is a reworking of a Streetheart song, and a damn good one as well. As was previously mentioned, Howarth gets featured more here than he did on the first record; tracks like the ballad It's Over Now and the AOR-flavored rocker New Kind of Lover are truly underrated classics. There is not a weak track in sight. Is the first Frehley's Comet album superior to this follow-up? It is, but this is still a kick-ass record.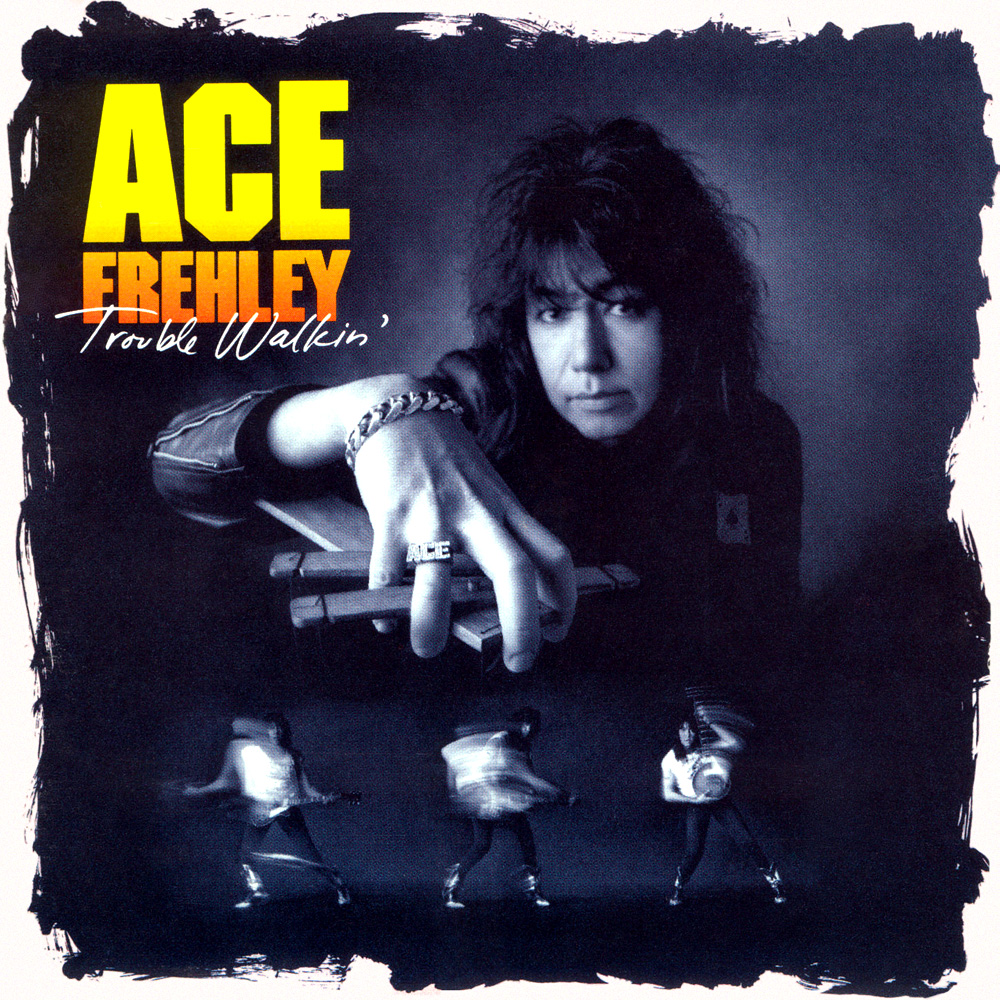 Trouble Walkin' came out the following year, abandoning the Frehley's Comet name. On board for this solo effort were Frehley's Comet members Anton Fig and John Regan, as well as many special guests, including Skid Row members Sebastian Bach, Rachel Bolan and Dave "Snake" Sabo. Other familiar faces include Peppy Castro, Sandy Slavin (formerly of Riot), Richie Scarlet, and even the Space Ace's old KISS bandmate Peter Criss!
People will debate endlessly as to whether or not this album is better than the Frehley's Comet releases; each of the releases have their own merits and qualities. But one thing we can all agree on is that this is a solid all around release from the former KISS guitarist. Highlights include a cover of the Move/ELO classic Do Ya, which Frehley turns into a hard rocker with ease, the rocker Five Card Stud, which was written by Keel guitarist Marc Ferrari, and Back to School, featuring Sebastian Bach on backing vocals. Hide Your Heart is the same song that KISS also recorded in 1989 on their Hot in the Shade album, and while Frehley's take on the song is solid, it cannot top the superior KISS version. Closing out the record is Fractured III, which is one in the "Fractured" series of Ace Frehley instrumentals, which are always worth checking out. Needless to say, no fan should be disappointed in the songs present here.
Rock Candy's reissues of these classic albums feature expanded liner notes packed with information, interviews, photos, and plenty of content every fan should check out at least once. Where the reissues suffer, however, is a complete lack of any kind of audio bonus material. Seriously, why do we not get the Live + 1 EP as bonus tracks on Second Sighting? This feels like a wasted opportunity, though once again, it is likely legalities are to blame here.
These are two albums that were long overdue for reissue. While the lack of audio bonus material is a glaring disappointment, it should not deter die-hard fans of the Space Ace from adding these releases to their collections.