George Ezra is a young singer/songwriter hailing from Hertford, England. His music is strongly influenced by folk and blues, but with a decidedly modern sheen. He is rapidly becoming a worldwide sensation, with recent single "Budapest" charting as far away as the Czech republic, Australia, and New Zealand. His debut full-length album, Wanted on Voyage, was released last summer in the UK, and was released in the US on January 27, 2015.
I was recently able to speak with George via phone from the Columbia Records press office in New York. There was a bit of difficulty with the connection, which has precluded including a transcript of the interview, but I was able to get into some typical guitar nerd subjects with him, as well as some of his songwriting habits.
About 80% of Wanted on Voyage was composed from journals George kept while on a trip across Europe a couple years ago. He kept a journal of everything he saw, people he met, and upon his return, he assembled the songs. He said that one person might have inspired a line in one song, and another informed one phrase in another song, and then the pieces would grow from there, emphasizing that the album isn't specifically a travelogue of his journey. I asked if he had considered writing a book about the travels involved in making the album, mentioning Neil Peart's book Traveling Music, and he said he had considered it, however he wasn't sure he wanted to actually release the journals, as they were a personal diary of the trip. George said he definitely was considering it for possibly a future trip.
Ezra needs to be away from home to write, to be having adventures and seeing new things, however, being on tour is not particularly amenable to that, as it is largely a repetitive process. "I get carted around to a couple of radio stations, then soundcheck, then eat, then the show, so I may as well be at home for all the good it does."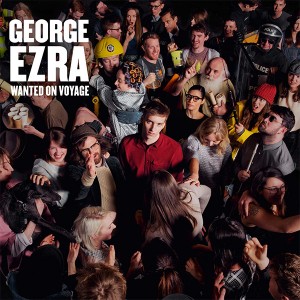 When asked about his songwriting process, he stressed that lyrics are absolutely the first part of the equation, followed by melodies, which he states he is more concerned with than backing guitar parts.
George played keyboards and guitar on the album, aiming for an organic feel as opposed to a more polished sound that is common on contemporary releases. At the same time, he didn't want Wanted on Voyage to just be a throwback album; "Did You Hear the Rain," one of the older songs on the album, which has a darker, more menacing vibe than some of the other tunes, originally started out with a more simple accompaniment, and he mentioned that he and the producer had a lot of fun playing with the arrangement.
Two 1959 Gretsch guitars are heavily favored in his music, although guitar has always been more of a tool or platform for his songwriting. "I never really tried to progress beyond being able to back up my songs," he said. "I could never be someone else's guitar player, which I sort of regret now." George is seriously underselling his playing, in my opinion, as there are a lot of really cool "guitar gems" scattered throughout the album. He tunes down to C standard (standard guitar tuning is E-A-D-G-B-E, low to high, and he keeps the relationship between strings, but lowers all their pitches so that the result is C-F-Bb-Eb-G-C), which resulted from a desire to fill the sound on stage when he was performing in open mic nights earlier in his career.
George Ezra's new album, Wanted on Voyage, was released by Columbia Records on January 27, 2015.