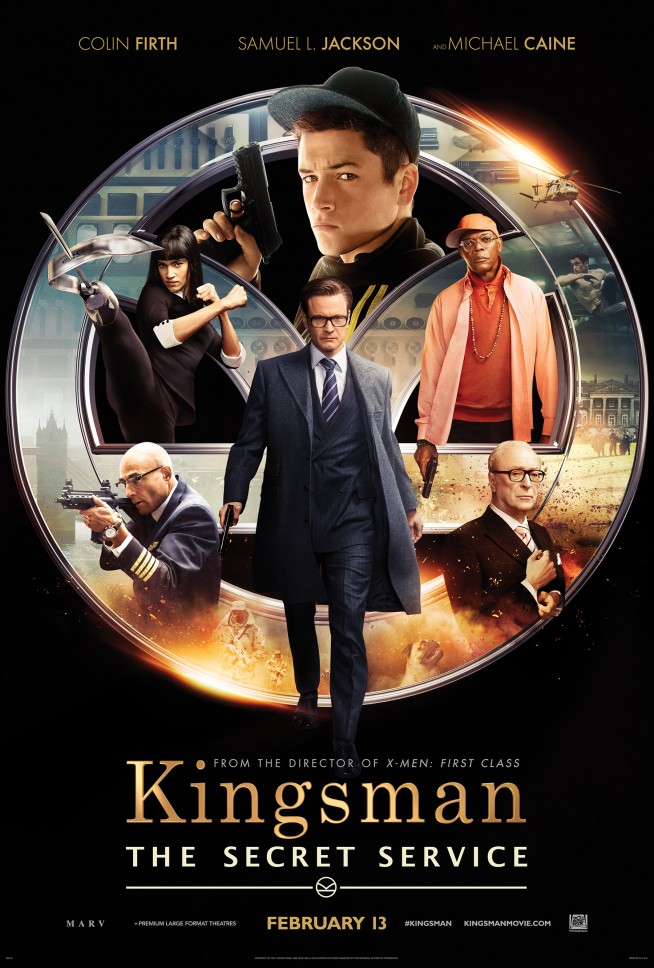 In recent years, director/screen writer Matthew Vaughn has been on a roll. His comic book to film adaptations, including Kick Ass and X-Men First Class, have been some of the best films in the genre. Here, Vaughn tries to work his magic on a lesser-known property, Mark Millar and Dave Gibbons' 2012 graphic novel, The Secret Service. How does the latest film from Vaughn measure up?
It should be noted, however, that Vaughn's film is only loosely based on its source graphic novel, maintaining much of the basic concept but changing situations, characters, and plot elements outright.
Kingsman: The Secret Service is the story of a top-secret organization of gentleman spies/soldiers, who have been doing their part to halt crimes and save the world on multiple occasions for well over a century. When an agent with the group is killed during a rescue mission, a fellow agent ends up recommending an unlikely replacement candidate – Eggsy, the son of a former agent. This young man, despite his potential, has become something of a delinquent. Eggsy and other potential candidates set out on a training program to see if they can make the cut and become a part of this agency.
Meanwhile, Richmond Valentine, an eccentric billionaire entrepreneur, is setting about a potentially deadly scheme to help save the planet. One that will, supposedly, eradicate climate changes and other planetary difficulties, but in the process, will promote a mass genocide that will result in the deaths of billions around the planet. It is up to the Kingsmen to discover Valentine's plot and put a stop to it.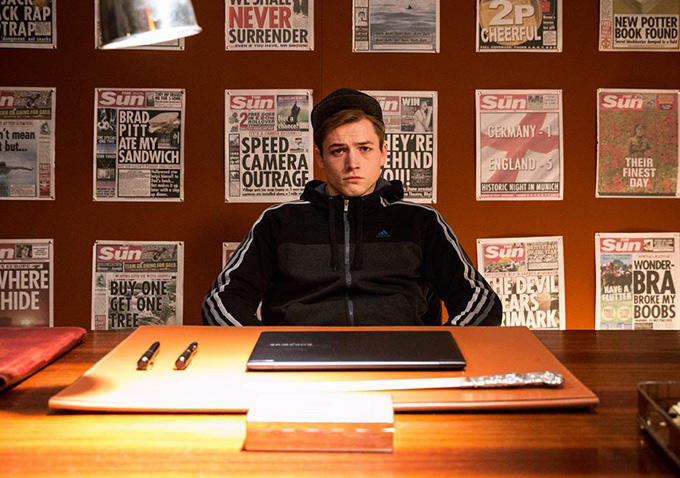 This is one of those movies where my familiarity with the material was limited to trailers I had seen in the theaters in recent months, though Matthew Vaughn's name being attached was definitely a plus. I never thought a film could so expertly combine humor and over-the-top stylized violence, but Kingsman does that, and then some.
The cast of this film is, without question, its greatest asset. The always-great Michael Caine is terrific as the head of the Kingsmen organization, but receives fairly limited screen time due to the action oriented nature of the movie. Up and coming star Taron Egerton is solid as Eggsy, but the two true standouts in this film would have to be Colin Firth and Samuel L. Jackson. Firth is the Kingsman agent who becomes something of a mentor figure to Eggsy, and he steals every scene he is in, whether acting the part of a refined gentleman, or unleashing his fury on the opposition. Similarly, Jackson is outright hilarious as Valentine, who sounds like he has been taking speech lessons from Mike Tyson. Eccentric and hilarious in every single scene he is in, this is one bizarre and outlandish villain I found myself rooting for despite his atrocities and deadly schemes! I will be the first to admit I have not read the original Secret Service graphic novel, but would find it very hard to believe that the antagonist in the actual graphic novel is anywhere near as entertaining as Jackson is in this movie.
The overall tone of the movie is humorous, but still manages to convey enough plot that it never sinks to being campy. You will be laughing nonstop, but also be genuinely concerned with the fate of the world and our heroes. When a major character in the movie dies, you are going to feel it, because this is a film that makes you care about its characters. And that is something that it is not often true in a number of modern films. It is clear the filmmakers are also paying homage to classic spy/secret agent films and the like, and they manage to do this without detracting from the final product.
Of course, no review regarding this movie would be complete without mentioning the level of violence. The trailers will not prepare you for this. I have seen movies where people say they are going to cut each other in half as a threat, but this just might be the first movie where somebody LITERALLY does it! One over-the-top scene of violence in a church results in countless deaths, every single one of which is gory and outright gruesome. If you are at all squeamish, do yourself a favor and stay away from this film. On the other hand, if you are the type that fancies stylized action violence, this just might be the best showcase of it on the big screen in many years!
It is tough to write a conventional review of Kingsman: The Secret Service, because there is nothing else quite like it. Matthew Vaughn has another potential hit on his hands here, and the movie definitely comes strongly recommended to any fan of action, science fiction, or over-the-top gore on screen. But leave the kids at home, and if you are upset by graphic violence in the least, go find another movie.
DISCLAIMER: All images in this review are the property of their respective copyright holders. For promotional use only. All rights reserved.