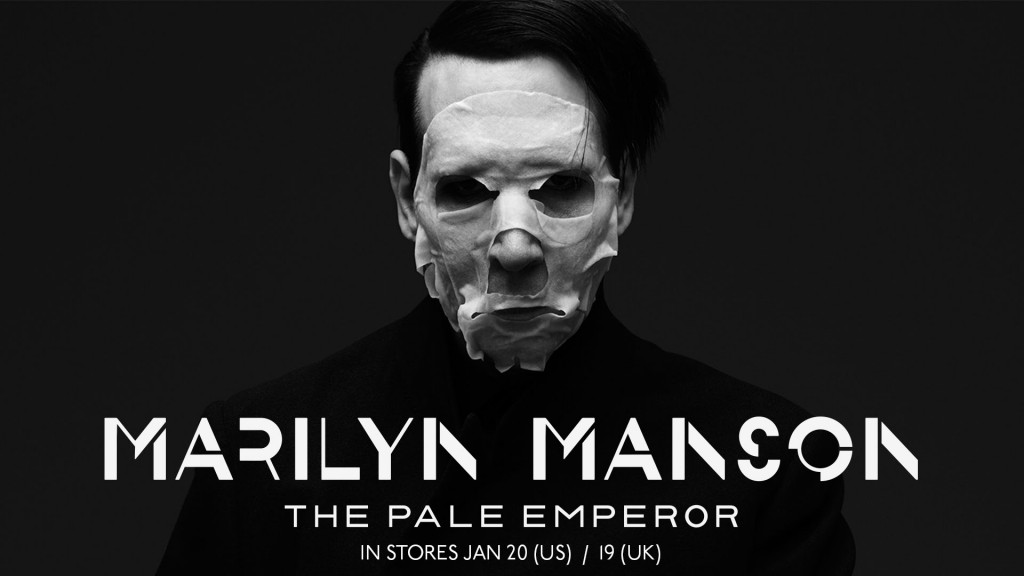 In the age of "the lack of rockstars"… the last few of a dying breed, Mr. Marilyn Manson can always come in and prove that he's still got what it takes to be a top dog.
Most will agree that there's 2 eras for Manson. The 1st era which ranges from 1994's Portrait of an American Family til 2000's Holy Wood. The 2nd era ranging from 2003's Golden Age of Grotesque until now. In this 2nd era of Manson, it's seemed as if he's had to struggle to keep afloat as far as the mainstream goes.
While that's partially true, I'll say that Manson has certainly been in a different mindset. His music, lyrics, and image have proved that.
I wasn't too big of a fan of 2012's Born Villain, but it was decent. 2009's High End of Low was excellent. Then there's everyones favorite (hehehehe)…. 2007's Eat Me, Drink Me, which will always seem a controversial topic. I thought it was fairly good, but not his best of course.
But the focus right now is the newly released The Pale Emperor, which definitely fits within this 2nd era of Manson, although it seemingly seems to be ushering in a new one.
2015 Marilyn Manson seems to be the most focused he's been since the turn of the millennium, post-Holy Wood. A little bit artsy, a little bit industrial-esque, a little bit Doors, with a dash of metal flickered over it.
There's some familiarity spread throughout the album. There's no new ground broken at all. It's all just…
Good.
Really good.
It's sexy, raw, rocking, and smooth in a weird way. It's just right. It's the album he needed to release at this point in his career, and it's an album that longtime Manson fans needed.
I bought the deluxe edition, of course, and I honestly can say there's not a bad song. I don't even really have any standout favorites, even after listening to it multiple times.
But I'll go ahead and pick out a couple… The opening track, Killing Strangers, has a very Puscifer feeling beat and an intense ending. Third Day of a Seven Day Binge just flows really well. Cupid Carries a Gun is another interesting creepy western-y track that reminds me of Rob Zombie's "Devil's Rejects" tune. Odds of Even is the longest track at 7:53, and is almost bluesy in delivery.
Overall there's a sort of Mechanical Animals vibe in a way. There's a TON of groove in the songs, which are very beat and bass driven. The guitar in this album is mostly for extra beef, mood, or added noise and doodle.
What is very much a strong point is Manson's vocals; Which I think are some of the most emotional and "real" to date. There's a lot of feeling going on, and again… I think it relates to what I said about Manson being more focused. He needed an album like this in his life.
I think most can say that we're proud to have this album in our lives as well. A job very well done, Brian. You'll always be an underrated "rockstar", in my view.
Thank you for this worthy CD in my collection and your discography 🙂
9/10