It has been around for over half a century now. Yet all these years later, the James Bond film franchise shows no signs of letting up. Based on a series of novels started by Ian Fleming in 1953, the movie series has gone on to become one of the most successful and popular of all time. In the fall of 2015, Spectre will be released; it is to be the 24th official film in the series (and that is NOT including unofficial films/spoofs/unauthorized adaptations/etc.) With the series reaching this landmark, this fan felt it was time to go back and look at the history of the franchise thus far.
What is it that makes a film series last this long, and maintain its popularity for so many years? There is no one simple answer to that question, but everyone has something about the series that appeals to them. Intriguing, suspense filled plots. High tech gadgetry. Voyages to the most exotic locales of the world. Villains that are every bit as interesting and fun to watch as the heroes. Iconic title songs and pieces of theme music. A supporting cast of characters that ranks amongst cinema's finest. It is a series that has maintained many strong traditions and hallmarks over the years, but continues to bring just enough new and fresh elements into the fold to hold its own against the mega franchises of the day.
It is interesting to note that, when Ian Fleming began writing the novels in the 1950s, they were drastically different from the film series that they would eventually spawn in many ways. In fact, Fleming himself only lived to see the first two films get made; he would die of a heart attack in 1964 while the third was in production. Some substantial changes made to the series for the adaptation to film included making the Bond character more charismatic and likable, adding high tech gadgets that the books lacked, giving the SPECTRE terror organization (Bond's most legendary nemesis) a much larger role, downplaying many of the political elements and Cold War elements in the books, and toning down some content that might be considered politically incorrect and borderline racist by today's standards. Furthermore, the films are in a different order than the novels and some stories barely even resemble the source novel, except for in name!
Everyone is familiar with James Bond himself, the former naval commander turned secret agent with a license to kill. Bond's allies include M, the head of British Intelligence and Bond's superior, Q, the genius who creates much of Bond's high tech gadgetry (and does not much appreciate Bond's misuse of said equipment!), Moneypenny, M's secretary who has a not-so-subtle love for Bond, and American CIA agent Felix Leiter. Bond's primary nemesis is the SPECTRE terror organization, fronted by Ernst Stavro Blofeld, AKA Number One, and features many deadly operatives, though the organization was eventually supplanted and replaced with other villains as the result of an ongoing legal battle behind the scenes. All films up to 2002 are generally considered to have one shared continuity (with a few possible exceptions here and there, but that is subject to debate and open to interpretation) with 2006 marking a reboot of the series.
To date, in the official EON Films chronology, six actors have portrayed James Bond – Sean Connery (1962-1967, 1971), George Lazenby (1969), Roger Moore (1973-1985), Timothy Dalton (1987-1989), Pierce Brosnan (1995-2002), and Daniel Craig (2006-Present Day).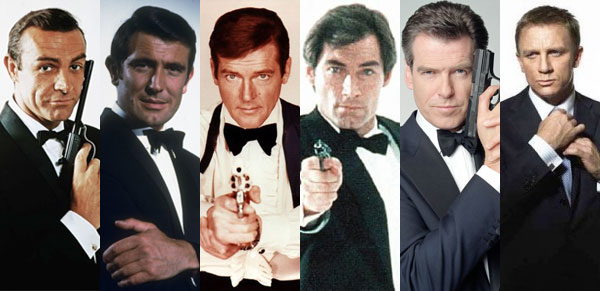 Actors (other than actors portraying Bond) to have started in a substantial amount of films include Bernard Lee as M, Lois Maxwell as Moneypenny, and Desmond Llewelyn as Q; all of these actors appeared in far more films than any actor to play Bond, in fact! Llewelyn is the person holding the record for appearing in more James Bond films than any other actor at 17, he appeared in every movie from 1963-1999, with the exception of 1973's Live and Let Die. Llewelyn died in 1999 at age 85, in a car accident. Judi Dench eventually filled the role of M when the series came back in 1995 (she was the only actor/actress to maintain their role following the series reboot in 2006), and the role of Moneypenny was filled for the remainder of the Brosnan films by the aptly named Samantha Bond.
Without further ado, let's look at the films!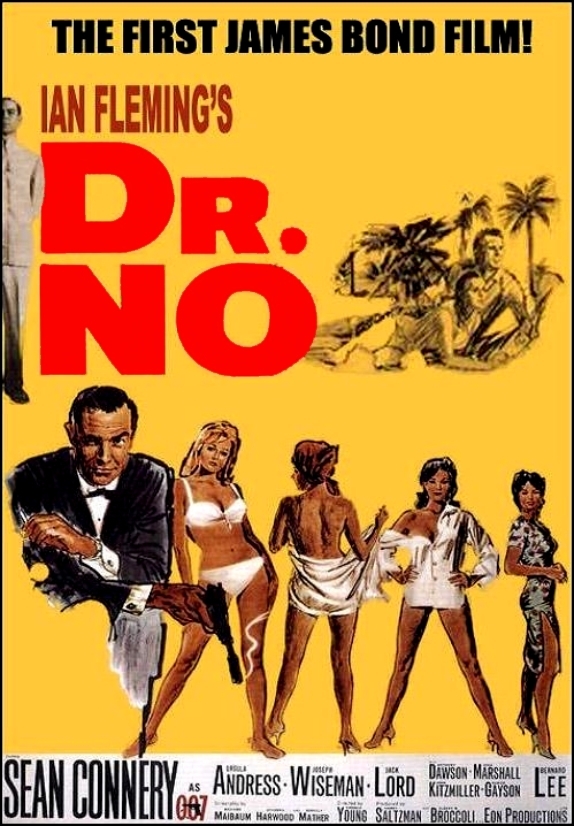 1) Dr. No (1962)
Bond actor: Sean Connery
Title song: "James Bond Theme" by Monty Norman
Cast: Ursula Andress, Jack Lord, Joseph Wiseman, Anthony Dawson
In James Bond's first cinematic outing, he is sent on a mission to Jamaica to learn about the death of a British Intelligence agent who failed to report in at his regularly scheduled time. Investigating a series of strange goings on around the area, Bond joins up with American CIA agent Felix Leiter and a local fisherman, infiltrating a mysterious island in search of Dr. No, a scientist working for the SPECTRE terror agency, who has a plan to use his technology to destroy rockets in an effort to start a third world war.
Dr. No is very raw in comparison to later James Bond films, but still remains enjoyable all these years later. Many of the hallmarks from later movies are noticeably absent; there is no pre-opening credits teaser scene, no true high tech gadgetry, and a fairly basic and straightforward plot. Right from day one, though, Connery was the definitive James Bond. The film also features a strong supporting cast that includes Ursula Andress as a girl Bond encounters en route to Dr. No's lair, and Joseph Wiseman as the creepy, eponymous villain that serves as Bond's first true cinematic nemesis.
Trivia:
-Jack Lord portrays Felix Leiter here. Lord would later be better known for the hit television series Hawaii Five-O.
-The Q character appears here, but played by a different actor than in other films, and under his alternate name, Major Boothroyd.
-All of Ursula Andress' dialogue was dubbed by another actress.
2) From Russia With Love (1964)
Bond actor: Connery
Title song: "From Russia with Love Theme" by John Barry (a version of the song with lyrics appears at the end of the film).
Cast: Robert Shaw, Lotte Lenya, Pedro Armendariz, Daniela Bianchi
The SPECTRE terror agency devises a new plot that it hopes will stir up unrest between rival nations amidst the Cold War. The agency lures James Bond to foreign lands, where a beautiful woman working for the Russians is supposedly defecting and is promising to turn over a decoding device that the British Secret Service is desperately in need of. Teaming up with one of British Intelligence's foreign operatives, Bond sets out to get the girl, and the device. Little does he know that the trap he has walked into involves being stalked by a deadly, psychotic killer in SPECTRE's employ.
From Russia with Love is one of the best all around James Bond movies for a number of reasons. Connery puts in one of his best performances as 007, and this series of villains ranks amongst one of the strongest Bond has ever been up against. The plot is intriguing yet not overwhelming; this is one of the few films to strongly and explicitly bring elements of the Cold War into play (albeit not to the same extent of the source novel). Robert Shaw is absolutely impressive in his role as the deadly SPECTRE agent; countless future Bond villains and henchmen would be copycats of this character that were nowhere near as effective. The action and story alike are satisfying, making this one a must-see for any James Bond fan.
Trivia:
-Walter Gotell has a minor role in this film as SPECTRE agent Morzeny. He would later appear in a number of Bond films in the 1970s and 1980s as General Gogol. This makes him one of the very few actors to appear in multiple films of the franchise in different roles.
-Pedro Armendariz, who portrays British Intelligence contact Kerim Bey, was terminally ill with cancer while making the movie, having taken on the role to support for his family prior to his death. He committed suicide with a gun he smuggled into the hospital following the filming of his scenes; his death came some months prior to the film's release.
-In the source novel, the SPECTRE terror agency is not present; Ian Fleming would not introduce them until much later on in the literary series. In the source novel, the Russian SMERSH agency is the villains; this organization is briefly referenced in the film version though.
3) Goldfinger (1964)
Bond actor: Connery
Title song: "Goldfinger" by Shirley Bassey
Cast: Honor Blackman, Gert Frobe, Harold Sakata
James Bond is hot on the trail of Auric Goldfinger, a wealthy businessman who is believed to be illegally smuggling gold from across the world to add to his already vast wealth. Bond follows the criminal mastermind from continent to continent, relying upon his years of experience, his charm, and the latest Q Branch gadgetry. Along the way, Bond uncovers Goldfinger's plot – one that involves detonating a nuclear device in Fort Knox.
Roger Ebert famously referred to Goldfinger as "The Best of the Bonds." This is a tough statement to argue with; fans are quick to put this film at the top of their lists for a number of reasons. Shirley Bassey's iconic title song may very well be the piece of music most associated with the Bond franchise apart from the "James Bond Theme" itself. As Pussy Galore, Honor Blackman is the definitive Bond Girl, and Auric Goldfinger is a truly devious villain. Every scene in the film, from the pre-credits teaser sequence to the climax, is a time-tested classic. If, in your life, you only ever see one James Bond movie, make it Goldfinger. It set the standard for everything to come; this one has been imitated but never duplicated.
Trivia:
-All dialogue from Gert Frobe (as the title villain) was dubbed over, as he had a thick accent. Despite this, his actual undubbed voice can be heard in trailers for the film. The film was actually banned in some countries due to Frobe's former ties to the Nazi Party, but the ban was lifted when a Jewish family came forward to praise Frobe from protecting them from Nazi persecution during World War II.
-This is the only Sean Connery-era James Bond film that does not contain references to Blofeld or the SPECTRE terror agency. Despite this, Auric Goldfinger does appear to be wearing a SPECTRE ring during some appearances in the movie, and spin-off media including video games tie the character to the organization. Goldfinger's first name, Auric, is derived from aurum, which is Latin for gold.
-Aside from this film, Honor Blackman (who portrays legendary Bond Girl Pussy Galore) was best known for her role in the 1960s UK television series, The Avengers (this is a British television spy series that is in no way related to the Marvel comic of the same name).
4) Thunderball (1965)
Bond actor: Connery
Title song: "Thunderball" by Tom Jones
Cast: Adolfo Celi, Claudine Auger, Luciana Paluzzi
James Bond heads down to the Caribbean when two nuclear weapons go missing during a NATO training exercise. The plan is actually the mastermind of Emilio Largo, the Number Two man in the SPECTRE terror organization. Bond must do battle on exotic shores and beneath the waves, crossing paths with friends and foes alike to prevent a deadly nuclear strike from leveling one of the world's major cities.
Thunderball is a solid James Bond outing; any film with Connery is good due to his presence alone. Admittedly, this film shows its age a little more than some from the classic Connery period, largely due to the overabundance of underwater scenes, which are considerably overused, largely in the film's climax. Likewise, an overlong run time is definitely noticeable in more than a few places. That said, this film is still classic James Bond, with many iconic moments and a truly memorable villain. An average Connery Bond beats out just about anything from a later era.
Trivia:
-Emilio Largo wears an eye patch and is SPECTRE's "Number Two" man. This character was largely the inspiration for the Austin Powers' franchise's Number Two character, played by Robert Wagner. Likewise, Powers' arch-nemesis Dr. Evil has a conference room with chairs that allow him to execute incompetent or insubordinate henchman, much like Blofeld does in this film.
-The Fiona Volpe character was not in the original source novel. In fact, Luciana Paluzzi, who played Volpe, had auditioned for the part of Domino (the "good girl" in the movie).
-This film and its source novel were the source of a legal battle between Kevin McClory and the EON Films production team; McClory co-created the SPECTRE terror agency and this would be the result of many years of deliberating in the courts. McClory's producer credit in the movie is largely a part of this legal battle. McClory would eventually create the unofficial 1983 James Bond film, Never Say Never Again (with Sean Connery returning) as a result of all of this.
5) You Only Live Twice (1967)
Bond actor: Connery
Title song: "You Only Live Twice" by Nancy Sinatra
Cast: Akiko Wakabayashi, Mie Hama, Tetsuro Tamba, Teru Shimada, Donald Pleasance
When an American spacecraft goes missing, the Americans are quick to blame the Russians, amidst the heat of the Cold War. But there are other theories. Faking his death to throw off his enemies, James Bond heads to Japan to begin investigating the possibilities firsthand. It is not long before these conspiracies heat up, with the possibility of there being an outbreak of war over these accusations. Bond teams up with some new Japanese allies in his efforts, and finds himself face to face with the deadliest enemies and obstacles he has ever encountered.
This film tends to get a mixed reception, but I find it to be one of the best of the Connery era. This movie has everything you could ever want in a James Bond movie – exotic locales, sexy women, deadly enemies, and an intriguing plot. This would be Connery's last truly great outing at 007, and it makes for solid viewing from start to finish. Admittedly, some parts of the film feel a little contrived, dated, and over the top, but that does not stop the fans from enjoying this one.
Trivia:
-The screenplay for this film was written by legendary children's author Roald Dahl. Dahl's best-known books for kids include Charlie and the Chocolate Factory, Matilda, and James and the Giant Peach.
-Numerous actors have portrayed SPECTRE leader Ernst Stavro Blofeld on screen, however this Donald Pleasance incarnation is the most famous, largely due to it being the inspiration for the Dr. Evil character in the Austin Powers movies. Pleasance would later gain a resurgence in fame, playing Dr. Sam Loomis in the Halloween film series.
-Aside from the Japanese setting and some of the characters, this film has next to nothing in common with its original source novel (this gets more common as the series goes along, with some of the later films borrowing nothing other than Ian Fleming novel and short story titles).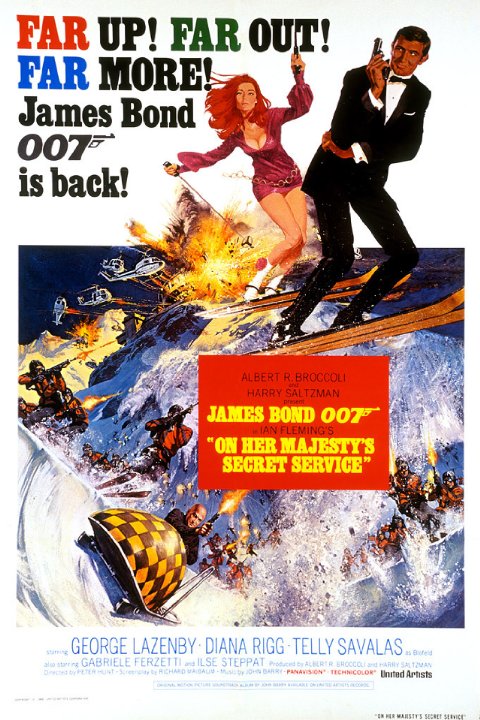 6) On Her Majesty's Secret Service (1969)
Bond actor: George Lazenby
Title song: "On Her Majesty's Secret Service Theme" by John Barry ("All the Time in the World" by Louis Armstrong is featured prominently in the film, but is not the title sequence song).
Cast: Telly Savalas, Diana Rigg, Ilse Steppat
James Bond has been chasing after Blofeld and SPECTRE for quite some time with no results, so M takes him off the assignment. But soon enough, Bond has a lead that might prove to be most promising, with Draco, a criminal lord that has potentially useful information that could take Bond right to SPECTRE's elusive leader. Romancing the beautiful, distraught daughter of Draco, Bond continues on his mission, and quickly finds himself hot on the trail of one of Blofeld's most dastardly schemes yet.
Hands down, this is the most underrated film in the James Bond series. Lazenby only opted to do one film as 007, and while he may not have been the best long-term actor for the franchise in either event, the positives far outweigh the negatives here. The film is admittedly light on action and gadgetry, but scores points for its more human approach to the character of James Bond. While the run time is a bit overlong and a few scenes are stretched longer than necessary, this is one of the few Bond films true to the feel of the original Fleming novel. An unexpected ending will leave an impact on the viewer long after the movie has ended as well. Say what you will about Lazenby's young age and relative inexperience in the role, OHMSS is one of the best films in the series.
Trivia:
-When Sean Connery walked away from the Bond role, one of the people considered to fill the role was Adam West (YES, the 60s Batman actor!) West declined the role as he felt the part should be played by someone from the UK. Ironically, George Lazenby, who played the part in this movie, is actually Australian.
-The opening credits sequence plays clips from all of the James Bond movies released up to this point, making it one of the few times in the franchise that footage from earlier movies is used directly and explicitly. It is also one of the few opening credits sequences to use an original instrumental theme rather than a traditional song with lyrics, like most of the films.
-Telly Savalas plays Blofeld in this film. Savalas would later gain great fame as the title character on the television series Kojak.
7) Diamonds are Forever (1971)
Bond actor: Connery
Title song: "Diamonds are Forever" by Shirley Bassey
Cast: Jimmy Dean, Lana Wood, Charles Gray, Bruce Cabot, Bruce Glover
James Bond is hot on the trail of diamond smugglers running a number of illegal operations, with countless people ending up dead in the process. Bond pursues the smugglers, only to find out that there is a larger enemy at the heart of it all. One that Bond has faced before.
Ugh. This is where the James Bond series took an enormous nosedive. The camp tone of this film means it has aged more poorly than Connery's earlier outings as 007. Blofeld was not needed in this film; he did not appear in the source novel and you cannot help but wonder if they would have been better off just using a different character; Charles Gray is horribly wrong for the part. Two of his henchmen are horribly outdated homosexual stereotypes, and while the movie itself is not entirely terrible, the camp tone can be felt from start to finish. The "big finale" feels downright pitiful compared to the ones in earlier films. It is cool getting to see scenes of an old Las Vegas (I live literally five minutes from the crematory/cemetery seen in the film!), but it is a mess of a movie that feels like a hodgepodge of half-finished ideas and a nonsensical plot.
Trivia:
-The Willard Whyte character, portrayed by Jimmy Dean, is meant to be a parody/homage of Howard Hughes. YES, this is the same Jimmy Dean that had a country music hit with "Big Bad John" in the early 1960s, and started the Jimmy Dean sausage company.
-Charles Gray plays Blofeld in this film. His best-known role, however, is probably the criminologist in The Rocky Horror Picture Show. He had previously portrayed the Dikko Henderson character (an ally) in You Only Live Twice.
-Final film appearance of Bruce Cabot. Cabot had an extensive film career spanning decades. One of his best known film appearances was in the original 1933 King Kong.
8) Live and Let Die (1973)
Bond actor: Roger Moore
Title song: "Live and Let Die" by Paul McCartney and Wings
Cast: Jane Seymour, Yaphet Kotto, David Hedison
Three British agents have been killed in a 24-hour period, so M sends Bond to investigate the goings on. Heading to Harlem with CIA buddy Felix Leiter, our beloved OO agent embarks on a crusade that takes him from the heart of New York to mysterious islands in the Caribbean. Along the way he crosses paths with one of his most interesting casts of friends and foes to date, from witch doctors and drug lords, to psychics and double agents alike.
Moore's first outing as James Bond is one of his best in the role, it is just a shame that so much of the movie feels dated. This was the first James Bond movie to embark upon an atrocious trend of capitalizing on what was popular at the time, in this case blaxploitation cinema. The villains, while many of them have their share of interesting personalities and some good performances, are horribly dated stereotypes, in some cases, literally driving around in pimpmobiles. There are some good action scenes, but an overlong boat chase, which introduces the equally dated Sheriff JW Pepper character, drags it down despite some interesting highlights. This is not one of the great films in the Bond series, but there are worse ones.
Trivia:
-This is the only James Bond film made between 1963 and 1999 in which Desmond Llewelyn does not appear as Q. Despite this, Q Branch is still mentioned in the film and Bond does use their gadgetry.
-Jane Seymour appears as the psychic, tarot card reading Solitaire. She would later be famed for her role in the television series Dr. Quinn: Medicine Woman.
-This is the only movie in the entire James Bond series in which we do not see Bond in the opening pre-credits teaser sequence, or a look-alike or dummy we are made to believe is Bond.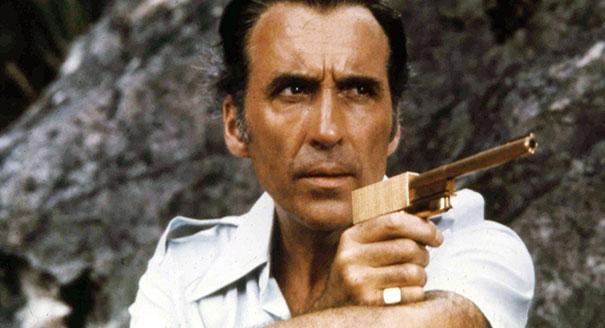 9) The Man with the Golden Gun (1974)
Bond actor: Moore
Title song: "The Man with the Golden Gun" by Lulu
Cast: Herve Villechaize, Christopher Lee, Britt Ekland, Maud Adams
Francisco Scaramanga, a mysterious hitman armed with a trademark Golden Gun and gold bullets to match, draws the attention of the British Secret Service when they receive a golden bullet with Bond's agent number engraved on it. Before long, Bond is back on the case, traveling to the corners of the world, on a path that will lead him to a showdown with his most deadly adversary yet.
Overall, The Man with the Golden Gun is a strictly middle of the road affair for the James Bond series. There are some good solid action sequences, and Christopher Lee definitely ranks amongst the best of the Bond villains. But, the film is weighed down by trying to cram too much into one movie, with too many locales and subplots. The basic plot itself is fairly minimal, simple and to the point, but the filmmakers seemed to feel the need to insert an "energy crisis" storyline which was totally unnecessary on top of everything else. Sheriff JW Pepper makes an unneeded return as well in some of the chase scenes, but fortunately, the character would not return a third time. This is not a perfect movie, but it is still worth watching; Lee's performance as the bad guy is definitely one of its true assets.
Trivia:
-Christopher Lee was Ian Fleming's cousin by marriage. Previously, Fleming had considered Lee for the title role in Dr. No. Other roles Lee is famed for include Dracula in numerous Hammer Films productions, Saruman in The Lord of the Rings films, and Count Dooku/Darth Tyranus in the Star Wars Prequel Trilogy. Sadly, Lee died in 2015.
-Britt Ekland, who stars as one of Bond's love interests in this films, for a period of time, dated future LA Guns singer Phil Lewis.
-The title song for the film is performed by Lulu, best known for performing the title song in the film To Sir with Love. While not used in the finished movie, Alice Cooper actually submitted a potential theme song! Cooper's unused song (also entitled "The Man with the Golden Gun") appears on his 1973 album, Muscle of Love.
10) The Spy Who Loved Me (1977)
Bond actor: Moore
Title song: "Nobody Does it Better" by Carly Simon
Cast: Barbara Bach, Richard Kiel, Walter Gotell, Curd Jurgens
A marine industrialist has ambitions of using nuclear weaponry to level life on the surface of the world, using this to begin life anew with the human race in peaceful cities beneath the ocean waves. When submarines carrying these nuclear devices go missing, James Bond springs into action. Entering into an uneasy partnership with a beautiful Russian agent whose lover was killed by Bond on an earlier mission, he sets out to prevent the extinction of life as we know it.
Now that's more like it. The first two Roger Moore Bond films are average at best, but here we get everything that makes a James Bond movie great. Girls, gadgets, weaponry, a maniacal villain, and an intriguing storyline served up with terrific action sequences. Plus, has there ever been a henchman as intimidating and imposing as Richard Kiel's Jaws? Post-60s Bond movies are a hit and miss affair, but this is the one movie during Moore's tenure as 007 that hits the high notes and then some. Okay, we could have done without Marvin Hamlisch's disco-flavored score, but apart from that one minor problem, this is a damn good movie.
Trivia:
-Barbara Bach, who plays the female lead here, is the real life wife of former Beatle Ringo Starr.
-The film was originally meant to feature Blofeld as the villain, but the filmmakers were unable to due to the ongoing legal issues, forcing them to create an original villain.
-Jaws is the only villain in the entire franchise, prior to the reboot, to appear in more than one film, played by the same actor both times (not counting Blofeld actors from the early films who had their faces hidden and who went uncredited). Other noteworthy roles played by Richard Kiel include an alien in The Twilight Zone episode "To Serve Man," and as Adam Sandler's supervisor in Happy Gilmore.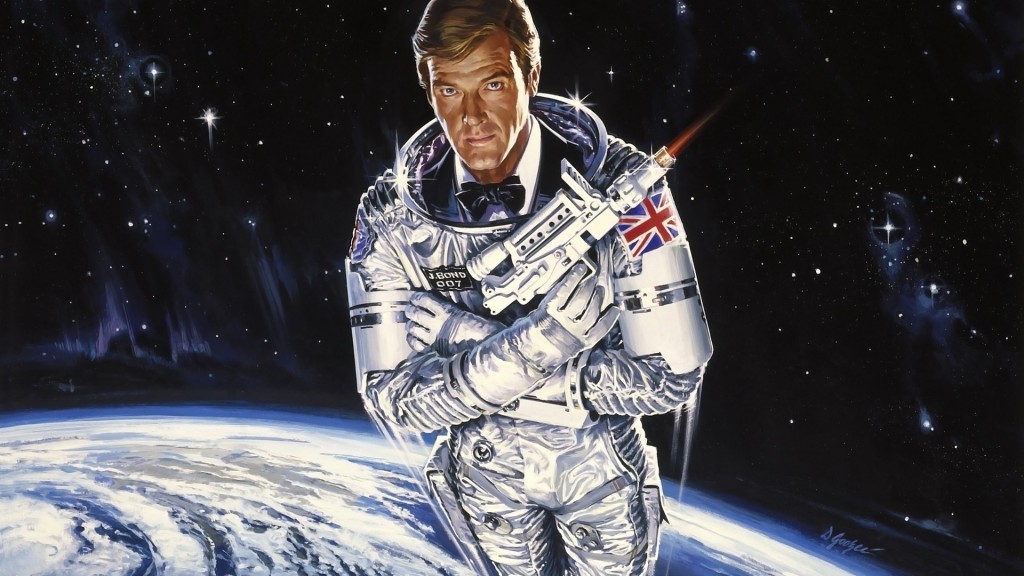 11) Moonraker (1979)
Bond actor: Moore
Title song: "Moonraker" by Shirley Bassey
Cast: Michael Lonsdale, Richard Kiel, Lois Chiles
When a space shuttle goes missing, Bond is called into action to investigate. He meets Hugo Drax, head of a major building firm in charge of shuttle construction, and is immediately suspicious. Bond sets off around the world investigating, with deadly enemies around every corner, and uncovers a deadly plot involving nerve gas to spell extinction for the human race.
The first two thirds of Moonraker is actually solid, classic-style James Bond at its finest, with travels to exotic locales and some great action sequences. And then, James Bond goes into space to battle the villain and stop his scheme. NO, you did not misread that. James Bond in outer space. It actually happens. Moonraker was largely made because the filmmakers wanted to cash in on the space craze that Star Wars helped to launch a few years prior, and the product shows its age in so many ways. There are some great moments throughout the earlier parts of the movie, but then things go over the top and never quite come back down to earth (pardon the pun). Even one of the most menacing characters in the franchise becomes a laughingstock by the time this film ends. Much of the Bond series feels dated in retrospect, and Moonraker is a prime example of this.
Trivia:
-This is one of the James Bond films where the movie bares no resemblance whatsoever to the novel of the same name. In the novel, the Moonraker is a missile that Hugo Drax wants to use to destroy England; this is because in the novel, Drax is actually a surviving Nazi. Although it can be argued that Drax's motive in the movie to destroy inferior beings is similar to the "master race" motive of the Nazis.
-Legendary British actor James Mason (North By Northwest, Lolita, The Blue Max) was considered to play the villain Hugo Drax.
-This film marks Bernard Lee's final appearance as M, a role he had played in every film up to and including this one. Lee died in 1981.
12) For Your Eyes Only (1981)
Bond actor: Moore
Title song: "For Your Eyes Only" by Sheena Easton
Cast: Chaim Topol, Julian Glover, Carole Bouquet
After doing away with an old nemesis, James Bond is back on the case. A new nuclear submarine tracking system has gone missing in the seas off the shores of Greece, and Bond must get to it before it falls into the wrong hands. On his investigation, Bond joins up with a woman whose parents were murdered under mysterious circumstances, which may have a link to his own mission, as he crosses paths with Greek smugglers.
After the over-the-top nature of Moonraker, we needed a movie that brought the series back down to earth, figuratively and literally. For Your Eyes Only does that; it is a more stripped down Bond film that is more personal, relying less on gadgets and outlandish plotlines. Though at the same time, there is not exactly anything overly spectacular about it either. Furthermore, Bill Conti's musical score makes the film feel dated. The run time gets bogged down in a few places, though we still get impressive action sequences. This is not one of the all time great Bond pictures, but is still superior to most of what else the Moore era has to offer.
Trivia:
-Steven Spielberg was considered as a potential director for this movie, but was ultimately turned down because the series filmmakers wanted to stick with UK directors.
-Sheena Easton, who sings the title song that plays over the opening credits, can actually be seen on screen during the sequence. This is the only time in the entire series that this has ever happened.
-John Glen, who directed this film and all subsequent 1980s James Bond films, had previously been an editor and assistant director on earlier films. At five films, he holds the record for directing more James Bond movies than any other person (and that number does not even include the films he edited or did assistant director work on).
13) Octopussy (1983)
Bond actor: Moore
Title song: "All Time High" by Rita Coolidge
Cast: Maud Adams, Steven Berkoff, Louis Jourdan, Kabir Bedi, Vijay Amritraj
A fellow OO agent recovers a counterfeit Faberge egg, and soon enough Bond's superiors send him to investigate. It is not long before Bond is on the case again, this time traveling around the world to destinations that include India and East Germany. And at the heart of it all is a renegade Soviet general with plans to detonate a nuclear device, decimating Europe and killing millions.
There are many films that could qualify for the (not so) coveted title of "Worst James Bond Movie" and this one may very well be the winner. The plot is a hodgepodge of unfinished ideas and barely coherent. It is a movie that starts with great promise, but before long is bogged down in a mess of plot points and action scenes that barely fit together. The fact that this movie has Bond imitating the Tarzan yell, dressed as a gorilla, and dressed as a clown should say something as well (NO, unfortunately I am not making any of this up). An overlong run time only hurts the movie further. Perhaps the only real redeeming qualities are Q getting a larger role than normal (rather than being relegated to one scene) and an amazing pre-credits sequence. Watch it if you are bored or a James Bond completist, but do not expect too much here.
Trivia:
-Roger Moore was not considering returning to the role of James Bond initially, when this movie's filming began. James Brolin was being considered as a replacement.
-Faye Dunaway was considered for the role of the title character. The crew was initially apprehensive to bring back Maud Adams, she had previously played a different character in The Man with the Golden Gun.
-Vijay Amritraj, who plays Bond's ally Vijay while in India, was previously well known in India as a professional tennis player. This is referenced in his using a tennis racket to fight off thugs during a chase sequence.
14) A View to a Kill (1985)
Bond actor: Moore
Title song: "A View to a Kill" by Duran Duran
Cast: Grace Jones, Christopher Walken, Tanya Roberts
Max Zorin, a wealthy industrialist in the computer microchip field, is hatching a plot to take control of the industry outright. James Bond is sent to investigate, where he teams up with a woman that has her own battle to fight against Zorin and his company. It is up to Bond to save the world again; Zorin's plot could result in the loss of thousands of innocent lives if not halted.
By this point it is painfully obvious that the James Bond series was running out of steam. As far as positives go, John Barry composed one of the best musical themes of his career for this movie, combining his traditional classical sound with a guitar riff, which works great throughout the film. Plus who can forget Duran Duran's title song? Similarly, Christopher Walken is an outstanding villain. Charismatic and ruthless throughout, he may very well be the last "great" Bond villain, and Grace Jones is fantastic as his bodyguard/lover/whatever the hell she is supposed to be. Unfortunately, the movie drags on endlessly with far too many uninteresting characters, including one of the most boring Bond Girls in the history of the franchise. Several scenes of the film feel like they would be more at home in an American 80s action or drama film, not a James Bond movie. Even Zorin's scheme is more or less a rehash of the one Auric Goldfinger had back in 1964. Despite a few redeeming qualities and some solid action scenes, this is not our favorite OO agent's finest hour.
Trivia:
-According to interviews with Roger Moore (who was pushing 60 at the time this film was released), he later discovered that he was older than the mother of his female leading lady in this film.
-Duran Duran's title song from this film is the only theme from a James Bond movie to ever hit number one on the Billboard Hot 100 charts.
-This was Lois Maxwell's final appearance as Moneypenny in the series. Having been in every single James Bond film since the series launched in 1962 with Dr. No, up to this one, she holds the record for having starred in the second most films of any actor/actress in the franchise; only long-time Q actor Desmond Llewelyn beats her out.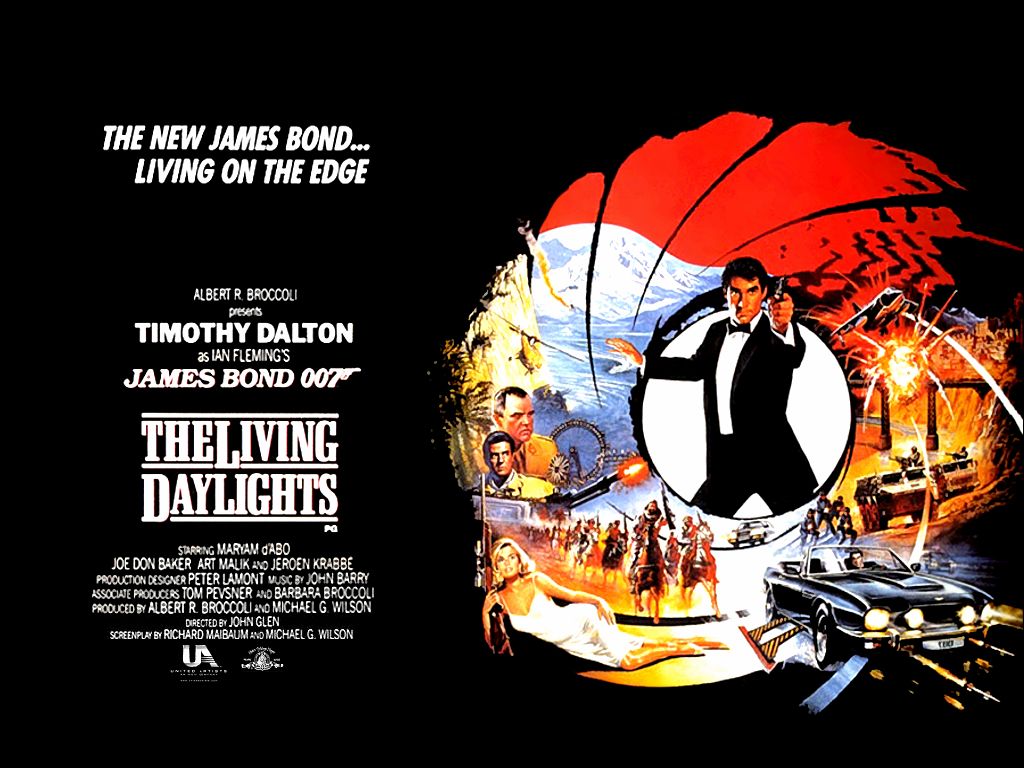 15) The Living Daylights (1987)
Bond actor: Timothy Dalton
Title song: "The Living Daylights" by A-Ha
Cast: Joe Don Baker, Art Malik, Maryam d'Abo
Bond and one of his British Intelligence allies participate in extraditing a defector out of the Soviet Union, only to find themselves caught up in one of their toughest battles yet. Before long, Bond is off on a hunt for a renegade Soviet general and an American arms dealer. On this assignment, 007 teams up with a beautiful cellist and a group of Afghan rebels resisting the Russian forces in the Middle East.
After the increased camp of the last few James Bond films and Roger Moore showing his age in the role, Timothy Dalton and the filmmakers breathe new life into the series with a more low-key installment which is noticeably less over-the-top and better versed in the time's real world events. The result is one of the strongest films in years, with incredible action scenes, compelling villains, and an intriguing plot. Dalton's take on 007 is noticeably less humorous than his predecessors, and has been called the closest on-screen actor to the Bond persona depicted in Fleming's original novels, something that shows here throughout. This is by far the best James Bond film released in the 1980s.
Trivia:
-Final James Bond film scored by John Barry, and the last one to feature the General Gogol character.
-A-Ha performs the title song. They, of course, are better known for another major 80s hit song, "Take On Me," which is probably best known for its music video of paper illustrations coming to life.
-Joe Don Baker, who plays the villainous arms dealer in the film, would later return to the series in Goldeneye and Tomorrow Never Dies as CIA ally Jack Wade. Very few actors appear in multiple films in different roles, but he is one of the few to ever go from villain to ally in his roles.
16) Licence to Kill (1989)
Bond actor: Dalton
Title song: "License to Kill" by Gladys Knight
Cast: Talisa Soto, Robert Davi, Anthony Zerbe, Wayne Newton, Benicio Del Toro, Carey Lowell
James Bond's long time CIA buddy Felix Leiter has just captured Sanchez, a wanted drug kingpin, and has married the woman of his dreams. But things are not good for long. Traitors spring Sanchez from prison, resulting in Leiter being maimed by a shark and left a cripple, and his new wife murdered. Against the wishes of his British Intelligence superiors, Bond goes rogue, seeking revenge for his injured long time friend.
The basic plot of this film could have made for the perfect movie, with James Bond out for revenge, ignoring his superiors. The first 45 minutes or so of this film are great, serving to set Bond up for the ideal hunt for vengeance. Robert Davi is a solid villain, and the supporting cast here equally skilled. Unfortunately, the movie reeks of 80s excess in countless scenes, and comes off feeling more like an overlong episode of Miami Vice than a James Bond movie. Carey Lowell is one of many actresses that could be up for the "worst Bond Girl" title, coming off as boring and uninteresting throughout. The action sequences are solid, but it is just a shame the atmosphere feels like something out of a bad 80s TV show. Dalton gives a solid performance, in what would sadly be his last as Bond. This is a decent enough movie overall, but too many factors weigh it down and keep it from greatness.
Trivia:
-Talisa Soto and Cary-Hiroyuki Tagawa both appear in this film; the two would appear on screen together again in the 1995 Mortal Kombat feature film.
-This film marks many famous lasts for the series. Final film with Timothy Dalton as James Bond, Robert Brown as M, and Caroline Bliss as Moneypenny, final film with a Maurice Binder opening title sequence, final film with screenwriting contributions from Richard Maibaum (he died in 1991), and final film directed by John Glen.
-Michael Kamen composed the score for the film; it was his first and only contribution to the James Bond franchise. Kamen is also noteworthy for his contributions with rock musicians; he conducted the orchestra on Metallica's famed S and M concert, and composed the string arrangement on Def Leppard's hit song, "Two Steps Behind," featured in the film Last Action Hero. Kamen died in 2003.
-David Hedison previously played Felix Leiter in Live and Let Die back in 1973. This makes him the first actor to play Leiter more than once. The only other actor to do is Jeffrey Wright in the first two Daniel Craig films.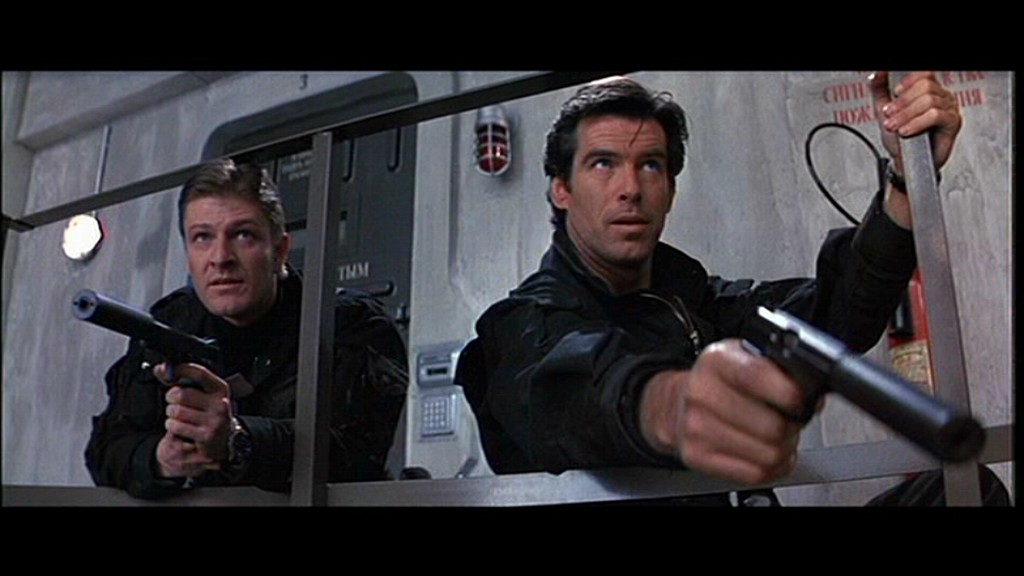 17) Goldeneye (1995)
Bond actor: Pierce Brosnan
Title song: "Goldeneye" by Tina Turner
Cast: Sean Bean, Alan Cumming, Famke Janssen, Joe Don Baker, Robbie Coltrane
The Cold War has ended and the world has become a very different place. Of course, James Bond's work is never done. A group of terrorists has taken control of a pair of satellites capable of instantly destroying anything with an electronic circuit. Bond sets out after this new group of villains, only to discover that their leader's face is one from his past.
After a lengthy hiatus due to the franchise's legal battle, this was the movie that came out of nowhere and took everyone by surprise. Goldeneye expertly brings 007 into the 1990s, with a solid performance from Pierce Brosnan, and a plot that is radically different from any older film in the series is a refreshing change as well. It feels like something totally new, yet maintains all of the old hallmarks and trademarks of the Bond franchise. Other solid performances in the film include Judi Dench in her first appearance as M, Robbie Coltrane as an old foe of Bond's that he calls on for assistance when hunting the main villains of this film, Famke Janssen as one of the deadliest (and sexiest!) femme fatales Bond has ever done battle with, and Joe Don Baker in a brief but memorable role as a comical CIA man. The only real flaw in this otherwise excellent film is the terrible musical score; Eric Serra's music seems horribly inappropriate in so many key moments. Brosnan's first of four outings as Bond is by far the best of them.
Trivia:
-The six-year gap between this film and the one before it, Licence to Kill, is the longest in the history of the James Bond franchise between movies, due to an ongoing legal battle. Timothy Dalton was planning on making another Bond film but ultimately pulled out due to this ongoing hiatus. Pierce Brosnan was considered as a possible James Bond in the 80s, but had commitments to the television series Remington Steele at the time.
-The popularity of the film is surpassed by the Nintendo 64 video game adaptation that was released in 1997, two years after the film, which was one of the most famous and acclaimed video games released at the time. The video game was widely credited both with bringing sophisticated, objective-based shooter games to game consoles, and in jumpstarting a whole new generation of James Bond video games. Despite this, though, the video game does NOT directly follow the events of the movie, and even adds in a few new missions and scenarios.
-Alan Cumming and Famke Janssen appear together in this film; they would later appear together again in X2: X-Men United, the second film in the long running X-Men franchise, based on the Marvel comic of the same name. Janssen had an ongoing role as Dr. Jean Gray/Phoenix in the films, while Cumming only appeared in the one, as Nightcrawler.
-While Tina Turner performs the opening title song, it was actually written by Bono and the Edge from U2.
18) Tomorrow Never Dies (1997)
Bond actor: Brosnan
Title song: "Tomorrow Never Dies" by Sheryl Crow
Cast: Jonathan Pryce, Michelle Yeoh, Vincent Schiavelli
A world crisis is afoot when a leading international media mogul begins using acts of force to turn nations against one another, with hopes of starting a war and spurring a new super power into the hot seat, while he maintains exclusive world media rights to all associated coverage. Bond is sent to investigate, and must put all of his skills to the test to prevent any more bloodshed or a potential outbreak of war.
This is not a bad film, but there is not exactly anything remarkable about it either. The basic plot rips off Blofeld/SPECTRE's plot from You Only Live Twice, and it lacks any real originality in this regard; even Carver's right hand man feels like a rip-off of the Aryan SPECTRE assassins and bodyguards from the days of old. The other problem is that it feels like a blatant, generic 90s action movie. That is not to say there are not some great scenes throughout, but James Bond is not supposed to be a mere "action hero." Overall it is a good film (and definitely surpasses its two follow up entries) but there are better Bond films out there.
Trivia:
-Anthony Hopkins was initially cast to play the main villain in this film, but walked out due to the chaotic atmosphere of filming; there was not even a finished screenplay when filming began.
-The first film in the series to feature a musical score from David Arnold. Arnold was hired on the recommendation of long time Bond film score composer John Barry.
-Second and final appearance of the Jack Wade CIA man character. The character is largely believed to have been invented for the films as a replacement for Bond's long time CIA ally Felix Leiter, who was maimed by sharks in Licence to Kill and lost most of his leg. In the original novels, Leiter losing his limbs comes much earlier and he still assists Bond in the field, becoming a member of the Pinkerton's detective agency.
19) The World is Not Enough (1999)
Bond actor: Brosnan
Title song: "The World is Not Enough" by Garbage
Cast: Robbie Coltrane, Denise Richards, Sophie Marceau, Robert Carlyle
Following a series of dangerous events that has resulted in the death of an old friend of M, James Bond goes to protect his daughter from any potential further attacks, when no leads have shown themselves. It is not long before British Intelligence's favorite secret agent is up against a deadly terrorist, unable to feel or experience pain due to a recent bullet wound. Bond teams up with a nuclear physicist in an effort to foil a potentially deadly scheme that could level a major city in the process.
…and this is where the Pierce Brosnan years slowly descend into parody of sorts. Brosnan himself is still fantastic as James Bond, but the scripts and plots get increasingly ludicrous as time goes on, and that stands true here. An opening teaser sequence packed with action and an insanely satisfying boat chase introduces a potentially intriguing plot, but before long the storyline becomes a jumbled mess and we are introduced to a villain that borderlines on camp. Had this been a generic action movie not released under the James Bond name, perhaps it would have fared better. Denise Richards is tragically miscast as the Bond Girl here, you're not going to buy her as a "physicist" for one second. On a more positive note, the Valentin Zukovsky character from Goldeneye returns, played by the always-entertaining Robbie Coltrane. There are still enough good elements in play here that it is worth watching at least once. Just do not expect the franchise's finest hour.
Trivia:
-This film marks Desmond Llewelyn's final appearance as Q, a role he played in every EON Films James Bond movie from 1963 to 1999 with the exception of Live and Let Die. This gives Llewelyn the distinction of being the actor to star in the most James Bond movies, at 17 (this is more than double the amount of films the actor who played Bond the most times starred in!) Sadly, Llewelyn died in a car crash not long after the film opened, at age 85.
-The film has the longest pre-opening credits teaser sequence in the franchise, at roughly 15 minutes.
-The title of this film has been used in the franchise before. In On Her Majesty's Secret Service (released 30 years prior!), Bond's family motto is revealed to have been (in Latin) "Orbis Non Sufficit", which translates to English as "The World is Not Enough."
20) Die Another Day (2002)
Bond actor: Brosnan
Title song: "Die Another Day" by Madonna
Cast: Halle Berry, John Cleese, Rosamund Pike, Will Yun Lee
Following an ill-fated mission to North Korea, Bond is captured and held as a prisoner of war. Eventually freed in exchange for a Korean prisoner, Bond sets out to restart his life anew, investigating the terrorist he was let out in exchange for, hoping to prevent any future attacks or dangers. Along the way he discovers an eccentric millionaire entrepreneur who may have a connection, and also teams up with a beautiful American agent in an effort to foil a potentially deadly plot involving a satellite weapon.
Wow. There are a lot of debates as to what the worst James Bond movie is, but Die Another Day takes things to a whole new low. The plot is ridiculous, and the film itself seems to try to cram as many references to past outings in as possible, which detracts from the experience further. Madonna's title song is one of the worst songs ever written; not just for the James Bond franchise either. This movie gives the storyline a backseat to CGI and explosions, and some of this CGI work is laughably bad; given the phenomenal graphic work that was going on with other movies at the time, including the Star Wars prequels, there is no excuse. One of the best things about the Bond series is the gadgetry, but here even that is pushed to too tall an extent; very little seen here can be believed. Halle Berry is a fine actress, but miscast here and feels like she belongs in a different movie. To call this movie over the top is an understatement. There are a few promising elements in the first 45 minutes or so of the movie, but it quickly descends and never recovers. Watch Die Another Day if you are doing a James Bond marathon, but do not go out of your way to waste your time with this one.
-Trivia:
-The opening credits are played over a sequence of Bond being tortured by his captors. That makes this film the only time in the history of the franchise that the opening credits scene actually advances the film's plot in some shape or form.
-John Cleese takes over the role of Q here, having been introduced in the previous film (with Bond mockingly referring to him as "R"). As the franchise was rebooted after this film, this second appearance of his was also the final one. He did, however, reprise the role for a James Bond Scene It DVD trivia game. Cleese is, perhaps, best known to the world as a member of the legendary Monty Python comedy troupe.
-Madonna, who performs the title song, cameos as a fencing instructor in the film.
-This is the final film (20th total) in the original EON Films chronology of James Bond films, as the series was rebooted with Casino Royale in 2006. Continuity between films (particularly amongst the changes in actors) in these 20 movies is spotty at best but DOES exist, with certain films referencing the events of previous ones.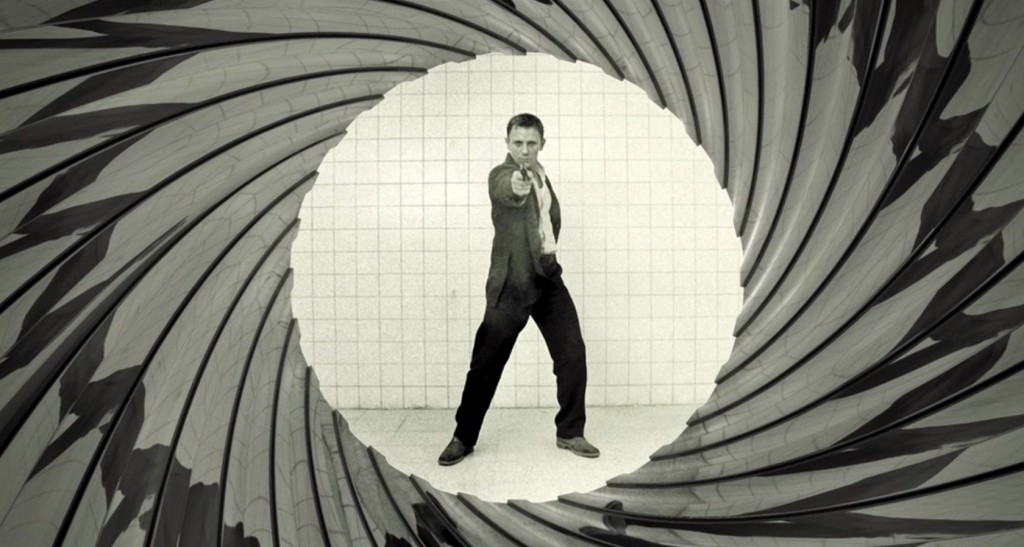 21) Casino Royale (2006)
Bond actor: Daniel Craig
Title song: "You Know My Name" by Chris Cornell
Cast: Eva Green, Mads Mikkelsen, Jeffrey Wright, Caterina Murino
The first film in the rebooted James Bond franchise features a younger, inexperienced Bond who has just gotten his OO Agent status. After pursuing terrorist agents around the world, Bond is selected by British Intelligence to enter into a high stakes poker game featuring by a man known to be a financier to terrorists. It is up to Bond to find out what scheme is being perpetrated by this group of villains, and to discover their plot.
After the horrors of Die Another Day, the James Bond series was long overdue for a reboot. Casino Royale has problems and is not the perfect movie everyone says it is, but it does what it sets out to accomplish, namely wiping the slate clean and giving the franchise a much-needed fresh start. Daniel Craig, despite the reservations I and many others had about him in the role, quickly shatters said reservations and delivers one hell of a cinematic performance. There are very few high tech gadgets on display here; this is much more of a gritty and down to earth tale, and that is a welcome change. The key issues in an otherwise great tale are pacing problems and an overlong run time; the entire first hour or so of the film feels like filler in the grand scheme of things, and too much time is spent at the card table. Action in the film is fairly minimal, as there are more dramatic and suspenseful scenes here, which again is a change that is for the best. Casino Royale is hardly a perfect film, but it gets the job done just the same.
Trivia:
-Jeffrey Wright portrays Felix Leiter here, although he is not the first person to portray Leiter as African American; Bernie Casey portrayed the role of Leiter in the unofficial film Never Say Never Again in 1983. Wright is also known to audiences for playing the role of Beetee in The Hunger Games film franchise.
-Chris Cornell, the vocalist of Soundgarden and Audioslave, sings the title song, "You Know My Name." This made him the first American male in the history of the franchise to perform a Bond film opening titles song. Interestingly, the title song was not included on the film soundtrack and is only available as a standalone single, or on releases from Cornell as a solo artist.
–Casino Royale was Ian Fleming's very first James Bond novel, making it an appropriate tale through which to relaunch and reboot the film franchise. In the original novel, the villain Le Chiffre lost the money of his superiors by investing in failed brothels.
-In the airport scene early in the film, Virgin founder Richard Branson has a cameo at the security checkpoint, being frisked with a portable metal detector.
22) Quantum of Solace (2008)
Bond actor: Craig
Title song: "Another Way to Die" by Alicia Keys and Jack White
Cast: Olga Kurylenko, Mathieu Amalric, Giancarlo Giannini
Following the events of the previous film, James Bond and British Intelligence are investigating the existence of a mysterious terror organization. Bond's journey takes him to the ends of the world, pursuing an environmental agency which may have ties to the group in question. But it is not long before these new foes are on to Bond, and are ready to kill at a moment's notice to protect their secrecy.
Sadly, Quantum of Solace does not live up to the "new beginning" that Casino Royale gave the series, opting to be a faster, louder, more action packed movie where the plot takes a back seat. That said, it does still maintain much of the gritty, down to earth, less gadget driven approach of its predecessor, and that is a good thing if nothing else. As a more straightforward action movie it gets the job done, and Craig's portrayal of bond is still solid. Sadly, the shorter run time and undeveloped plot make much of the supporting cast uninteresting and one-dimensional. Quantum of Solace comes off as a good James Bond film, just not a great one.
Trivia:
-This is the first film in the entire James Bond franchise to be a direct sequel to its immediate predecessor.
-Although there IS a James Bond short story with the title of this film, it contains no resemblance whatsoever to the story of the same name. Short stories whose titles have never been used for a James Bond movie include 007 in New York, The Hildebrand Rarity, Risico, and The Property of a Lady, although elements of these short stores have been incorporated into existing films.
-Original trailers for the film featuring a graphic effect of the "007" logo transforming to say "Nov. 7" which was the release date planned for the film. But the American release was pushed back a week, thus ruining this.
23) Skyfall (2012)
Bond actor: Craig
Title song: "Skyfall" by Adele
Cast: Albert Finney, Naomie Harris, Javier Bardem
A former MI6 agent with a connection to M's past has resurfaced, threatening the safety of the free world and compromising British Intelligence. Furthermore, he has attained a confidential file containing the names of undercover CIA agents infiltrating terrorist groups, threatening to reveal this information to the world. Bond must protect M from this new threat, and prevent any further harm from coming their way.
It is tough to find a movie that is the balance between a classic James Bond film and something completely modern, but Skyfall does the job nicely. While it is not a perfect movie by any means, it is easily the best of the Daniel Craig 007 pictures so far. You get a nice balance of action and a compelling, modern plot alike; there are rarely any dull moments in sight. Judi Dench has always been superb in her role as the first female M, but here she becomes a part of the central plot, and this makes things all the more interesting. Albert Finney absolutely shines as a supporting ally introduced later in the film, and Javier Bardem is fantastic as the villainous former MI6 agent. The finale is spectacular, yet totally different from what you would expect in a Bond film. Some elements of the plot do not quite work; but it is another instance of the good outweighing the bad by far. After a solid reboot of the series and an action-heavy picture that was not quite up to snuff, Skyfall, more the most part, is 21st Century James Bond done right.
Trivia:
-This is the first appearance of the Q character since 2002's Die Another Day, albeit played here by a much younger actor. Daniel Craig is the only official EON films James Bond actor to never appear in a film with former Q actor Desmond Llewelyn, as Craig did not take on the role of Bond until well after Llewelyn's 1999 death.
-The film marks the first time that the names of James Bond's deceased parents have ever been revealed on screen.
-This is both the first Daniel Craig James Bond film to not feature the villainous organization introduced in Casino Royale, and not to feature the Felix Leiter character.
Unofficial film 1) Casino Royale (1967)
Bond actor: David Niven
Title song: "Casino Royale Theme" by Herb Alpert and the Tijuana Brass
Cast: Orson Welles, Peter Sellers, Ursula Andress, Woody Allen
In this spoof of the Bond series, an aging James Bond is called out of retirement when M is killed, to take on the SMERSH organization. British Intelligence comes up with a plan to confuse their rival agents.
Herb Alpert and the Tijuana Brass' title song and Dusty Springfield's "The Look of Love" are both fantastic pieces of music that are welcome additions to this movie. Unfortunately, that is about the ONLY positive thing I have to say about this film. This is not a movie. It is filmed footage slapped together with only the slightest semblance of a plot. The fact that there were half a dozen directors should say something. You can take the biggest names in the world and the best comic names, but in the end, a mess is a mess, and these elements cannot save what is essentially a hodgepodge of ideas that do not work together. The jokes are terrible and the film has not aged well. It may be worth checking out if you are very curious or very bored, but do not expect much.
Trivia:
-This is the film debut of David Prowse. Prowse, with his tall, muscular and imposing physique, is noteworthy for having portrayed Darth Vader in the classic Star Wars Trilogy, beneath the character's iconic black mask and cape (though Prowse did not voice the character).
-Many actors in this film DID, at some point, appear in the official EON Films James Bond series. Most noteworthy is Ursula Andress, who played Honey Ryder in Dr. No.
-"The Look of Love" is one of the songs that is heard in the film. This song is similarly used in the first Austin Powers film, itself largely a spoof of the James Bond series.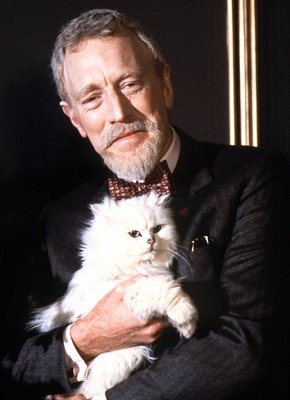 Unofficial Film 2) Never Say Never Again (1983)
Bond actor: Connery
Title song: "Never Say Never Again" by Lani Hall
Cast: Bernie Casey, Kim Basinger, Klaus Maria Brandauer, Max von Sydow
Never Say Never Again is essentially a remake of Thunderball, the result of the ongoing legal battle with the series. Bond is sent to the Bahamas to investigate the disappearance of two nuclear devices, and is aided in his mission by CIA ally Felix Leiter.
It is tough to review a movie like Never Say Never Again because it is not a part of the "main" EON Films Bond series, and because it brings Sean Connery back to the role after a 12-year absence. That said, the film tends to be more down to earth than the Roger Moore-era films that EON was churning out at the time. The movie is far from Connery's best and does not top the original Thunderball, but for what it is, it is still enjoyable. The major flaws come from an overlong run time (the movie tends to drag in its third and final act) and a horribly outdated musical score that sounds almost laughable at moments today. That said, though, the good still outweighs the bad.
Trivia:
-Rowan Atkinson appears in the supporting role of Nigel Small-Fawcett; it was one of his first feature film appearances. Atkinson would later become well known for his Mr. Bean character, and also parodied the James Bond films in the Johnny English series.
-Irvin Kershner directed the film. Kershner was one of George Lucas' professors when he attended film school, and had previously been called upon by Lucas to direct The Empire Strikes Back, the second film in the Star Wars series.
-Jack Schwartzman produced the film. He was married to Talia Shire, best known for playing Connie Corleone in The Godfather movies and Adrian in the Rocky movies. Schwartzman died in 1994.
-Bernie Casey plays Felix Leiter here, he is the first African American to portray the character. Though he started his career as a serious dramatic actor in films like Guns of the Magnificent Seven and The Man Who Fell to Earth, he is perhaps best known to audiences as UN Jefferson in the Revenge of the Nerds films, and the history teacher in Bill and Ted's Excellent Adventure.
-Blofeld is played by Max Von Sydow. Other legendary roles played by him over the years include the knight who plays a life or death game of chess with the Grim Reaper in The Seventh Seal, Father Merrin in The Exorcist, and Ming the Merciless in the 1980 Flash Gordon film (best known for its soundtrack by Queen). He will also be appearing in the new Star Wars film, estimated to arrive in theaters in December 2015.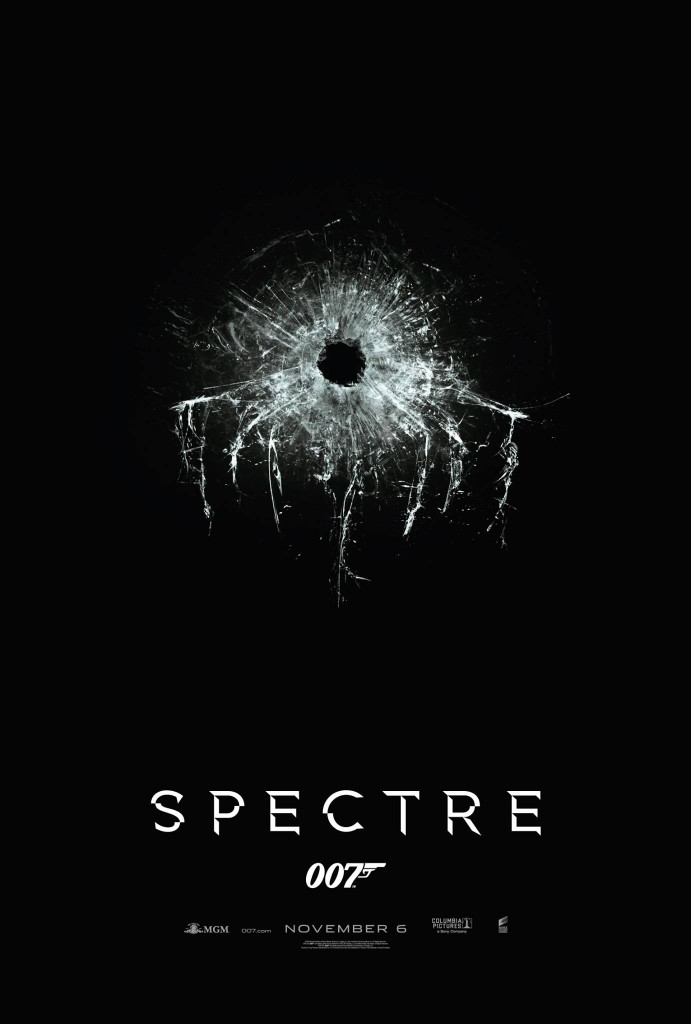 It has been well over 50 interesting years on page and on screen with James Bond, and the United Kingdom's favorite OO agent is here to stay. Bond is Forever, and with the release of the 24th film in this legendary series around the corner, fans have something to look forward to all over again. Ian Fleming's creation is more popular today than he ever was in the author's lifetime, and that status as a popular culture icon is not letting up anytime soon. Whether you are a fan or not, the impact of James Bond on the world for the past half century is absolutely undeniable. While you are waiting for the new movie, it is time to get shaken, not stirred, by this fantastic film franchise all over again – what better time to have a marathon than now?
The James Bond film franchise and all associated films, characters, etc. are the copyright © of MGM, Sony, Twentieth Century Fox, United Artist, EON Films, DANJAQ, the Estate of Ian Fleming, and all other associated owners and property holders. The opinions and views expressed in this article are solely those of the author and for entertainment purposes only. Said views do not necessarily represent those of ZRock'R Magazine or any other affiliated staff persons or writers. All images are the property of said copyright holders; for promotional purposes only. All rights reserved.