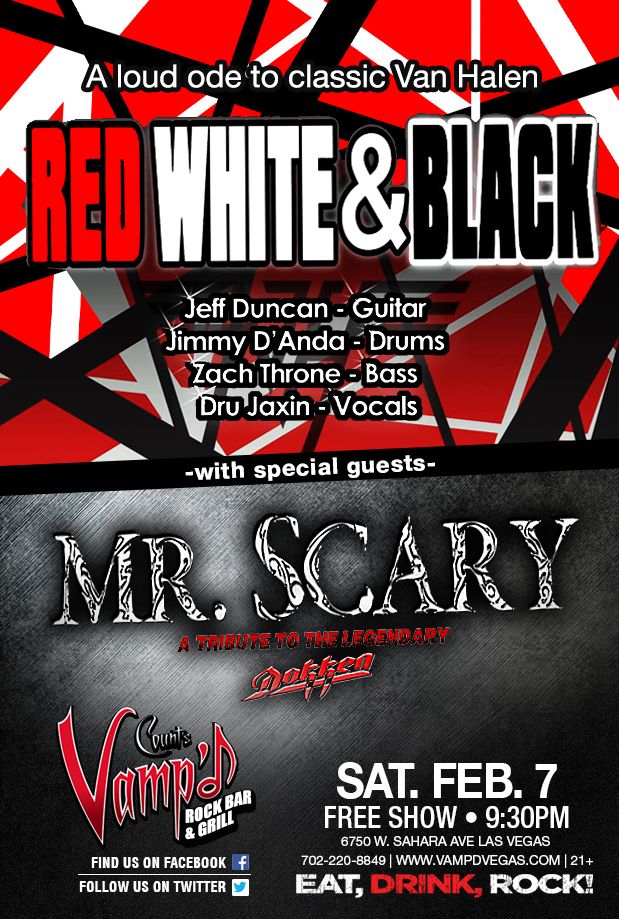 Anyone who knows me knows that Vamp'd is my favorite venue in Las Vegas for classic hard rock and heavy metal done up right. This is a venue that gets a little bit of everything, from local bands to international talent alike. For rock and roll fans, February 7 was a special night, featuring tributes to two of the hottest bands of the 1980s – Mr. Scary, a tribute to Dokken, and Red White and Black, a tribute to Van Halen.
Mr. Scary consists of David Lee Williams, Gee Silver, Corey Sorrenti, Danny Robert, and Miranda Carlsen, many of whom are long time veterans of the Las Vegas rock and roll scene.
Dokken is one of my personal favorite bands to emerge from the 1980s rock movement, shelling out amazing rock songs that combined Don Dokken's incredible vocals with George Lynch's unrivaled guitar superiority. Unfortunately, times have changed on that front and Lynch is no longer a member of the band, and Don Dokken can no longer sing well. I remember seeing Dokken two years back at the Henderson Pavilion, and being awe stuck at how horrible Don Dokken's voice sounded. It was truly the worst concert I have ever attended in my life (out of several hundred!)
Needless to say I was glad to see a band comprised of some of the best local talent out there on the Vegas scene today, doing these songs live in concert and given them the high energy sound and quality vocals that they need. I arrived late for this set and only caught the last few songs (I was reviewing a show at another venue prior), but what I heard absolutely blew me away. Singer David Lee Williams absolutely buries Don Dokken, singing these songs far better than he can now. Furthermore, the setlist here was better too, serving up many of the obligatory hits but also not afraid to dig into the vault for some deep tracks as well (Kiss of Death, anyone?) This is the way Dokken songs are supposed to sound live, period. You better believe this fan will be attending further performances from these guys!
Of course, the influence of Van Halen on the world of rock and roll is also undeniable; they pretty much were the "poster children" for much of what was to come in the 80s rock scene. Eddie Van Halen influenced a generation of young would-be guitar players and remains a massive influence of many to this day. And who could forget charismatic, eccentric frontman David Lee Roth? The band got a revival in popularity in the mid 80s when Sammy Hagar became their vocalist, but few long time fans will deny that the "Diamond Dave" years are their absolute finest.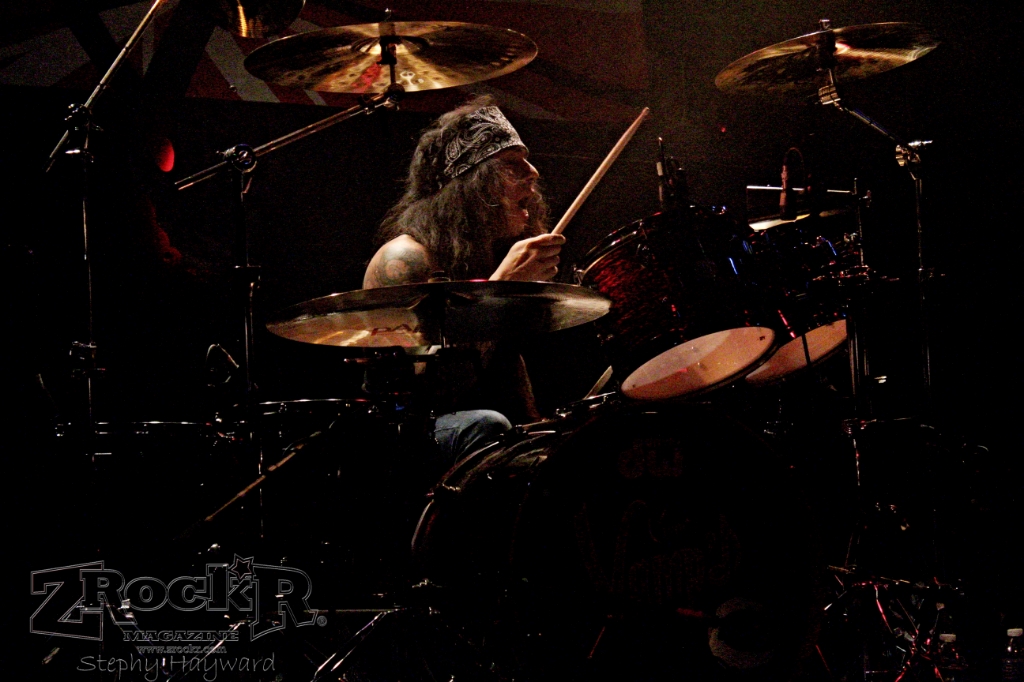 Red White and Black is a new Van Halen tribute featuring Drew Calvert AKA Dru Jaxin on lead vocals, Zachary Throne on bass, Jeff Duncan on guitar, and Jimmy D'Anda on drums. Calvert is known around Vegas for his participation in the former Aces High Iron Maiden tribute band as well as a number of other groups. Duncan has been a member of bands like Odin, Armored Saint, DC4, and the Bones. Throne is best known to Vegas residents as a former Sin City Sinners member, but also has an extensive acting and voice acting career, plus he has played with Susanna Hoffs and Bow Wow Wow. D'Anda is best known as a classic member of the Bulletboys, but has also been a member of the new Bulletboys spin-off band, Lies Deceit and Treachery.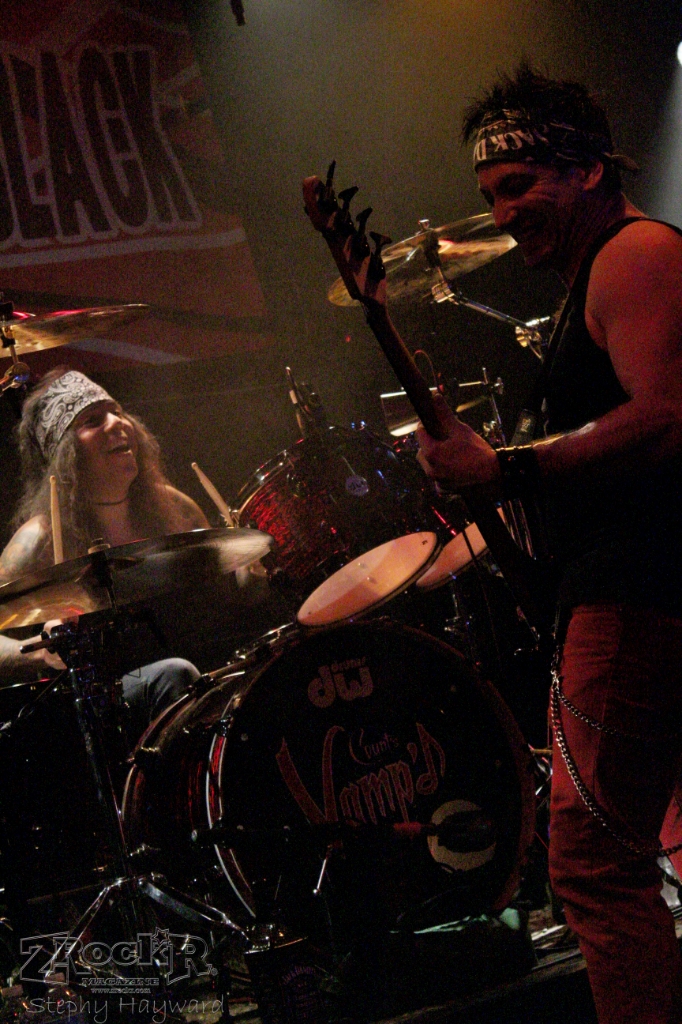 This is an odd mix of musicians; they are all very talented but come from completely different worlds. That said, to say they impressed the hell out of me would be an understatement. Due to Eddie Van Halen's distinctive playing style, Van Halen is a tough band to cover or to pay tribute to. That said, they kicked ass from start to finish, playing nearly 30 songs from the classic David Lee Roth era. On stage, these guys had unrivaled energy, and were clearly having just as much fun playing as the crowd was, enjoying each and every one of these songs. I simply could not believe how well these guys were able to push themselves on stage, more than doing justice to the classics. Like Mr. Scary's performance, these guys balanced the big hits and deep tracks alike; more than I can say for many other acts that try to pay tribute to Van Halen. Every one of these musicians outdid themselves on the Vamp'd stage this evening. It is one of the best shows I have ever seen on that stage, and that not something this fan says very often, let alone about a tribute band of all things! The music of Van Halen has never looked or sounded better on a stage.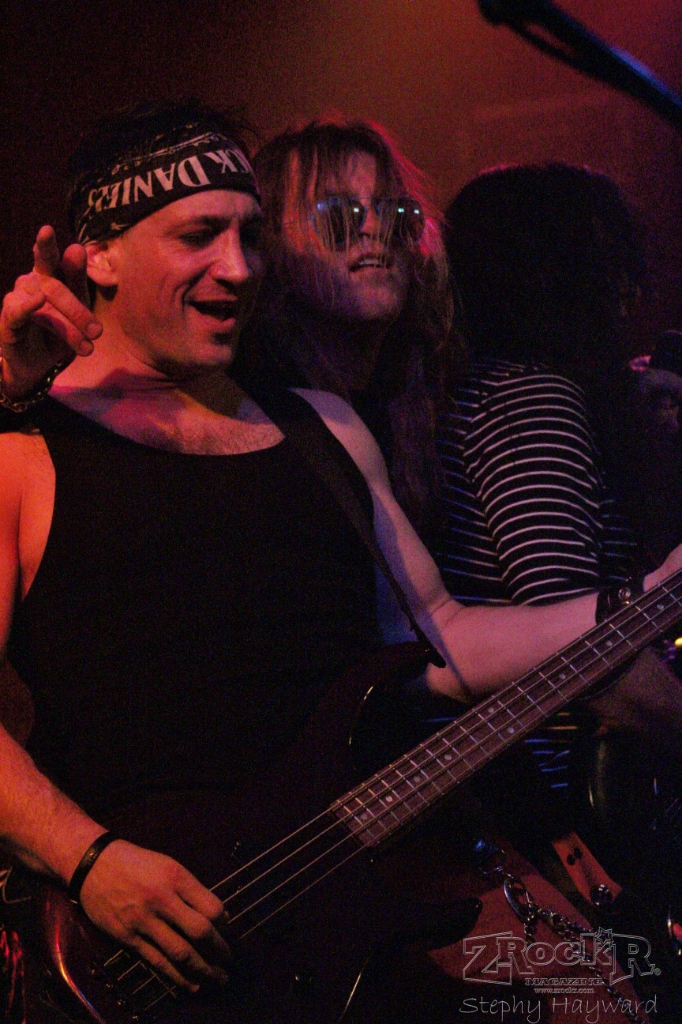 Some will argue with the decision not to include any Sammy Hagar era tunes, but I personally think it would have interrupted the flow of the way things were going with the whole David Lee Roth era mindset that was on display. The setlist for this night was well chosen, emphasizing the guitar driven rockers and not going into the more poppy, keyboard driven tunes.
This was a fantastic night of rock and roll with tribute bands featuring some of the best musicians on the Las Vegas rock and roll scene and beyond. Both bands get the absolute highest recommendation, and are well worth seeing if you live in or will be visiting Sin City in the near future!
All photos © Stephy Hayward/ZRock'R Magazine