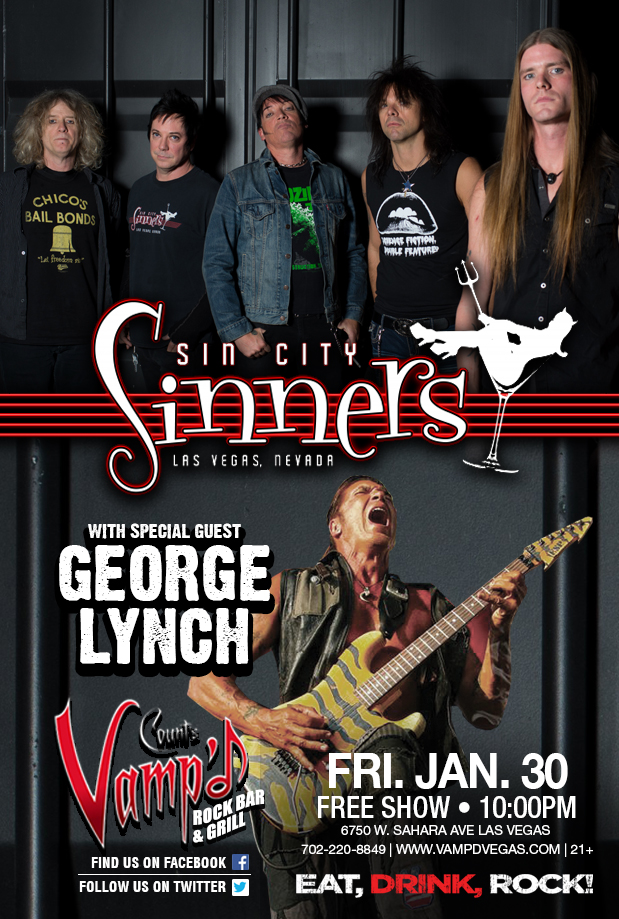 It has been eight years since the Sin City Sinners began rocking Vegas, and their popularity grows every day. When you have out-of-towners (and people from out of the country!) planning their trips to Vegas around Sinners shows, you know that these guys are doing something right.
The Sin City Sinners are comprised of vocalist Joshua Alan, guitarists Brent Muscat and Michael "Doc" Ellis, bassist Scotty Griffin, and drummer Rob "Boom Boom" Cournoyer. Muscat was a co-founding member of Faster Pussycat, while Griffin recently came off of a stint playing bass for LA Guns. While Alan performs lead vocals on the majority of the tracks, other members will sing select songs as well.
Special guests who join the Sinners on stage are one of the best things about the experience, and when the group announced that legendary Dokken and Lynch Mob guitarist George Lynch would be amongst those on board for this evening of rock and roll, you better believe I knew that I would be first in line for this show. Of course, apparently, a lot of other people are Lynch fans as well…. because the venue was PACKED. Vamp'd is by far my favorite rock and roll venue in Las Vegas, but it does suffer from the weakness of being fairly small; these limitations showed themselves at this gig. It is unlikely anyone could have anticipated the amount of crowding that would be present this night, myself included!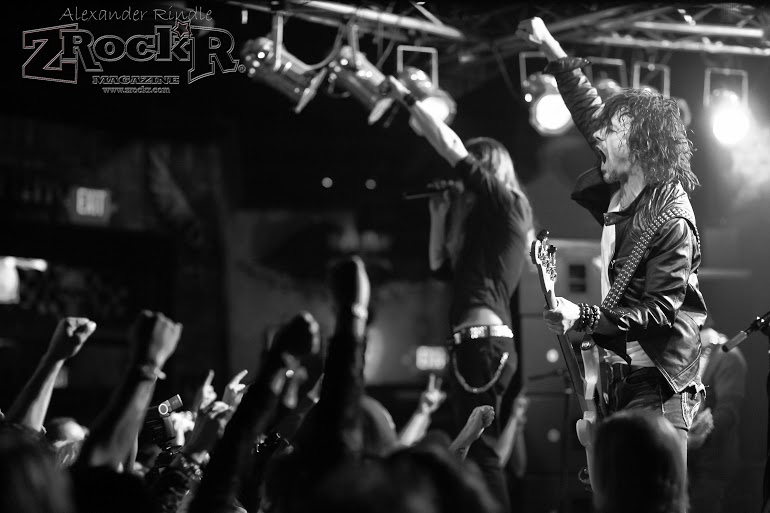 Once the Sinners were underway for the first half of their gig, they served up a solid mix of covers and originals as they so often do. The group is currently recording a new album, which will be their sixth CD release. From original tunes from these albums to covers of songs by artists like Rage Against the Machine, Dio, and Guns N Roses, it was an action packed opening set. One of the real highlights of this opening set with Scotty Griffin taking up the lead vocal mantle and performing a cover of the Stooges classic, I Wanna Be Your Dog. The group took a brief intermission to set up for their special guest.
Following said intermission, George Lynch hit the stage, and to say the crowd went wild would be an understatement. Even at 60 years old, Lynch is a kick-ass guitarist who makes his presence known. This set included classic Dokken gems like Tooth and Nail, Alone Again, It's Not Love, and Mr. Scary, and even the title track from Lynch Mob's debut record, Wicked Sensation. A few covers were included in the set as well, including David Bowie's Moonage Daydream (also sung by Scotty Griffin). The minor issues I had with Lynch's set were the relatively short length (I wish it would have been lengthened due to the fact that there was an intermission prior to his arrival) and the relative lack of Lynch Mob material (one track was great, but this period of his career deserves more recognition).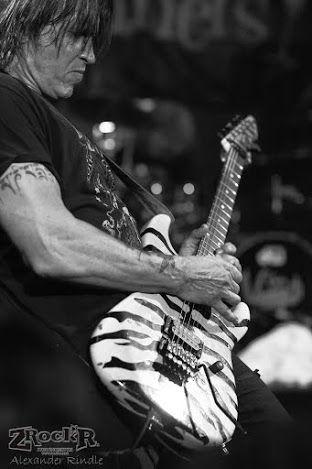 The entire band deserves credit for being able to keep up with Lynch on so many of his classic cuts; I am always impressed by how well the Sinners are able to learn the songs of a guest, and how well they can perform them on stage. Credit definitely needs to be given to vocalist Joshua Alan, who despite a relatively short tenure in the band so far, has truly risen to the occasion and proven himself capable of performing songs of every variety. On many of the heavier tracks, his vocal style is a welcome addition. Once again, a great job on behalf of all the band members and Lynch for their efforts on the Vamp'd stage.
Sin City Sinners shows are a one of a kind experience. You can see the band multiple times, and never get the same show twice, thanks to enhancers like special guests and diverse setlists that run the gamut from classic rock to modern songs alike. If you are a Vegas resident and a fan of rock and roll, you already know how well these guys command a Vegas stage. And if you are a rock fan visiting Sin City, seeing one of their shows needs to be on your "to do" list. Another phenomenal night of rock and roll, and it will be great to see them on stage at Vamp'd again with a number of their forthcoming guests!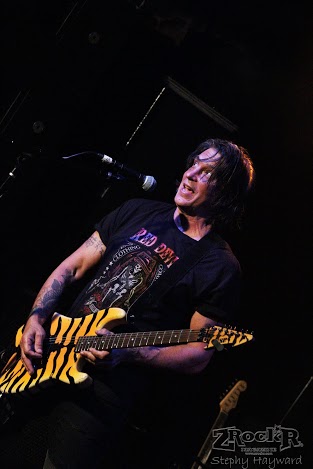 All photos © Stephy Hayward and Alexander Rindle/ZRock'R Magazine