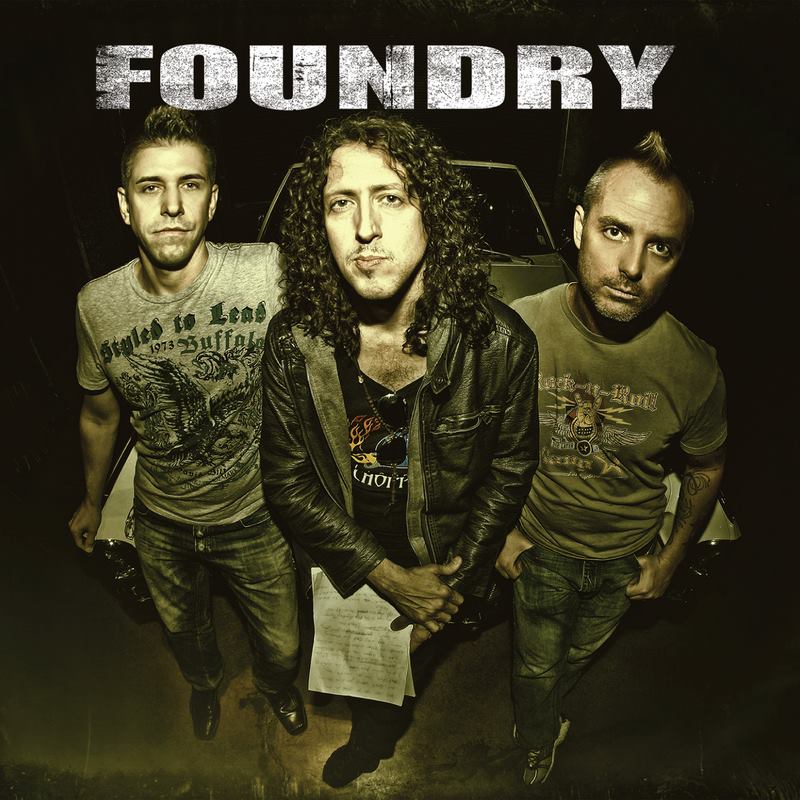 Over the years, one of the true unsung heroes in the world of rock and roll has been Kelly Keeling. This is a man who has literally been everywhere and done everything, yet seldom gets the recognition that he deserves. His career includes stints with bands like Baton Rouge, Blue Murder, King Kobra, Trans-Siberian Orchestra, the Michael Schenker Group, and countless others. Recently, he participated in the Red Zone Rider side project, along with drummer Scot Coogan and guitarist Vinnie Moore.
Foundry is Keeling's latest band, teaming him up with fellow musicians Marc Brattin and James Fucci. The album also features LA Guns/Sin City Sinners bassist Scotty Griffin, and some guest guitar work from Stoney Curtis. Steve Thompson mixed the album; Thompson's production credits include work with bands like Guns N Roses, Metallica, and Soundgarden.
One of the things I admire most about Keeling is his ability to suit his vocals to virtually any musical project; this guy can sing anything and make it his own. How many other guys do you know of that can be a part of the Michael Schenker Group AND the Trans-Siberian Orchestra? From throwbacks to modern straight-up rock, this is the proverbial vocalist that could sing the phone book and make it sound good.
The Foundry album finally came out in January of 2015; with the amount of talent on deck this is a release that has been eagerly awaited by a number of rock and roll fans. Keeling and company have described the album as more of a straightforward, modern rock album, but with elements of a number of other sounds as well. With the album finally out, how does it measure up? Is this a fresh, original project, or another in a long line of classic, aging rockers making a pathetic attempt to mimic modern sounds in effort to stay relevant?
This rock and roll fan is proud to say that Keeling, Brattin, and Fucci do not fail to please on this album. It is true that this is a more modern-sounding effort than what Keeling's previous bands have served up over the years, but that is not necessarily a bad thing either. The band manages to deliver a hard-hitting sound that is both reminiscent of other bands from various rock genres, yet unique at the same time.
The more modern sound here is surprisingly fresh. While the influences are diverse and numerous, it does not feel at any point like the musicians here are blatantly copying any other band. On several tracks I found myself feeling like I was listening to a lost Stone Temple Pilots album. On others I heard sounds that would be a welcome addition to today's rock radio stations. This is modern rock, but it is modern rock done right that does not outstay its welcome or fall victim to the all too common pratfalls. One wondering how diverse or interesting these musicians can be need only listen to a track like Calling Allah, where the group takes their hard rock sound and combines it with musical elements that sound like a product of the Middle East. From straight-up rock sounds to elements that are more melodic, the group has all the bases covered on this record. Some parts of the album do feel a little redundant, but fortunately, this is a minor complaint and the positives easily outweigh the negatives.
At 34 minutes, the album is a little on the short side, but never wears out its welcome. While I would not call it a perfect album, it definitely shows us what these musicians are capable of creating together. Chances are that if we get a second Foundry album, it could be an even more coherent and diverse product; I am optimistic that their first record will not also be the last! Overall, this is a solid addition to Kelly Keeling's already accomplished and diverse body of work. Foundry's self-titled debut comes strongly recommended!