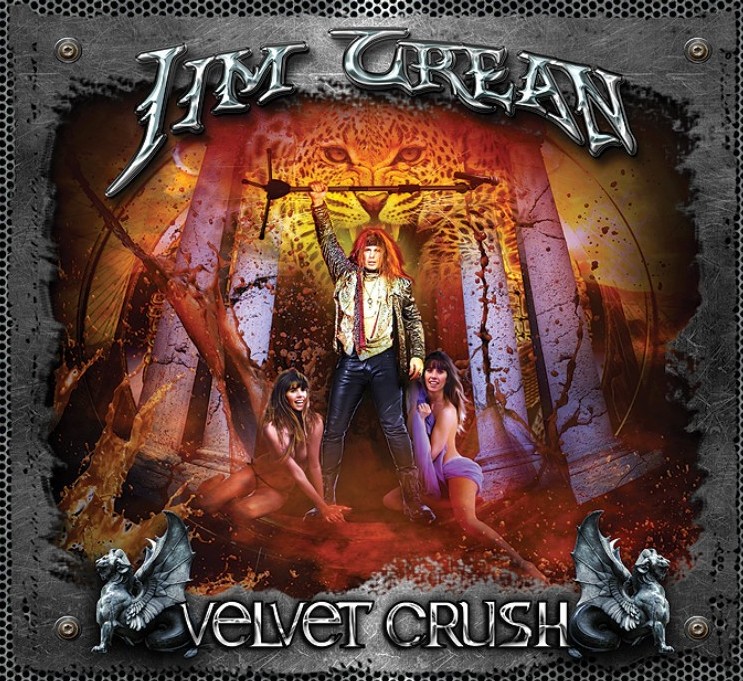 Until a few months ago, I had no idea who Jim Crean was. But, one of the shows I attended last summer was the Appice Drum Wars, featuring legendary drummer brothers Vinny and Carmine Appice, who had hired Crean as the vocalist on the Drum Wars tour at the time. Some further research revealed to me that Crean was also the vocalist of the Hair Nation 80s tribute band, as well as someone who had released a number of albums on his own, and many collaborations as well.
Velvet Crush, released in 2011, is Jim Crean's third solo album. Having seen Crean with Drum Wars and listened to the associated Drum Wars album, I was pleased to see that the Appice Brothers hired a vocalist distinctly different from those on the original recordings on the songs they were paying tribute to in their shows, however I also believed that he was not necessarily the singer best suited to singing on many of those tracks. That said, however, I was still eager to discover and listen to Crean's latest solo effort, to see how well it fared. Players on the album include Phil Naro, Steve Major, Glen Nash, Stan Miczek, and Don Mancuso. The album is produced By Phil Naro & Steve Major, and features artwork by Ed Unitsky.
Having never listened to a Jim Crean album before (unless one counts the Appice Drum Wars), I had no idea what to expect here, but actually ended up being pleasantly surprised by the final product. The music on this album is very much rooted in the 80s rock scene; you can tell Crean has an unrivaled appreciation for this era of music. On this release he does something that I absolutely love to see from musicians – a throwback-style album, but of original material. From some opening tracks that sound like hard and heavy glam/power pop-flavored rock to a number of surprisingly fresh power ballads, this is a solid release from start to finish. The tracks on here are a diverse mix, yet they all work surprisingly and coherently well together as an album. It just takes one listen through to tell that this is a unique and interesting album. Admittedly, some of the more modern-style tracks are a little weaker than the rest of the album, but that is a small complaint in an otherwise solid release.
Jim Crean's latest release was an unexpected surprise musically, and I definitely look forward to hearing more music from this guy in the future (not to mention going back and checking out his older releases!) Crean does a fine job as an Appice Drum Wars band member, but you have not truly experienced Crean until you get to experience him in his element, doing his own thing, which he is far better suited to. The album is not perfect but is an impressive effort that is definitely worth checking out for any fan of 80s-style rock!