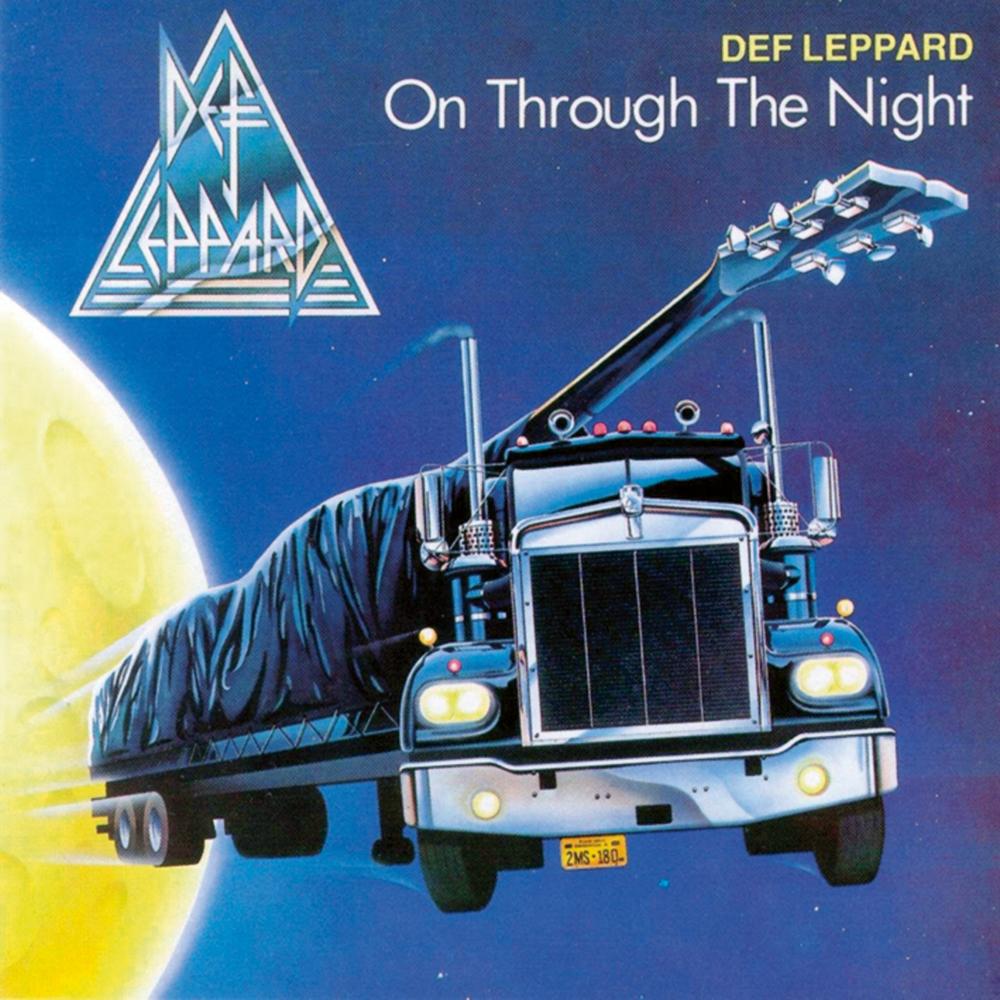 Every rock and roll story has to start somewhere. In the 1980s, Def Leppard became superstars, fueled by the hit albums Pyromania and Hysteria, which contained some of the most iconic rock songs of the Decade of Decadence. Produced by Robert John "Mutt" Lange, these records are the pinnacle of Leppard's career, and remain fan favorites. The band is still active, touring and recording, even after incurring a number of tragedies over the years
The Def Leppard story actually started several years prior, amidst the New Wave of British Heavy Metal (NWOBHM). The band was born out of the ashes of an earlier group, Atomic Mass, and after the recordings of some demos and their official debut, The Def Leppard EP, the band recruited new drummer Rick Allen. This early incarnation of the group went into the studio with producer Tom Allom (best known for his work with Judas Priest) to record what would be their first full length record.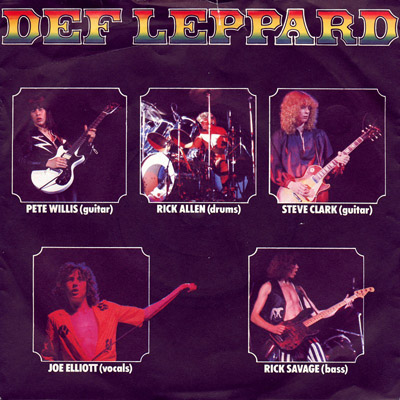 For their debut, the band was comprised of vocalist Joe Elliott, guitarists Steve Clark and Pete Willis, bassist Rick Savage, and drummer Rick Allen. Of these musicians, only the guitarists are no longer in the band; Willis was fired for his alcoholism amidst the Pyromania sessions in 1982, and Clark died from a mixture of alcohol and painkillers in early 1991. Allen lost his arm in a car accident on New Years Eve 1984, but through the use of a special kit, learned how to drum one-armed. This early lineup of the band only lasted for the debut and its follow-up, 1981's High and Dry (though some rhythm parts played by Willis did appear on Pyromania, released after he had been excised from the band).
Following their rise to popularity, the band more or less disowned their raw debut record, considering it their worst album and one that did not turn out as well as they had hoped, in a sense considering the trilogy of Mutt Lange produced albums their "official" 80s output. And yet, there are legions of fans of this earlier raw and heavy Def Leppard that consider On Through the Night to be an underrated masterpiece. Which camp is right? Is On Through the Night a forgotten classic worth rediscovering, or is the band right about it?
As a die-hard fan of the NWOBHM, I was very eager to check out On Through the Night, the oft-forgotten album from a band that would go on to become one of the biggest in the world. This record is very raw and underproduced, with a number of flaws in the sound quality (presumably due to a low budget and the conditions under which it was recorded), but raw, heavy, young and hungry, ready to take on the world, this is a radically different band. One that was far less commercial and certainly a far cry from the production that albums like Hysteria world later receive. There are no real hits or sizable singles here. And, you know what?
This is my favorite Def Leppard album. Hell, this is one of my favorite albums PERIOD.
It would have been interesting to see what would have happened if Def Leppard had continued in this direction, though it would be a likely bet they would not have become the MTV generation superstars that Pyromania and Hysteria later turned them into. What does this debut album, legendary in the hearts of many fans of the band's pre-commercial breakthrough years, entail in terms of songs?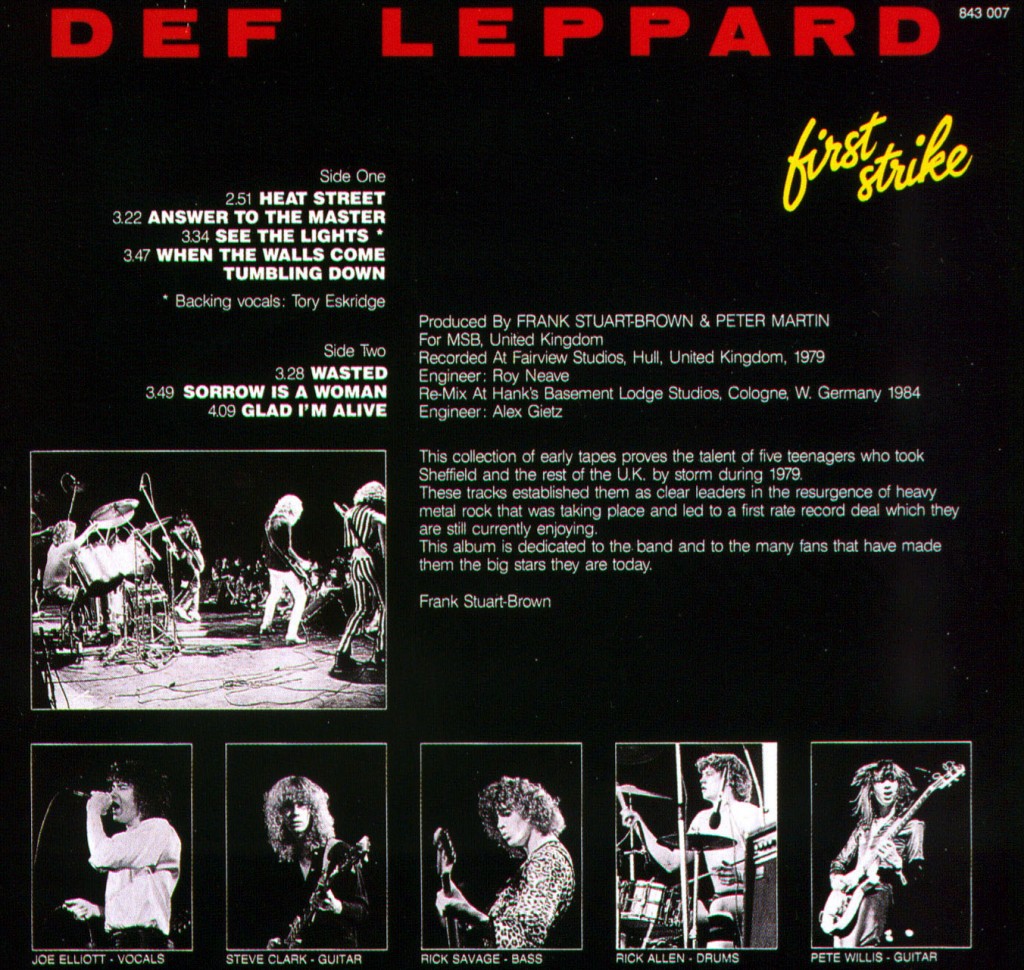 Despite the rawness, the band is surprisingly diverse on their full-length debut record. The album does not waste any time kicking things off with "Rock Brigade." This is just a straightforward rocker, and it serves its purpose of hooking the listener if they are looking for a hard and heavy NWOBHM album. "Hello America" is noticeably lighter in sound, and its chorus even uses some keyboards. Despite this, the guitar riffs keep it fairly hard and heavy. The band received a backlash from British fans at the time for this song, thinking that they had sold out and tried to cash in on the American market. But who cares either way? The song kicks ass. "Sorrow is a Woman" may be the best track on the album, with gloomy, melodic verses and an epic chorus that rocks hard. This is the song that should have been legendary, not forgotten by the masses. "It Could Be You" keeps things going with more of the classic, straightforward hard rock that so many fans have come to know the early version of Def Lep for. "Satellite" has some solid rock riffs, and melodic elements keep it interesting and help it to hold its own against the other tracks here. "When the Walls Came Tumbling Down" is Def Leppard's attempt at epic, musical storytelling, complete with spoken word intro! The gripping story and lyrics, combined with superb instrumentation, make this one a classic for the ages, and the ideal closer for side one.
Side two of this classic album is launched with "Wasted," a great hard rocker about the vices of drugs and alcohol. This is one of the more popular cuts here, and it has landed on at least one Def Lep compilation. "Rocks Off" is a rocker about the more attractive aspects of the music business, namely scantily clad female fans. It is a great tune, which was actually rerecorded from the debut EP, though this version adds in a fake audience; a novelty that wears off quickly and renders this one inferior to its original EP counterpart. That is not to say this version does not kick ass in its own right, though! "It Don't Matter" is a fantastic, guitar-intensive number with some killer early Joe Elliott vocals, particularly in its anthematic chorus. "Answer to the Master" is another competent rocker from this early version of the band, and it is all topped off with "Overture," one of Def Leppard's lengthiest and most epic of tracks, fusing melodic and progressive bookend sequences with a hard rocking core section that helps it to rank as one of the most sorely underrated Def Lep songs of all time. Like "Rocks Off," this one was also rerecorded from the EP.
Sadly, unlike many of the later Def Leppard albums, this one has never been reissued or remastered. The sound quality is rough in a number of places; some of the early drum/bass riffs of "It Don't Matter" and the portions of the guitar solo in "Rocks Off" sound particularly atrocious. This one is long overdue for some sort of clean up process (at least as much is allowable by the limitations of the source material), and some bonus tracks; there are plenty of early Def Leppard songs that are very rare and obscure that have never gotten an official CD release, and a multi-disc Deluxe Edition of this album would solve that problem beautifully. Keep your fingers crossed.
On Through the Night is a kick-ass debut album that features a rawer, heavier Def Leppard than you know. The band is often lumped in with the NWOBHM, but this is their only album that can justifiably be considered a part of that musical movement – I mean that as a compliment of the highest order towards this record, of course! Do you want an NWOBHM album that rocks like no other? Forget everything you thought you knew about Def Leppard, and pick this album up. If it is the hard and heavy you fancy, On Through the Night will not disappoint.
https://www.youtube.com/watch?v=tuU0csS1HiM