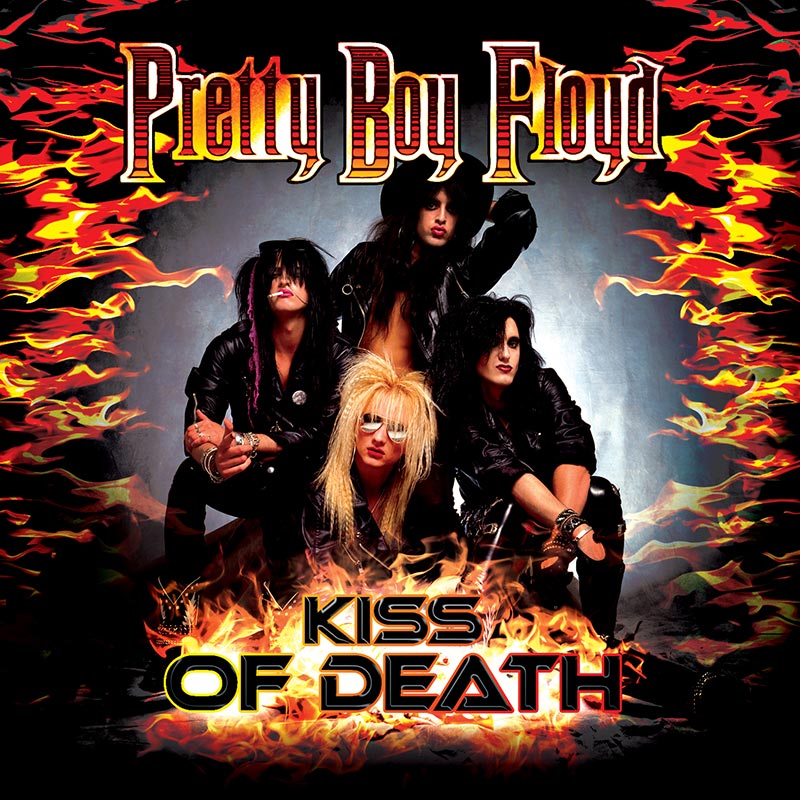 No matter who you are in the rock and roll world, the influence of KISS is undeniable. Since 1974, Gene Simmons, Paul Stanley, and many other members of the group have been releasing some of the best classic hard rock the world has ever known. It is no surprise that countless bands cite them as a major influence, and in some cases, the reason they wanted to become rock and rollers to begin with.
Pretty Boy Floyd was a band that came along late in the 80s glam/hair scene, and is best known for their classic 1989 debut record, Leather Boyz with Electric Toyz. "Wild Angels" and "Rock and Roll (Is Gonna Set the Night on Fire)" were both major hits fondly remembered by fans of the era's music. A reunited version of the band has been going strong, featuring long time members Steve Summers and Kristy Majors.
Pretty Boy Floyd is yet another band to acknowledge their being influenced by KISS, and they have decided to do this in the form of a tribute CD, covering 15 of the most classic KISS cuts of all.
It is not uncommon to get classic bands doing entire CDs of covers these days, but it is very rare you get just one band using an entire CD to pay tribute to only one other band. That said, the influence KISS has had on the world of music is widespread enough that it comes as no surprise that if Pretty Boy Floyd was going to do a tribute to any band, it would be the hottest band in the land!
Interestingly, even though this is being marketed as a "new" album with different cover art, it was actually available via the band's website (with a different cover) as early as 2010. It is not clear as to why the album was reissued or is being marketed as such.
So how does this release actually measure up? An album like this is tough to review because there is not really anything to compare it to. Do you compare it to other Pretty Boy Floyd albums? Other KISS tribute records? The original KISS songs? For what it is, this is a pretty good release, but not a great one.
The best part of this release is the tracklist. Many of the big hits are covered here, but the Pretty Boy Floyd boys are smart enough to not follow the clichéd path of simply playing the big hits and nothing else. Sure, you'll hear "Detroit Rock City," "Shout It Out Loud," and "Strutter," but you have to give the band credit for digging deeper and giving us "King of the Night Time World," "Goin' Blind," and even "Room Service!" A diverse setlist is one of the best things this album has to offer. Fans will be inclined to agree.
As for the actual performances of these songs themselves, it is what it is. The covers just feel pretty straightforward and predictable, despite the solid selection of what tracks are played. Steve Summers' voice is never going to be mistaken for any member of KISS, and may actually deter KISS fans who are not Pretty Boy Floyd fans. That said, his vocals at least help the tracks to sound different from the originals, but all other aspects here just fall flat. While I do not believe the reviews out there that lambaste this release and claim "Summers is just doing karaoke to the actual KISS tracks," the band does not really "take ownership" of the songs and do enough of their own thing. I am pleased when bands cover the songs of their heroes, but they need to find a way to leave their stamp on things, and the band simply does not do that here. These are faithful covers and definitely solid in their own right, but that is all that they are.
In the end, it is tough to determine whether or not to recommend this release. The cover versions on here are faithful (aside from Summers' unique vocal style), but there is nothing truly distinctive or interesting about them. The most curious of Pretty Boy Floyd and/or KISS completists will want to add this to their collection for curiosity's sake, but everyone else should just stick with the original KISS versions.