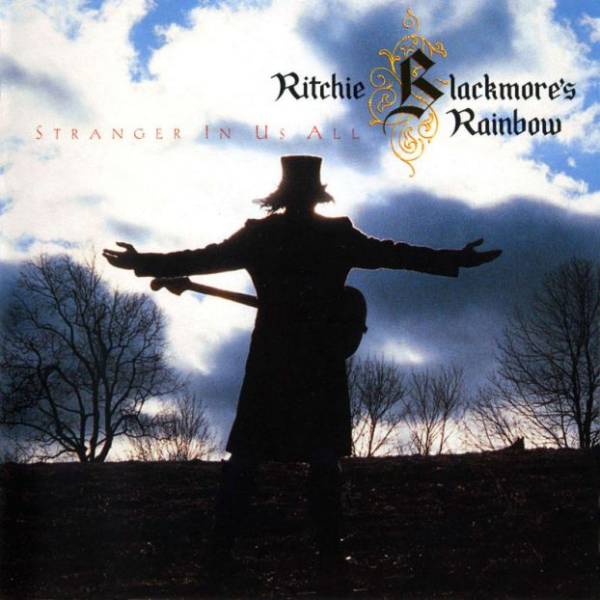 Rainbow was Ritchie Blackmore's band after leaving Deep Purple, and proved beautifully that he was not ready to quit rocking. From 1975 to 1983, the group released some amazing albums that ranged from classic hard rock to more commercial avenues. From the Ronnie James Dio period to the Joe Lynn Turner era, there were many highlights on those classic records. The band ceased to be when Blackmore left to join a reformed Deep Purple in 1984. But, contrary to popular belief, that was NOT the end of the Rainbow story!
Blackmore permanently left Deep Purple in 1993, and at this point was preparing to record a solo album; this ended up becoming a new Rainbow album due to record company execs pressuring Blackmore to use the name, despite there being no other former Rainbow members (though former drummer Chuck Burgi would return for tour dates). This version of the band only recorded one studio album, Stranger in Us All, though it was largely ignored by the musical public in an era when grunge and alternative rock were reigning supreme. The Rainbow incarnation featured here did not last long; Blackmore disbanded it shortly after and went on to form Blackmore's Night with his lover Candice Night, performing medieval folk music (Night did some songwriting and backing vocals on this record). It would be his final rock and roll recordings until the formation of a new version of Rainbow, with Ronnie Romero on vocals.
The lineup on Stranger in Us All consisted of Blackmore himself on guitar, Doogie White (later of Michael Schenker's Temple of Rock) on vocals, Paul Morris on keyboards, Greg Smith on bass, and John O'Reilly on drums. Pat Regan co-produced the album with Blackmore.
How does Stranger in Us All measure up, and is it a release worth revisiting? This is an album people thought they probably would never see. Hell, there are probably Blackmore/Rainbow fans out there that do not even know this release exists! Aside from a few missteps, it is actually a strong record; the solid tracks far outweigh the weak ones.
This album starts strong with heavy yet melodic number "Wolf to the Moon," which is a fantastic opener that should get the listener's attention without fail. "Cold Hearted Woman" sounds like a long lost classic Rainbow song, and this fan cannot think of greater praise than that. Sadly, we do have to endure a pair of relative duds after that. "Hunting Humans" sounds like it would be more at home on a Duran Duran album, while the odd bluesy rock of "Stand and Fight" sounds more like something the Eagles or John Mellencamp might put out. Fortunately, things pick up from there. "Ariel" is a solid example of melodic hard rock with some fantastic vocals from Doogie White. "Too Late for Tears" picks things up, being a faster and harder rocking track that brings Rainbow's Joe Lynn Turner period to mind. One of the strongest cuts on the record is "Black Masquerade," featuring beautiful symphonic keyboard work, and great vocals including a few parts from Candice Night. Listening to this song will make you wish Blackmore and Night have gone in THIS direction following the album's release, instead of the traditional medieval folk music. "Silence" goes back to the more straightforward hard rock, something Ritchie Blackmore always managed to pull off well. "In the Hall of the Mountain King" is an adaptation of Grieg's legendary classical piece, but this version incorporates lyrics and, of course, a rock and roll arrangement. The result is a surprisingly solid one. Closing out the record is "Still I'm Sad," an old Yardbirds song that the Ronnie James Dio version of Rainbow covered on the 1975 debut. This song has an interesting history; the Yardbirds original was, essentially, a Gregorian chant! Rainbow covered it as an instrumental piece in 1975 on that debut record, but this new take on the song reincorporates vocal work, while keeping much of the rock instrumental work. This version easily bests the one on the Rainbow debut. All in all, you have an album which largely consists of great, underrated songs.
Japanese import versions of the album feature an additional track entitled "Emotional Crime" that was not included on the international release. This Bad Company-esque rocker is worth looking up on YouTube or another audio/video site if you have some spare time; it should have been included on the album's international release instead of the two aforementioned "misfit" tracks.
This album is one of those forgotten releases that even fans of Blackmore and Rainbow tend to overlook. While it is not perfect as a result of two songs that feel out of place, the rest of the album ranks amongst some of Blackmore's finest work. This would be Blackmore's final rock and roll album for two decades, and it was a solid way for him to leave it all behind. With hints of a more melodic and symphonic direction on many of the tracks, plus Candice Night's involvement, this fan personally wishes Mr. Blackmore would have followed the template that he laid down here instead of the medieval folk direction he has been maligned for over the years. Stranger in Us All contains more than a few lost classics, and comes strongly recommended to fans that may have missed it the first time around.