In the latter half of the 1980s, LA Guns were the kings of the Sunset Strip rock and roll scene, with countless classic hit songs from their first few records. It was guitarist Tracii Guns who brought these cuts to life, and definitely stood out as one of the best talents of his era. Over the years, through various projects, he has always remained active, including a stint in the short lived supergroup Contraband, and playing out here in Vegas for Raiding the Rock Vault's first year. He has even recorded two solo albums with his League of Gentlemen group.
Upon hearing Mr. Guns would be paying Vegas a visit with an all-star band of musicians, this fan knew he had to attend. His partners in crime for this visit included Rudy Sarzo, the legendary Cuban bassist who has played with artists like Ozzy Osbourne, Dio, Quiet Riot, and Whitesnake, plus Keith St. John on vocals, who once sang for the late Ronnie Montrose.
Opening up the show was a group called Fever Red, out of Philadelphia. The two things in this world I love most are heavy metal and sexy women, and this band was one that delivered on both fronts! With a hard rock sound that combines old and new elements alike, and a mixture of covers and original tunes, this was a surprisingly fresh and enjoyable set. When is the last time you heard any band cover Metallica's "Ride the Lighting," much less actually do justice to the material? Despite being a fairly new band, the good majority of their set was original songs. I was not familiar with Fever Red prior to last night, but this is a group to follow for sure.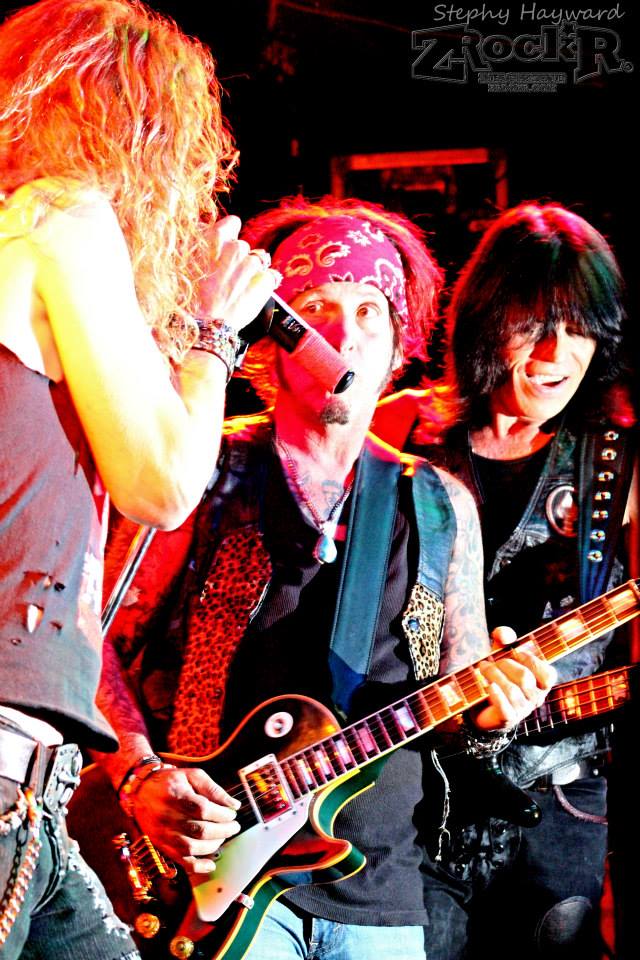 And then there was Tracii Guns. This was a difficult show to anticipate exactly what to expect; would we be getting new songs from this group (referred to as "Gunzo" on their Facebook page), or covers of songs from the bands that made them famous? The group opted for the "covers" route, but every song was an instantly recognizable classic from their glory days.
This was basically a "let's play the classics" night, and I am pleased to report that the band Guns put together was more than up to the task at hand. Songs played included compositions from Ozzy Osbourne, Whitesnake, Dio, LA Guns, and Montrose. Guns' former LA Guns bandmate Phil Lewis even joined the band on stage to sing one of the most classic of LA Guns songs, "The Ballad of Jayne." Tracii Guns is an amazing guitarist that never seems to get the proper credit, and he was on fire this entire night.
It is impossible to perform a show like this without a competent vocalist, and former Montrose singer Keith St. John ended up being just what the night needed. You have songs from multiple bands here, and finding one man that does justice to the material in question can be a challenge unto itself. Shane Fitzgibbon proved himself a great drummer for the occasion as well, not missing a beat.
But by far the standout talent of the evening was Rudy Sarzo, hands down one of the best bassists in the world of rock and roll. This man is in the best shape of his life and moves around the stage with charisma and energy that most men half his age lack, not to mention a good sense of humor with his bandmates. When I told a friend present at the show that Sarzo is now 64 years old, they did not believe me! Having served stints with Quiet Riot, Ozzy Osbourne, Whitesnake, Dio, and Blue Oyster Cult, he has an impressive body of work, much of which we got to see performed live at this show. It is great to see Mr. Sarzo alive and well, doing what he does best, and doing it better than anyone else. If this rock and roll fan had to assemble a "best bassists" list, there is a good bet that Sarzo would easily rank in one of the top three slots.
The only real issue that I had with the evening is that the setlist could have been a little more diverse and explored some more of the artists' respective histories deeper. How can you have Rudy Sarzo in your all-star band and not play even one Quiet Riot song? One more Whitesnake song would have been nice as well. Most of the big LA Guns songs were played, but criminally omitted from the setlist was "Electric Gypsy." It also would have been nice to get Phil Lewis to sing more than one song, but he likely had other commitments. Of course, despite these minor quips, the good far outweighed the bad.
Tracii Guns is a kick-ass guitarist who is still going strong today, something he proved beautifully alongside some fellow solid musicians, including the great Rudy Sarzo. Should this quartet hit up your town, and you want to hear some classic hard rock done up right, the Gunzo band is not going to fail to please.
All Photos ©Stephy Hayward / ZRock'R Magazine