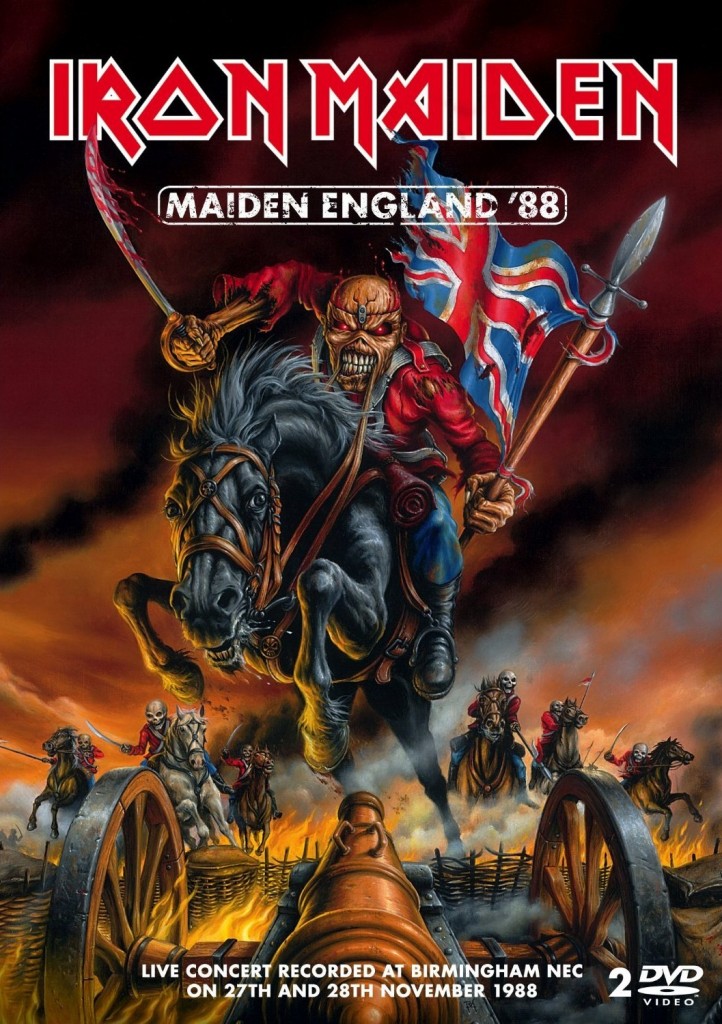 1988 was a peak year for Iron Maiden. In the years leading up to that point, following the mass success of the hard rock classic Powerslave, Maiden began embarking upon a more experimental and epic direction. Hell, these guys could have released Powerslave a million times over and fans would have eaten it up. But that was not enough for these classic metal superstars. Incorporating new musical elements and themes into their music, including keyboards and synthesizers, the group released Somewhere in Time in 1986 and Seventh Son of a Seventh Son in 1988. These albums marked a creative peak for the band, and would be their last with guitarist Adrian Smith, until he reunited with the band circa 1999.
While the experimental direction of these albums did earn the band their share of detractors, they had far more supporters, who applauded them for moving in a more progressive direction and becoming more inventive with their music. The Seventh Son Tour was one of the band's most monumental undertakings to the time, and stands as one of the band's most epic series of shows. Maiden England '88 is a live DVD chronicling the live spectacle of this tour.
One of the greatest strengths of the concert contained on the Maiden England '88 DVD is that it is NOT merely a "Greatest Hits Live" concert. The emphasis is largely on tracks from the then most recent studio effort from the group, Seventh Son of a Seventh Son, but the group also plays deep cuts from their earlier albums. Where else are you going to hear a song like "Still Life" done up in a live setting? Curiously, there are no tracks from the legendary Powerslave record, but there are more than a few Maiden discs out there that have superb live renditions of those cuts, namely the Live After Death concert from 1985, which got a DVD release a few years prior. The new release also restores some tracks that were omitted from earlier releases of this concert, including a series of encores. Maiden fans will find this to be one of the best home video releases by the band of their vintage live material.
Sadly, the video quality on this release does not live up to that of the Live After Death DVD released a few years prior; I suspect this may have been shot on video tape rather than film, as parts of it tend to look fairly soft throughout. That is not to say the picture quality is bad by any means, though. Audio is exactly what you would expect from a Maiden release, loud and up front, taking you by storm from the moment you begin viewing and listening.
As with many of the other recent live Maiden DVD releases, this one gives the viewer a number of supplements. The History of Iron Maiden series continues with a third installment, though this one tends to feel rushed in comparison to the first two installments, and covers a less comprehensive and lengthy time period than either prior episode. Oh well, it still has me excited for the inevitable Part Four! The vintage 12 Wasted Years documentary, never given a DVD release, is included here as well, and while much of the content contained within this doc have since been rendered obsolete by releases of the source material on other Maiden discs and the History of Iron Maiden docs, it is still a nice vintage Maiden documentary that fans will want to watch; there is still some content here unavailable elsewhere and that alone makes it worth revisiting. Rounding out the supplement package are the music videos from Somewhere in Time and Seventh Son of a Seventh Son. I wish the band had included some additional live material from the Somewhere in Time tour as a bonus (apparently not much of that footage actually survives; some can briefly be witnessed in the docs) but that is a small gripe in an otherwise excellent release.
Overall, Maiden England '88 is going to be a great addition to the collection of each and every Iron Maiden fan out there. The flaws in this release are negligible; no fans should be disappointed with what they get in this package. Up the Irons!