In the 1980s, there were countless bands out there trying to make it big. While several of these groups made superstars out of their members, many just never got the proper credit and were left behind. Rough Cutt achieved some modest popularity, but sadly, the group was nowhere near as popular or successful as they deserved to be.
The group had close ties with Ronnie James Dio, and Dio's wife Wendy Dio even managed the band and ran their fan club! Furthermore, she co-wrote some songs on the band's first record. Despite having a great sound and putting out two phenomenal records, the group just never managed to get the audience that they deserved. Internal tensions following the release of the band's second record resulted in vocalist Paul Shortino's departure; he subsequently would become Kevin DuBrow's replacement in Quiet Riot.
The classic lineup of Rough Cutt that recorded the two studio albums is as follows:
-Paul Shortino on vocals. Shortino is best known for the period that followed Rough Cutt, in which he briefly sang for Quiet Riot, appearing on their 1988 QR record. He also two appeared on two recent albums with King Kobra. Las Vegas rock and roll fans know him well these days for being one of the singers in the Raiding the Rock Vault classic rock tribute show.
-Chris Hager on guitar. Like many Rough Cutt members, Hager was previously in Ratt in their early formative period. He has since rejoined Ratt vocalist Stephen Pearcy, and plays guitar in his solo band.
-Matt Thorr on bass. Similar to Hager, Thorr was in an early Ratt lineup, and has since reunited with Stephen Pearcy, playing in his solo band. He has also played in the band Jailhouse alongside Rough Cutt bandmate Dave Alford.
-Amir Derakh on guitar. Derakh would become better known in the 90s for being a member of the band Orgy.
-Dave Alford on drums. Alford would later be known for playing in the Rough Cutt offshoot band Jailhouse, which also included Thorr.
Other members of the band prior to the album releases included Jake E. Lee (later of Ozzy Osbourne's band and Badlands) and Craig Goldy and Claude Schnell (both later of Dio). The group tried to stay afloat with Parramore McCarty (of Warrior) on vocals following Shortino's departure. An attempt by Shortino to revive the band in the early 2000s included Sean McNabb (Dokken, Quiet Riot) and Jimmy Crespo (Flame, Aerosmith).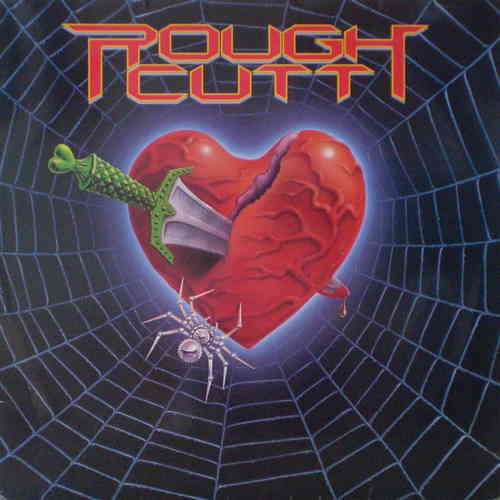 Rough Cutt's first album, produced by Tom Allom, was released in 1985. Generally rawer and heavier than the follow-up released the next year, this is my preferred release of the two. Many classic tracks help this album to stand out and make it one of the best rock albums released in the Decade of Decadence. Opening cut "Take Her" is a phenomenal hard rocker that does a great job getting the listener's attention. We even get a hard rock style cover of "Piece of My Heart," the classic 60s tune popularized by Janis Joplin. A true standout cut here is "Dreamin' Again," one of the best ballads recorded in the era; it is criminal that this song was not a bigger hit. One of the greatest strengths of this record is its raw and heavy nature; these guys tend to get lumped under the "hair band" umbrella but this album rocks harder than many of its era. There is not a weak cut here.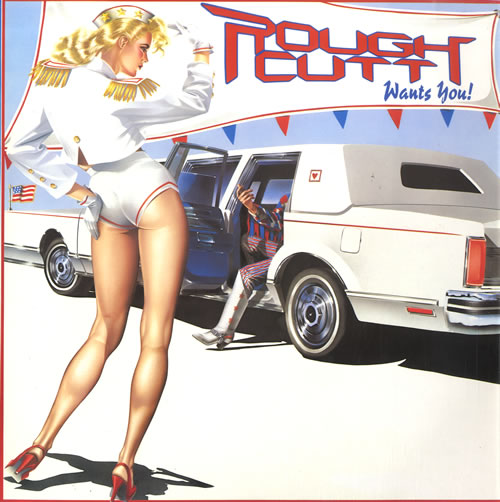 Wants You, the second record from the band, is a considerably more glossy and commercial affair, with Jack Douglas in the producer's chair. I will be the first to admit that this is the lesser of the two releases, but it is still a more than worthy effort that makes me wish this band had made it bigger. Opening cut "Rock the USA" is a hard, heavy and fast cut that is amongst the band's finest, and they could not have kicked things off in finer form than this! Throughout the release, the band still manages to serve up their share of solid tunes, fast and slow alike. The first record has more memorable standout tracks, but that is not to say Wants You is a weak effort by any stretch of the imagination!
The original CDs of these albums are long since out of print, however a twofer CD is available that combines both albums onto a single CD, allowing you to get them in a single purchase. This disc is highly recommended if you are curious about the band.
Outside of these two albums, there have been a few posthumous releases from the group, including a two disc Anthology set that has unreleased live and studio material alike. There is also a separate live CD that was issued in the mid 90s with some bonus unreleased studio tracks. An EP was released from the early 2000s attempted revival of the band, but the availability of these aforementioned releases is questionable; they are most likely out of print.
Rough Cutt is a criminally underrated band, and it is a shame that they never got the widespread fame and recognition that they deserved. Both of their albums have finally been reissued in a twofer, so this could very well be the best time for you to pick both of them up in one convenient place. These classic hard rock tunes are well worth rediscovering! Highly recommended releases if you can track them down.