In our last issue of A Journey Through Punk Rock Bowling 2015, we brought you the prequel; the calm before the storm with Streetlight Manifesto. Now, it's time for the official festivities to begin! Rancid and The Mighty Mighty Bosstones would be gracing the main stage Saturday night, but it was time to hit the clubs on Friday night for 7 Seconds and Street Dogs at Las Vegas Country Saloon,  Aggrocats and The Interrupters at Backstage Bar and Billiards, and G.B.H with Infa Riot at Fremont Country Club. Holy shit!  This year's kickoff was also greeted with a special treat from 11th Street Records; Anti Flag would be performing a special acoustic set and selling their new album, American Spring, before its release for a handful of fans a few hours before the club shows started.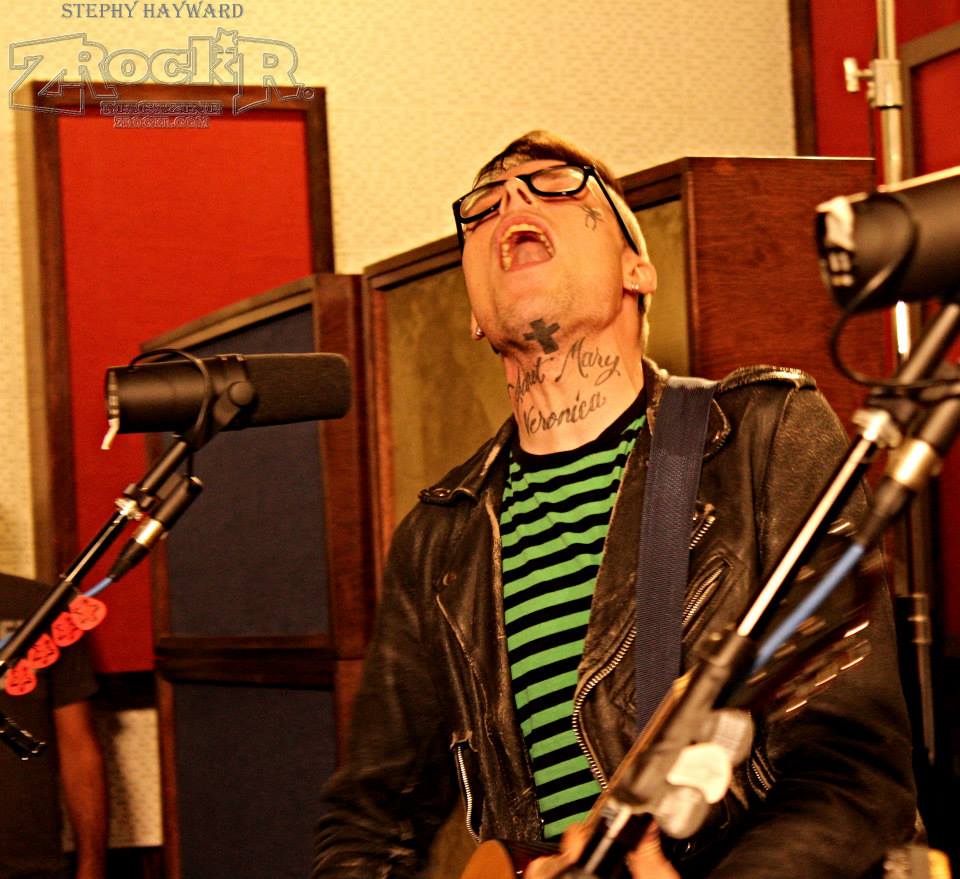 The line of people in front of 11th Street Records wrapped around the block and was riddled with hands holding vinyl and CD copies of American Spring. It was great to see people excited about the new album and taking advantage of the early release. After the pass of time with a few cigarettes, we piled into the back of the record store, where a very intimate studio room was set up, with enough room to fit maybe 100 people at max. Before Anti-Flag would come out, singer Brendan Scholz of Mercy Music would take us through a few songs to open up, including Mercy Music's singles "Repeat" and "Fine". A very pure noise comes from Brendan's voice, and you can feel the warmth of his writing; he reminds me of the feeling I got the first time I heard Matt Skiba. His acoustic performance was meritable compared to a Mercy Music set; with Brendan hitting every solo as he would with blaring amps backing him. You can say that Brenden kicked off Punk Rock Bowling 2015! That wouldn't be the only time Brenden would be on the PRB stage for the weekend though. Mercy Music were rightfully playing the same stage as Frank Turner and Laura Jane Grace(Against Me!) at Bunkhouse Saturday, and again at Sunday's pool show with 88 Fingers Louie at The Plaza. This shining Las Vegas three-piece has made a crater in our little music scene with their freshman album, When I Die I'm Taking You With Me, and have already taken it on a nationwide tour; put that together with a three stage appearance at Punk Rock Bowling and I'm not sure how much more convincing I can give to check these guys out! I promise you won't regret it.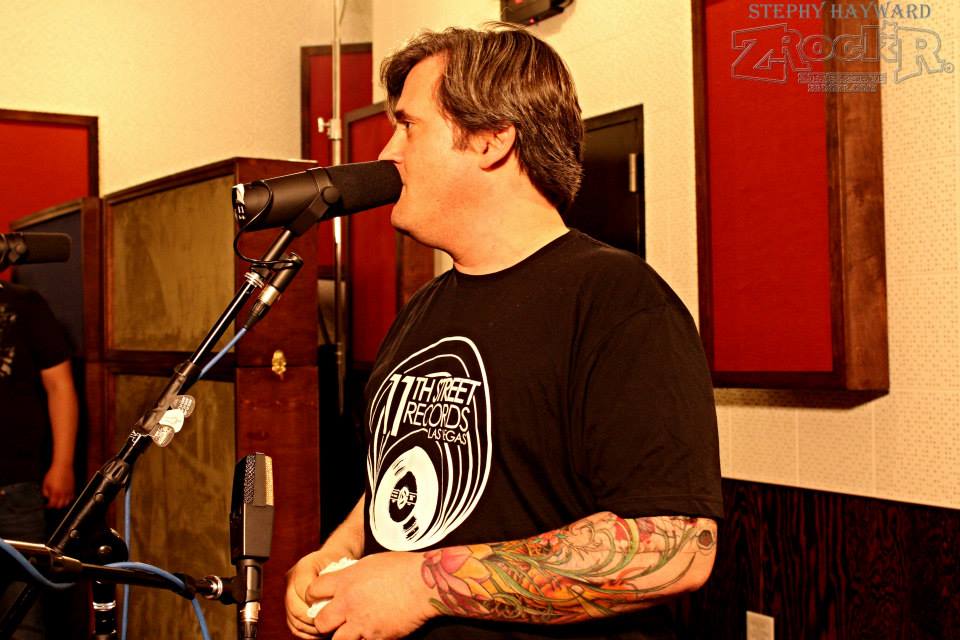 After Brendan's short, yet dignified set, owner of 11th Street Records, Ronald Corso, started to give away raffle items that fans were entered in to win when they purchased the new album. Included in the winners was local Punk Rock Bowling alumni, and Hard Pipe Hitter's bassist, Rory Child! After a few more giveaways and a little passed time, Justin Sane and Chris #2 took the head of the room and kicked off the two-man, unplugged Anti-Flag performance. Starting off with "Fabled World" from American Spring was an ideal way to show how they can take a harder song and deliver it just as effectively with only two acoustic guitars. I listened to the song for the first time on the way to the record store, and it left that same feeling as "Press Corpse" from For Blood and Empire does; making you want to raise your fist in the air, screaming along with lyrics like "If Doctor King were here today, he'd fight for much more than a dream". "This is The End" and "Bones" followed. Being fan favorites they both became sing alongs for the entire room; calling out lines and "whoa-oa-oas" into another new song from American Spring, "Brandenburg Gate". This track features Tim Armstrong from Rancid on the album, but the improvisation from Justin and Chris was appreciated as most of the crowd knew the words and chanted along with the chorus, "I will wait at the Brandenburg Gate; at the Brandenburg Gate, I'll wait." The Clash-ish style guitars and Tim's contribution make this a notable track for any fan of Punk Rock to check out.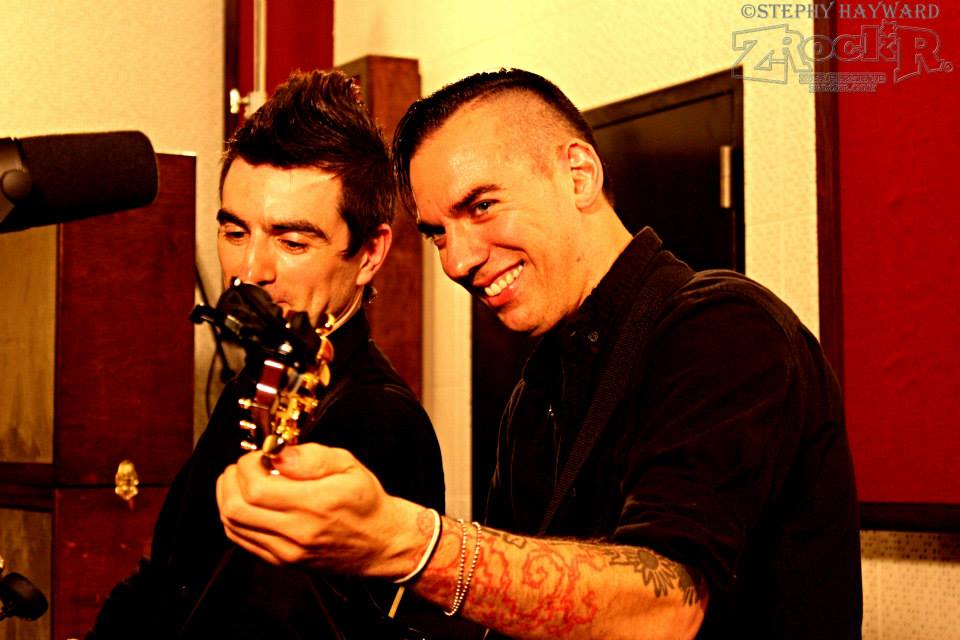 Anti-Flag are very well known for going on political rants at shows, and they did not hold that back one bit at 11th Street that night. Before playing "1915" , Chris stressed the importance of the sacrifice that Joe Hill, a migrant labor activist and songwriter, made with his life and wrongful sentence to death by firing squad; and also how crucial the fight for 40 hour work weeks and mandatory breaks was. Justin would bring up points about the influence that billionaires and corporations have on society before leading into "One Trillion Dollars", another song that the entire room chanted along to, screaming "Fuck the world, a lot of people gotta to die tonight!" followed  by a series of "whoas" and returning to yell out "fuck the world; kill em' all". The already acoustic song had a natural place in the set and was a great song to see in an intimate setting like that. Jumping back into American Spring with "Without End", a song sang mainly by Chris, gave a moment to appreciate the soft tones that he usually strays away from. The last song written on the set list was another fan favorite; the kick-off track from The Terror State, "Turncoat". The call out of the song was met with the biggest reaction the crowd gave the entire set, and cries of "We're tired of lies, we want the truth!" during each verse followed. It even drew a crowd surfer to jump up and get a good minute and a half of the greatest view in the studio; swimming on top of the crowd, screaming along. I was able to see the set list on the ground and expected for that to be the last song, but the boys had one more in them!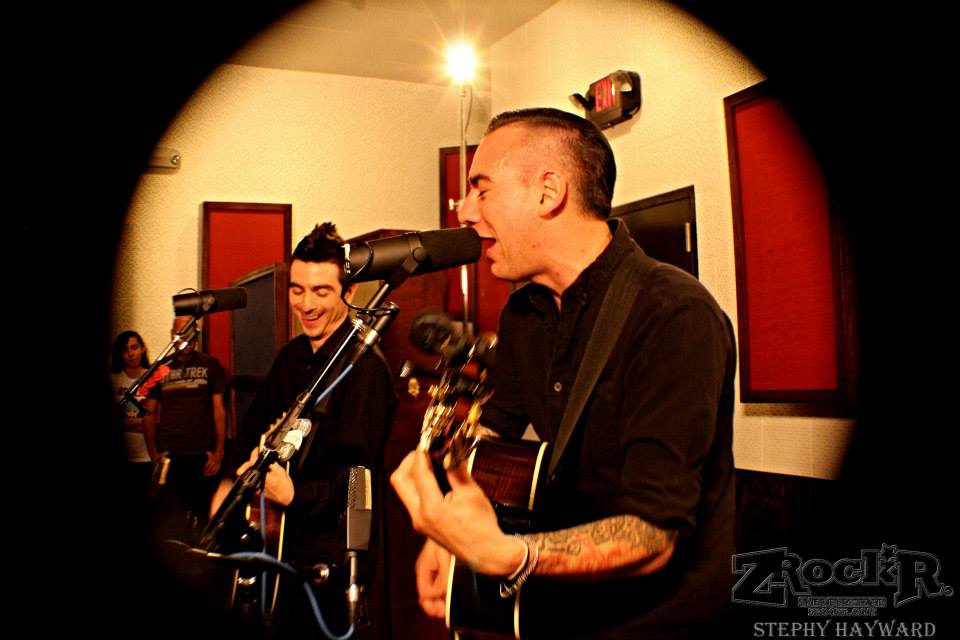 After getting in the screams of "1984" with a few other fans(my favorite acoustic Anti-Flag song), they surprised me with playing their pinnacle single, "Die for Your Government". It reminded me of being in high school, with two acoustics playing and a bunch of people in a circle screaming "You've gotta die, gotta die, gotta die for your government? Die for your country? That's shit!", only this time we had about ten times the amount of people and actual Anti-Flag playing for us! The set was a wonderful way to see my favorite band. Full sets with Chris Head and Pat along with them are some of the most enjoyable concerts I've seen; but Justin and Chris #2 are the main vocals and strings behind Anti Flag, so seeing them separate took no fun away the experience. After signing a few more autographs and taking pictures with fans in the lobby, Chris and Justin caught up with ZRock'R about the new album American Spring and a lot more, so be sure to check that out soon!
Leaving 11th Street Records to walk up Fremont Street really started to show the punk crowd taking over the streets. Where you would usually see a group of well-dressed women walking into Commonwealth, or group of jocks jumping on the scale in front of Heart Attack Grill, you saw groups of kids with torn up shirts and tight black pants taking over the corners, and 32-packs of Pabst being set on the scale by some crust-punker with green hair; wondering what the fuck the scale even is. After people watching at Banger Brewery, it was time for Street Dogs and 7 Seconds at Las Vegas Country Saloon to start off the club journey. Walking in on The Applicators at LVCS was a cool surprise. An all-female, rock and roll band with solid instruments and no holding back on the vocals; they kept an entertaining enough set to retain the attention of both the suspender-wearing, working-class punks and the hardcore punks at the same time. Knowing there was a bit of time before Street Dogs hit the stage, we headed over to Backstage Bar and Billiards and walked in on the start of The Interrupters set. Fronted by Aimee Allen and backed by the three Bivona brothers, you can usually find them supporting Tim Armstrong at Tim Timebomb and Friends shows, but The Interrupters don't need the help of Rancid's front man to put on a great set. As soon as I heard the sound coming outside the door of BBB, my dancing legs took over; directing me to the middle of the pit where we slammed through "Take the Power Back", "Friend Like Me", and ended with "Family"; kicking around with entire crowd chanting, "This is my family" and repeating every word Aimee put through the microphone.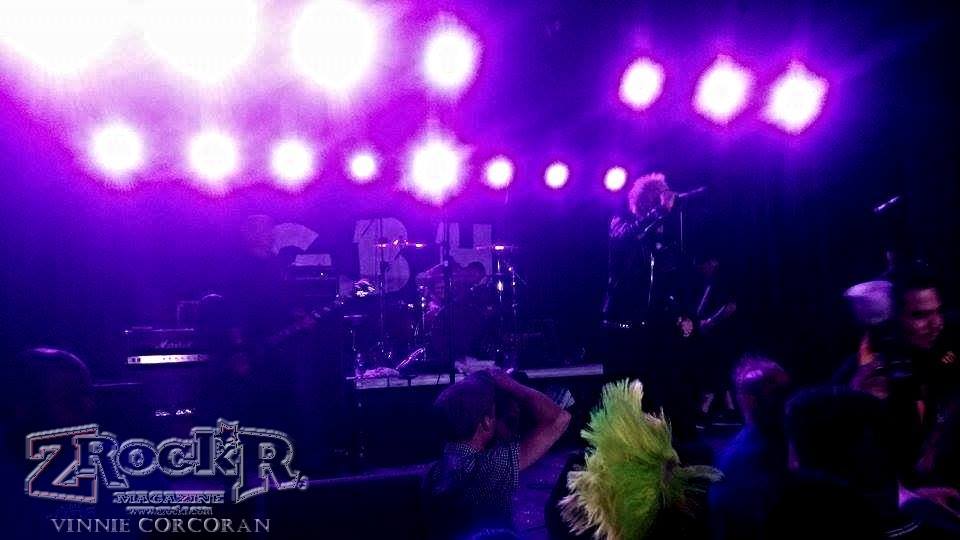 There were a few chirps around the bar the G.B.H were on stage next door at Fremont Country Club already, so without hesitation I ran over and made my way to the pit. FCC is the biggest of all of the club show venues, and with each show pretty much sold out, it was guaranteed to have a good crowd. The thing about trying to get to the pit at normal shows or festivals, is people get offended when you try to get by them; giving you dirty looks when you say "excuse me" and tap them on the shoulder, like you just ruined their entire concert experience. At a Punk Rock or Metal show, you get directed to the pit by each person; shoving you towards the cyclone of fists and elbows until you reach that edge and dive in. Everyone wants that dive to be graceful, but my plunge into this pit during "Sick Boy" was the complete opposite. After getting tossed in by whoever was regulating on the side of the pit, I was quickly brought aware of the slickness of the ground when I tried to kick into a skank and promptly ate shit. In my head it was like cartoon character slipping on a banana, then frantically kicking around for a few moments before flopping five feet in the air then making an impact like a crater. After getting helped up, I just made my way to the front of the pit and threw my hands up, screaming "I'm a sick boy, and there's no cure. I'm a sick boy, there should be more".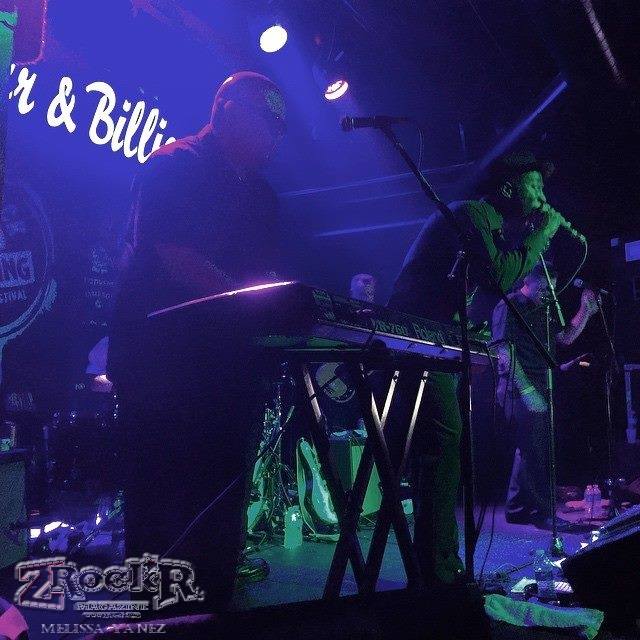 After hearing a few more tracks like "Am I Dead Yet?" and "Catch 23", I stopped back next door at BBB to lace my dancing shoes back up for Aggrocats. Combining The Aggrolites and Hepcat, this was a no-brainer to check out. Keeping up the ska vibe from The Interrupters, but adding in the keys and horns then slowing down the tempo gave the crowd a more chill atmosphere; not a lot of dancing and more swaying to the sounds. I can't recall many songs, but remember throwing in a couple of jigs for Hepcat's "Monkey Ska" when it came over the speakers.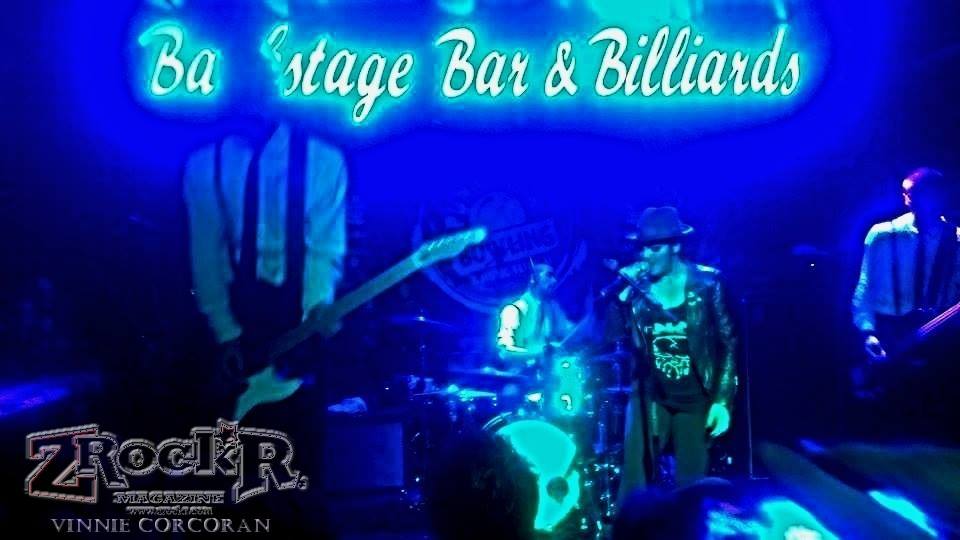 Getting back over to LVCS as the last note of Street Dogs' set rang out was probably the saddest feeling I had all night, but after realizing the barricade was clear to see the start of 7 Seconds, I immediately got over it. The most hardcore band of the night couldn't have been a better topper. Kevin Seconds is one of the most energetic front men out there, and he kept the momentum going the entire set. Starting off with "Still Believe", the pit immediately opened up and fists went into the air with each drop of the drums and guitars. The environment reminded me a lot of the H2O show at LVCS last year for Punk Rock Bowling, and it was a fitting coincidence that guitarist Bobby Adams was wearing an H2O basketball jersey. After going through "Not Just Boys Fun", "Regress No Way", and even a cover of "99 Red Balloons", the place was going crazy! I couldn't believe that we were left at the end of the night with such a solid performance given by the Hardcore gods from Reno, Nevada. After 7 Seconds officially ended the set, I ran back to see if there was any chance that other clubs were still playing, but all that played on Fremont and 6th was the DJ upstairs at Commonwealth. It was sort of like a repellent for the punks, a lot of blaring hip- hop that drove them back over to the Fremont Street Experience. After a few more drinks and mingling in the streets, night one was down. Walking to my car I started to wonder, what happens to the passed out punks on the corner that got too drunk to keep going? The ones that night one hit too hard and may get arrested; not able to make the festival the next day. I need a ticket for the first festival day! Maybe he won't get arrested, but hey, that ticket can't go to waste!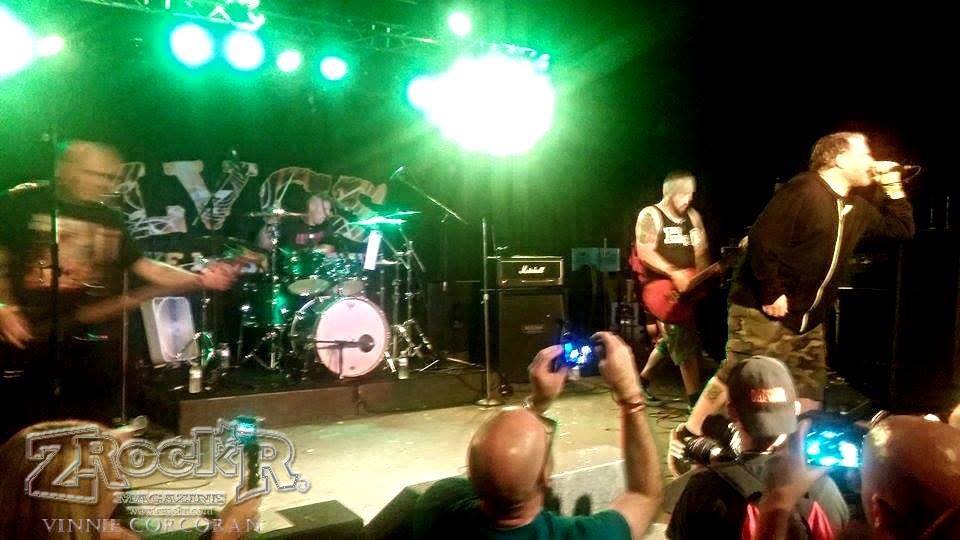 Mercy Music and Anti-Flag Photos ©Stephy Hayward/ZRock'R Magazine
7 Seconds, GBH, and The Interrupters Photos ©Vinnie Corcoran/ZRock'R Magazine
The Aggrocats Photo ©Melissa Yanez – Used with Permission