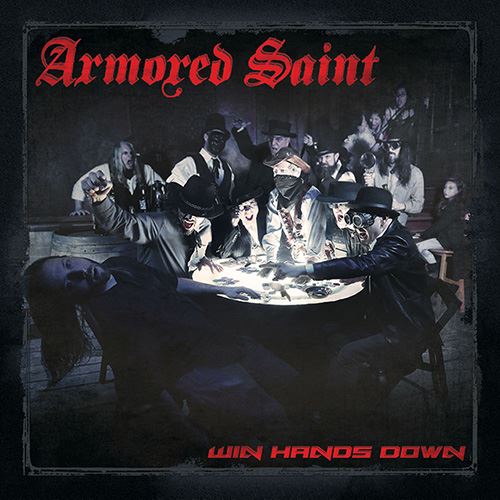 With their own breed of heavy metal, Armored Saint took the world by storm in the mid 1980s, proving themselves to have a sound all their own as one of the hardest, heaviest bands of the era. The group persevered, and recorded a number of classic albums. Even the death of guitarist Dave Prichard in 1990 did not deter the Los Angeles based heavy metal band from rocking the world; they found a more than suitable replacement in the form of former Odin axeman Jeff Duncan, who has remained ever since.
Following Prichard's death, Armored Saint has become something of an "on again, off again" project, largely due to John Bush having replaced Joey Belladonna as the vocalist for Anthrax on more than one occasion. Furthermore, guitarist Jeff Duncan plays in no fewer than three bands! This has not stopped the Armored Saint members from reuniting on a number of occasions, continuing to record and release new music.
Win Hands Down is the band's first studio album since 2010's La Raza. It has been five years since we got an Armored Saint record, but the band has reformed to give audiences another onslaught of heavy metal, as only they know how. How does Win Hands Down measure up? Does the album win, as its title dictates? Or does it lose?
Fortunately, Win Hands Down is a winner in all ways. John Bush, Joey Vera, Gonzo Sandoval, Phil Sandoval, and Jeff Duncan all return in fine form, serving up a heavy, intense, balls-to the-wall heavy metal experience that must be heard to believed. New Armored Saint releases are fewer and farther between than they have ever been (largely as a result of the band members having other projects) but when the band puts a new release out, you know you are going to get hard and heavy rock at its very best.
Win Hands Down maintains the band's classic heavy metal sound, while at the same time incorporating more modern elements in places, and even some other more diverse musical influences. While much of the album is devoted to straightforward heavy metal, there are more diverse passages as well, many of which slow things down, showing just how much the band has progressed musically compared to many of their peers. Some tracks, including "Dive," have a 90s grunge influence, but you never feel like the group is blatantly copying or mimicking those bands either. Through it all, this is a heavy metal album first, and the quintet does not let you forget that.
If there is one member of this band that absolutely never gets enough credit, it is guitarist Jeff Duncan. One of the most criminally underrated axemen of all time; he can play everything from the fastest and heaviest metal riffs, to the slower material alike. His musical exploits outside of Armored Saint also deserve credit as well, but that is a story for another day. Duncan and Phil Sandoval are one of the truly great "tag teams" in the world of heavy metal guitar, and this latest Armored Saint record demonstrates that beautifully.
Armored Saint is classic heavy metal at its absolute finest, and their latest release is no exception to the rule. Some bands wuss out or go bluesy when they get older. Not Armored Saint. This is one of 2015's heaviest rock/metal records, yet still manages to retain some other influences and stand as a diverse and interesting record. If you are a hard rock or heavy metal fan, there is definitely room in your collection for Win Hands Down.