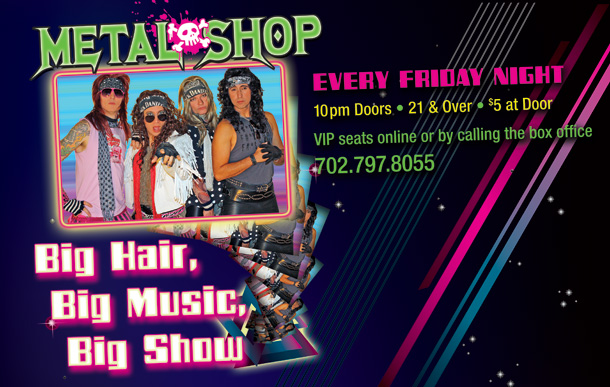 For an 80s rock experience every Friday night, the South Point is the place to be, with performances from Metal Shop. Dedicated to serving up the best in rock and roll from the Decade of Decadence, this quartet puts on weekly performances that continue to draw in diverse crowds of rock fans. Though the band has been playing the South Point for several months, the June 5, 2015 performance was my first time catching the band in action (though not the first time I have seen these musicians; they have played around town in various other groups).
Metal Shop features an all-star lineup of Vegas musicians which includes Zachary Throne, an actor/voice actor who is also a self-trained musician that recent parted ways with the Sin City Sinners, and Kurt Frohlich, who has been a veteran of numerous Vegas based bands, including the Underground Rebels, Spazmatics, Glam Star, and Anti-Idol.
80s glam style metal is by far the most overrepresented genre when it comes to rock tribute bands in Vegas, so pulling something off like this is not an easy task. The fact that they have a weekly entertainment slot at the South Point now should say something in regards to the talent that they have on deck, drawing in solid weekly crowds. This was my first time seeing the group, and I was impressed by the amount of people that came out to see them in the Showroom. Clearly these guys have a substantial following.
With one look at the poster, it can be easy to dismiss Metal Shop as a Steel Panther knock-off; the over-the-top costumes and fashions of the band members can definitely give this impression. However, this group definitely places more emphasis on the music than the humor. The group also makes use of minor stage equipment like a fog blasting machine, and video screens with band logos and music video clips. The result is ultimately something that feels like a cross between Steel Panther and the Let it Rawk 80s tribute band, which has been touring for the past two years.
So, how did my first Metal Shop show turn out? There is no shortage of talent in the band; anyone in Vegas or who has been following him over the years knows how many talents Zach Throne has, and his on-stage charisma as the frontman of this group is the first thing that any attendee is going to notice. Throne can adjust to countless musical styles and genres; from ballads to rockers and even other genres outright, he is one of the most underrated musicians out there. Adding this to a lengthy resume that includes countless acting and voice acting credits, you really begin to see what all this man has brought to the table over the past several decades. Vegas is lucky to be able to call this man a resident!
The rest of the band is equally talented; Kurt Frohlich beautifully demonstrated this with a lengthy guitar solo that culminated in his instrument smoking – literally! We even got a bass solo from a wacky bassist that had more than a few comical moments. The group did justice to the songs that they were playing. In fact, the last few songs of the night featured a special guest – Brent Muscat, formerly of Faster Pussycat, and a former Sin City Sinners bandmate of Zach Throne. With Muscat on stage, the group performed a number of Faster Pussycat standards.
If I have one complaint with the otherwise solid show, it was the predictable, paint-by-numbers setlist. The performance here was excellent; I am certainly not knocking the musical talents of these men by any stretch of the imagination. But the songs are the same ones we have heard every other 80s metal tribute band play. We've heard "Sweet Child of Mine," "You Give Love a Bad Name," "Round and Round," "Pour Some Sugar on Me," "Shout at the Devil," "Highway to Hell," and the majority of these other tracks done by every other 80s metal tribute in Vegas and elsewhere. Naturally, audiences want to hear the hits, but the setlist was a little too predictable for this rock and roll fan. Again, though, this is not a knock on the performers themselves.
A Metal Shop show is a fun way to spend your Friday night; these are some of the most talented musicians in Vegas, having a good time rocking the crowd. While it would be nice to hear some more diverse tracks in the future, as is, this was a solid night of rock from some of Vegas' finest. If you are in the area, this is a rock and roll show that will definitely be worth your time.
Note: The following video is of a previous Metal Shop performance, and not the show being reviewed here.
https://www.youtube.com/watch?v=pLzNPKlKEjk