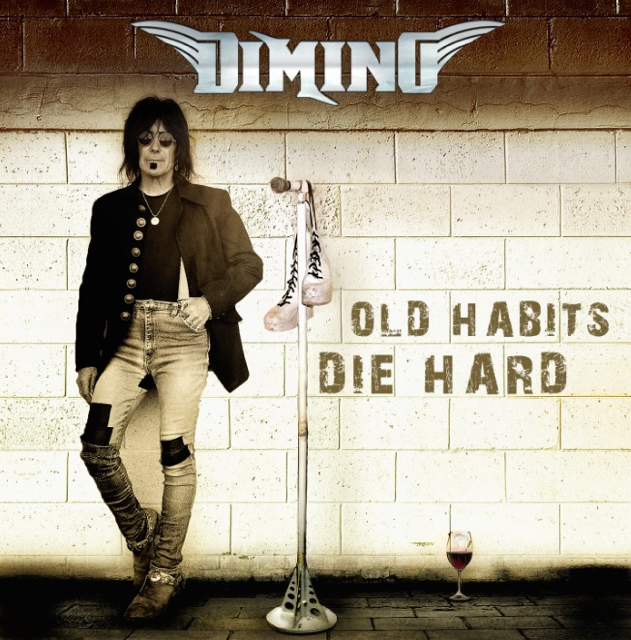 One of the most underrated voices in the world of rock and roll is Frank DiMino. DiMino drew the attention of fans in the 1970s as the voice of Angel, a band that was truly ahead of their time and far more musically advanced than their peers, even if they did not get the commercial attention that they deserved. He even served a short lived stint as singer of the Paul Raymond Project, and with a number of other artists and projects over the years. DiMino remains musically active, making regular appearances on stage in and around Las Vegas, and on records by a growing number of artists. It has been four decades since we saw the release of Angel's debut, but Mr. DiMino is far from finished.
Several months ago, an announcement was made that DiMino had signed to the European record label Frontiers, which has signed countless classic artists, and that he would be recording his first ever solo album! The American release of Old Habits Die Hard is slated for July 10, 2015. When release day arrives, are you going to want to pick up DiMino's solo debut?
It is worth noting as well that Frank DiMino has assembled an impressive backing back of musicians for this record, which includes former Angel bandmates Barry Brandt and Punky Meadows, Danny Miranda of Blue Oyster Cult, Oz Fox of Stryper, Eddie Ojeda of Twisted Sister, Jeff Duncan of Armored Saint, Pat Thrall, and Rickey Medlocke. With such an impressive array of backing artists joining DiMino for the recording of the album, this fan was all the more curious to see how the final product would sound.
There are many die-hard fans of the classic Angel years out there that have been eager to see what Frank DiMino would be unleashing on his solo album. Naturally, as one of those fans myself, I was skeptical as to how this release was turn out; not every musician ages gracefully in terms of their ability to record new material or to rock the stage. Well, I am pleased to say that Old Habits Die Hard is not only NOT a disappointment; it is one of my favorite rock albums of 2015 so far! From start to finish, this is classic style hard rock at its absolute finest, featuring a phenomenal cast of supporting players throughout. We get plenty of straight up hard rock on this release, though there are a few tracks that slow things down as well, making this a diverse and interesting listen from start to finish.
The whole release is the ultimate trip back in time when it comes to the world of rock and roll, taking the best elements of a bygone era and combining them into something great. "I Can't Stop Loving You" is probably the song on here that comes closest to sounding like an Angel song, though those classic elements do show themselves in more than a few places on the record. Tracks like "Even Now" slow things down, showing that this album truly has the best of both worlds. DiMino has a very distinctive voice that dominates every track, and this fan is pleased to say that, while he does not sound exactly the same as he did back in the old Angel years, he still sounds excellent; more than I can say for many singers of the same era! If the objective of this album was to create a new record of classic style hard rock, Frank DiMino and company have succeeded beautifully. It is unlikely the world will ever see another Angel record, but this is just as good, if not better.
Angel's iconic frontman has returned to the front lines with the appropriately titled Old Habits Die Hard, and given audiences one of 2015's best rock and roll releases so far. Here you will get an impressive mixture of hard rockers and slower tracks alike. The former Angel vocalist has succeeded beautifully in creating an album of retro rock songs that get the job done and then some. If you are a fan of Frank DiMino, or just classic-style rock in general, Old Habits Die Hard is not going to disappoint. Absolute highest recommendation!