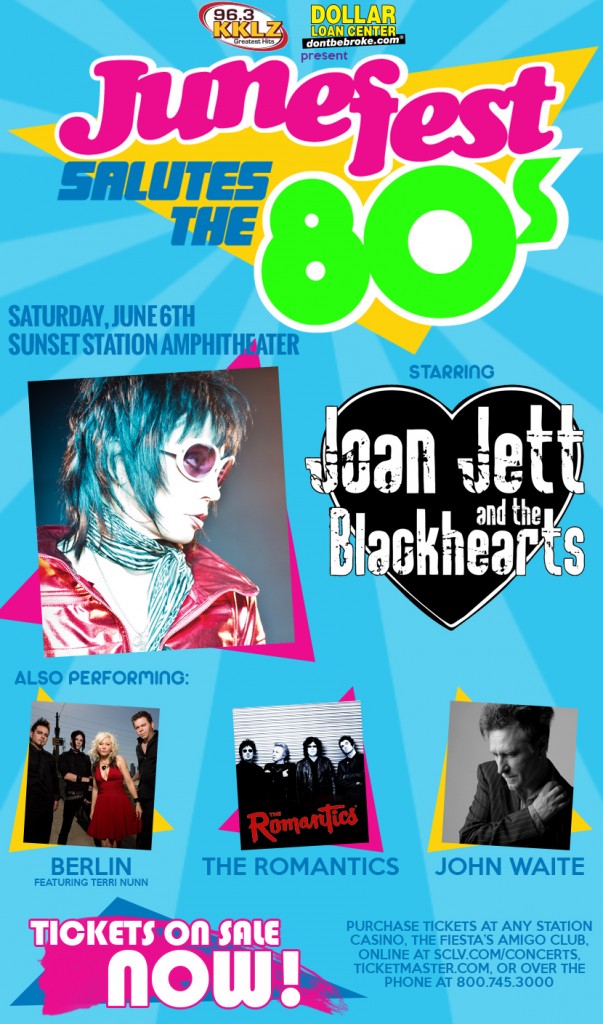 If you're a Las Vegas resident, you're probably well aware of a recently resumed (suspended for seven years until it was reconfigured to better accommodate an aging demographic) annual concert event called JuneFest. In recent years the roster was scaled back and moved indoors to keep costs down, as classic rockers command more money these days. This year, instead of being held at South Point's arena, it took place at Sunset Station's outdoor amphitheater.
2015's JuneFest was advertised to start at 4, however, neither to my surprise nor pleasure, commenced at 5:30. This ostensibly was to milk the large crowd for expensive refreshments and snacks, while they impatiently waited for the opening act. On a 85 degree day such as this one, it was probably a good idea to start later, especially for the musicians taking the stage.
First up was John Waite, who took the stage a bit flustered from what he described as some drama backstage. I can only imagine that it may have been because of the later than expected start time due to what I found out later was issues with a mixing board, which needed to be replaced due to the heat. Opening with "Change" and following up with the classic Babys hit "Back on My Feet Again," he and his band that rounded out the quartet sounded great, although a keyboardist would've been nice to fill out the obvious void in the latter song and at least one other. He quipped that although they were on first, they were the headliners. The 1984 #1 hit "Missing You" followed. When he sang a few lines of Bad English's "When I See You Smile" a cappella and then said, "That's enough!," to me it seemed that he felt cheated by what amounted to only a five song set list aside from that snippet to round it up to six. Between The Babys, Bad English, and his solo career, Waite had racked up nine U.S. Top 40 hits, certainly more than the next two bands that followed. Kyle Cook, of Matchbox Twenty, was his lead guitarist. About halfway through "Midnight Rendezvous," the P.A. suddenly cut out, leaving the band to continue with only their stage volume. Undaunted, they pressed on to their final number, "Head First," where midway through, the mains came back on. I could swear that the sound issues were purposeful due to a late start and the next three bands being impatient to take the stage, rather than the alleged heat-related issues to the equipment I found out about a couple days later, although I could be mistaken.
Detroit's own Romantics took the stage at 6:15 for an approximate 55 minute set. Their whole stage time they culled songs from three of six studio LPs and did one Eric Burdon & the Animals cover, "We Gotta Get Out of This Place," which I'd never seen them perform before. In the past five years they've eschewed their last LP, 61/49, however they've dug deeper into their first two releases. Probably since the supporting tours for their third and fifth albums in '81 and '85 respectively, they've ignored playing any of the material live, strong as I think it is. Starting things off with the classic "When I Look in Your Eyes," the lead off track from their impressive debut album, Wally and the boys held the sold-out crowd in the palms of their hands. In Heat's infectious "Rock You Up," followed by "A Night Like This," which in recent years was featured in the 2010 Adam Sandler movie Grown-Ups, kept the audience engaged. Rich Cole, their original bass player, had returned to the fold in 2010 after an absence of over 25 years, and has breathed new life into the unit. I'd be remiss if I didn't mention their stellar Keith Moon-like drummer, Brad Elvis, the only non-original member, who has been with the band for 11 years. No drum solo per se, but an extended section in one of the songs did showcase him. Mike Skill, their secondary tunesmith, still was in fine form on lead guitar. Of the four acts, these guys had the most original members in their lineup. After the eleven songs, the last being the ubiquitous "What I Like About You," the band was gracious enough to sign autographs and pose for photos at their merchandise booth. If you only own their debut, you're missing out. Hunt the others down; they don't disappoint.
Berlin, fronted by the sultry Terri Nunn, kicked off their proceedings with the upbeat "Masquerade," spilling into the MTV hit "The Metro." Their eleven song set was graced twice by original member David Diamond, who at one point joined them for an acoustic rendition of their smash hit "No More Words," which segued into Fleetwood Mac's "Dreams" in the middle. Nunn invited select audience members who received wristbands earlier to grace the stage and dance to one of their songs. Also, Terri walked out into the audience, singing, during another of their classic 80s tunes. Their huge hit "Take My Breath Away," from the Top Gun soundtrack, was the second to last song, followed by "Dancing in Berlin."
Joan Jett, recent Rock and Roll Hall of Fame inductee, was the evening's headliner. Along with the current Blackhearts, which include long time timekeeper Thommy Price, and Jett's longtime songwriting partner/producer/keyboardist Kenny Laguna, the band gave the audience a solid mixture of old and new tracks alike. "Bad Reputation," "Crimson & Clover," "I Hate Myself For Loving You," and all of the expected hits were covered. Joan was even gutsy enough to pepper her set list with the first six songs from her latest LP, 2013's Unvarnished, none of which were throwaway tracks. I salute her for not becoming a nostalgia act, like so many that rest comfortably on past hits only. The surprise of the night was a welcome rousing rendition of the Album LP's "The French Song," which she introduced by explaining how threesomes were a great way to express love/lust. Not to take away from the preceding three acts, but her band was probably the tightest and most polished sounding of them all.
All in all, JuneFest was an awesome and mostly nostalgic night.