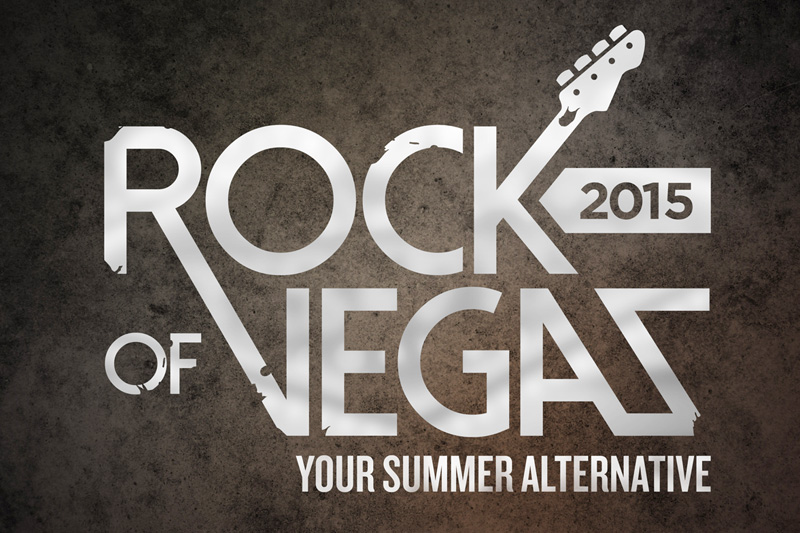 Downtown was the place to be. The latest in a series of free summer shows for the sixth year running on the Fremont Street Experience, June 14th featured three outstanding acts with their biggest hits of the 80s. Although it was a blistering day, rain threatened to soak the street. As I approached, only a few raindrops materialized though, and then totally let up.
Starting at 9:00, New Jersey's alternative power pop rockers, The Smithereens, kicked off the festivities with "Behind a Wall of Sleep," one of the two biggest songs from their 1986 debut LP. These guys have always delivered live, and tonight was no exception. Having retained three-quarters of their original line-up, rounded out by longtime bassist Severo "The Thrilla" Jornacion, they just keep pluggin' away. Sticking to original material from the aforementioned release up to and including their '91 offering, Blow Up, they pummeled the faithful with seven songs that got considerable airplay during that time period. As Pat DiNizio, their lead vocalist/rhythm guitarist/main songwriter and de facto leader, navigated the band through hits "Top of the Pops," 2011's "Sorry," "Only a Memory," and 11's "Room Without a View," tasty lead guitarist Jim Babjak weaved his sonic tapestry over the rock solid percussion of David Diken. Stopping to tell a few asides between songs, Pat has never shied away from championing their allegiance to British Invasion artists such as The Kinks, The Beatles, and the like. "House We Used to Live In" led into "Sparks," a track of off The Who's Tommy, which was followed by their first hit, "Blood and Roses." The tension mounted, and of course they just had to play their biggest Top 40 hit (peaking at #38), "A Girl Like You," melding it into bits of Free's "All Right Now" and The Who's "Behind Blue Eyes."
Next up were San Francisco's faves, The Tubes. For a band that's been around since 1975, it's amazing that they're still together, being that probably most can only name three of their songs, if that. However, they always show why they're still relevant, lack of a huge catalog of hits be damned. Although they toned down their quasi-live sex show decades ago, the theatrical costume changes and props used by front man Fee Waybill helped to tell the stories of most of the songs in their set list. Opening with the tune they are perhaps best remembered for, their 1983 single "She's a Beauty," a top 10 U.S. hit with a frequently-played music video in the early days of MTV, Waybill wore the exact carnival barker outfit we all recall. Mainstays Prairie Prince on drums and Roger Steen on guitar from their classic lineup rounded out the formidable quintet. Their 10 song set was weighted heavily by songs off of The Completion Backwards Principle album; 4 tracks from that release in total were played. A nice surprise was a new, yet to be released song, "Life Is Pain." "No Way Out" from 1979's Remote Control took us back in time while Waybill sang donning a hollowed-out TV which covered his whole head. From starting off one of their songs wearing a straight jacket to eventually busting out of it and coming back to perform "Trash" and "White Punks on Dope" as the infamous Quay Lude, wearing silver lame pants, flashing sunglasses and platform shoes, Fee and company never failed to entertain. Their other blockbuster hit, "Talk To Ya Later," ended their show as an encore.
The Motels. Or rather, Martha Davis and the Motels, as they're now billed, took the 3rd Street stage with a vengeance. Although lead vocalist Davis is the only remaining member, I doubt that anyone much cared, as the quintet faithfully reproduced the songs the original band is known for. As I'm not familiar with their whole catalog, and I dare say that probably most of the audience wasn't either, I will point out that they didn't play any songs that weren't at least very good, and certainly well executed, setting a romantic mood. "Suddenly Last Summer," and their early MTV hit, "Take the L," were represented in the 11 song set. These "guys" also played a new one, "Lucky Stars." The second from last tune was the obligatory monster hit. "Only the Lonely," still heard much today on terrestrial as well as satellite radio. Closing out the night was a heart-wrenching ballad, "Last Few Beautiful Daze." Ms. Davis and her band certainly won me over enough to fill out my collection with their LPs, having only ever seen any incarnation she's been a part of only once; this night. I'm not sure why I waited this long, but I won't make that mistake again.