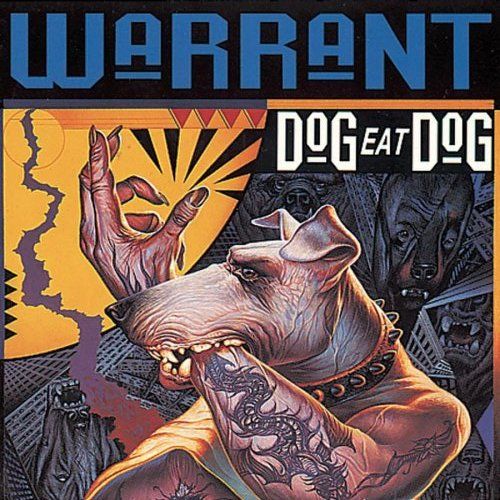 Everyone remembers Warrant for "Cherry Pie," the title track from their 1990 sophomore album, which became a major hit MTV video upon its release. The band was one of the many that had a brief but brilliant time in the spotlight, prior to alternative rock and grunge surfacing and forever changing the musical landscape. At the time, the band had released two albums which were moderately successful, and went to the studio with producer Michael Wagener to begin recording their third.
When Dog Eat Dog was released in the summer of 1992, it marked a more progressive and harder, heavier sound for the band, though maintained elements of their earlier glam approach as well. The album was positively reviewed by fans and critics alike, but was largely forgotten by the mainstream due to changing musical trends that were becoming all too common at the time. As such, the sales were significantly lower than those of the first two records. It is not likely that the band knew that this would be the final release with all five classic members.
Over two decades later, and after the passing of classic frontman Jani Lane, we are taking a look back at Dog Eat Dog, and seeing how it measures up. Does this one hold a candle to its more popular predecessors as an underrated masterpiece neglected by the times?
Dog Eat Dog is definitely more progressive, darker, and heavier than the first two Warrant albums, but it does not go completely out in left field the way that many of the records to come would. This is still Warrant; not some 80s band trying poorly to mimic the sounds of the 90s grunge scene. The material is some of the most diverse and experimental of Warrant's career; it is also some of their best. Things are kicked off in fine form with the straight up rock of "Machine Gun" and "The Hole in My Wall." The next two tracks, more experimental in their nature, are some of the best on the album – "April 2031" is a tale of a bleak future, made all the more eerie with a children's choir in its chorus. "Andy Warhol Was Right" is slow and melodic with orchestral accompaniment, featuring some of the band's most mature songwriting (though even this one is not immune to a guitar-heavy interlude!) "Bonfire" goes back to the hard and heavy rock, while "The Bitter Pill" Is a great track that beautifully fuses the slow and melodic with the hard and heavy. "Hollywood (So Far So Good)" is lighter, pop rocker that likely would not have been out of place on an earlier release by the band. "All My Bridges are Burning" is a fantastic rocker that features some great hard rocking guitar riffs throughout, particularly in its anthematic outro. "Quicksand" is a curious oddity, featuring some of the best riffs on the record, but is more than a straight-up hard rock song at the same time. "Let it Rain" is a great, largely acoustic song that reminds fans just how great these guys were at the acoustic-flavored ballads and anthems. Hard, heavy, and fast, "Inside Out" (not the same song as the XYZ one) is just a straight up rocker, and this fan loves it all the more for that reason. Concluding the album is "Sad Theresa," another rock anthem that also brings the acoustic elements into the mix, making for a strong finisher. The album may be three tracks or so too long, but there really are not any weak songs in the mix, either.
Sadly, Dog Eat Dog, no doubt to its lower level of popularity and sales, did not get the remastering treatment that the first two albums got a few years back. This makes it tougher to find new than the other early albums, though used copies do tend to be fairly common in used CD shops and online stores.
Dog Eat Dog is not a perfect album, but it is an underrated gem that should not be overlooked by any fan of the band and/or their first two records. Deeper, darker, heavier, and more mature than Dirty Rotten Filthy Stinking Rich or Cherry Pie, but no less entertaining, Dog Eat Dog is essential listening for anyone that calls themselves a Warrant fan.