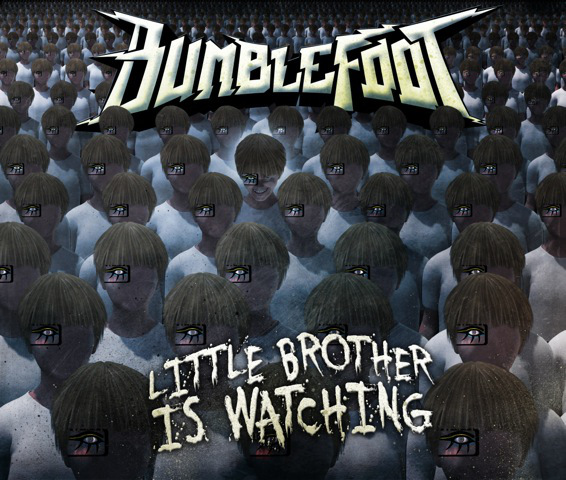 It has been two decades since guitarist Ron "Bumblefoot" Thal released his first solo record, way back in 1995. And for years, he has been unleashing his guitar work on the world, rising to his greatest prominence a few years ago when he became the guitarist in Guns N Roses, playing on their long awaited Chinese Democracy record. Many releases later he still has a massive following, both as a member of GNR and as a solo guitarist, who also regularly appears on and plays on records by other performers.
Little Brother is Watching marks the tenth solo studio album from Bumblefoot, and the first of original material since the Abnormal album in 2008. Long waited by fans, the album has finally seen release, featuring a backing band that is comprised of Dennis Leeflang on drums, Rocco Monterosso on guitar, and Frankie Italiano on bass. In interviews, Bumblefoot has named a number of diverse artists as influences on the sessions that spawned this album. How does the end result here measure up?
Prior to this album, I had never listened to a Bumblefoot solo album, having only been familiar with his work in Guns N Roses in recent years. But after giving Little Brother is Watching a listen, it is clear that I have made a mistake in overlooking his solo catalogue, and I will likely be going back to check out further albums from his career. Little Brother is Watching is a surprisingly diverse album that explores a myriad of musical styles in its hour long run time.
It is worth mentioning that this guy is criminally underrated as a guitarist. Just giving a few of this album's tracks a listen is going to blow you away by the sheer musical diversity alone. This guy is not just "the replacement guitarist in Guns N Roses." He is a diverse and capable musician of the highest order, and there is not a single track on Little Brother is Watching that does not demonstrate this fact to some degree.
So, what exactly do you get on Little Brother is Watching? The simple answer is "a little bit of everything." The album does not have one single style, yet everything works and comes together as an album well. There are hard and heavy tracks, melodic ones, pop-flavored ones, and even a few unexpected surprises. Many of the heavier, melodic, and more progressive tracks bring Muse to mind (one of the few modern rock bands I actually find to be enjoyable) though the sounds on here really are all over the place and not limited to those of any one style. Hell, there were tracks that reminded me of everything from Cheap Trick to Sgt. Pepper/Magical Mystery Tour-era Beatles! As far as diversity goes, this album is a definite winner. Bumblefoot himself succeeds not only as a guitar wizard, but as a surprisingly good vocalist as well.
The strengths far outweigh the weaknesses on this record; there is a lot to love about this album. If I have one minor complaint, it is that a number of the songs have run times that are slightly longer than they need to be; the album's hour long length feels a bit excessive, though not overly so thanks to the diversity and musical talent present on the record. Any minor issues that exist should not stop you from checking out this release.
In the long run, Little Brother is Watching is a solid effort from a criminally underrated guitarist, and you would be wise to give this release the attention it deserves. Musically diverse with many unexpected twists and turns in its duration, this is a diverse record that transcends any "rock" or "metal" label, instead taking its listeners to many unexpected destinations. And this fan, for one, thoroughly enjoyed the trip. Little Brother is Watching comes strongly recommended.