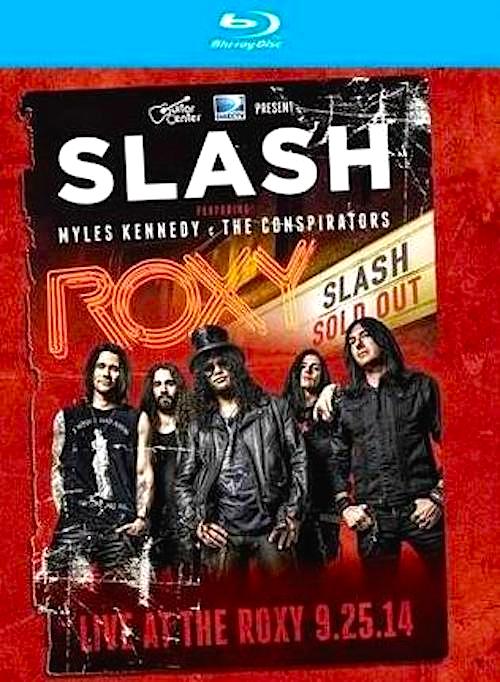 In the glory days of Guns N Roses, the true stand-out member was guitarist Saul "Slash" Hudson. In no time flat, Slash's riffs dominated hit after hit, helping the band to establish their classic sound, and remain popular well into an era when most of their musical peers had been rendered irrelevant and yesterday's news. Even after Slash left GNR in the mid 1990s, he had left an everlasting impression on the musical public.
Even beyond GNR, Slash always stayed busy, playing in his own band Slash's Snakepit, and reuniting with former GNR bandmates and Stone Temple Pilots vocalist Scott Weiland in Velvet Revolver. In recent years' he has assembled a solo band comprised of Alter Bridge vocalist Myles Kennedy, bassist Todd Kerns (ex-Sin City Sinners and Age of Electric), Brent Fitz (ex-Union), and Frank Sidoris. This "Myles Kennedy and the Conspirators" version of the band has released two studio albums so far, and is going strong, playing to audiences all over the world.
This Blu-ray Disc features a show recorded by Slash and his current band in September 2014. All these years later, how does the legendary ex-Guns N Roses axeman fare on a live stage? And is this a Blu-ray Disc worth picking up if you are a fan?
Essentially, this is Slash and his current band playing a set in a small, intimate setting, with a tracklist that intermixes songs from across his career. The Guns N Roses classics appear here ("Nightrain," "You Could Be Mine," "Rocket Queen") as well as newer solo cuts ("You're a Lie," "Anastasia," "World on Fire") and one from his Velvet Revolver days ("Slither.")
Not every artist stands the test of time or is able to recapture the thunder of their glory days long gone. Fortunately, this fan can say that Slash transcends that curse – everybody's favorite axeman in the black top hat is in fine form here, and still kicking ass like no one else. The fact that he has brought together an all-star band of musicians to back him up certainly does not hurt things any.
The setlist here deserves considerable praise. When a classic artist is doing their thing, the setlist can make or break the performance. But here, Slash blends classic and current tunes excellently; the GNR classics are represented here but you must give Slash and company credit for not carrying on as a "nostalgia act." New tracks are plentiful and sound great on the live stage as well. Striking the perfect balance between old and new songs in the setlist is not easy, but here it is done very well from start to finish. Throwing in a Velvet Revolver song only sweetens the deal (interesting trivia: bassist Todd Kerns auditioned to sing for Velvet Revolver prior to getting this gig with Slash). The one GNR track that was criminally omitted was "Welcome to the Jungle," but that is a minor flaw that is easy to overlook.
Of course, the performance itself deserves credit as well. Slash is still on fire on guitar, and nowhere is this better demonstrated than in a lengthy solo in "Rocket Queen." This solo definitely stood as the highlight of this concert disc for me, and I am sure that plenty of other viewers are bound to agree. Slash has had many bands since parting ways with GNR, but this is a phenomenal one that may be the best one since his former glory days. Anyone familiar with these musicians knows what they are capable of, and in no place is this more true than on this concert disc.
The production quality on the disc is solid. The video quality is clear and free of any imperfections, yet still maintains a natural look that is not overly processed or digital looking. The audio mix is powerful, something certainly required for a representation of Slash in concert. As far as audio and video on this release go, I have no complaints.
For a bonus feature on the disc, you also get four additional tracks that did not appear in the original broadcast. The highlight here is the GNR classic "You're Crazy," in which Todd Kerns steps up to the plate and does lead vocals; this was criminally omitted from the broadcast version! However, it is worth noting that CD versions of this show have some additional extra tracks not included on the video release, so fans may want to look into the audio only releases for that reason as well.
Slash still kicks ass on a live stage, and the Conspirators are arguably the finest backing band he has had since parting ways with GNR so long ago. For fans of Slash and company, this is a no brainer and a must buy.