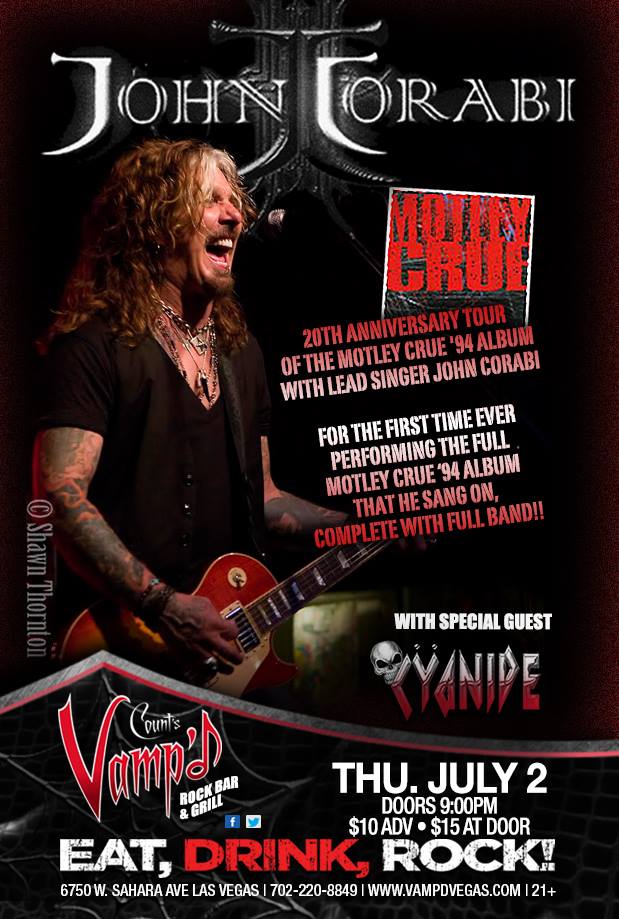 Over the years, John Corabi has been a sorely underrated talent in the world of rock and roll. Following a stint with the Scream, he had a brief but brilliant time in the rock spotlight, as Vince Neil's replacement with Motley Crue; the eponymous sixth album from the Crue never got the proper credit at the time, but has since garnered respect from countless fans and critics who may not have given in the recognition that it deserved in years prior. Since his time in Crue, Corabi played alongside Brent Fitz and Bruce Kulick in Union, and has embarked upon a number of other projects as well. He may not be at the musical forefront as he once was, but this has not stopped him from keeping busy!
Corabi has played Vamp'd before, twice last year, although both of these were solo acoustic gigs, intermixing Corabi originals and covers. This was, however, a landmark night for Mr. Corabi; it marked the first time he had played an electric show at the venue, with a full band, performing the entire classic 1994 Motley Crue record!
Of course, a show like this demands a quality opening act, and we got that in the form of one of my favorite Vegas bands – Cyanide. Cyanide is, essentially, a band that performs original material in the style of the 80s hair/glam scene; how close they come to actually replicating this sound is incredible. In fact, I dare say that no other band I have ever listened to has come this close to recapturing said sound in the form of original material. Of course, to add some diversity, the group threw in a few covers, including songs by Iron Maiden, Queensryche, Van Halen, and Skid Row. The band was also selling copies of their first CD release, Lethal Dose, a solid release that further establishes them as a part of the local scene. Cyanide's repertoire includes everything from raunchy, humorous material to more mainstream 80s glam-style rock and ballads. Anyone who has seen the band in concert knows that they do not fail to deliver, and that was certainly true of this gig supporting Corabi!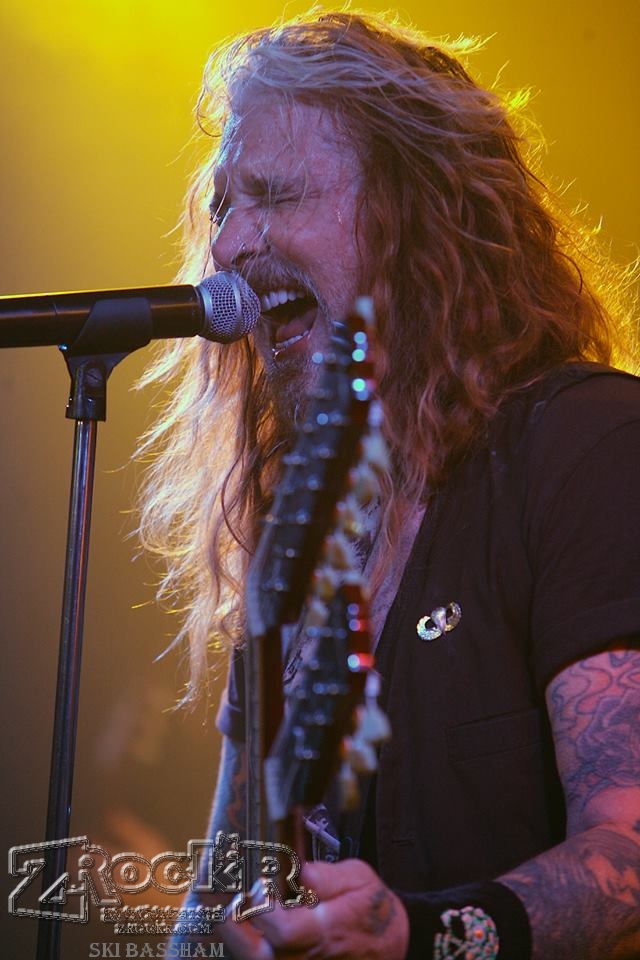 While John Corabi's Motley Crue album from 1994 never has gotten anywhere near the fame and acclaim of the classic records with Vince Neil, it definitely has its share of supporters. When an announcement was made that Corabi would be returning to Vamp'd doing an electric show with a full band, playing the full album, people definitely stood up and took notice. While this show is certainly not the busiest I have ever seen Vamp'd, it easily ranked as one of the larger Thursday night crowds I have seen there in quite some time.
Immediately, Corabi and company launched into "Power to the Music," the opening cut from the 1994 eponymous Crue record that he sang on. The fans crowded the area near the stage, with Corabi even giving fans in the audience a chance to sing into the microphone and help him out on a number of tracks. This is a man that balances musical talent and humor perfectly; hilarious stories regarding his past exploits definitely added some personality to the show. The tracks played were as hard and heavy as on the record, with Corabi also stepping up to play guitar on a few cuts as well. From start to finish, we got all of the cuts that comprised the 1994 record, in faithful renditions.
The real attraction of this show, however, was Corabi's backing band. He has assembled a great ensemble of talented rock musicians; they beautifully played these 1994 Crue songs, sounding more or less dead-on accurate to the record. A shocking revelation came when Corabi introduced the band; the drummer was none other than his son (who had appeared in one of those 1994 Crue videos as a young boy!) He also made an announcement that he would be recording original material with these musicians as well.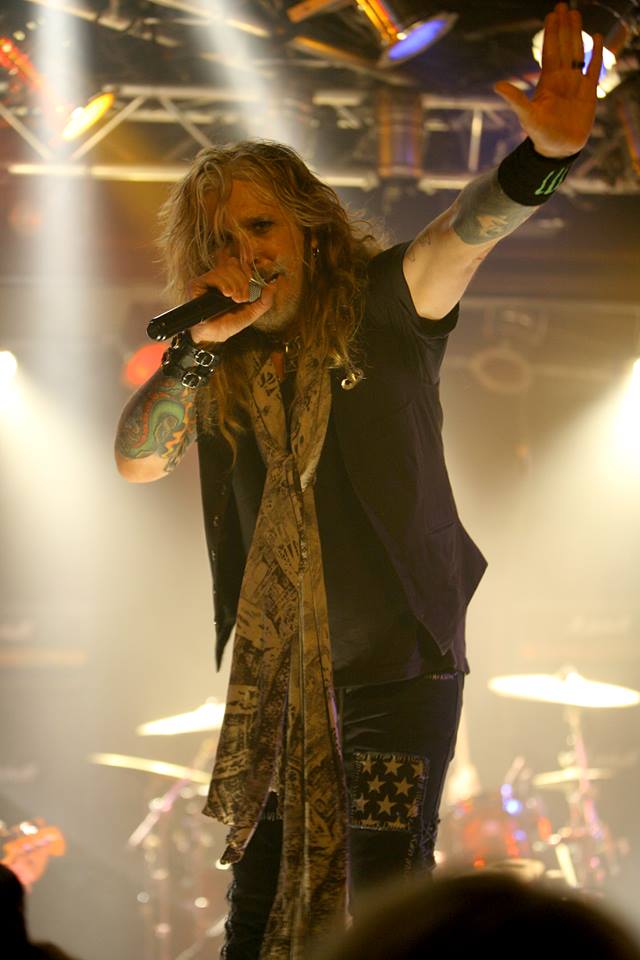 Recently, I wrote a flashback review covering the classic self-titled 1994 Motley Crue album, and how it has held up better over time than people think. Modern and edgy, it broke away from the Crue of the 80s, bringing the band into the 90s with a more modern sound, which was far more diverse and experimental than anything else in the band's catalogue. I would not call it my favorite Crue record ever, but I admired the band for what they did on it; instead of just giving us "Dr. Feelgood Part Two," they reinvented themselves. It was one of the few GOOD attempts at modernization in the 90s from an 80s glam/hair scene group. And Corabi was the one leading that charge; it is a shame he did not record more material with the group apart from an EP.
If I have one minor complaint with an otherwise solid performance, it is that we basically got ONLY the 1994 Crue album and nothing else. When Corabi did his prior acoustic shows, he threw in some stuff from his other bands, and even some surprise covers. Given the fact that people in the audience were wearing shirts for the Scream, it would have been nice to have gotten one of those songs as a surprise encore. That said, this minor issue is the ONLY one I had with the show; Corabi and company kicked ass, and I doubt anyone in the crowd that night would disagree.
John Corabi has always been an underrated musical talent, and I am pleased to report that this show was a triumph. Over two decades after the release of the self-titled Motley Crue album, the songs still sound fresh and musically diverse. Anyone who is a fan of Corabi's work with Motley Crue will enjoy seeing him perform these tunes live and in person with his new band.
All Photos ©Ski Bassham / ZRock'R Magazine