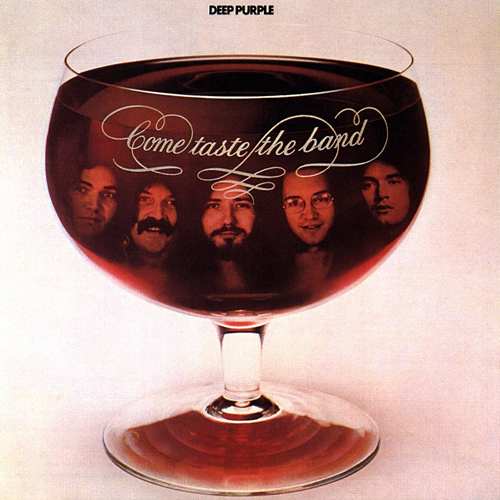 In the mid 1970s, Deep Purple was on their last leg. Lineup changes were becoming commonplace; Ian Gillan and Roger Glover left the band in 1973, and a year later, long time guitarist Ritchie Blackmore was out as well. These former members of the band went on to pursue other projects, as the new incarnation of the band explored new sounds. Deep Purple's Mark IV lineup teamed original members Jon Lord (keyboards) and Ian Paice (drums, only person on every DP album) with vocalist David Coverdale (later of Whitesnake), bassist/vocalist Glenn Hughes (formerly of Trapeze) and guitarist Tommy Bolin (formerly of the James Gang).
The Coverdale-fronted incarnation of Deep Purple released the Burn and Stormbringer records in 1974, with Bolin replacing Blackmore on guitar not long after. Mark IV ended up being one of Deep Purple's shortest lived incarnations; this version of the band released only one studio album, 1975's Come Taste the Band, prior to the group's disbandment a year later amidst inner turmoil and other vices and demons that were tearing the band apart from within. Bolin pursued a phenomenal but short lived solo career; he passed away at the age of 25 in December of 1976. Come Taste the Band is Deep Purple's final studio album released prior to the Mark II reunion in 1984, and as such, the end of an era, even if it remains one of the group's more obscure releases. It is also the only Deep Purple studio album released between 1968 and 1993 that does NOT feature Ritchie Blackmore as a part of the band.
The Mark II era is often seen as Deep Purple's "classic" period, but even it became stagnant after a period of inner turmoil and uncertainty. Mark III, introducing Coverdale and Hughes, gave the band a jump start in the form of Burn, one of the greatest albums the group ever recorded. But, how would a Deep Purple album hold up that did NOT have Blackmore as the axeman? Come Taste the Band answered that question for the fans, though sadly, the album is overlooked and obscure and, as a result, many fans have never even listened to it. With the album having been reissued for its 25th anniversary, this fan felt that it was time to go back and take a look all over again. How does it hold up all these years later?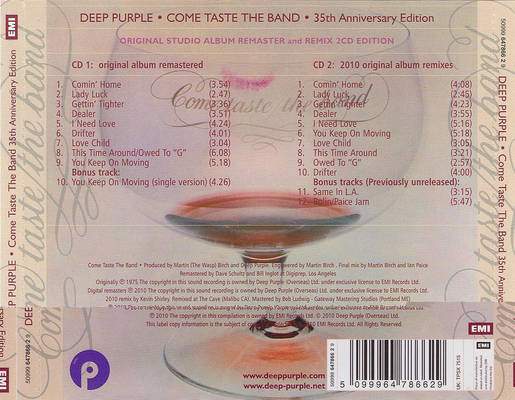 Come Taste the Band is something of a lost gem in Deep Purple's catalogue, and in revisiting the album, I can say that this is an album every fan out there needs to listen to at least once. Admittedly, some of the  "funky" parts of the album have not aged that well, but there is more than enough straightforward rock to make those easy to forget. From slower and more melodic songs to straight-up rockers that rival the Deep Purple of old, the album is surprisingly effective and diverse. Tommy Bolin had some big shoes to fill in replacing Ritchie Blackmore, but steals the show here on multiple occasions. I would not put the album in the same league as Machine Head or Burn, but it is an above average record that is criminally underrated.
There are many highlights to be found on a record like Come Taste the Band. Opening cut "Comin' Home" is straight-up, no nonsense bluesy hard rock that kicks off the album in fine form; this song should have been a far bigger hit. Songs like "Lady Luck" and "I Need Love" are the ideal mix of styles, rocking hard but still managing to maintain a sense of pop appeal as well. "Gettin' Tighter" starts off a solid rocker with killer Glenn Hughes vocals, though it descends into a funky interlude which adds to the datedness of the album in its midsection. "Dealer" is the lone tune on the album featuring Bolin on vocals, and this bluesy hard rocker would not have been out of place on one of his James Gang records. "Drifter" is another strong blues-based rock tune, and "Love Child" features further solid work from every member of the band, even if it too descends into funk territory for a good chunk of its duration. For this fan, one of the best tracks on the album is "This Time Around," a slow, melodic, haunting piano-driven track that sounds like nothing else on the record, further complemented by vocals from Hughes. Eventually the rest of the band comes back into the equation, and turns the track into a phenomenal jam session. Closing the album out is "You Keep On Moving," a nice mix of melodic and gloomy styles, and the straight up guitar and organ riffs you already know and love Deep Purple for. Despite some dated moments here and there, the strengths far outweigh the weaknesses, as you are bound to discover, or rediscover.
The original record was produced by the legendary Martin Birch (Whitesnake, Blue Oyster Cult, Black Sabbath, Iron Maiden) and the first CD of this set contains his original mix of the album, remastered. The second disc features remixed tracks done by Kevin Shirley, and an alternate running order. Some jam session bonus tracks are included, as well as a single edit of "You Keep On Moving." Any fan of the album would be wise to pick up this version.
Come Taste the Band is a Deep Purple album that never got its just dues at the time of release, and even today it remains one of the more obscure albums in the band's catalogue. I am pleased to say that the record holds up very well all these years later, despite a few dated moments. For any die-hard Deep Purple fan, this 2CD set comes strongly recommended!
https://www.youtube.com/watch?v=atm6EcIZhVU