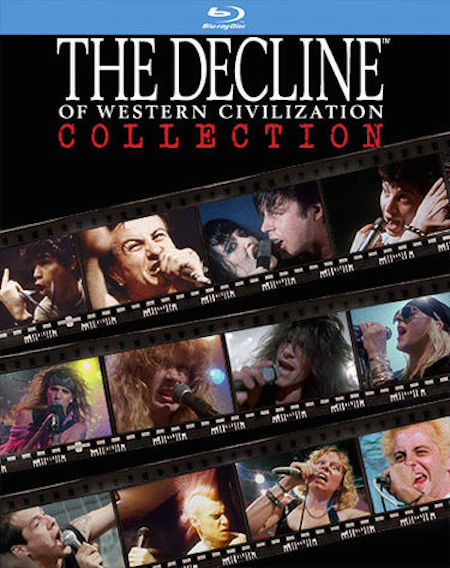 For years, Penelope Spheeris' The Decline of Western Civilization films have been unavailable on home video. These three documentaries, covering scenes of punk and metal music, have long been sought after by fans, but have only been available for years on VHS and shoddy bootleg copies. At long last, Shout! Factory has stepped up to the plate, giving the three films a much-desired Blu-ray Disc release in this new four-disc set, featuring the films plus new bonus features. How do they hold up all these years later, and are they worth your time?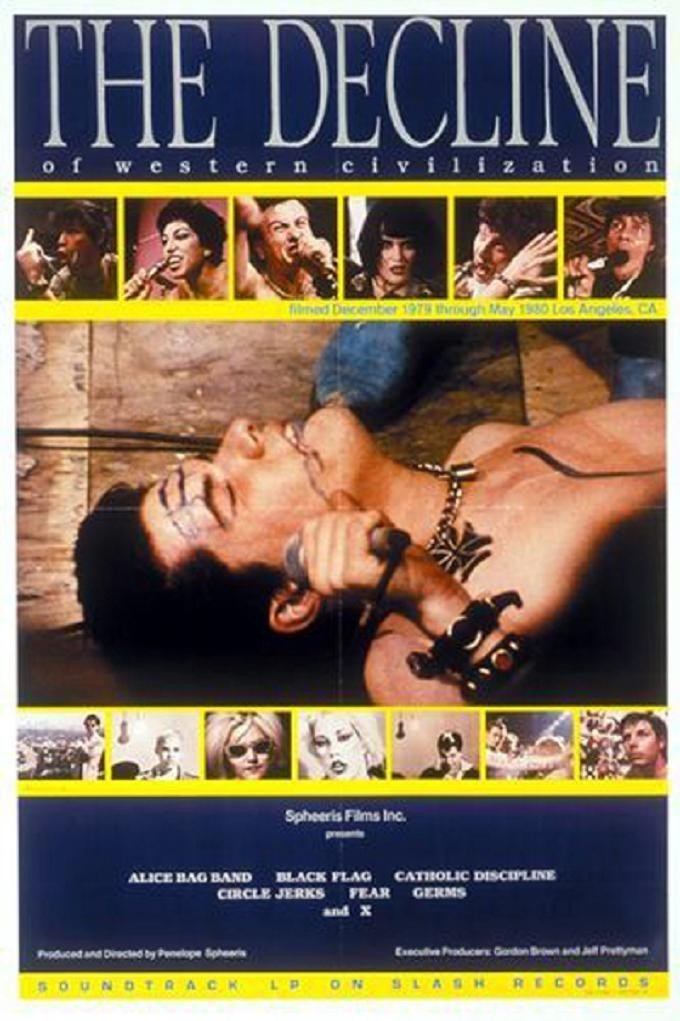 When The Decline of Western Civilization was first released in 1981, the film was noteworthy for capturing the grittiness and the ugliness of the Los Angeles punk rock scene – perhaps too well. A popular story about the documentary is that, upon its release, the then Chief of Police in LA wrote a letter demanding the film never again be shown there! And if that is not a glowing testimonial as to how beautifully Spheeris' first Decline film covered the scene, I do not know what is.
The Decline of Western Civilization does just that – covers the LA punk scene, filmed in 1979 and 1980, amidst the punk rock revolution that was going on at the time. Groups featured in the film include Alice Bag Band, Black Flag, Circle Jerks, Catholic Discipline, Fear, Germs, and X. The doc combines live performances with these bands, intermixing band and crowd footage, as well as individuals that were a part of the scene, including musicians, managers, club owners and operators, music magazine staff, and several others.
I will be the first to admit that, prior to purchasing the Decline box set, I was only familiar with the second film in the series (being the big metal fan that I am) and mainly bought the box set just to get the second film on a modern format. That said, as a die-hard fan of rock and roll in its various forms and incarnations, I love to explore and check out various scenes and the people that have comprised them over the years. The first film in the Decline series is gritty, disturbing, and at times just plain disgusting to look at and painful to listen to.
In other words, the movie does exactly what it sets out to do.
Admittedly, I was not alive when this film was released, yet it definitely stood as an eye opener to this rock and roll fan. The imagery and the sounds on display in this film are not pretty, nor were they ever meant to be. In the course of this film you will see true punks living in their own filth, and putting on some of the most vile and obscene rock shows ever experienced by the human race. One question that was going through my mind as I watched the film – "How many of these people are even still alive?"
The images of this film stick in your mind long after you are done watching it. A group of degenerates enjoying breakfast, as a tarantula crawls along the table. A man so drugged out of his mind on the concert stage that he can barely stand up on his own free will, let alone sing and put on a decent show. Human flesh being tattooed in a poor, amateurish fashion with questionable results. Monochrome footage of youngsters saying what punk rock means to them. Fistfights and strangling amidst concert crowds. Lifestyles that are going nowhere fast, or at all, for that matter. This painful imagery is effective, and will keep your eyes glued to the film.
The Decline of Western Civilization is not an easy film to watch; it is more or less offensive to all five senses on more than one occasion. But that is this film's greatest strength. If you are looking for one documentary that captures the classic LA punk scene, you cannot do better than Spheeris' film.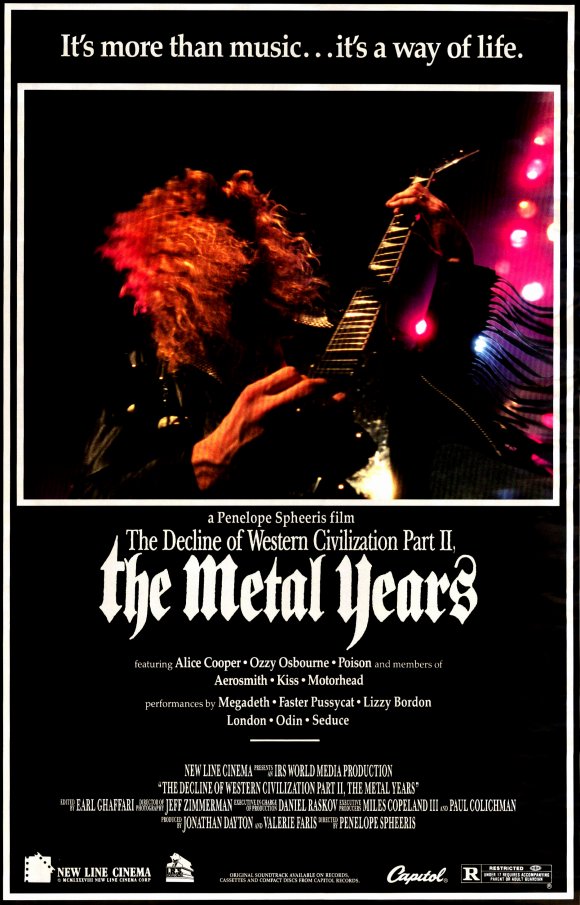 If you are reading this review, chances are the film that you are the most curious about is The Decline of Western Civilization Part II: The Metal Years. The odds are that, like the other films in this series, you have probably been watching this one on a bootleg copy or an old VHS tape for years now. Amongst 80s hard rock and metal scene fans, this one has a legendary reputation, and they will, of course, be pleased to have it on a legitimate release.
The Decline of Western Civilization Part II: The Metal Years moves away from the world of punk rock and to the 80s Sunset Strip hard rock and metal scene. Filmed in 1987 and 1988, the movie captures both established artists and up-and-coming musicians who are both interviewed, and performing songs as well. Other personnel are interviewed as well, including fans and groupies, club owners, probation officers dealing with metal fans, up and coming musicians looking for record deals, and several others. The film features appearances from members of Aerosmith, Ozzy Osbourne, KISS, Faster Pussycat, Seduce, Lizzy Borden, Alice Cooper, Megadeth, WASP, London, and several others.
The Decline of Western Civilization Part II: The Metal Years is a flawed, imperfect documentary, but it is enjoyable for what it is – a time capsule of a long gone era of rock. The film contains many surprisingly comedic moments, and an interesting look into the lives of many of these artists, and all that they went through in the Decade of Decadence on their journeys to get signed or to remain relevant.
As far as the strong points of the film go, you definitely get an idea of what these young, up and coming artists were trying to accomplish; even ones that have already been signed clearly do not have a glamorous lifestyle. You get to see people so confident they are going to "make it" with no backup plan in sight if they fail. The struggle of these young artists to make it big and the things they must do to get signed makes for some pretty interesting stories. Hearing from fans, groupies, and other people involved in the industry is quite entertaining as well. If you are a fan of this era and genre of music, you are going to love the interview clips and performances alike.
Unfortunately, the documentary is not perfect. The biggest problem, looking back all these years later, is that the emphasis tends to be all over the place. Seriously, the subject matter explored here could have been enough to make no less than THREE fully fleshed-out documentaries. This would have worked better as a doc if the emphasis had remained on fans and up and coming bands doing what they have to in order to make it in the music industry. Having interviews with established musicians (Alice Cooper, Aerosmith, KISS, etc.) sounds like a good idea, but you cannot help but think that they were just put in the movie to draw in a bigger audience; this detracts from the more interesting down-to-earth stories of the fans and up and coming artists (we get it already – Gene Simmons and Paul Stanley are sex symbols with millions of dollars that can have any woman they want!) The Gazzarri's "Miss Gazzarri" contest thing feels out of place as well, aside from the fact that bands play in the venue. With some more concise editing and an emphasis on the more interesting elements, this could have been a better movie, but it is not a weak one by any stretch of the imagination.
That said, The Decline of Western Civilization Part II: The Metal Years is still essential viewing for any fan of the genre, or the particular artists appearing here. It is dated but still works well as a time capsule of the era; there are high and low points alike here, and a surprising amount of humor. Fans of the artists and/or the music scene in question are going to love this one.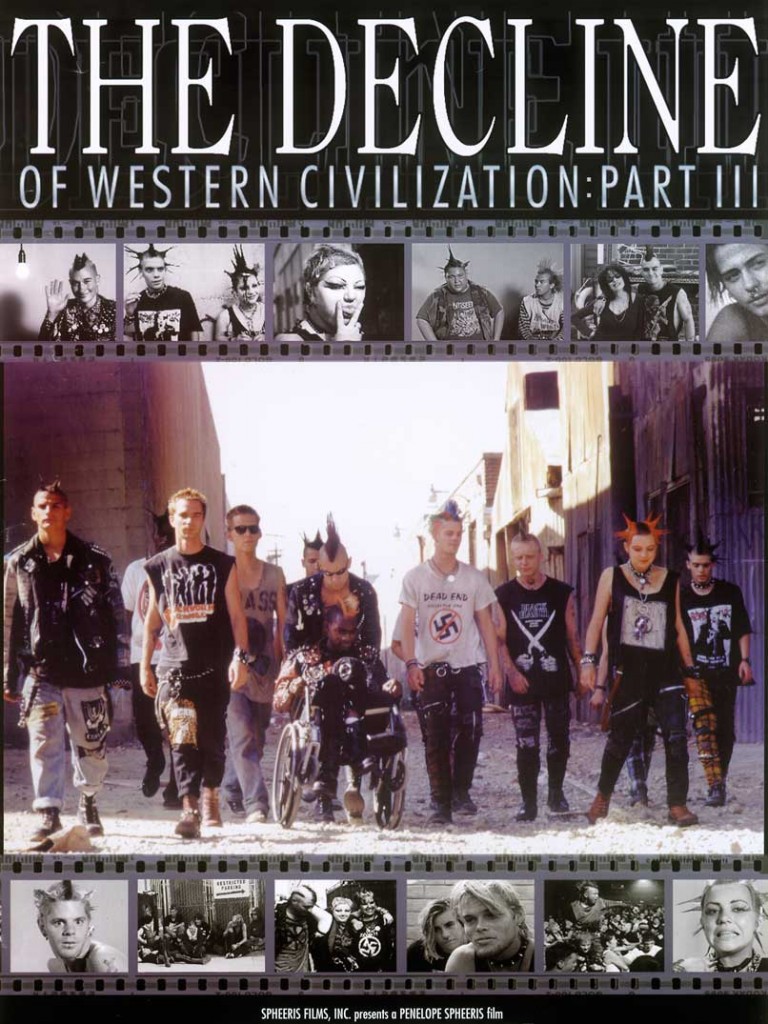 The Decline of Western Civilization Part III marked Spheeris' return to both punk rock and the world of documentary filmmaking at large. In the years prior she directed the first Wayne's World film, itself a huge hit. This ushered in a number of follow-up Hollywood comedies for Spheeris, though none of them reached the same level of critical reception or popularity that Wayne's World did. The 1998 release of The Decline of Western Civilization Part III marked the long awaited return to what Spheeris does best – documentaries. Despite an overwhelmingly positive reception from those who caught the film on the festival circuit, it never went into a general widespread release, nor did it get a home video release – until now.
The Decline of Western Civilization Part III returns to the punk rock world. This time, Spheeris' primary emphasis is on teenagers living the punk life, ranging from homeless squatters and runaways, to punk musicians and others sharing their stories. The documentary also features interview content with parents of punk rock children and law enforcement personnel who have dealt with them in the past.
While the first Decline film focused on punk music but also looked at the lifestyle on the side, The Decline of Western Civilization Part III almost completely foregoes the music to focus exclusively on the lifestyle of these young punks. This allows for the viewer to get a better idea of what some of these youths have been through in their lives, and the less than favorable conditions that they came from or have gone to over the years. While this film did not make the impact that the original Decline did, largely as a result of the lack of mainstream theatrical distribution, scenes of these individuals living their lives in a world that does not suit them are no less effective.
Through the course of this film, you get an idea of the living conditions that these young people go through, as a result of their (often self-imposed) exiles, for whatever reason it is they left home, if they had a home to begin with. The images, much like the original Decline, are ones that stick in your mind after seeing the movie. Punks squatting in abandoned and burned out buildings. A group of youngsters crammed into a home too small for them, with a backed up toilet and an absolutely disgusting bathroom. Begging for change on the streets and being ignored by the masses. Stories of encounters with authority figures, and an obvious disdain for them; as well as society in general in many cases.
If there is one weakness in this otherwise solid documentary it is the musical performances, or rather, the lack thereof. One could argue that this was necessary to focus on the gutter punk lifestyle as the primary theme of this film, but I found myself yearning for more of the raucous punk rock concerts and on-stage disasters of the original Decline. While nothing here quite rivals those moments as far as the musical element of the film goes, no one can argue with the gritty, ugly, and gripping story of these punks and their less than favorable lifestyles. These were individuals living for the day, in some cases not expecting to live to see many more years (and according to the film, some did not). If you are reading this review, odds are good you have not yet seen this film. Let this fan of Spheeris' work be the one to tell you it is worth seeing.
The set itself is packaged in a cardboard box, with the three films in their own individual Blu-ray cases. The bonus disc is in its own slim case, and a booklet, containing essays and information on the making of the films is also included in the packaging.
As far as the audio and video quality on these discs go, one needs to keep their expectations in check and keep in mind the gritty, low budget origins of the productions. The films generally look quite dirty and damaged (it can be argued that this look is deliberate), but for what they represent, the image quality is fairly strong and a far cry from old bootleg and VHS copies of the movies. The quality varies from scene to scene depending on the camera and/or type of film used in the scene; some scenes (presumably shot on video tape rather than film) stick out in this regard. Personally, I would rather see the films in this state, remastered in a fashion true to their original exhibition, than have them noise reduced or artificially sharpened. The audio quality comes to life in scenes that feature music and/or performances, though dialogue and other spoken word parts/sound effects/etc. in other scenes fare well too. Again, expectations should be kept in check, but the films have been remastered in a means true to their original look and exhibitions, so fans should be satisfied with what they get here; it was nice to see the movies are not just the VHS transfers slapped on a Blu-ray Disc.
Shout! Factory could easily have slapped the movies on bare bones discs devoid of features and fans still would have bought them. But Spheeris and company have dug deep into the vault to get the fans what they have been looking for here, and then some. There are loads of bonus features on each disc, as well as additional ones contained on the fourth disc. The majority of this content consists of unused footage shot for the films, a good deal of which did not make it into the final cuts of the movies (much of this footage has degraded over time and is the only surviving element of said material). There are also interviews and panels with Spheeris and the people involved, as well as film trailers and other interesting retrospectives and the like. This is a home video set done right; there is a plethora of material here and fans will certainly not be done with the Decline experience once the films are over with. Furthermore, the first two movies contain a commentary track, including one with Dave Grohl of Nirvana and Foo Fighters fame on the first film, and Spheeris with London vocalist Nadir D'Priest on the second.
The Decline of Western Civilization films are time capsules of musical genres and scenes, bygone times and places, and are essential viewing for fans of what is represented here. Spheeris has captured the sights, the sounds, and the less than favorable elements of the music and the lifestyles alike, making these docs a gritty, unglamorous look at these elements at large. All three films have been brought together in this well-assembled box set (as of this writing they are not available as "sold separately" releases) which you will definitely want to pick up. Very highly recommended!
DISCLAIMER: All images in this review are the property of their respective copyright holders. For promotional use only. All rights reserved.