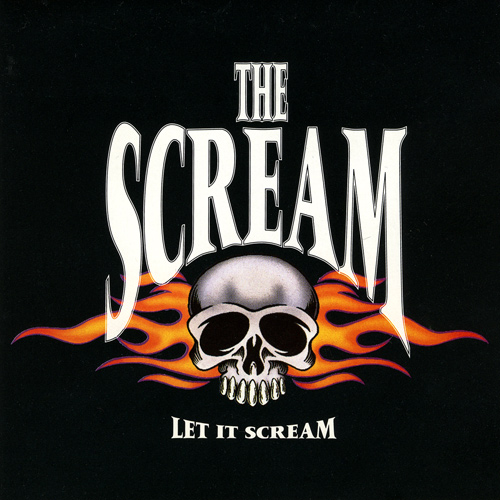 In 1994, John Corabi replaced Vince Neil in Motley Crue for one album and one EP; both of which were well received but did not receive the same attention or critical acclaim that the Neil-fronted releases received. Corabi would go on to do work with a number of other bands, including Ratt and Union. But, fans were naturally curious. What was Corabi up to before he joined Motley Crue?
The Scream, originally known as Saints Or Sinners, was Corabi's pre-Motley Crue band. For their first and only commercially released album, 1991's Let It Scream, the group was comprised of Corabi (vocals), former Racer X members Bruce Bouillet (guitar) and Juan Alderete (bass), and former Shark Island member Walt Woodard III (drums). The earlier incarnation featured another former Racer X member, Scott Travis (drums) but he quit the band early on to join Judas Priest, though he does get a writing credit on one track on the album. Additional musicians on the album include Badlands members Ray Gillen and Jeff Martin, performing backing vocals on one track, and Jimmy Waldo, who plays Hammond organ on two tracks. This was the only album officially released by the band; the group recorded a second record with another vocalist but was dropped from their label before they could release it.
As a fan of the Corabi-fronted Motley Crue album, I had long been eager to go back and check out his pre-Crue band. Yes, despite being a fan for years I had never actually listened to the Scream until just now (their album is apparently out of print and very difficult to find). After having given this lost, obscure gem from Corabi's musical infancy a few listens, how does it hold up? Is this a lost classic that rock fans will want to have in their collections?
Let it Scream is an underrated masterpiece, containing some of the best rock and roll of the era. The album is a mixture of the sleazy rock of the 80s scene, more modern-ish sounds (though nowhere near the extent of Corabi's work with Crue), bluesy elements, and acoustic arrangements on select tracks as well. The band syncs up well on every single track, and while one could argue that the album is too long, there definitely are not any weak spots here. It is just a shame this is the only full album the world ever got to hear from these guys.
One of the best things about this album is that it grabs hold of your attention and does not let go throughout its duration; every song is unique and interesting. The opening cut, "Outlaw," is one of the best straightforward rockers of the era and should have been a massive hit. "I Believe in Me" is a bluesy rock gem that benefits from being catchy as hell. "Man in the Moon" is one of the best cuts on the record; a blues rocker that integrates acoustic guitars into the mix, giving it a sound all the more unique. "Father Mother Son" is an obligatory ballad, but this one is actually more mature and less poppy, cheesy, and commercial than much of what was being churned out at the time; it is helped by a gorgeous acoustic arrangement and deeper lyrical themes than those being released by other bands. A track like "Tell Me Why" even brings some funky elements into the mix, showing just how musically diverse Corabi and company were capable of being when they were a part of this band. Songs like "You Are All I Need" slow things down with a melodic, bluesy rock-pop sound of sorts, but gears shift almost instantly in the form of fast-paced heavy rockers like "Catch Me If You Can." There really are no weak cuts on the whole record, and anyone who gives it a listen is sure to agree.
Sadly, the Scream remains one of Corabi's more underrated and often forgotten efforts. However, if you get the chance to purchase this album or even just listen to it, I highly recommend doing so. This album, even though released prior to his near breakthrough with Crue, could very well be a superior effort; there is no denying that it does not even come close to getting the credit it deserves. Let it Scream gets my absolute highest recommendation.