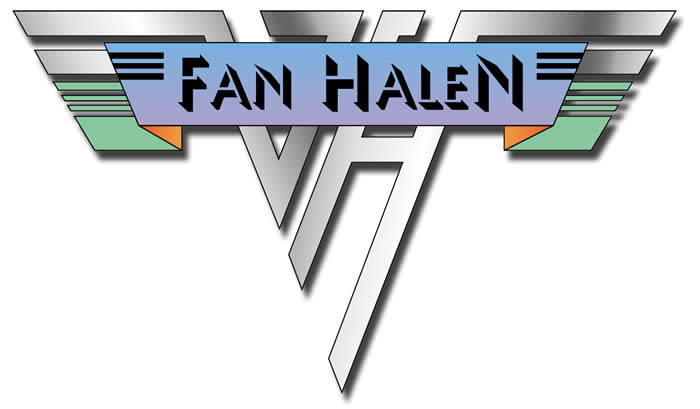 The House of Blues was transformed into Rock Central on July 24, 2015, for a double shot of classic hard rock at its finest, with a set from premier Van Halen tribute Fan Halen, and an opening set from local Vegas rockers Cyanide. The crowd brought out by this show demonstrates that rock and roll is alive and well in the City of Sin, with the House of Blues remaining one of the top venues for local shows!
For the unfamiliar, the House of Blues is located in the Mandalay Bay Hotel and Casino on the Las Vegas Strip, though there are approximately a dozen House of Blues venues located across the United States. The venue is larger than a small club-sized setting, but more intimate than a bigger arena show. This, of course, makes it an ideal place to see your favorite band.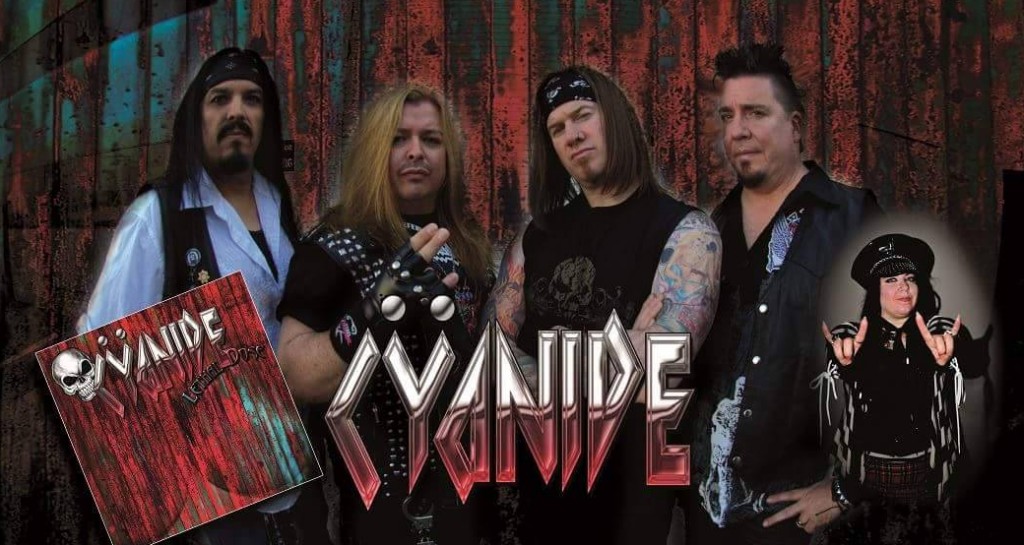 Cyanide kicked off the evening, playing a set that was just under one hour long. Anyone who knows me and my love of the local Vegas music scene knows just how much I enjoy listening to these guys. The group recently released their debut album, Lethal Dose, and has a steadily growing reputation. Long time Vegas rock fans will recognize vocalist Robert Hussey from the Children of the Damned Iron Maiden tribute as well, which is slated to play a set opening for next month's Clash of the Titans tribute at the House of Blues.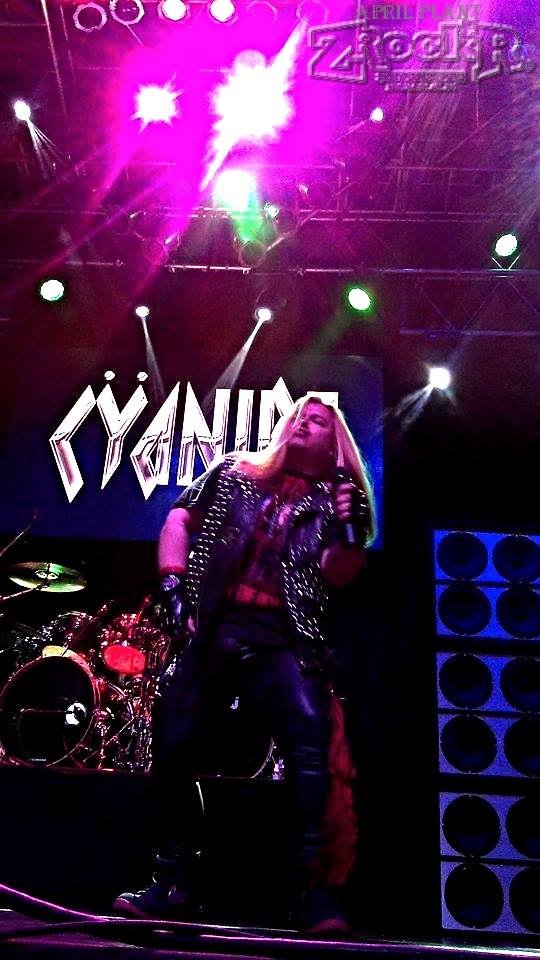 Essentially, Cyanide creates new 80s glam and sleaze songs, but also brings covers into their set as well. This set, supporting Fan Halen, was comprised of a mixture of original songs and Motley Crue covers, though the band threw in some other cover tunes near the end, including Queensryche and Iron Maiden. This band captures vintage 80s sleaze and glam sounds like no other; the Crue songs and the originals flowed together surprisingly well! With Cyanide's own songs including ballads, sleazy rockers, and everything in between, their original material is every bit as entertaining as the artists they are covering. Vocalist Robert Hussey pulls off a better Vince Neil voice than Vince Neil himself these days! Though nearly an hour, there was not one dull moment in this entire set.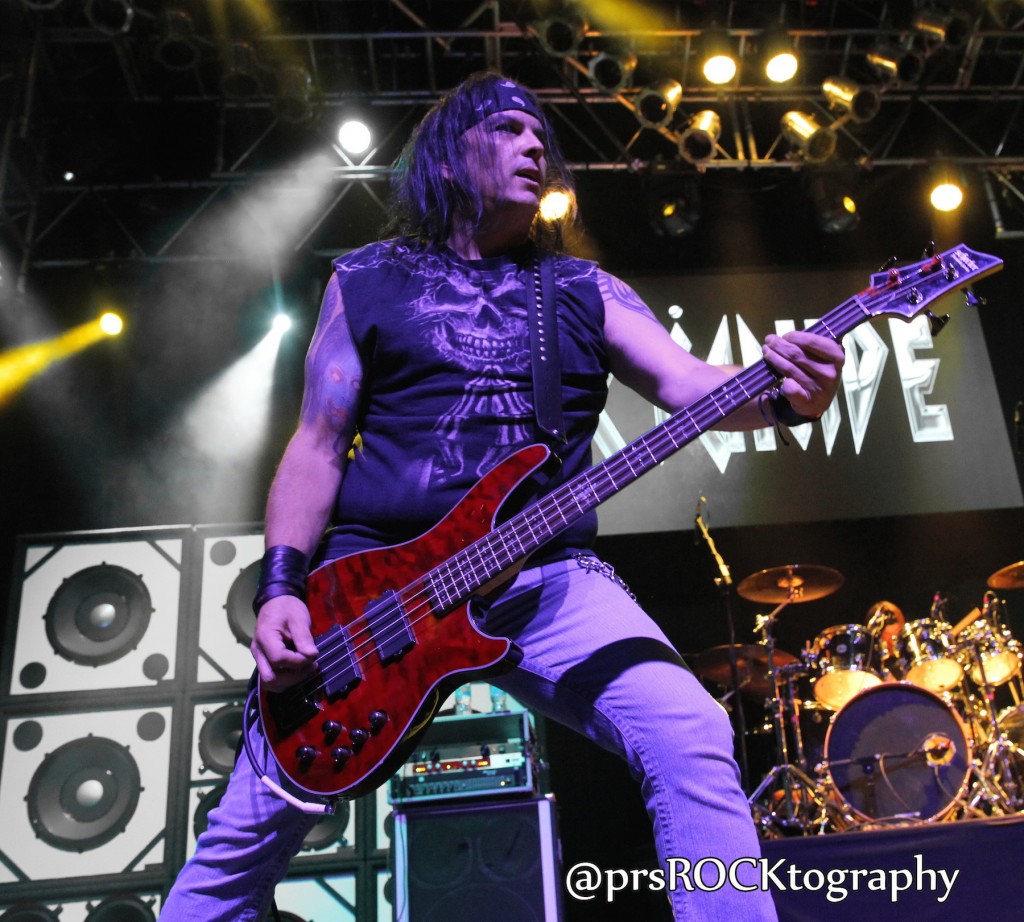 Despite Fan Halen having played Vamp'd out here in Vegas on a regular basis, I had never actually seen the band. But the crowd on the House of Blues floor should have said it all; these guys have a loyal following in the City of Sin! Even before the music began, this fan was enthralled by the enthusiasm and dedication of the band, taking on the personae of the actual Van Halen members with full costumes, instruments, and personalities to match! Derek Fuller, the guitarist portraying Eddie Van Halen, even had Eddie's classic "Frankenstein" Strat guitar, and Ernie Berru, the vocalist playing David Lee Roth, had an over-the-top look that more than did justice to the group's classic frontman in his 80s glory days. A humorous backstage interview with the actual band back in the day played on the video screen prior to the actual set beginning, evoking many laughs from the crowd.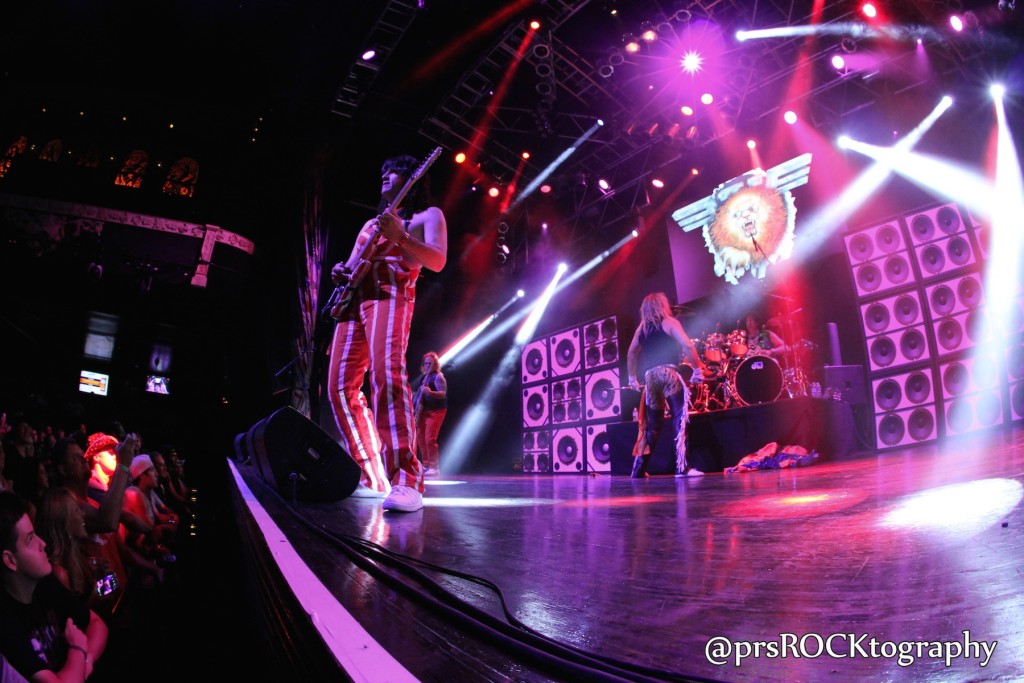 Fortunately, the musicianship of the artists themselves was more than up to the task as well. You can tell these guys are die-hard Van Halen fans that have studied the classic band religiously. In no time flat, they were on stage rocking out the classic Roth-era Van Halen hits, with no shortage of screaming fans in the audience. In a day and age where the real David Lee Roth and Eddie Van Halen are past their prime and not able to deliver in a live concert setting like they once did, these guys more than did justice to the world of classic Van Halen on a live stage. And that, my friends, is not an easy thing to do.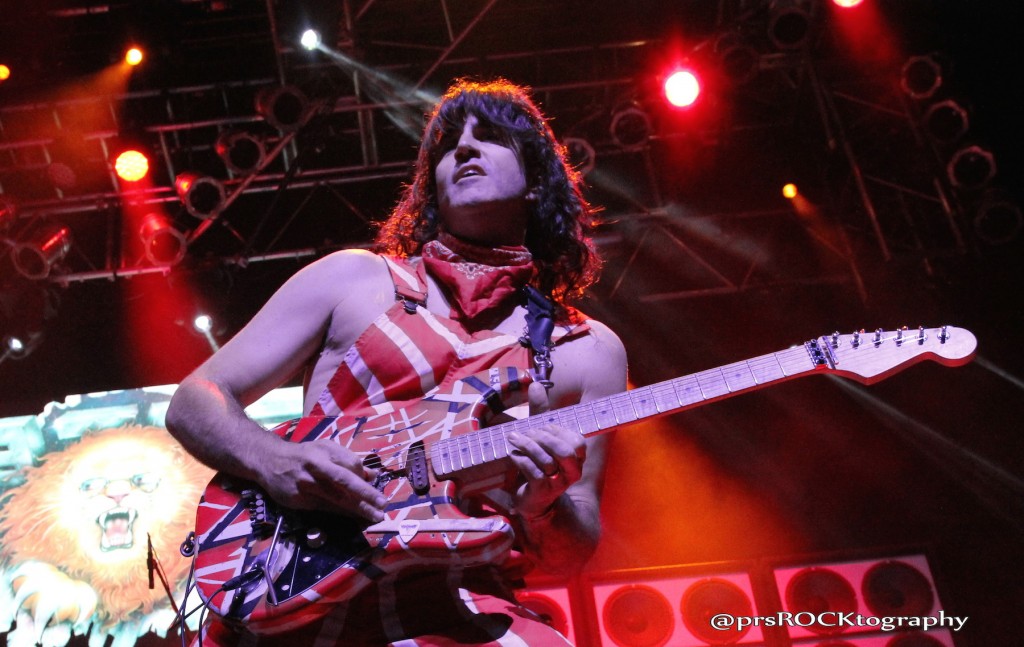 One of the best things I can say about this set is that the band did not simply mimic the studio recordings and go "by the book." There were a few flubs, likely deliberate, but this is largely in keeping with the way the band played on stage back in the day. There were drum and guitar solos (including a killer, extended version of "Eruption" that got the crowd fired up) and just about everything else in between. It felt like an authentic Van Halen experience on the stage; this was definitely more enthralling or interesting than simply sitting at home and listening to the albums. Berru as David Lee Roth was even doing the midair splits jumping off the drum riser, and twirling and catching the microphone stand! When a tribute band can deliver better these days than the actual band, you know you are in the right place with a group like Fan Halen.
The setlist consisted of songs from the bands "Classic Six" Ted Templeman-produced records with David Lee Roth on vocals: Van Halen, Van Halen II, Women and Children First, Fair Warning, Diver Down, and 1984. Though the setlist was heavy on the hits, the group did throw in a few deep tracks and unexpected surprises for good measure; even David Lee Roth's solo hit "Yankee Rose" got worked into one of the medleys! Naturally, no post-1984 material or material with other vocalists was performed at this show; this band's loyalty is to the Roth era, which they of course do immense justice to.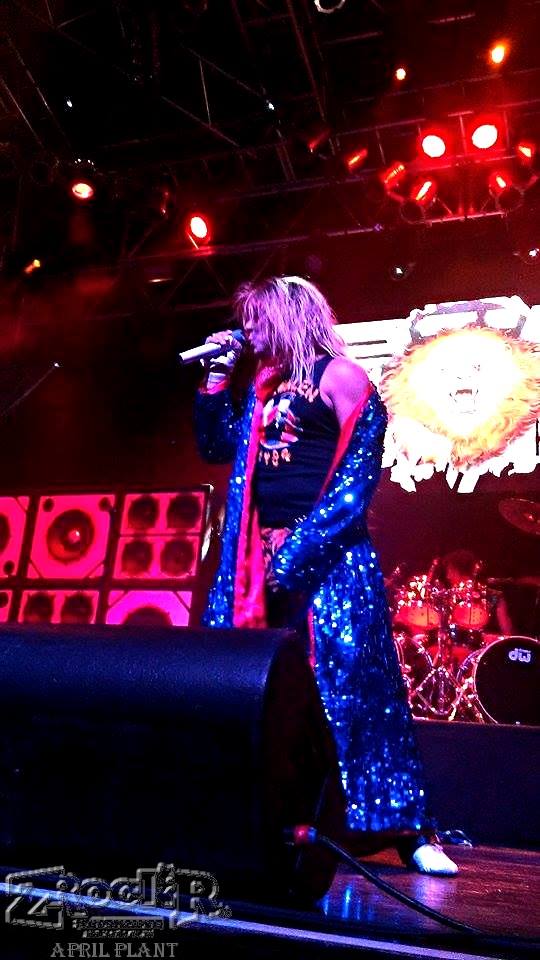 Granted, there were a few songs I would liked to have heard played at this show that were omitted, but this is a small complaint; when a band has six albums packed with classics from start to finish, one band cannot possibly play them all in a single night. Fans in the audience were clearly satisfied with the end result.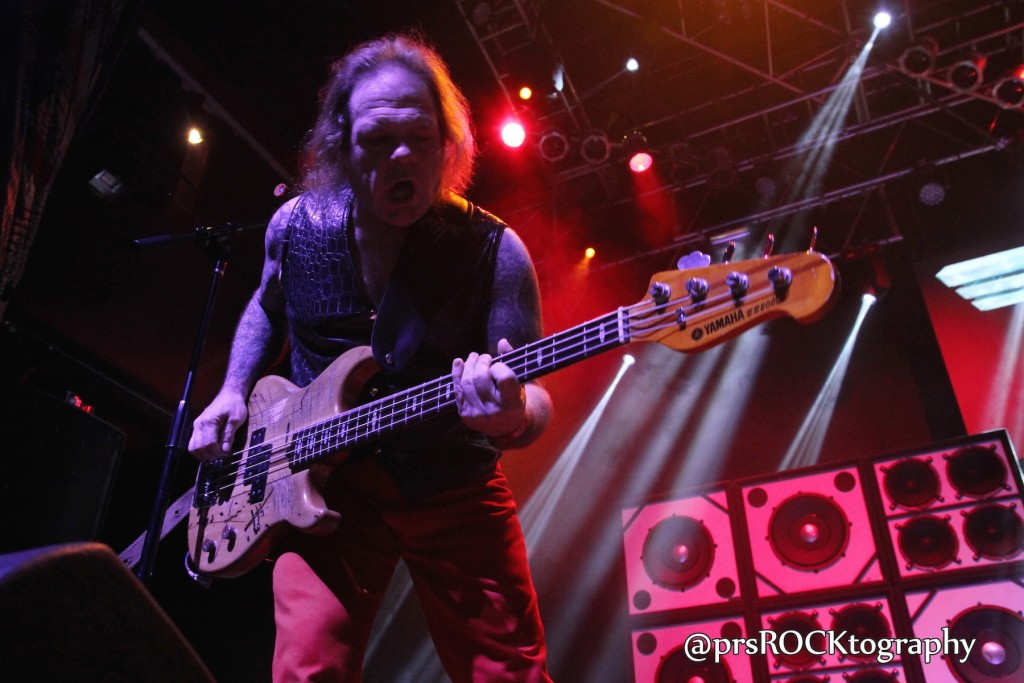 It is tough to pay tribute to a classic hard rock staple like Van Halen, but Fan Halen's set at the House of Blues more than did justice to the band's best era. Seeing this experience on a live stage beats paying a hundred bucks to see the real band, and to walk away underwhelmed not long after. If you are a Van Halen fan, Fan Halen's show is essential!
PHOTO CREDIT: Pictures courtesy of Paul ROCK Santos-  
Pictures ©2015 Paul ROCK Santos used with permission- all rights reserved.
PHOTO CREDIT: Robert Hussey of Cyanide and Ernie Berru as Diamond Dave by April Plant
ZRock'R Photos by April ©2015 April Dawn Plant and ZRock'R Magazine- All Rights Reserved.