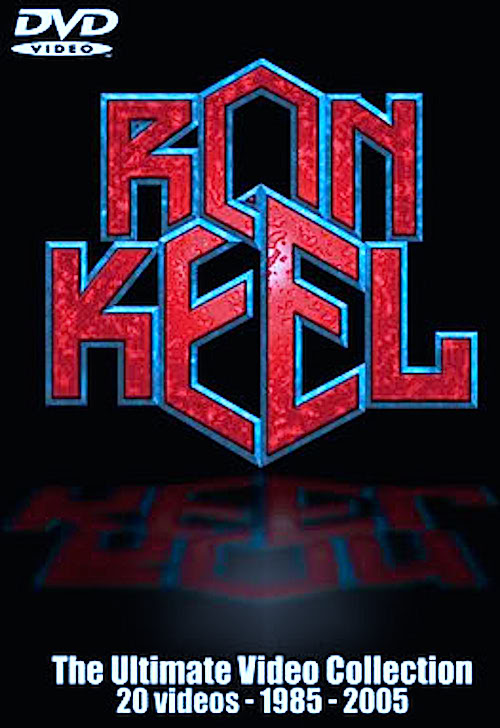 Ron Keel's musical career has been long and diverse. Fans will always remember him for Keel (the band) and classic 80s rock anthems like "The Right to Rock." But his career went well beyond that, including an unexpected foray into country music! These days, Ron Keel has returned to the rock that made him famous in the Decade of Decadence, but still pursues other side projects and interests as well.
Over the years, Ron Keel recorded many music videos with his various bands and musical projects; this collection is an effort to bring all of them together in one place. Fans have been longing for this material to be compiled in one convenient DVD set. So, what does this set feature, and is it worth picking up if you are a Keelaholic?
As far as material included goes, this set covers all of the bases and nearly every period of Ron Keel's career, from 1985-2005. There are tracks from Keel (the band), Fair Game, Ronnie Lee Keel (his country period), and IronHorse. The only major project not featured or depicted in this set from this period of Keel's career is the Japanese band Saber Tiger, though it is unlikely he actually recorded any sort of music video content with them. The majority of the videos here are traditional promo videos, though some are live television performances and other broadcast spots.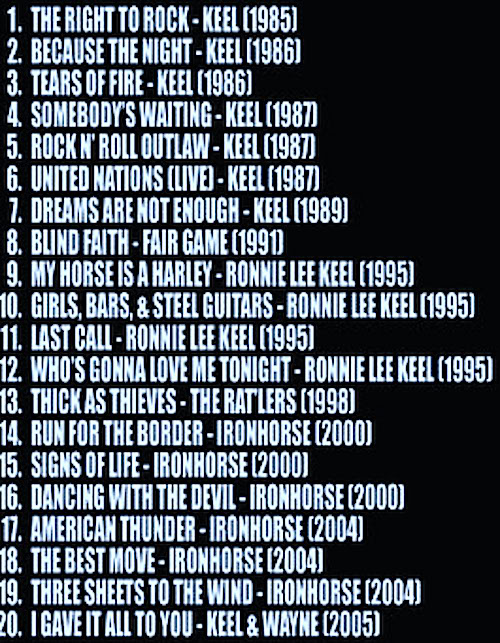 The material here is interesting to watch because Ron Keel's career has been so diverse over the years. The delightfully cheesy and over-the-top Keel (the band) videos are the major highlight here, though seeing his transformation to country in the later years is equally entertaining.
The packaging claims that the videos in this collection are sourced from the best possible elements; the majority of the tracks on here looks like they were taken from a high quality VHS tape, which is probably more or less how they looked when first aired. A few of them are of lower quality and were presumably ripped right from TV; the Japanese performance of "United Nations" looks particularly atrocious, but again it is unlikely any better source exists. This fan, for one, is grateful to have all of this material in one place.
Unfortunately, the disc itself has two major design flaws that make watching the videos a pain. First and foremost, there is no "play all" button. You have to individually select each and every track to play the video; you cannot simply watch them all in sequence. The second flaw makes this even more frustrating; the cursor resets to the "top" position after every song, making it an even bigger pain to do this. It does not make the disc unbearable or anything, but a play all button was definitely needed here.
This collection is bare bones and devoid of any other extras, but Keel fans are not going to mind; this is the perfect way to get all of the videos in one convenient place. Highly recommended for all fans despite some of the quality issues.