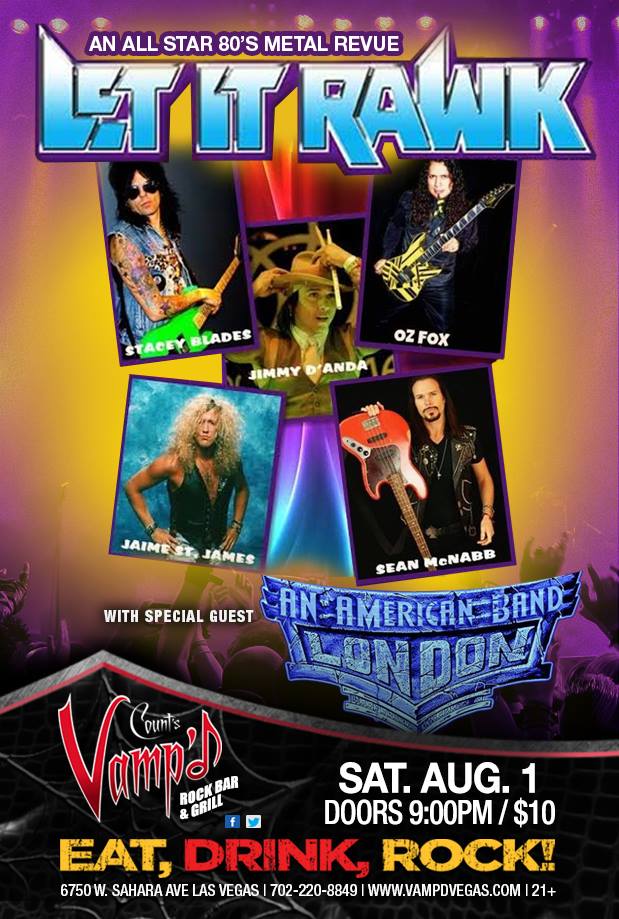 The recent onslaught of evenings of classic hard rock at Vamp'd continued on August 1, 2015 with the arrival of London and Let it Rawk, both bands featuring the finest in personalities and musical styles of the Sunset Strip. Vamp'd remains Las Vegas' premier venue for all things hard rock and heavy metal, and it was proven once again on this night!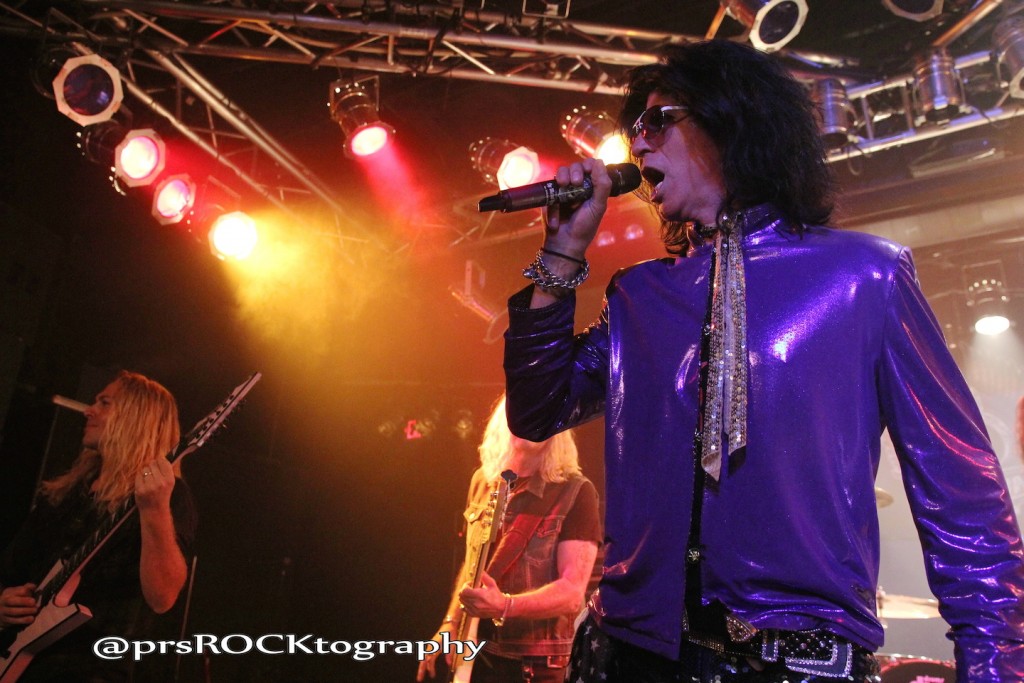 London, despite having a rich musical history on the Sunset Strip stretching back to the late 1970s, was forever immortalized by their appearance in The Decline of Western Civilization Part II: The Metal Years. Vocalist Nadir D'Priest has been the group's one constant since they began doing album releases back in 1984. The group's current lineup also includes former Giuffria drummer Alan Krigger and Hurricane bassist Tony Cavazo. The group recently released a new live album, and is in the process of recording a new studio album; it will be their first since 1990.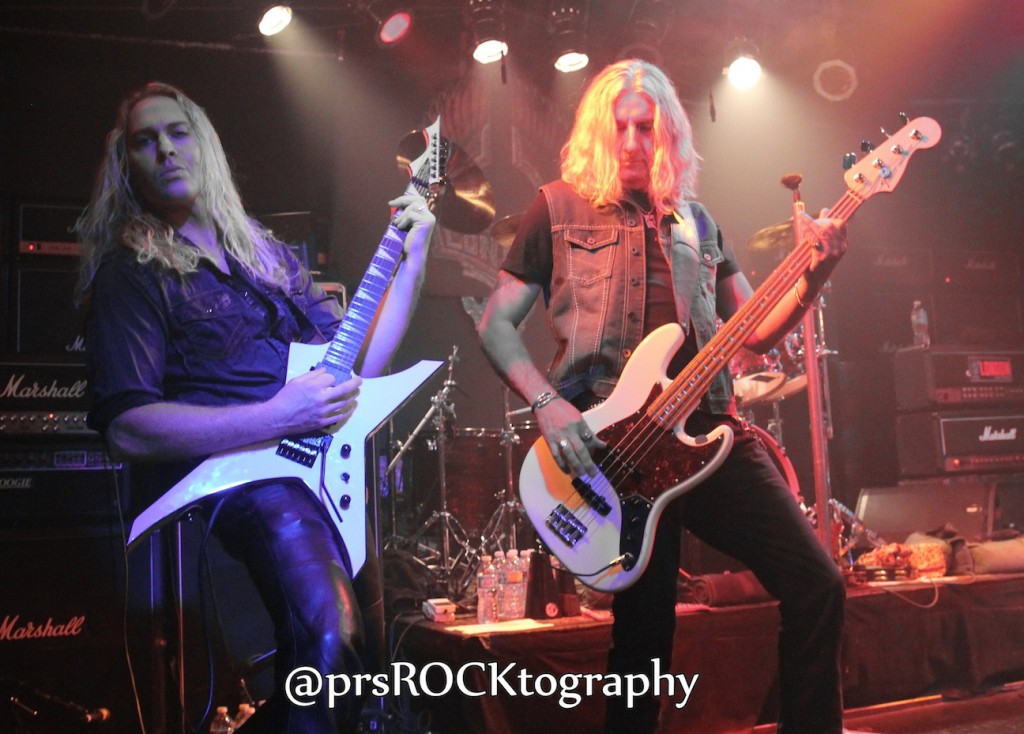 It is a shame London was not better recognized outside of the Sunset Strip in their heyday, because these guys always put on a kick-ass live show. Nadir D'Priest is a seriously underrated and charismatic frontman. The group has always been one with an image and stage presence that is undeniable through D'Priest, as was beautifully demonstrated with their appearance in The Metal Years (no, we did not see him burning any Russian flags at this show). From the ominous, opening sounds of "The Wall" right down to the end of their set, D'Priest definitely proved he still knows how to rock an audience. His distinct vocal style, which is deeper than many of his musical contemporaries of the era, has always helped to give the band a unique sound. And has colorful, flashy outfit for the evening did not hurt either!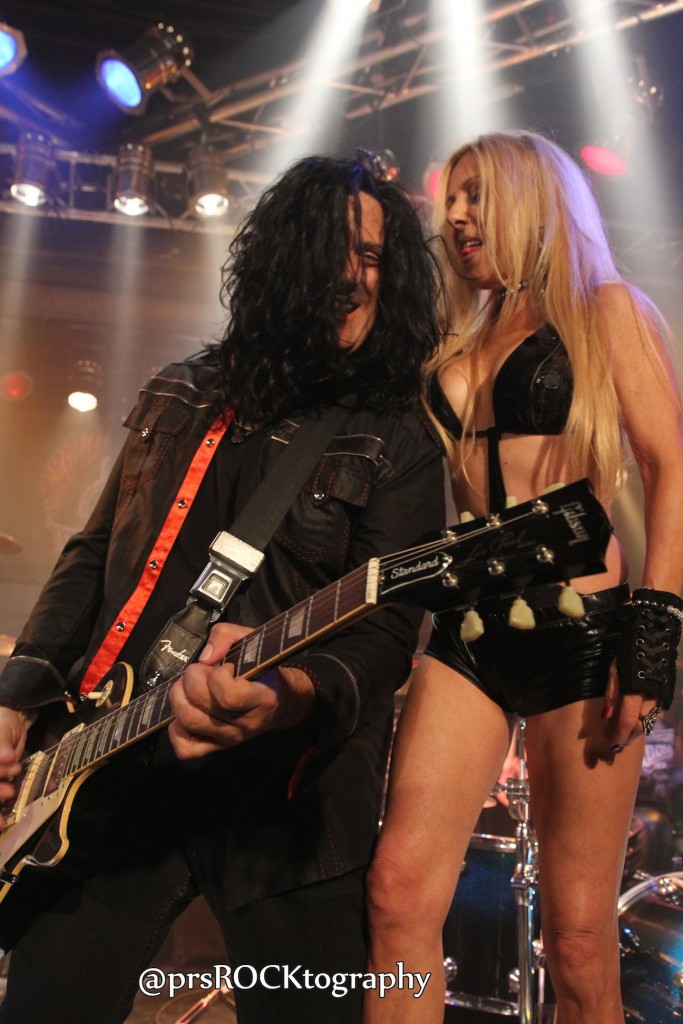 Truth be told, London's set was what this fan was looking most forward to in the evening. The band being relaunched a few years ago has been a blessing in many ways; people who did not discover the band the first time around finally get to see what they are all about. Even after the reunion the lineup has changed many times already, but this is one of the strongest incarnations yet. While D'Priest always has been and always will be the band's center of attention, both guitarists were at the top of their game. The stage was a bit cluttered with Alan Krigger having to set up his kit at the front of the stage (Jimmy D'Anda had the house kit set up for his use later on in the Let it Rawk set), but it did not stop the band from showing off how much energy and musical prowess they have. Krigger's drum solo was a major highlight, as were the premieres of a number of songs from the band's forthcoming studio release. Krigger's former Giuffria bandmate Gregg Giuffria was hanging out watching the show as well!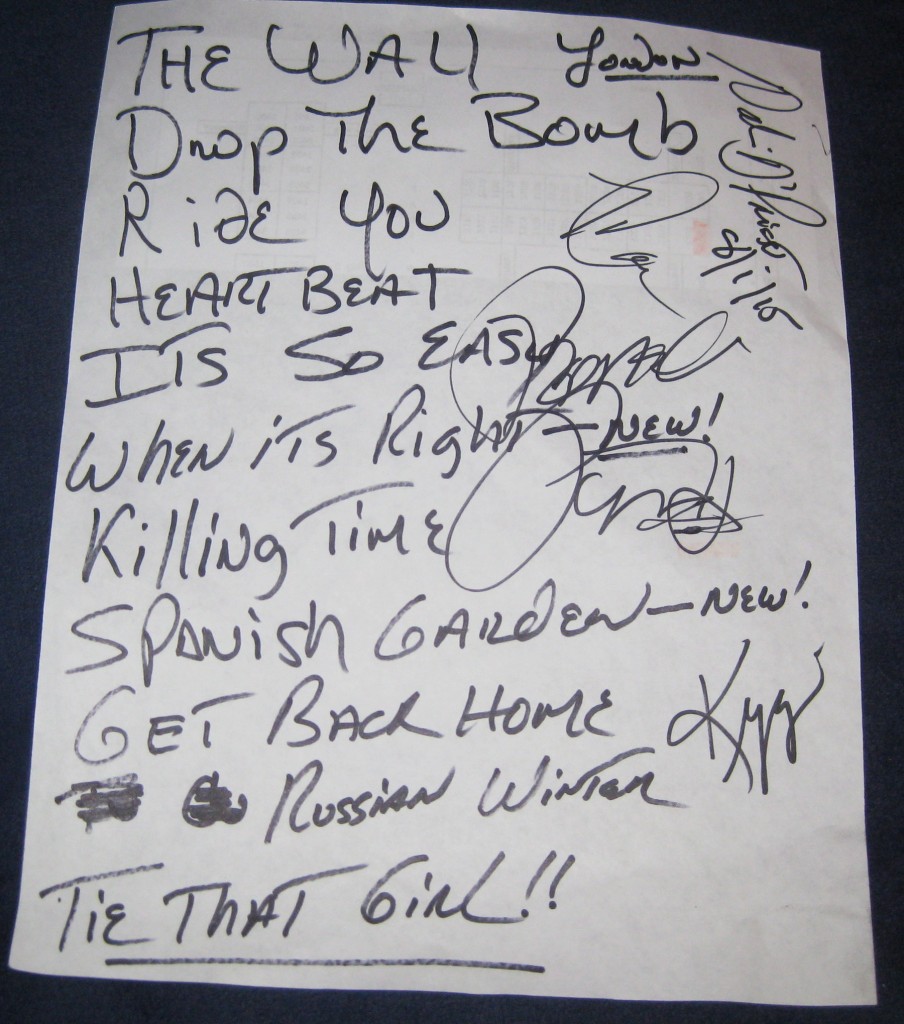 Another pleasant surprise was the arrival of Tony Cavazo on bass into the band. Cavazo (the brother of Quiet Riot's Carlos Cavazo) was previously known in the 80s for his role in the band Hurricane, with whom he still tours. He fit in seamlessly with the London boys and is a great fit here. Classic hits including "Drop the Bomb" and "Russian Winter" sounded as good as they ever have, intermixed with the new cuts we can look forward to seeing on an album in the near future.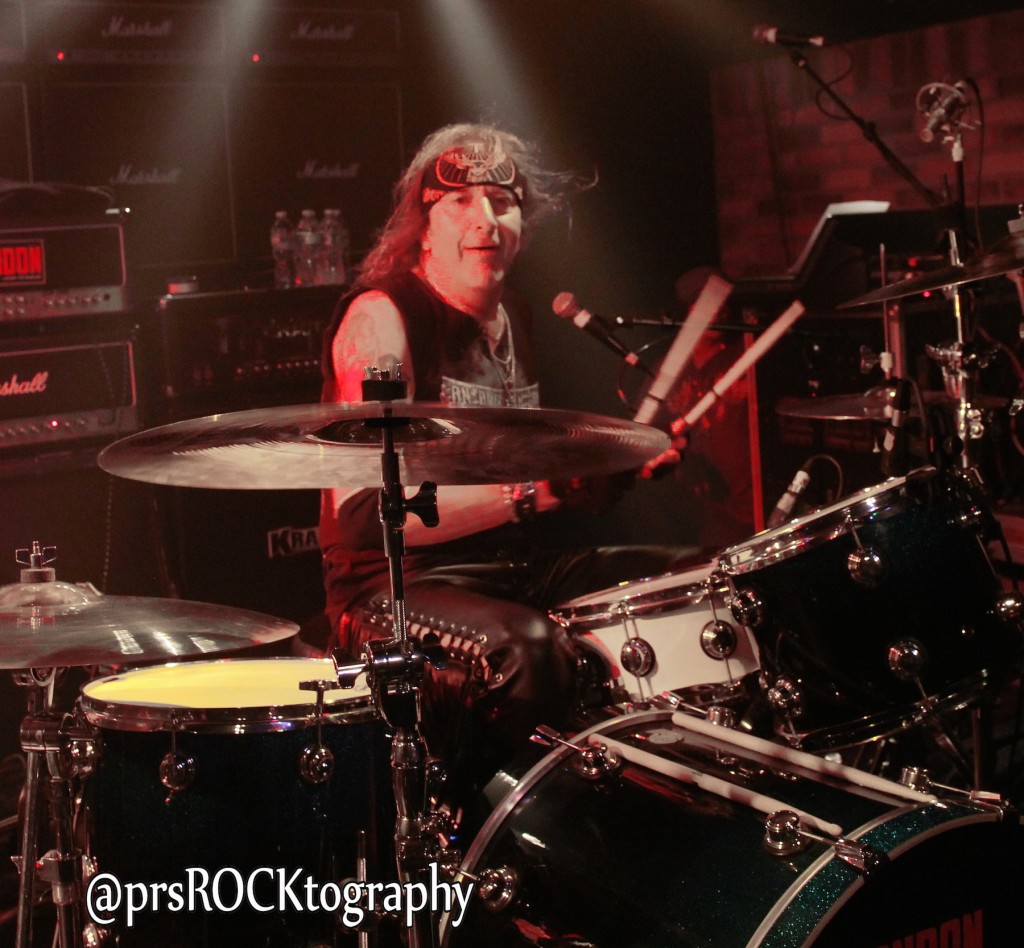 London were the kings of the Sunset Strip back in the day, and it is good to see D'Priest and company back out in full force, looking to take back the crown that is rightfully theirs. This criminally underrated act rocked the Vamp'd stage like never before, and it is clear that their days of rock and roll far from over, in an incarnation that may be their strongest to date.
And now, on to the second half of this story….
Let it Rawk has been rocking (or should I saw rawking?) for the past year and a half. The lineup has always included vocalist Jaime St. James of Black N Blue fame, and guitarist Stacey Blades, best known for his prior role in LA Guns. The version of the band that played on this evening included bassist Sean McNabb (Dokken, Quiet Riot), guitarist Oz Fox (Stryper), and drummer Jimmy D'Anda (Bulletboys). Past musicians that have played with the band at other Let it Rawk shows have included Eric Brittingham (Cinderella) and Scot Coogan (Ace Frehley Band, Lynch Mob). The group provides quality cover versions of the biggest hits of the classic scene, deep cuts, and even some original tunes as well!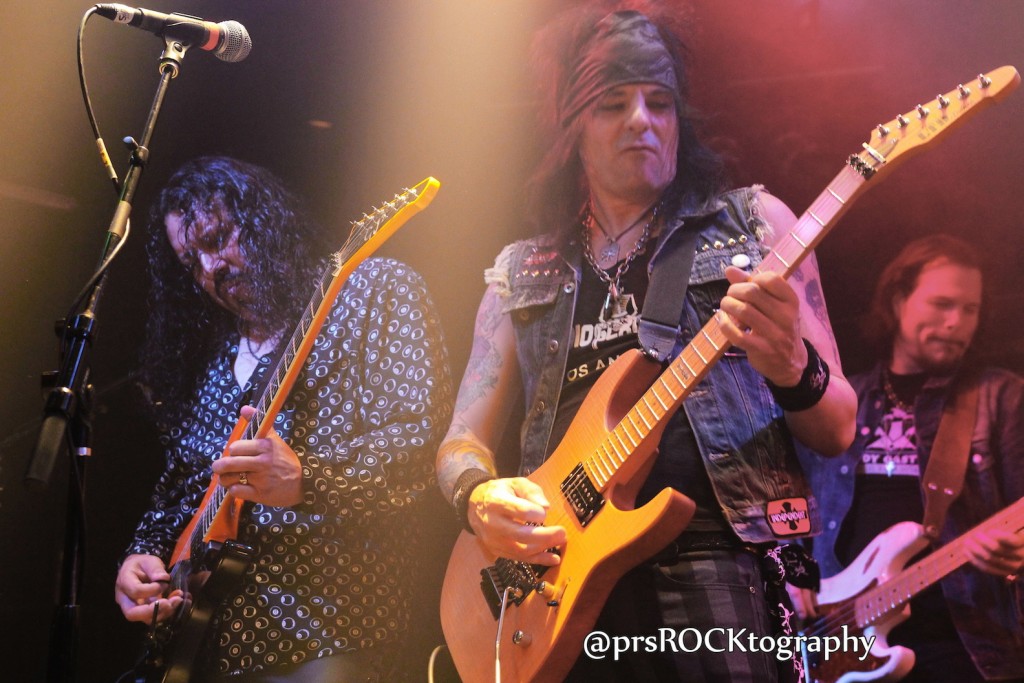 Ever since I saw my first Let it Rawk show at the Chrome Showroom at Santa Fe Station a year and a half ago, I have been eager to check out their gigs every time that they do one in Vegas. One thing that has impressed me is the band's setlists, which combine hits and deep tracks from back in the day. Their setlists are anything but predictable, and this makes them all the more interesting a band because of it. When is the last time you heard Black N Blue's "Autoblast" or Stryper's "Two Time Woman?" Sure, there were some of the true standards of the era that every remembers from MTV, like "Round and Round" and "I Wanna Rock," but I admire a band that can bring diversity into their set. Hell, we even got a few original tunes! In a world where mundane tribute bands play the same predictable covers every damn time, Let it Rawk is what fans of this genre have been longing for.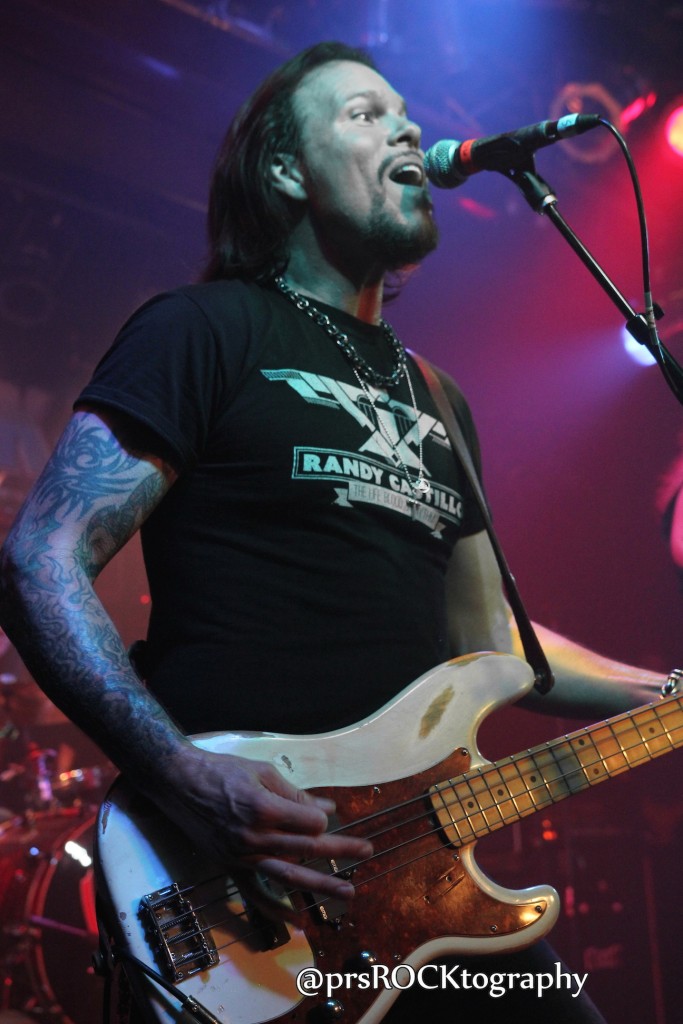 The band rocked hard from start to finish. Much like D'Priest from London who kicked off the evening, I have always considered Jaime St. James to be an underrated singer. His voice and body alike have aged better than many of his peers; this makes him the person best suited to fronting a band dedicated to keep the spirit of the 80s rock scene alive. The twin guitars of former LA Guns guitarist Stacey Blades and Stryper's Oz Fox rocked the venue relentlessly. It was a packed house with headbanging, enthusiastic concertgoers all around. Rounding out the group, of course, were bassist Sean McNabb and original Bulletboys drummer Jimmy D'Anda, who himself got a chance to shine in the form of a drum solo (yes, you could file him under "criminally underrated" as well!)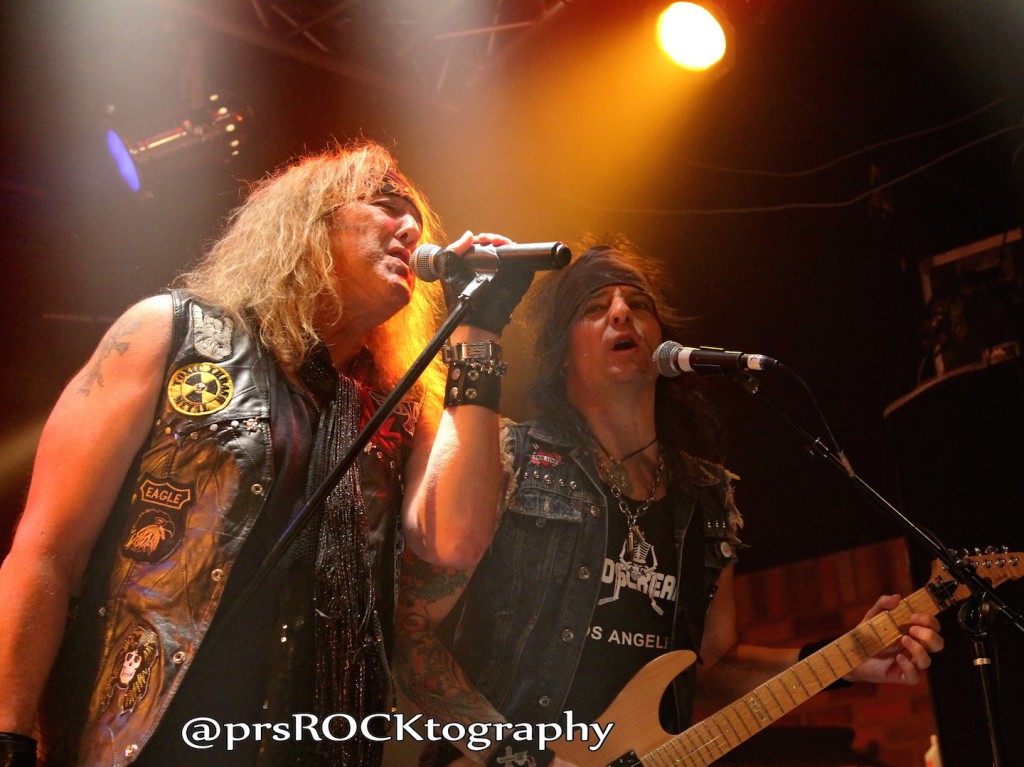 Another true surprise is the chemistry that these guys have together on stage. With smiles on their faces and enthusiasm alike, you can tell that these guys actually like each other and enjoy playing music for the fans. If you did not know better, you would swear that they had been playing together for years. Having to learn the songs of multiple other bands when you have devoted yourself to one for so many years is a daunting task, and certainly not easy. Yet the Let it Rawk crew makes this look like child's play, and has a damn good time doing it. The members of the band were also good enough to come out after the show, signing autographs and taking pics with their fans. St. James also reminded the crowd that he will be returning to Vamp'd for a Black N Blue show on August 22; you know damn well that this fan will be there, front and center!
The one minor complaint I have with the Let it Rawk set was the lack of video screen usage and footage like they had done in their prior shows. In the past, they had the venue screens playing vintage MTV clips, video excerpts and interview footage, plus rotating images of band logos from the era. This is a very minor complaint, but when the band used it at previous shows, it helped to give a nice "retro" touch to things that made it feel all the more authentic.
The Sunset Strip Scene was alive and well at Vamp'd on this evening of rock and roll. Who says rock is dead? London and Let it Rawk demonstrated beautifully that rock is very much alive in both their stage show, and fans who packed the venue to see them rock out. Great sets from both bands throughout; these acts are strongly recommended if they come to rock your town in the near future!
Photo Credit:  Photos ©2015 Paul "ROCK" Santos. Used with permission. All rights reserved.