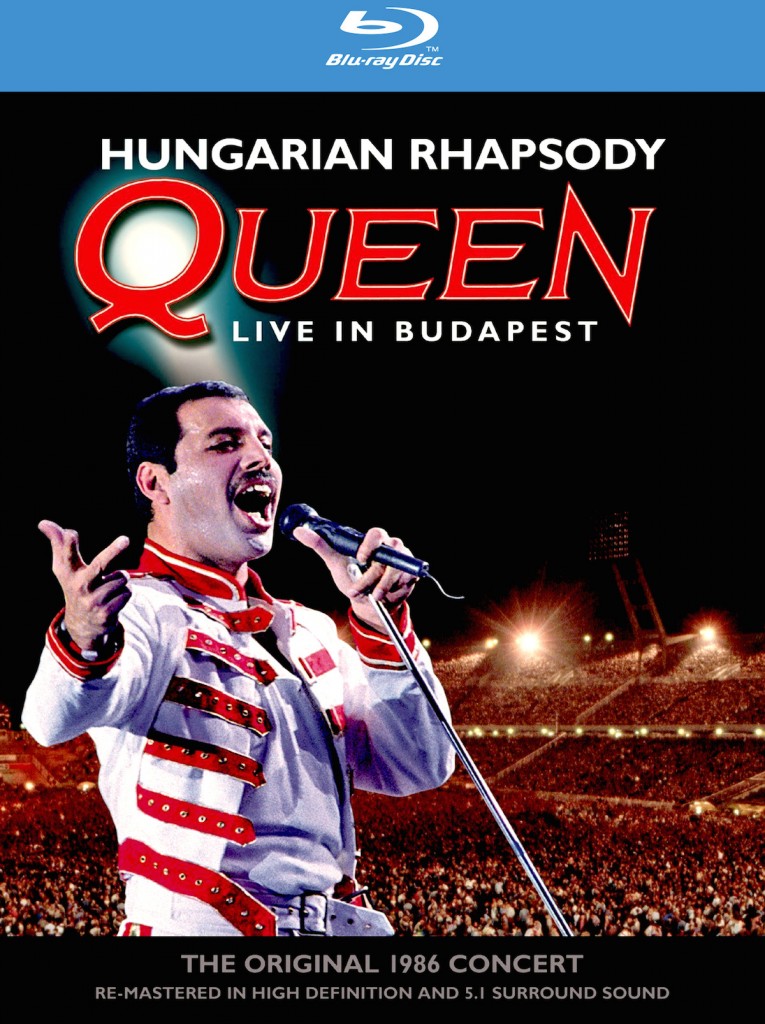 1986 proved to be one of the biggest years in Queen history for a number of reasons. Freddie Mercury, Roger Taylor, Brian May, and John Deacon recorded songs for the film Highlander (which would later appear on the A Kind of Magic album), and they also embarked upon a large scale European tour. Unbeknownst to the band at the time, this would be the final tour they ever did with Freddie Mercury, who would die of AIDS a mere five years later. Hungarian Rhapsody is a look at the last show of that legendary final European tour with Mercury as frontman.
Queen is a band with a massive, global following (one that stands strong even a quarter century after Mercury's passing) and there is no shortage of live releases from the band. Eagle Rock has been responsible for bringing a number of these concerts and docs to DVD and Blu-ray Disc in recent years; the company has put out many quality releases that continue to be eagerly awaited by fans. The Hungarian Rhapsody concert was released on Blu-ray by Eagle Rock in 2012, combining the feature itself with a documentary on this period of the band's history. The concert was also released on DVD and CD, and combo audio-video packs (the CD version contains some cuts that are not included in the video version; presumably the original video elements for those songs no longer survive, if they were even filmed).
As the title implies, Hungarian Rhapsody is a concert in Budapest, Hungary taking place at the end of the band's 1986 European tour. Playing a massive stage, the band goes through a setlist that features some of their biggest hits, as well as some more (then) recent songs, plus a few deep cuts and solos as well. The group even performs a traditional Hungarian folk song and offers a few other surprises throughout! Interspaced in the midst of the concert are vignettes with each of the band members, going off and exploring Hungary and pursuing their own passions while visiting the country.
As far as the actual concert featured here goes, Hungarian Rhapsody is a triumph. This concert starts strong and does not have any real weak moments throughout. Mercury and company are in good spirits and clearly enjoying performing these songs for the crowd. That said, while the show is amazing, it is not as good as the previously released Queen Rock Montreal for two reasons, One, many songs are reduced, shorter versions because they are parts of medleys (case in point, "Tie Your Mother Down" is ONLY the first verse, chorus, and outro). The other issue I have is with the vignettes; these play in the middle of the concert at different points, and this kills the momentum of the show. They would have been better off relegated to being bonus features, or perhaps their own movie. That is not to say this content is not enjoyable; it just should not have broken up and interfered with the concert.
If you are a Queen fan, is Hungarian Rhapsody an essential purchase? This fan thinks so. The energy displayed by Freddie Mercury and his bandmates in the film easily overcomes any minor faults that might be had here. This would be the final tour the band ever did with Mercury at the helm, and to say they went out with a bang would be an understatement. Although I wish the vignette sequences did not break up the actual concert, it is a small flaw in the long run, and I can easily recommend this film for any fan of the group. Though if you were to only get one Queen concert on Blu-ray, I would still recommend the Queen Rock Montreal disc over this one.
Overall, the disc looks and sounds fine on Blu-ray; the image is clear throughout with no major blemishes, and bold colors that pop right off the screen. Natural film grain is visible throughout, showing that there have been no annoying digital enhancements or noise reduction applied here. A band like Queen demands audio of the highest quality, and they certainly deliver in that regard here. In terms of audio/visual categories, the disc will definitely please fans.
A bonus feature is included in the form of a half-hour documentary on the history of the band during this time period, including recording music for Highlander and playing shows on this European tour, which would sadly be Mercury's last. An eerie moment in this doc comes in the form of a TV reviewer asking Mercury if he will ever return to perform in Hungary, to which he replies "if I'm still alive." This doc is a great bonus feature and definitely helps to put this period of the band's career into context, providing some interesting background for the concert and everything leading up to it. One minor complaint in terms of the bonus features is that we do NOT get audio-only tracks of the songs for which no video footage exists; these can be heard on CD versions but should have been included on the Blu-ray Disc in an audio only capacity.
Hungarian Rhapsody is a great addition to the growing library of Queen home video releases from Eagle Rock, featuring the band at their finest on a live stage on what would be Mercury's final Queen tour. Aside from the minor issues I have with the presentation itself, this is a solid performance and the end of an era for one of classic rock's all-time greatest bands. If you only get one Queen Blu-ray, the Queen Rock Montreal disc is recommended, but this will make a great addition to any fan's collection nonetheless.