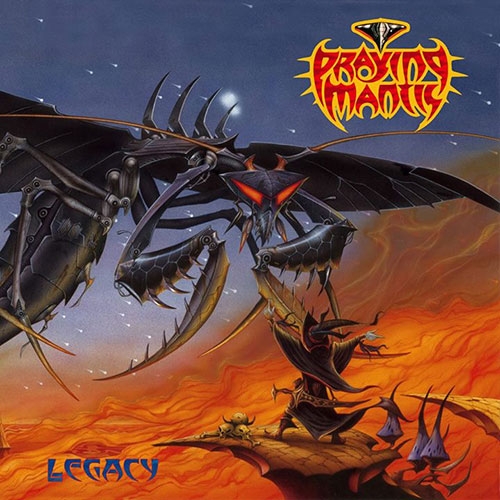 Praying Mantis is a criminally underrated band, going strong for over four decades. Though often billed as part of the New Wave of British Heavy Metal, their formation by brothers Tino and Chris Troy predates it. The group's sound had as much in common with AOR-style rock as the NWOBHM, which has helped them to maintain a sound all their own over the years. The band's roster is impressive, having included former members of bands like Rainbow, Iron Maiden, Uriah Heep, and countless others. The band's fanbase is more prominent in Japan, but this has not stopped them from rocking the world.
The band's current lineup features Tino Troy, Chris Troy, Andy Burgess, John "Jaycee" Cuijpers, and Hans in't Zandt. The album also marks the return of long time cover artist Rodney Matthews, who composed the art you see on the covers of many of the band's classic records.
I will be completely honest; prior to this I had never owned a Praying Mantis album; this rock and roller was only somewhat familiar with the band from their songs being included on various NWOBHM compilations and the like. Upon the release of this new record, I was curious to see what the band sounded like, and to see if they were still going as strong today as they were back in their 80s heyday.
Though I have admitted to not following the band as closely as some, Legacy is definitely an indicator that the band has kept up, and is still up to the task of impressing an audience. Their cross of melodic, AOR-style rock and heavy metal helps to give them a more unique sound than many of their contemporaries, and it is what definitely helps them to stand out all these years later.
The album is a bit excessive at nearly an hour long, with 11 tracks, some of which do last slightly longer than they need to. Fortunately, the album still manages to keep the attention of any fan; Praying Mantis is still going strong even with so many years having passed by since their initial early 80s heyday. The band gets some great guitar riffs and other sounds going on this record, yet seamlessly integrates elements like keyboards and pianos to create a nice mixture of styles. Legacy is an appropriate title; this album establishes that the band definitely has one to their name.
Legacy is a great release from this classic band that continues to seamlessly merge prog, AOR, melodic rock, and hard rock and metal styles. Praying Mantis has released another solid album. It is one that any fan will want to add to their collection in the near future. Strongly recommended!