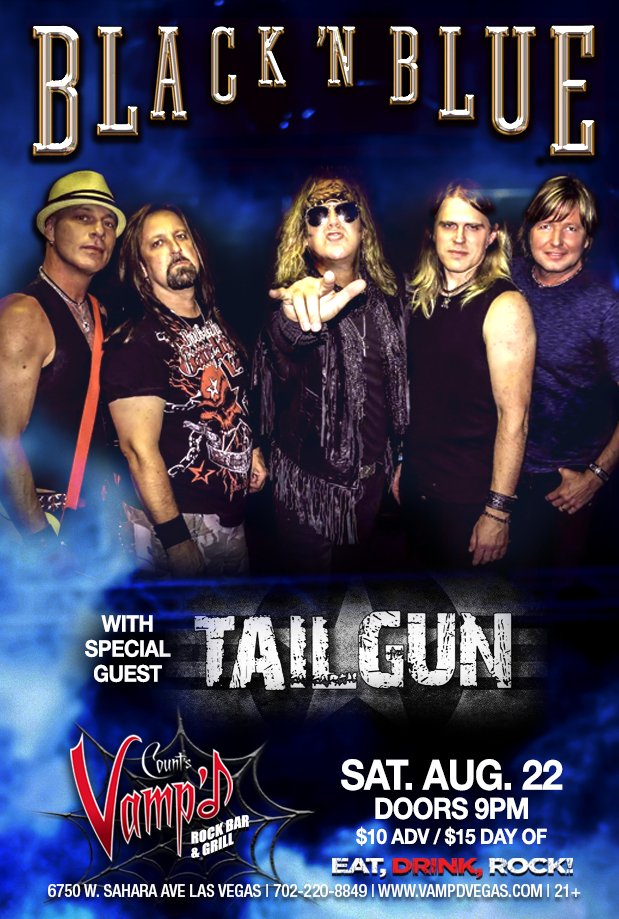 Black N Blue is one of the most criminally underrated hard rock bands of the 80s. Featuring some of the top players of the era, this was a band that should have been huge, but never took off the way many of their peers did. The group's classic lineup featured vocalist Jaime St. James, drummer Pete Holmes, bassist Patrick Young, and guitarists Jeff "Woop" Warner and Tommy Thayer. Following the recording of four classic studio albums in the 80s, including two produced by Gene Simmons, the band members went their separate ways, but eventually reunited.
The current version of Black N Blue features St. James, Holmes, and Young, and new guitarists Brandon Cook and Shawn Sonnenschein; Thayer is not participating in the current version of the band as he is now in KISS, a position he has held with that band for years now. While Black N Blue has not released anything new outside of a reunion album a few years ago, they have definitely kept busy touring, especially amidst a revival in the popularity of 80s bands.
This was Black N Blue's first show at Vamp'd since November of 2013, though Jaime St. James had recently played the venue as a member of the Let it Rawk 80s tribute band. Needless to say, the band still has a large following in Las Vegas; they brought out a good-sized crowd that stood as solid proof of this! St. James' Let it Rawk bandmates Stacey Blades (LA Guns) and Oz Fox (Stryper) were in attendance as well!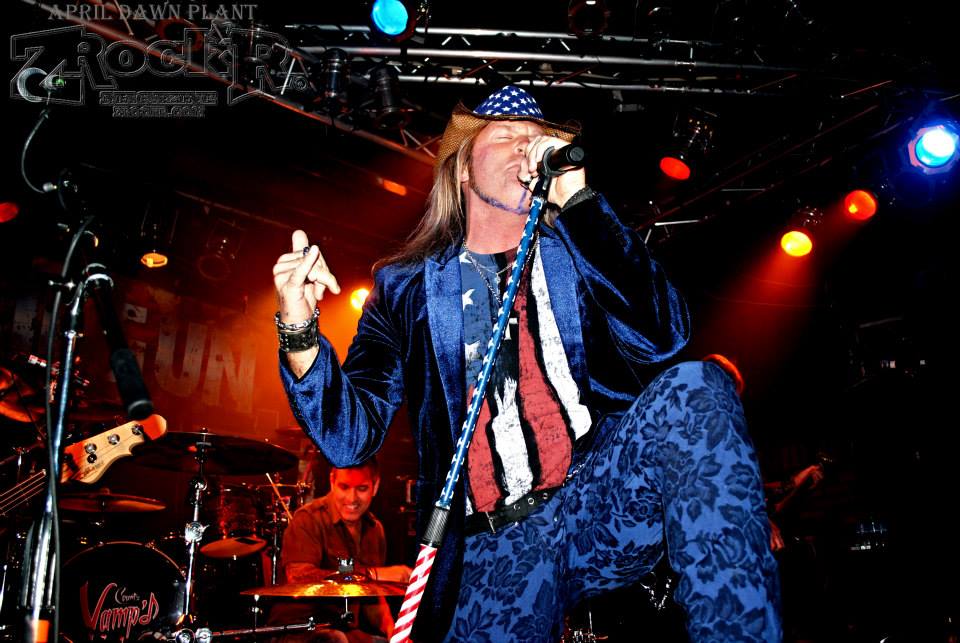 TailGun kicked off the evening's festivities. For the past year I have been following these guys, and Sin City is apparently impressed and satisfied by what they hear! The group has recorded a few songs, and is now at that point where they can build a whole setlist around original songs; no easy task in a sea of cover/tribute bands! The group's "back to basics" bluesy hard rock style is reminiscent of bands like AC/DC, but you can also tell that their influences come from other places as well. Vocalist Dru Jaxin has long been one of my favorite performers on the Vegas scene; prior to this he fronted an Iron Maiden tribute, which goes to show just how diverse of a musical repertoire he is capable of dishing out. From bluesy rockers to hard rock with ridiculous, Spinal Tap-esque lyrics, these guys know how to rock. I look forward to seeing them release new recordings in 2016.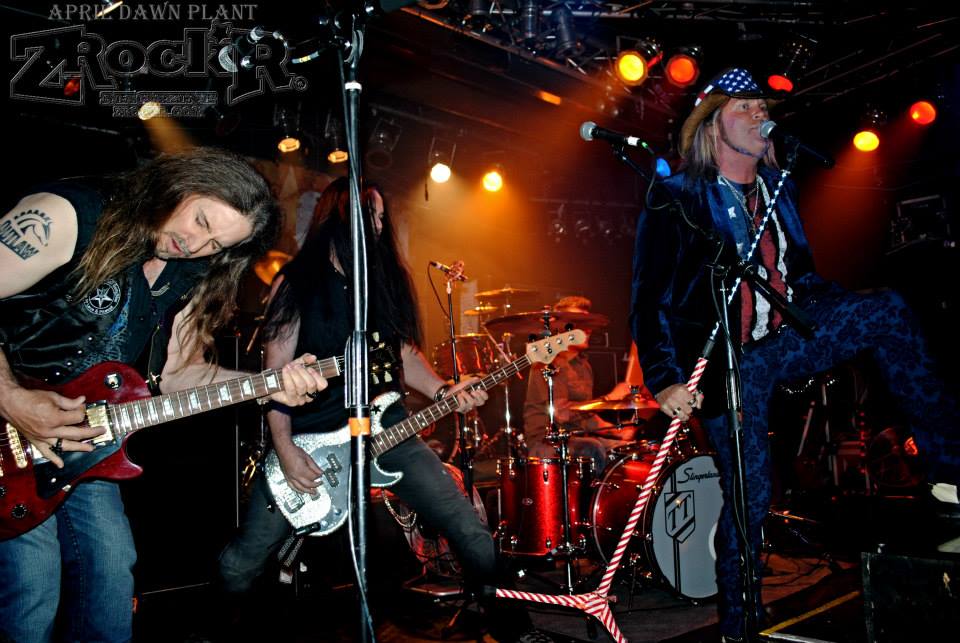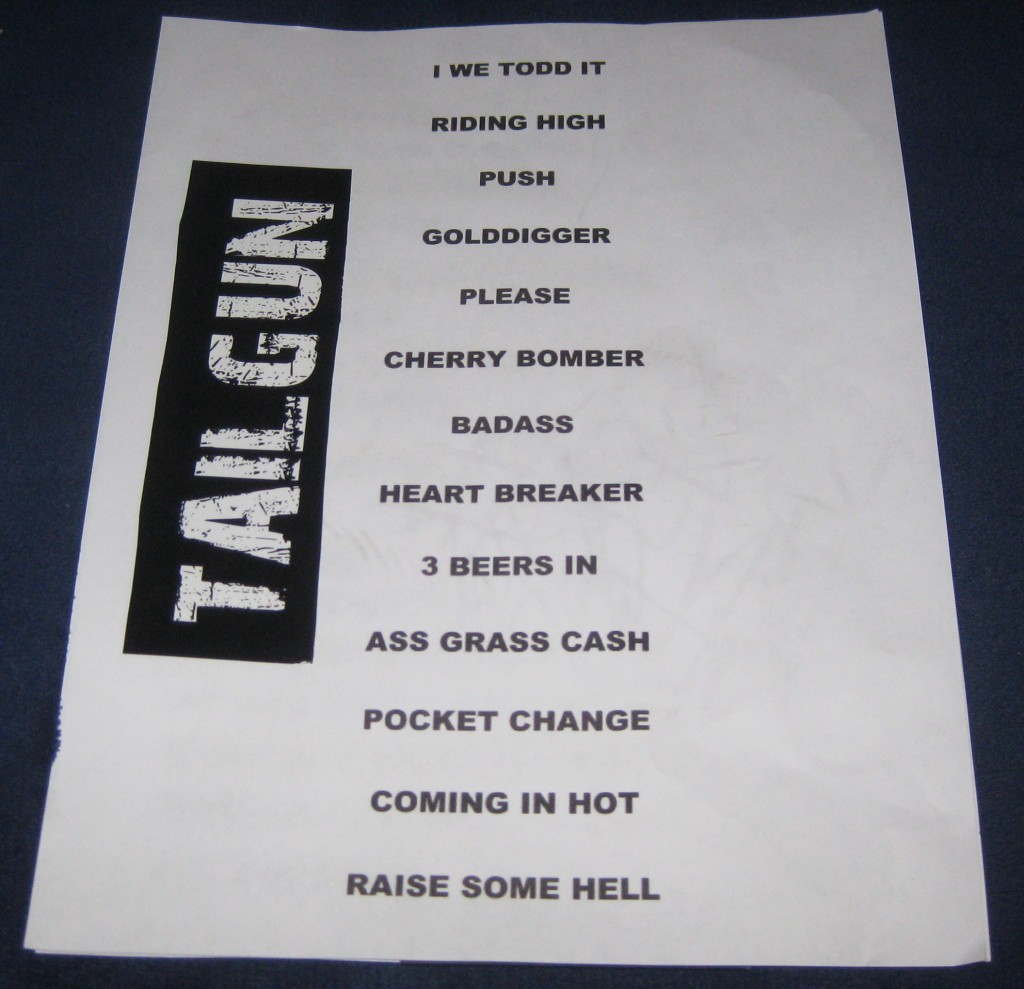 While Black N Blue may not have gotten the same level of popularity that many other acts from the same era and scene did, the band still commands a large and loyal musical following. Anyone who has listened to the classic four albums released by the band knows the diverse musical sounds they explored in their relatively short heyday, from pop rockers to straight-up hard and heavy stuff. Anyone who attended this show got to see a solid mixture of cuts from those four records, plus songs from their fairly recent reunion album, Hell Yeah!.
Usually I hate it when bands lose classic members, namely the guitarists in the case of Black N Blue. But, in recent years, Cook and Sonnenschein have stepped up to the plate and proven themselves to be absolute bad-asses that more than do justice to the material, old and new alike (Tommy Thayer's role in KISS means a reunion of the complete classic version of the band remains unlikely). That said, we have three fifths of the classic lineup and the fairly new arrivals more than fit the bill!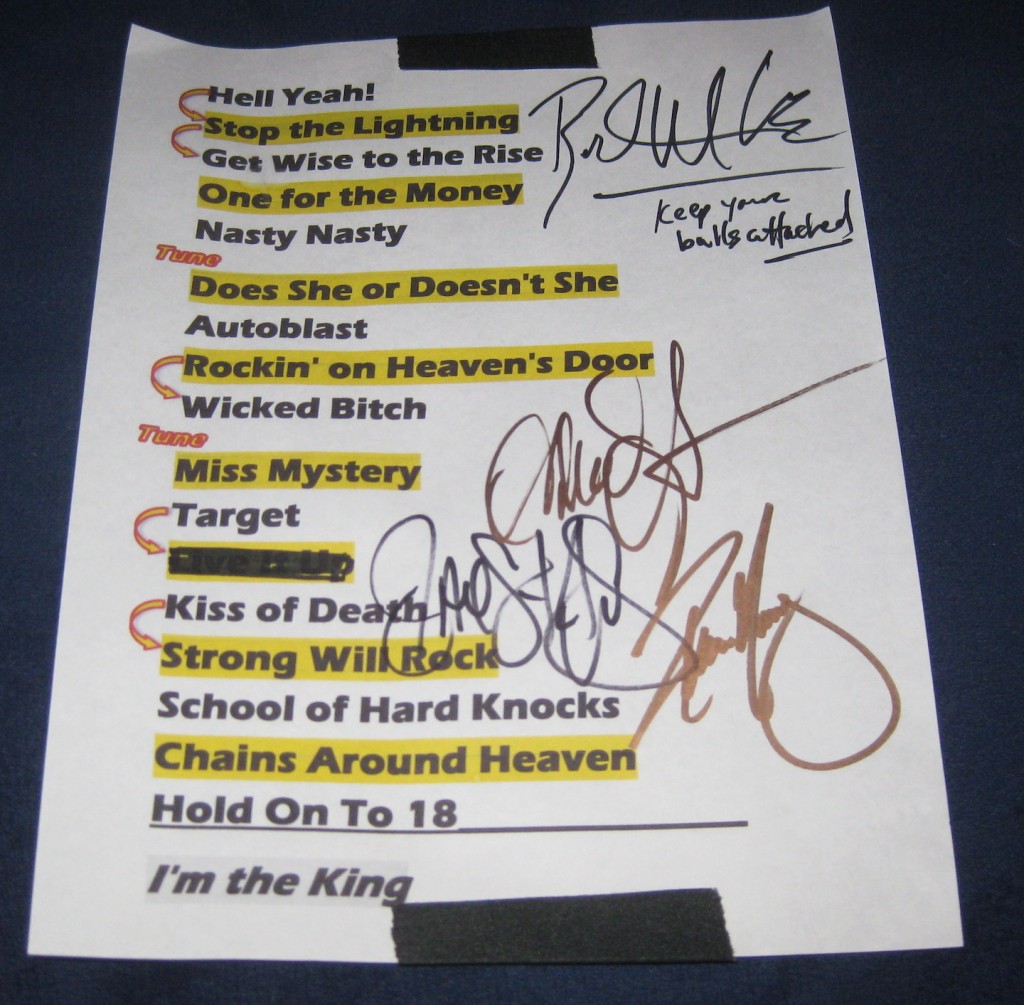 The setlist for this evening was one of the best fans could have asked for. This running order heavily emphasized tracks from their Dieter Dirks-produced 1984 debut, which remains the finest record in their catalogue. The ending of the show, in particular, emphasized many of the classic tracks from the debut, including "Chains Around Heaven," "Hold On To 18," and "School of Hard Knocks." Tracks from later albums got emphasis as well, including classic minor hits like "Miss Mystery" (which will always be iconic for its classic music video of the band playing on the wings of an airplane in flight) and "Nasty Nasty." Of course, the band was more than willing to dig into the vault and pull out classic deep cuts, including "Autoblast," "Stop the Lightning," "Rockin' on Heaven's Door," and "Wicked Bitch." The newer songs flowed seamlessly into the setlist; everything gelled together nicely throughout the entire experince, making for a nice assortment of songs for everyone in attendance. One need only look at the setlist above to get an idea of what the band played, and how diverse an array of tracks they assembled for the occasion!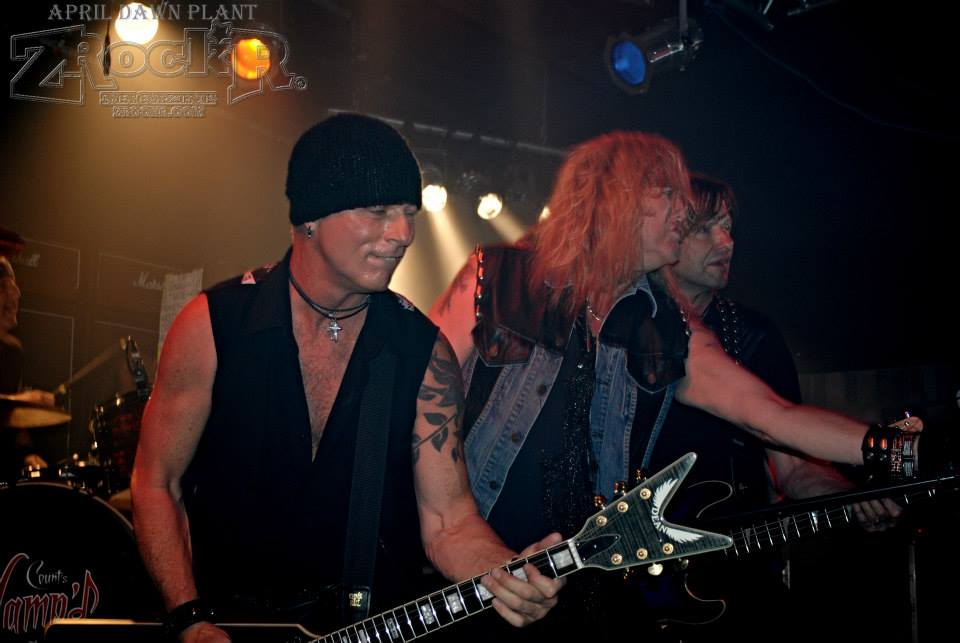 Of course, the actual performance more than lived up to what the fans wanted. Over three decades after their earliest recordings, Jaime St. James still looks and sounds exactly the same as he did back then; not an easy thing for anyone in this industry to pull off. The classic frontman stole the show with his vocals and on-stage antics; you can tell this guy loves entertaining the crowd! The twin guitar attack was equally powerful, and you could tell just how much musical potential there is here. Will we get another album out of these guys? Only time will tell, but after seeing this performance, I can safely say that fans would welcome it!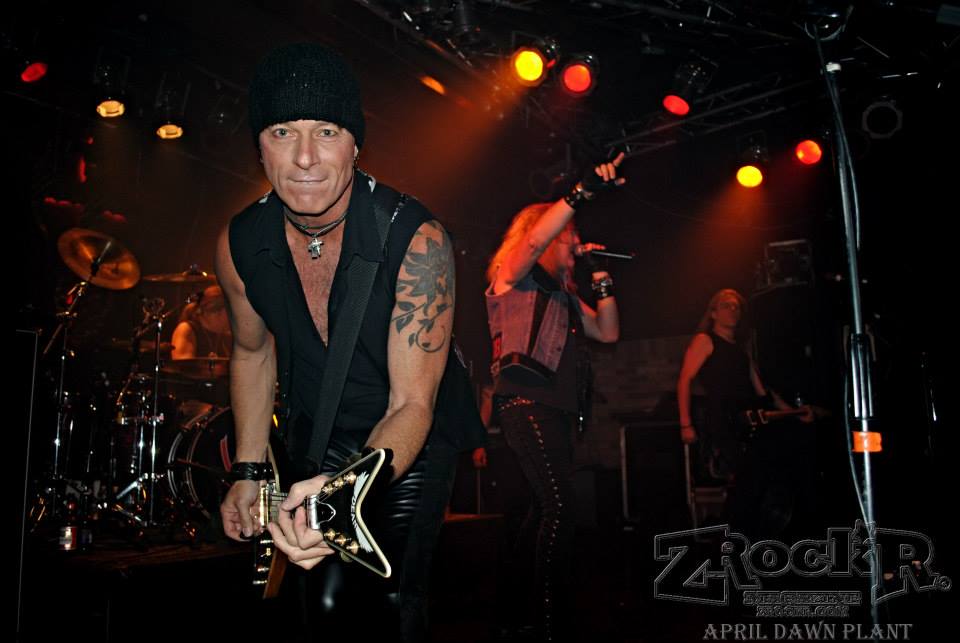 Black N Blue still knows how to command a crowd 30+ years on, and it becomes evident and prevalent from the moment they start performing. It is great to see that the group still sounds excellent and is making good music over the years passing by. Here is hoping that a new album is on the horizon., or maybe even some long overdue catalogue reissues. If you are a fan, do not pass up an opportunity to see the band live.
PHOTO CREDIT: April Dawn Plant ©2015- ZRock'R Magazine  ALL RIGHTS RESERVED