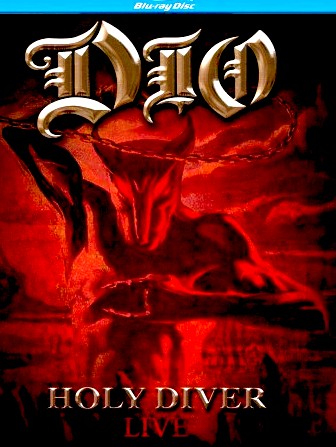 In 2010, the world lost one of its true heavy metal greats – Ronnie James Dio. Over the years, this rock god unleashed countless classic hard rock hits on the world, with multiple bands. From Rainbow to Black Sabbath, to his eponymous band, there is no heavy metal fan who does not know the Dio name.
The 2005 tour saw the Dio band doing one of their most unique shows, combining classic hits from all of Ronnie James Dio's past bands with a full performance of the classic 1983 Holy Diver LP. For these shows, the lineup teamed Ronnie James Dio with guitarist Doug Aldrich (Whitesnake, Burning Rain, Raiding the Rock Vault), keyboardist Scott Warren (Heaven and Hell, Keel, Hellion), bassist Rudy Sarzo (Quiet Riot, Whitesnake, Blue Oyster Cult) and drummer Simon Wright (AC/DC, Hellion, Operation: Mindcrime). While none these players aside from Mr. Dio himself appeared on the original Holy Diver record, no one can deny that they are all players that have left a tremendous mark on the hard rock and heavy metal world, and are more than worthy of playing alongside one of the genre's greatest voices.
This concert was recorded in 2005, the year after Dio released Master of the Moon, which would ultimately be the final studio album released under the Dio band name. Following this live show, the band would go on a hiatus (which became permanent due to Ronnie James Dio's death in 2010) to reform the Dio-era Black Sabbath lineup under the name Heaven and Hell. Following Dio's passing, many of these musicians went on to play in the Dio Disciples band, keeping these iconic heavy metal songs alive for fans all over the world.
The concert featured on this disc was released as a two CD set, and as a DVD/Blu-ray Disc. Audio versions of the concert have the tracks arranged with all of the Holy Diver songs on one disc and the additional tracks on the other, whereas the video versions have those tracks in the middle, bookended by the other songs.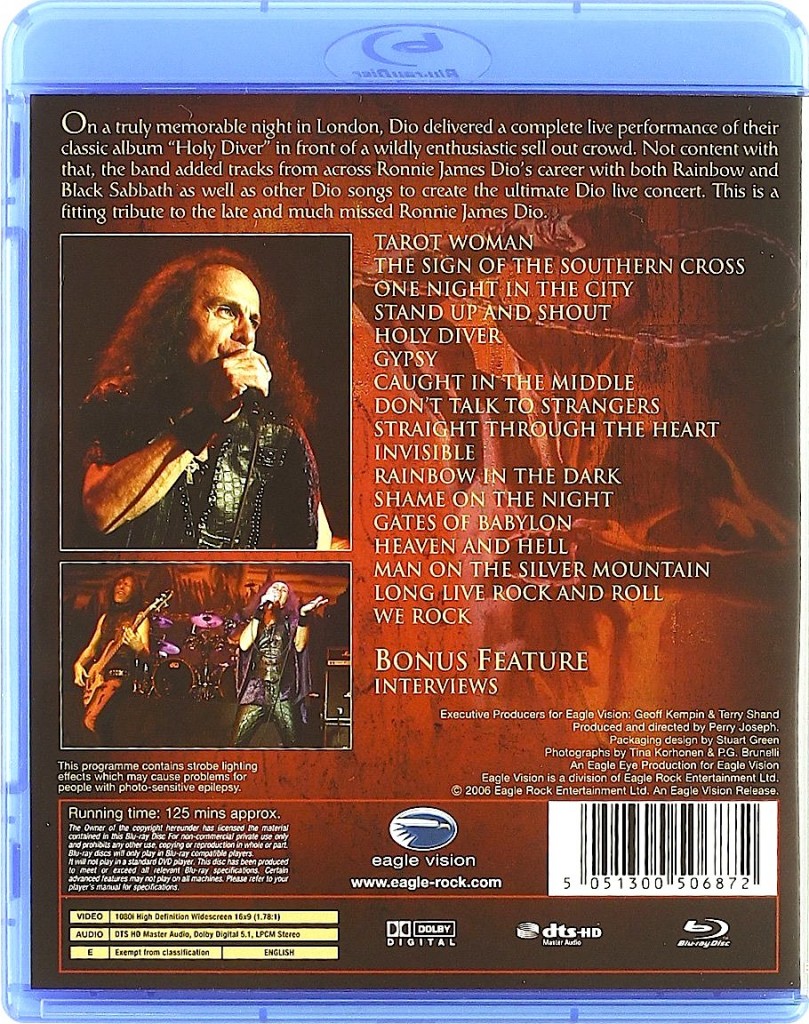 What is featured on here more or less marks the end of the Dio band, due to Ronnie James Dio leaving to form Heaven and Hell with his old Black Sabbath bandmates not long after. The tracklist features the whole Holy Diver album plus other classics from the Dio band, and early Ronnie James Dio bands like Black Sabbath and Rainbow. Although members of this lineup played on the later Dio LPs, it is interesting to note that there is no song here that was released after 1984's The Last in Line, making this album something of a tribute to Dio's early years, but performed with his then current band.
The actual performance itself is great; you are going to see Ronnie James Dio alongside some of the best musicians he ever got to perform with. If you are at all a Dio fan, the songs themselves require no introduction; you have already heard them countless times on their respective studio albums. This is a solid performance with no dull moments and a great variety of older Dio and pre-Dio songs. I personally wish they would have included a few of the cuts from the later studio albums that these musicians actually performed on, but that is a very minor complaint. Aldrich's guitar solo and Wright's drum solo are amongst the true highlights here, but there is never any real "down time." We even get a humorous Star Wars-esque "crawl text" sequence explaining how the "Disco Empire" has been defeated by the "Dio Armada!" It was great to see this version of the Dio band paying homage to one of the most classic of all Dio records, and throw in some other classics for good measure.
The video quality is great throughout the disc, aside from the footage that was taken from the "stage right" camera spanning the stage; those shots came out looking very murky and unattractive. But aside from that one hiccup, the rest of the disc looks good. Multiple audio options are offered, and the disc has the superb aural quality one would want to have on a Dio Blu-ray release. As a bonus feature, a brief (about 12 minutes) interview with the band is included, featuring some entertaining backstage footage.
Ronnie James Dio's music will live forever, and this is a great look at one of the Dio band's final concerts, with one of its best lineups ever. If you are at all a fan of classic hard rock or heavy metal, whether or not you should add this Blu-ray Disc to your collection is a no-brainer. Highly recommended release!