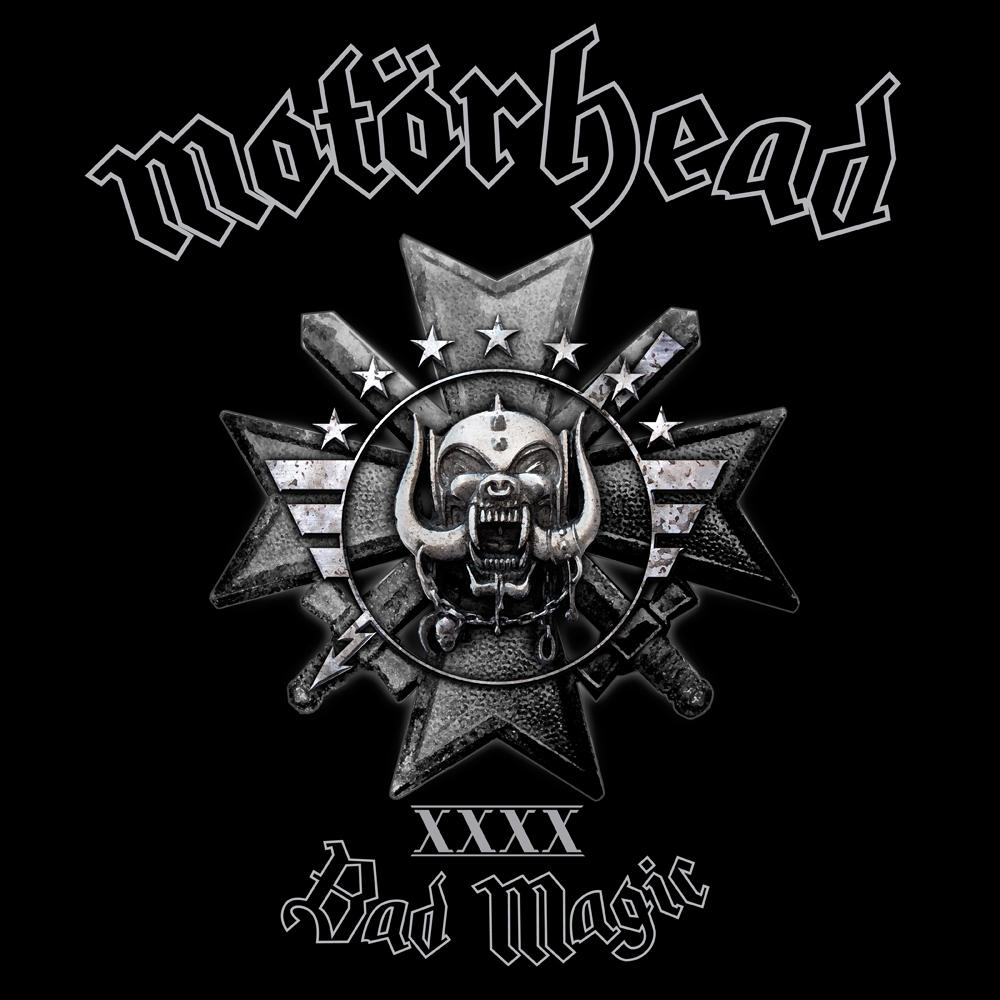 For Motorhead it has been a long and interesting journey through the world of classic hard rock and heavy metal. Ex-Hawkwind member Lemmy Kilmister created one of the most iconic rock bands of all time, and the name has persevered for four decades now, spawning countless classic albums and tracks that remain the favorite of many a headbanger.
Believe it or not, Bad Magic is Motorhead's 22nd studio album! The band still has a reputation all over the world, amongst fans who love to see the band in concert and hear each and every new release. Sadly, Kilmister's strenuous lifestyle has caught up with him in recent years; as of the writing of this review he had to cancel a show in Salt Lake City just three or four songs in a few days ago. Having seen him play roughly a week ago, I can confirm that he is not in the best of shape (he definitely sounded weakened near the end of the show I saw) but this fan wishes him a speedy recovery so he can return to the stage and do what he has done best for forty plus years.
Naturally, fans are clamoring to get their hands on the latest release from Kilmister and company; the current lineup that teams him up with Mikkey Dee and Phil Campbell has stood longer than any other in the band's history; both musicians are amongst the finest that the group has featured. Is Bad Magic an album worth picking up?
Bad Magic does not reinvent the wheel in a musical sense, but it gives Motorhead fans just what they are expecting – kick-ass, hard and heavy, gritty rock and roll served up by one of the genre's most iconic frontmen. The songs on the album are very short and to the point; many of them do not even exceed the three minute mark! Despite this, the group still manages to make for an interesting listening experience. Aside from a ballad in the album's latter half, most of this album is the gritty hard rock we have come to love from Kilmister and company for so very long now. A surprisingly good cover of the Rolling Stones' classic "Sympathy for the Devil" makes for an unexpected but no less excellent conclusion to this listening experience; hats off to the band for staying true to the Stones' original but not blatantly copying it either.
Okay, as much as I love the album, I will not deny that nothing on here is the creative equal of what they did in their classic incarnation with "Fast" Eddie Clarke and "Philthy Animal" Phil Taylor; those were the band's golden days. This album is not likely to ever be revered as a classic in the same degree of gems like Overkill, Bomber, and Ace of Spades. Does that mean it is a weak album? By no means whatsoever. Established fans know what to expect from the band at this point, and this album does not throw any punches or take any unexpected twists and turns. That is not necessarily a bad thing.
There is a very good possibility that Bad Magic will be Motorhead's final studio album. If that is truly the case, let it be said that Lemmy Kilmister and company have gone out with a bang. Concise and to the point with only a handful of unexpected moments, this is the band playing it safe, and there is nothing wrong with that. For established fans of the group, this one is well worth adding to your collection.
https://www.youtube.com/watch?v=4hNQxMqZLbM