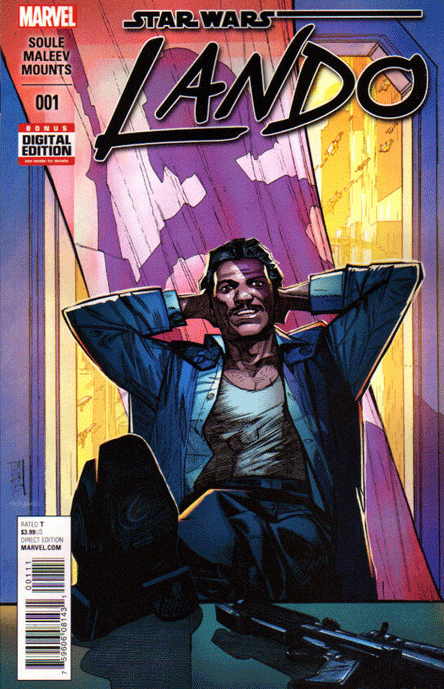 Marvel regaining the license to produce Star Wars comics, in anticipation of a new feature film, has been one of the highlights of 2015. Exploring new canon story arcs in eras largely previously unexplored in the former Expanded Universe, the comics have won over many a fan in their relatively short time on the market.
Thus far, we have had multiple comic series based on everyone's favorite characters in the Galaxy Far, Far Away. Lando is the latest series, following the fun-loving scoundrel in new adventures set prior to his on-screen introduction in 1980's Episode V- The Empire Strikes Back.
In this series, set prior to his on-screen introduction, Lando Calrissian has fallen on hard times. Buried deep in debt and with many crime bosses hot on his trail for botched missions, he needs a way out. Teaming up with fellow smugglers and operatives, he hears of a simple mission that could secure him financially, once and for all – stealing an antique Imperial ship, lined with treasure and priceless artifacts, getting to keep the contents of the ship and sell them off for a sizable profit, which will allow him to escape debt AND to live comfortably for a while. The plan goes without a hitch, until the unexpected owner of the vessel becomes aware of its theft, dispatching his best agents to pursue Calrissian and company.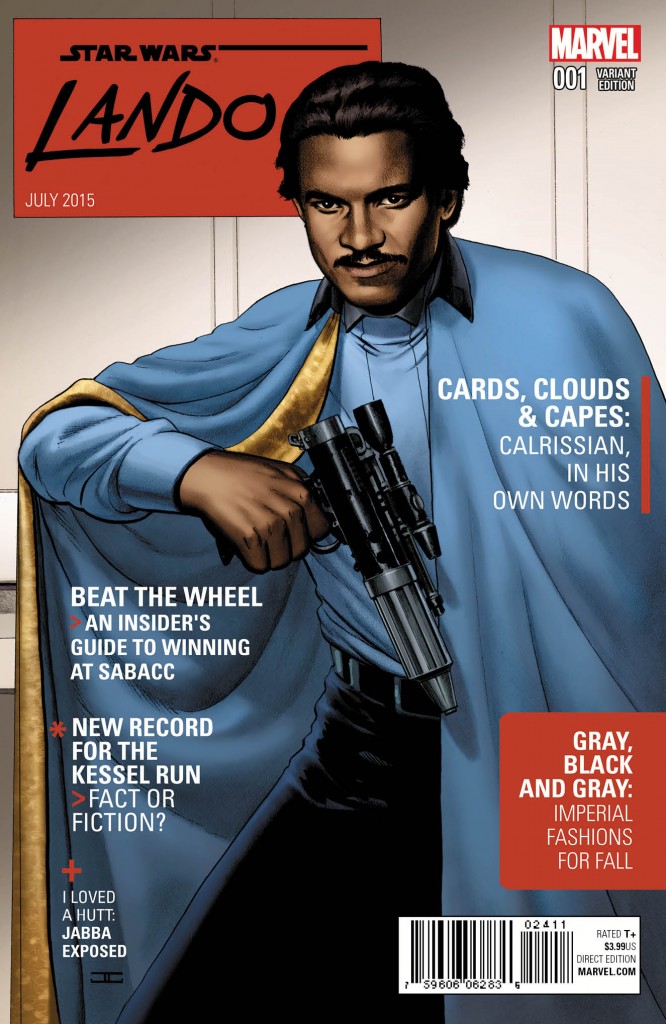 Marvel has been on a roll with their new Star Wars comics, since regaining the license from Dark Horse. The Star Wars (series) and Darth Vader comics were great and did an interesting job filling us in on events taking place between the first two Star Wars films released back in the day. Kanan – The Last Padawan was great at filling us in on the backstory of the young Jedi Padawan turned freedom fighter. Princess Leia struggled a bit initially, but found momentum in its later issues with a sound conclusion. Fortunately, despite my initial skepticism, Lando, currently three issues in, has proven that Marvel's track record for good Star Wars comics is not a fluke.
One of the most intriguing aspects of Star Wars is the personalities and the backstories of its main characters. Lando was not introduced until the second Star Wars film, and even then, not until it was more than half over. Despite that, Billy Dee Williams won audiences over with his on-screen charisma and some difficult decisions his character had to make on the big screen. There have been attempts to talk of Lando's past in the old Expanded Universe, but at long last, we have what will be considered his "canon" history, via this new comic series. The authors and illustrators both do a solid job here. THIS is the Lando I remember from the big screen, and I cannot think of greater praise than that.
One talent the Star Wars comic authors all seem to have is the ability to keep fans guessing and intrigued with cliffhanger endings to each installment. After seeing each comic so far, I have been all the more eager for the next issue; the plot twist in the first comic regarding the ship's owner being a major one, which will definitely give the impression that our favorite scoundrel is now in over his head!
The tertiary characters do seem a little one-dimensional, but this is no big deal when you consider that this is Lando's comic, and they serve their purpose of advancing the plot in fine form. Once more, these writers have kept fans guessing and given them reason enough to be intrigued by what all has been brought to the table here.
Lando is another worthwhile addition to the growing stable of Star Wars comics, which is keeping this legendary media franchise alive, and building further hype up for the new film to be released at the end of this year. For any fan of the franchise, Lando is a strongly recommended!