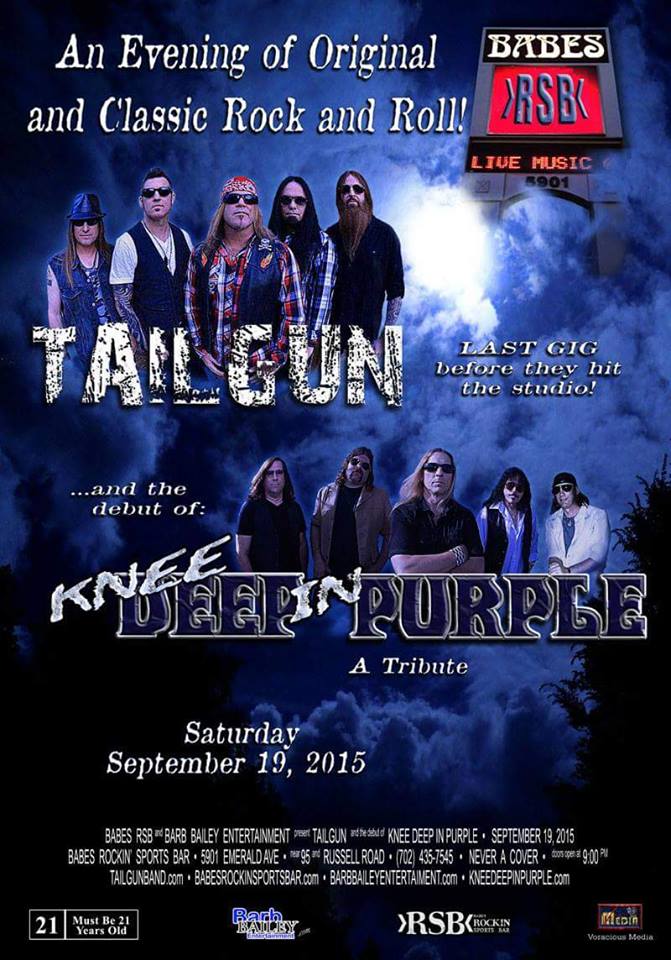 At long last, after months of anticipation, Knee Deep in Purple (formerly Purplesque) made their live debut in Vegas. As one of the most difficult bands to pay tribute to, this was an eagerly awaited show for this rock and roll fan.
The show this evening, also featuring co-headliners TailGun, took place at Babes Rockin' Sports Bar. As a major rock and roll fan, I am always eager to check out new venues, and this was no exception. Despite its relatively small size, the sports bar side of Babes (where the shows take place) is utilized quite well, and features a solid sound system and good stage setup. In addition to a full bar, food is available as well. It was the first time I had seen a show in the venue, and I would certainly not be opposed to returning in the future.
I was very eager to see this new tribute to Deep Purple; Purple are one of my favorite rock bands of all time, and despite having their share of radio hits, I have always considered their catalogue to be very underrated, with many lost gems that do not get their just dues or proper recognition. Sure, you've heard songs like "Hush," "Smoke on the Water," and "Woman from Tokyo" played on classic rock radio relentlessly. But what about all of the other forgotten non-single album gems?
One thing I was a bit skeptical about when going to see these guys play for the first time is the fact that Deep Purple is so unique and original a band, that they are extremely difficult to pay tribute to. The main reason for this being, of course, the presence keyboardist/organist Jon Lord had in the band's classic period; he was a musician who made organ a "lead" instrument and was, in many ways, the true stand-out in the band. Vegas has countless great musicians but great keyboardists/organists in the rock scene are tough to come by. This is likely a big part of why no one has attempted a Deep Purple tribute out here before (sure, you might hear the occasional band around town cover "Smoke on the Water," but it is typically bland and mundane and does not recapture the thunder of Purple's original 1972 studio version).
Knee Deep In Purple brings together the talents of vocalist Steve Austin Taylor, guitarist Lee Spencer, keyboardist/organist Brandon Lynn, bassist Ken Tonn, and drummer Ryan Krieger. One thing that impressed me prior to the show even beginning is the great lengths that these musicians went to in order to "portray" their respective members of the band. Any musicians can get on stage and simply play the songs of a band; that is not uncommon. But these artists dressed the part, looked the part, and perhaps more importantly, played the part. Lee Spencer played a cream-colored Stratocaster modeled and designed after Ritchie Blackmore's, and even learned how to play songs in his respective style. Ken Tonn dressed the part of Roger Glover, with the bandana and everything. Brandon Lynn, in perhaps the most difficult role to pull off as Jon Lord, had an actual organ on stage. Not a portable keyboard, but an actual full-on organ with additional keyboard component, not unlike what Lord himself played with the band. This alone won me over when I walked through the door; it is rare that I see any tribute go to these lengths to portray and pay tribute to the band they are covering. And these are just the things I noticed during the sound check!
Although Knee Deep in Purple went on first, they were certainly not the "opening" or "support" act; this was a full-on double headliner bill. Getting to experience the songs of one of my all-time favorite classic hard rock bands in addition to a performance by one of Vegas' finest rock acts was an experience that many present were looking forward to, myself included.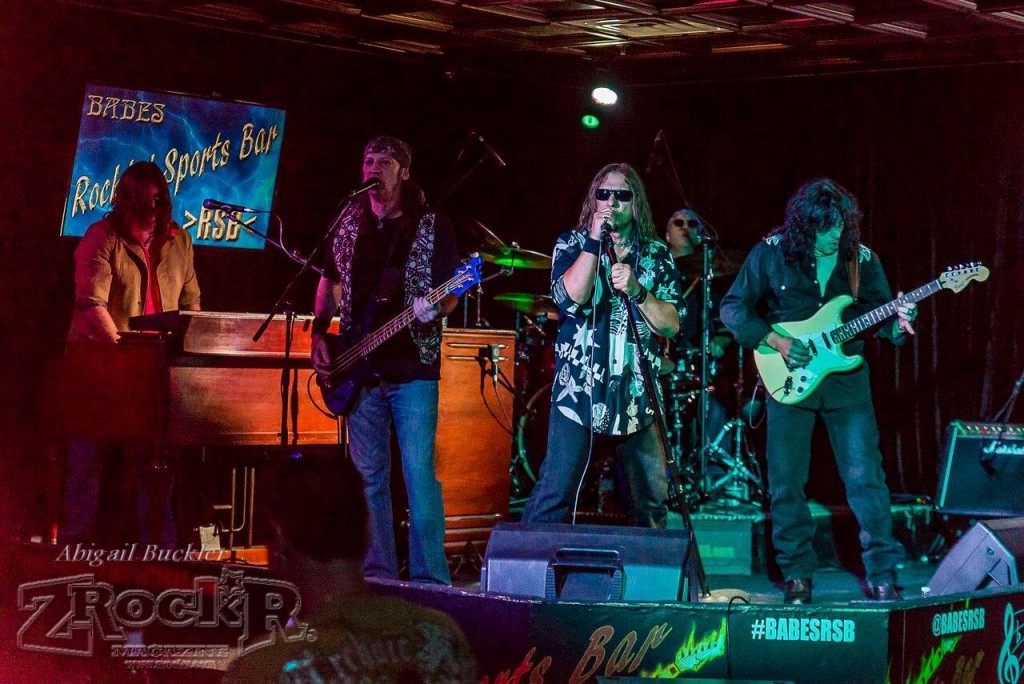 Despite initial skepticism regarding how well a band could capture the essence of Deep Purple, I will be the first to tell you that Knee Deep in Purple did not disappoint in the least. The show was everything this fan was hoping for and more. While the setlist primarily focused around the more popular songs from the classic Ian Gillan period, the band did throw in a handful of cuts from other eras as well.
The setlist consisted primarily of the more popular Gillan-era fare, including "Smoke on the Water," "Woman from Tokyo," "Highway Star," and "Space Truckin'," but at times delved into deeper cuts as well, including "Lazy," "Maybe I'm a Leo," "Pictures of Home" (a personal favorite) and "Black Night." Other eras of Deep Purple were represented in the form of the band's cover of Joe South's "Hush" from the Rod Evans period that predated Ian Gillan's involvement with the band, and "Burn," the title track from the 1974 album that marked their first recordings with vocalist David Coverdale, later of Whitesnake fame. The 1984 reunion album Perfect Strangers was represented in the form of its title cut, and the smash hit "Knocking at Your Back Door."
Of course, the real question on your mind is, how was the performance, and how did these guys sound? In a word, phenomenal. You could tell these guys had been rehearsing and practicing relentlessly for the performance at hand, and it showed in each and every second they were on the stage. These guys sounded like the classic recordings, and definitely had energy and stage presence. The organ playing (again, a REAL organ, not just a keyboard) really added something to the overall sound. I have seen DVDs and other recordings of the current version of Deep Purple, and can honestly say that these guys sound better than the real band does these days (yes, I know that saying that is probably heresy, but I don't care). Vocalist Taylor had a definite presence and charisma, and had the audience's attention from start to finish; the fact that he left the stage and fraternized with patrons mid-song certainly did not hurt in that regard! Comical between-song banter and stories were present as well, but kept to a comfortable minimum. Any issues with the performance were minor and negligible, and certainly did not hurt the overall experience. You could tell this audience was having a great time, and that this quintet was having an equally good time delivering the goods!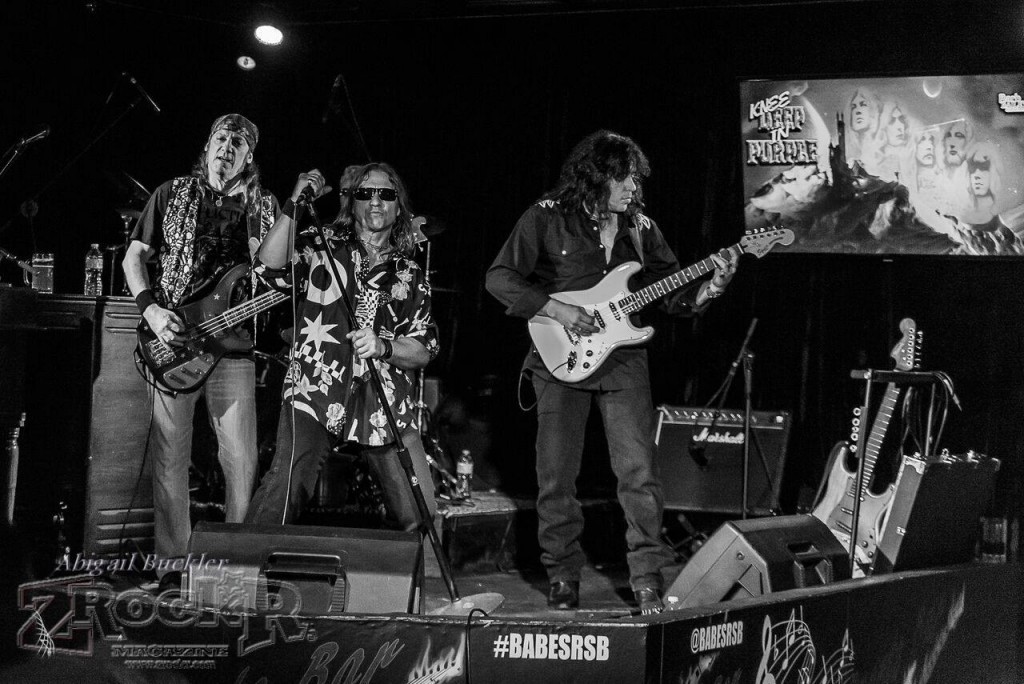 I would love to be able to see these guys do a standalone show where they could really dig deeper into the extensive Deep Purple catalogue; a catalogue that spans nearly half a century. There are so many great cuts we did not get to hear at this show (likely due to time constraints, but the band did a great job with what time they were allotted). I cannot wait to see if these guys pull out more of the Purple classics in the future; it would be great to hear songs like "Speed King," "Strange Kind of Woman," "Fireball," Demon's Eye," "Might Just Take Your Life," "Child in Time," "Flight of the Rat," "No One Came," "Never Before," and countless others. I for one know that these guys are up to the task.
All in all, this was a great performance from a band that I know is going to continue to impress audiences in the months to come; it is great to finally have a tribute to one of classic hard rock's finest, with players that are actually worthy of doing the material justice!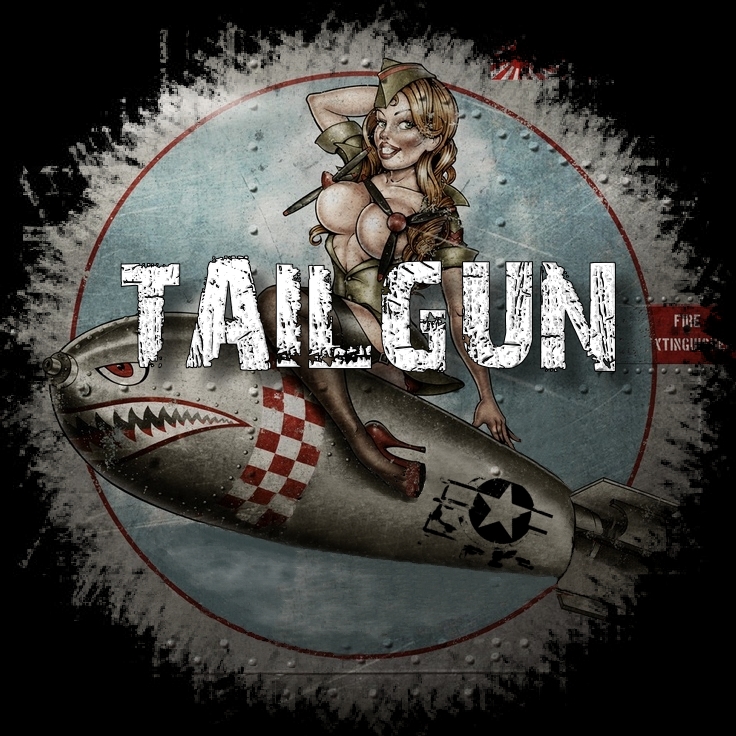 Of course, if you have read my past reviews, you know that TailGun requires no introduction. Having brought their "back to basics" rock style to Vegas for the past year, and even releasing a handful of recorded tunes, you know that these guys are going to have a solid future on the horizon; already they are hard at work getting more music recorded to release to the masses.
TailGun shows are great because they provide a mixture of original material and covers, so audience members get the best of both worlds; even if you have never seen the band before, you will hear songs that you recognize at their gigs. One of the great covers heard on this evening was the band's take on "Free For All," a classic Ted Nugent cut from the album of the same name. Original songs by the band combine a nice mix of classic hard rock riffs and storytelling, and outright innuendos that Spinal Tap would be proud of. The result is some of the freshest rock that Las Vegas has experienced in recent memory, and something that will be a breath of fresh air to any fan of the genre. It is tough to find solid bands that record and perform their own original material, which helps to make TailGun stand out all the more!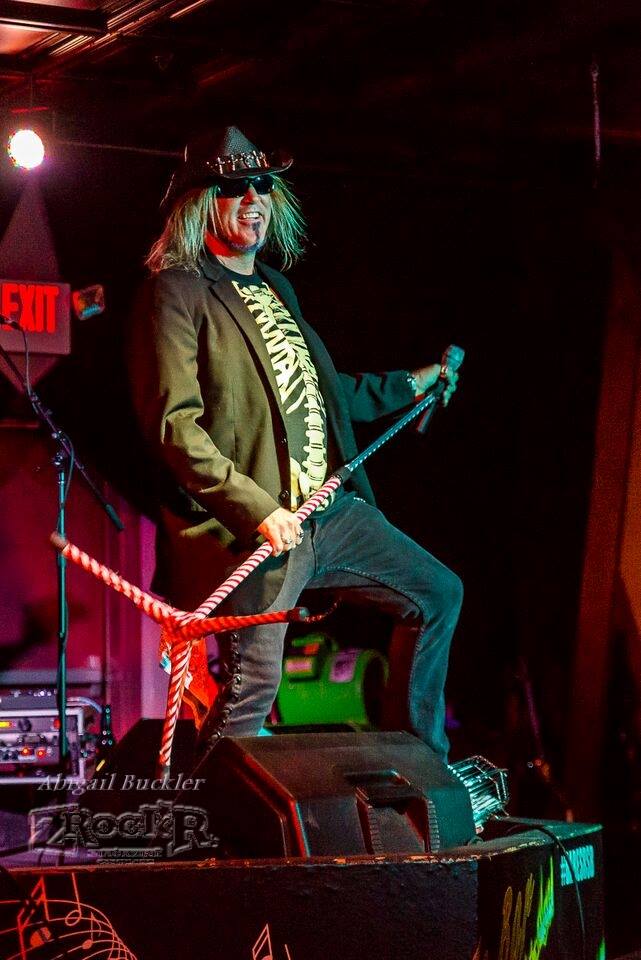 TailGun's ranks feature some of the best players on the Vegas rock and roll scene, including drummer Todd Turgeon (Formerly of BlackBox13, which also featured Sin City Sinners vocalist Joshua Alan) and vocalist Dru Jaxin (formerly of the Aces High Iron Maiden tribute which was a favorite on the Vegas scene for years). All of these musicians have proven themselves in recent years; fans who follow the local rock scene have likely seen each and every one of these guys in at least one other band at some point. When the band gets their new material recorded and released (they claimed that they are trying to get a release on the market by the end of the year) you better believe this fan will be first in line to cover it.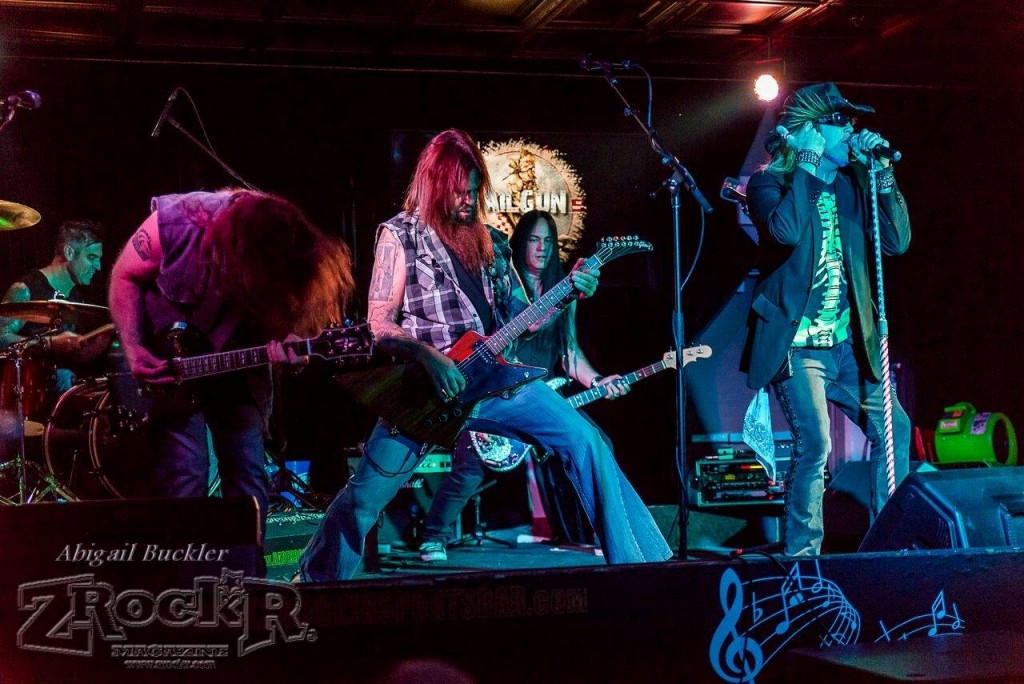 Babes definitely played host to some of the finest rock and roll in the Vegas Valley on this evening. It was amazing getting to see Knee Deep in Purple make their Vegas debut performance at long last, and the always reliable TailGun did more of what they do best. Both bands are well worth checking out if you are a classic hard rock fan living in or visiting Sin City.
PHOTO CREDIT:  Photos by Abigail Buckler for ZRock'R Magazine  © 2015 ZRock'R Entertainment, LLC- All Rights Reserved
Note that the following video is NOT from the Babes performance being reviewed here. It is included to give fans an idea of how the band sounds in a live setting.
https://www.youtube.com/watch?v=bls8f1BE3g8