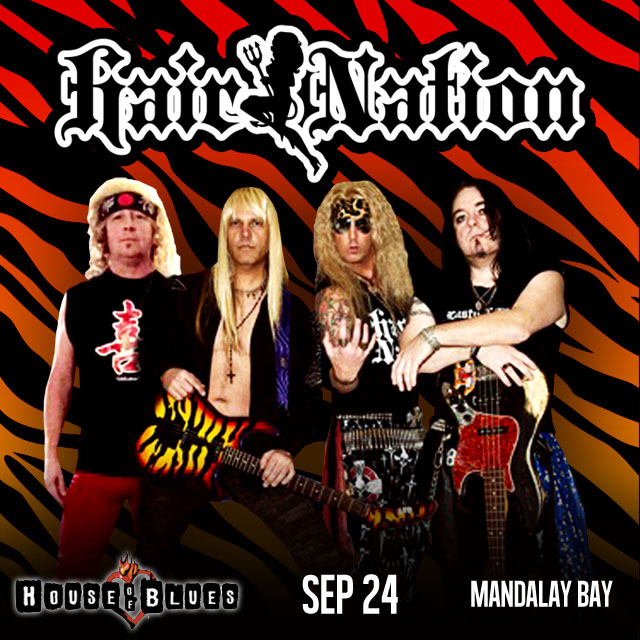 Once again, the House of Blues proved to be one of the top rock spots in Sin City! On the evening of Thursday, September 24, 2015, the venue played host to classic 80s hard rock tribute Hair Nation, along with Vegas based rockers Cyanide. The venue continues to attract some of the hottest rock bands of yesterday and today alike!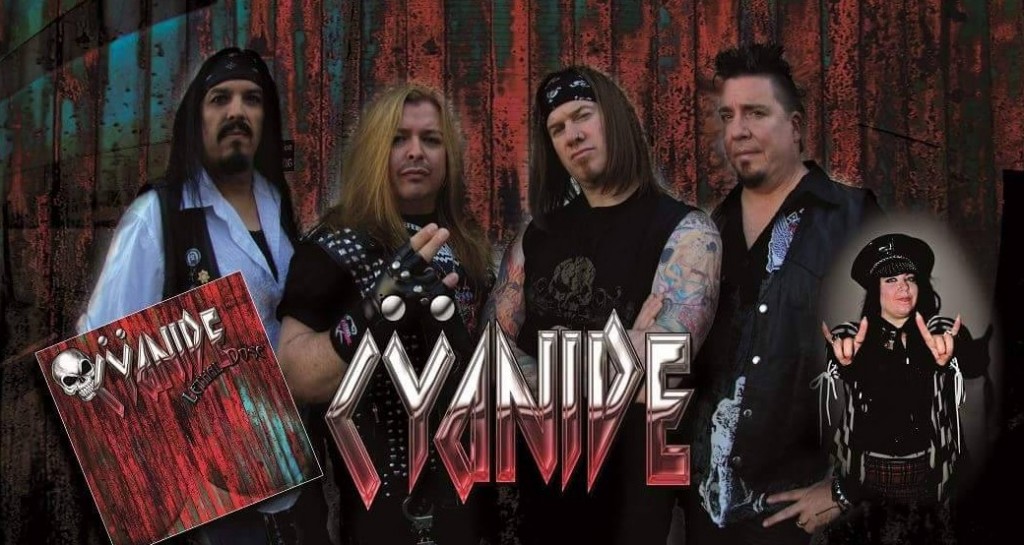 If you follow my reviews at all, Cyanide is likely a band that requires no introduction. This is a band dedicated to keeping the sound of 80s Sunset Strip style classic hard rock alive, and unlike many other bands, they do this in the form of original material, all of which sounds like it could have been made three decades ago. The quintet just released their first album, Lethal Dose, earlier this year, to many positive reviews amidst fans on the Vegas scene, this one included.
Cyanide is comprised of vocalist Robert Hussey, bassist David Karr, backing vocalist Miranda Trenholm, guitarist Marc Andrews, and drummer Ryan Gillan. For this particular show, Andrews was absent, so the group was using a fill-in guitarist, Leonard Davila (who also plays in the Children of the Grave Black Sabbath tribute).
Cyanide's sets give fans a mixture of original tunes from their debut album, and assorted covers of songs throughout the era. This time around, fans got tunes from Queensryche, KISS, Iron Maiden, and Motley Crue, plus the originals fans on the Vegas scene have come to love. Tracks like "Bitches to Blame," "What Comes Around Goes Around," and "Pump it to Me" are instant classics that sound like they could have been recorded by one of the 80s glam/hair scene's top bands. The band has undeniable stage chemistry, clearly enjoying playing together and being on the stage. If you did not know better, you would have no idea the guitarist for the evening was a "fill in" player. Hussey's vocals are not unlike Vince Neil in his prime, and I cannot think of any greater praise than that.
This was another fantastic set from some of Vegas' finest 80s-style rockers, and there were plenty of followers in the audience cheering them on. Any fan of 80s hard rock/hair metal/glam will be doing themselves a favor checking out Cyanide.

I have been hearing things about Hair Nation for months now, and was curious to finally get to see them in a live setting. And where better than the House of Blues? This quartet of musicians definitely captures the spirit of the 80s rock scene with their choice of clothing and instruments, right down to an Eddie Van Halen-style "Frankenstein" guitar! These guys certainly dress the part. But how do they sound?
While I was only vaguely familiar with these guys and had not actually heard them play a live show in the past, overall I was impressed by their performance. Right from the get go, one can tell that they do their best to recapture this era of music. Their setlists cover a wide array of the music of the era, including songs by artists like Poison, Motley Crue, Bon Jovi, Ratt, Van Halen, Autograph, Aerosmith, and countless others. The renditions themselves do justice to the originals; that unto itself is difficult to do. The group does not have a keyboard player on stage with them, but does have keyboard parts in songs where necessary for the material (likely pre-recorded) so they are able to find a way to pay justice to that material as well.
Tributes to 80s hair bands/glam bands/scenes/etc. are very tough to pull off, largely because there are so many of them out there already, and it is an ordeal just to perform these songs and stand out from the crowd. This setlist mostly featured just the hits from these bands without a whole lot of surprises, but that is not necessarily a bad thing to the people that want to hear the hits done up by a live band. Hair Nation certainly gets the job done, and fans of these bands should not be displeased by the results they will experience.
If there is one minor complaint I have with this show overall (and this has nothing to do with the musicians' performances) it is that there were a few points in the show where the bands performing were a little too similar. When paring bands for a show, there needs to be some degree of differentiation. Probably the most glaring example of this is that both bands performed Motley Crue songs. However, this is not a major issue and did not detract from my overall enjoyment of the show.
Hair Nation and Cyanide both rocked the House of Blues at this show, making for some great times for the headbangers in the audience! Both bands are well worth checking out if you are a fan of the genre.