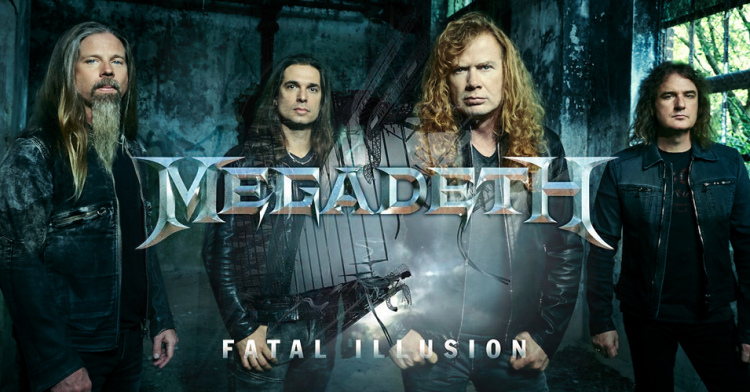 Initially formed by Dave Mustaine in 1983, upon his being fired from Metallica, Megadeth has long remained one of hard rock and heavy metal's most legendary bands. Releasing countless albums over the years, the band has a sound that has run the gamut from raw thrash to more progressive and commercial sounds alike. While the band's lineup has never been completely consistent aside from bassist David Ellefson appearing alongside Mustaine on most releases from the band, they have always managed to bring together some of the top players in the rock and metal world.
The most recent studio album from the band, Super Collider, was met with something of a mixed reception largely due to the commercial sounding title track, although most of the album was actually quite solid. "Fatal Illusion" has just been revealed to the world; it is a track from the band's new forthcoming studio album, which will most likely be released late 2015 or early 2016.
Chris Broderick and Shawn Drover recently quit the band and formed a new project, Act of Defiance. To replace them in Megadeth are newcomers Chris Adler (of Lamb of God fame) on drums and guitarist Kiko Loureiro (known for his role in Angra). How does this new track, teaming Adler and Loureiro up with Megadeth veterans Mustaine and Ellefson, hold up?
There is a lot of anticipation in the air for the new Megadeth album, with feelings of optimism and pessimism present across the board. You never know what to expect from Megadeth, which could simultaneously be considered a good and a bad thing. I admit that I had my doubts prior to listening to this track; it followed up a release of questionable quality and replaced half the band members outright. That alone would be enough to make anyone have reservations about the music to come.
I only had to listen to this song one time to lay those doubts to rest.
This is the hardest, heaviest Megadeth song in years, and if you did not know better, you would have no idea that Loureiro and Adler had never before recorded with Megadeth before. The riffs kicking off the track serve their purpose well, and instantly let the listeners know that this is not going to be a commercial or radio friendly effort from the band. We even get a brief bass solo from David Ellefson, beautifully showing off just how underrated this guy really is.
The bulk of the song hearkens back to the band's earliest thrash years, albeit with much more modern production quality and techniques. Loureiro quickly becomes a standout player in his own right, with some wild riffs throughout the track that rival even his predecessor Marty Friedman (if you have listened to any 90s Megadeth release, you know what great praise that is). The rapid drumming of Chris Adler further contributes to the track's sheer heaviness, and Dave Mustaine's vocals are exactly what you would expect, giving the track that signature Megadeth sound.
After hearing Megadeth's hardest and heaviest song in years, it is a safe bet that their new album, due out later this year or early in 2016, is going to kick ass. This is the hard and heavy rock that Mustaine and company were born to play; you will soon see for yourself what all the fuss is about when you give "Fatal Illusion" a listen. Are you a Megadeth fan? If so, this one is a must hear (click the link below to hear the track).