For years, Queensryche proved themselves to be the kings of progressive, thought-provoking heavy metal that was the best of its kind in the world. We received countless albums from the band over the years, but as with any group, this is one that was not without its inner anguish and turmoil.
Long-time vocalist Geoff Tate broke away from the band, starting his own version, later renamed Operation: Mindcrime, after that classic Queensryche record. The "main" Queensryche, which has retained rights to the name, has since begun recording and touring with new vocalist Todd La Torre, formerly of Crimson Glory.
Condition Human is the second album from the Todd La Torre-fronted "main" version of Queensryche, and it comes out within mere weeks of the release of The Key, the latest album from Tate's band. La Torre has proven himself to be a phenomenal vocalist in recent years, with the rest of the band in equally fine form. But how does he fare a second time? Is Condition Human an essential addition to your Queensryche collection, or best left undiscovered?
When it came to the "Tale of Two Queensryches" a few years back, with Geoff Tate's version of the band's Frequency Unknown versus the main Queensryche's self-titled album, the "main" band was the clear winner, with a nice fusion of classic and current sounds, whereas Tate's album was a bland, modern rock mess despite countless high profile guest stars. And, while Tate's band (now operating under the Operation: Mindcrime moniker) has put out a much more solid record in the form of The Key, they are still (at least moderately) playing second fiddle to the Todd La Torre-fronted main incarnation of the band.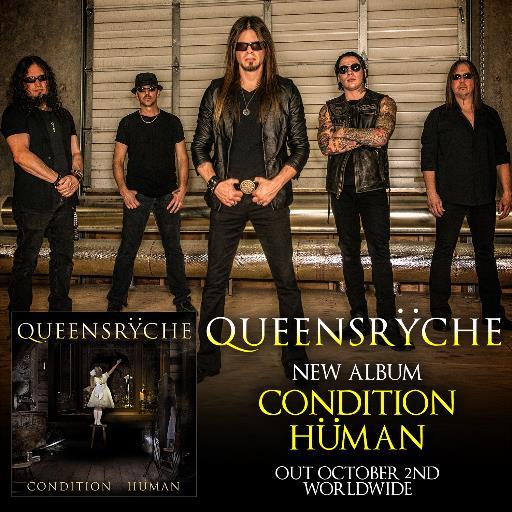 Condition Human is another solid release from the Todd La Torre version of Queensryche, with a sound that has tracks running the gamut from modern rock radio style cuts to classic Queensryche as well. While the tone of the record does feel a little inconsistent at times, this is hardly a deal breaker. This fan was yearning for another La Torre-fronted record, and I am glad to see that we got it a mere two years later. La Torre once again proves his presence as the new frontman in one of heavy metal's greatest bands, with a vocal style that sounds more like classic Geoff Tate than Geoff Tate himself does these days (although I am not slamming Tate's new release either).
The album is hard and heavy, with elaborate production values. The album is definitely more "modern rock" in places than earlier Queensryche releases, but the band does not betray their former sound and their past history either. La Torre's vocals are killer on every track; more and more I am pleased with the fact that they brought this guy on board to fill what was once thought by many to be a void that could not be filled.
The band is as hard and heavy as they have ever been, and prove themselves to be adept at modernizing without "selling out" or copying the modern rock trends; an easy mistake for a band to make in this day and age. This fan believes that the group has hit a stride here, and while not every single track is a home run, it is a solid attempt to take the classic, progressive heavy sounds of Queensryche's prime, and fuse them with more modern elements. Not every band modernizes successfully, but this classic band is still getting the job done and then some.
It is good to have another solid Todd La Torre-fronted Queensryche album, and this one feels like a more focused and consistent effort than the 2013 record. Condition Human only falters in a few minor places (mainly when the album tries to sound a little TOO modern here and there), but overall the results speak for themselves and will greatly appeal to the fans. No one who is a Queensryche fan will want to pass Condition Human by.