It was sometime in '87 when I'd first heard of Britny Fox. Cinderella, a band that two of their founding members were part of initially, had exploded onto the scene the year prior. Prior to Britny's first LP being released in the summer of '88, they'd released two demos and were featured in the go-to rock mags of the day. I recall awaiting the release, especially since I loved Cinderella, and this band was to feature their former lead guitarist, Michael Kelly Smith. Unfortunately, founding drummer Tony Destra passed away in a car accident.
In 1988 the pop metal scene was still expanding, even as bluesy elements crept into it with the newest upstarts ready to stake their claim of commanding arena audiences. Their self-titled debut went gold quickly and eventually hit platinum pay dirt in the U.S., largely on the strength of a video for "Girlschool" as well as the lesser hit "Long Way to Love," helped in no small part by opening tours for Poison, Alice Cooper, Ace Frehley, KIngdom Come, Joan Jett, Warrant, Bon Jovi, and being on a triple bill alongside Kix and Ratt. After their sophomore album Boys In Heat, and disagreements as to their future stylistic direction, primary songwriter/rhythm guitarist/lead vocalist "Dizzy" Dean Davidson departed to form Blackeyed Susan while the rest of the guys opted to stay together, recruiting Las Vegas' Tommy Paris to fill the void. About two years later, Bite Down Hard, their last major label effort, was released after a shift from CBS to EastWest. Not until 2003 would the latter lineup reform to put out Springhead Motorshark. Staying dormant until 2007, the Fox was resurrected, although with only original bassist Billy Childs remaining to round out the quartet.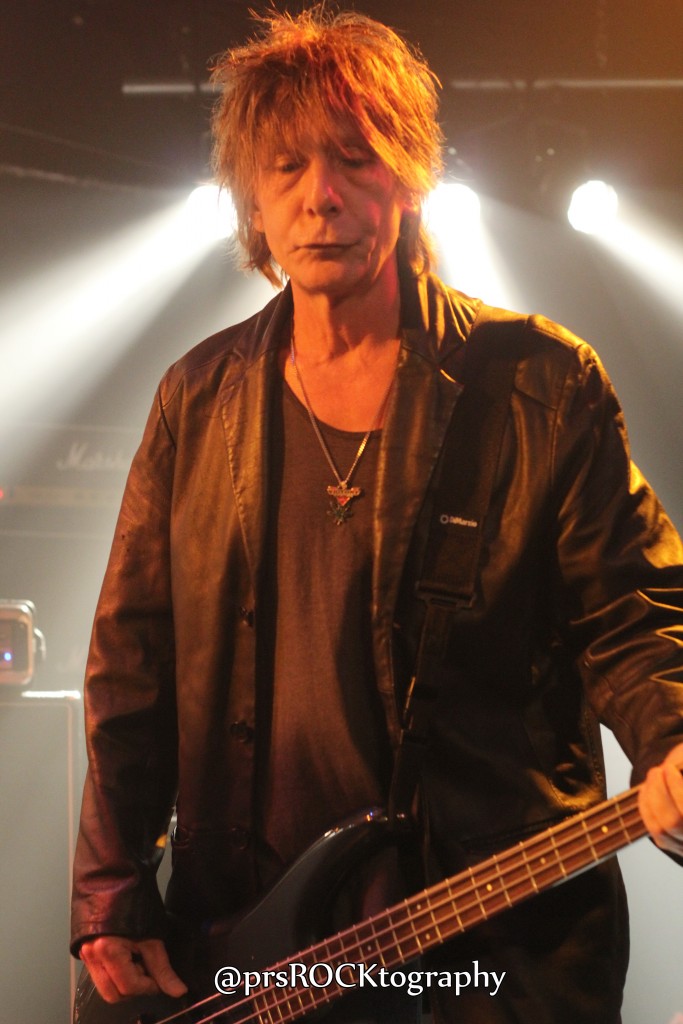 I saw the band twice: on the Ratt/Kix tour in Detroit, where they certainly made their mark on stage, giving the headliner a reason to be on guard, and also at Chrome Showroom at Santa Fe Station in '08. They did their second tour with Warrant and I went to that show at the Santa Monica Civic. L.A.'s The Zeros opened, however, due to unexpected traffic, being that I'd just moved to CA, I only saw the headliner. Who knew that I'd never get a chance to see that lineup again? I still kick myself over it from time to time. Needless to say, I was looking forward to see and hear how a Tommy Paris-fronted version of Britny Fox would compare. Tonight I'd finally get my chance.
As usual with headliners of any stature at Vamp'd, some pre-recorded intro preceded the band while the black curtain stayed in place until the opening number. The uptempo Boys In Heat lead-off track "In Motion" kicked off the night in fine fashion, followed by that LP's "She's So Lonely." For the most part I'd say that Paris stayed true to Davidson's raspy delivery, although not quite as gritty. Though he has certainly kept his nice range over the years, unlike some of his peers who sing in that style.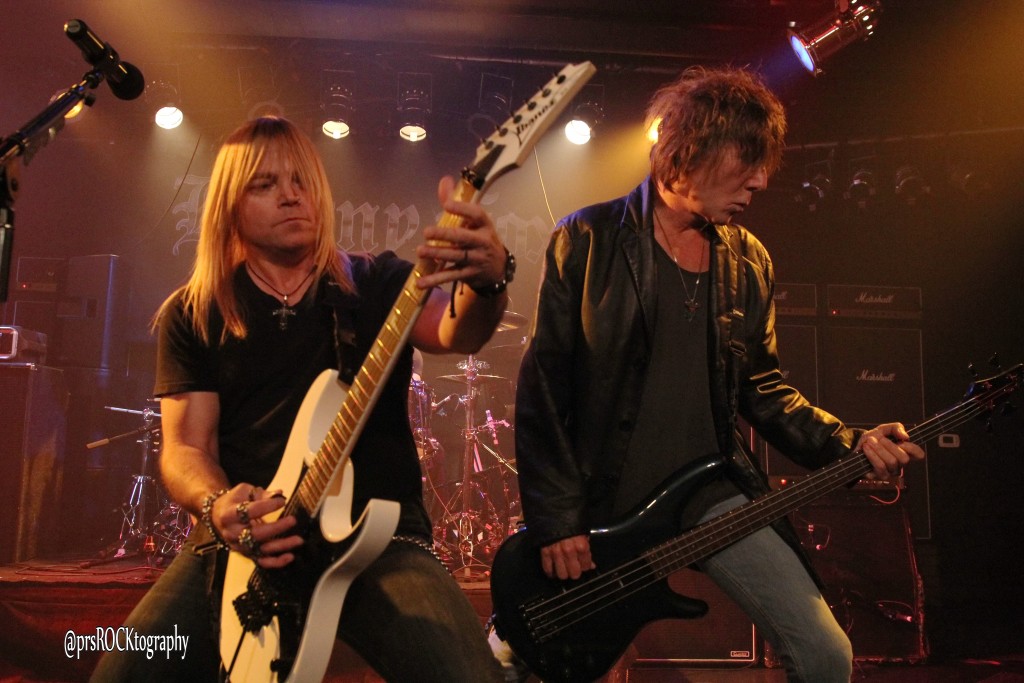 Timekeeper Johnny Dee (current Doro Pesch, ex-Waysted) certainly lost none of his flair over the years while retaining a rock solid beat, as Childs held up the tasty bottom end and backing vocals. The former nowadays is almost unrecognizable at first glance since his leonine mane has morphed into a combed-down mohawk and he now sports a neatly trimmed beard. The latter just has noticeably shorter hair, although still rockin' the look. Tommy has amazingly retained his long blonde locks 24 years later, however Smith is sadly absent these days, retired from the biz reportedly. He's been replaced yet again, this time by axeman Chris Sanders, a youthful guy with Norse-like good looks.
This would have been their first show in 15 years had they not opted to fit in a last minute date in AZ the night before. Switching gears to lay into more ditties from the debut, "Fun in Texas" minus the steel guitar intro was followed by the mid-tempo anthem "Kick 'n' Fight." I personally love it when a band is clever enough to throw in snippets of other songs of theirs, giving the audio illusion of playing more songs than they really did. It also serves the purpose of teasing the audience. The fake-out intro of "Rock Revolution" led into the aforementioned "Long Way to Love." I'd heard the rumor that they may have a couple or three special guests in attendance grace the stage. Nonetheless, I wasn't prepared for a faithful reading of Motorhead's "Ace of Spades" with Count's 77 lead screamer and Vamp'd owner Danny Koker sounding every bit like Kilmister when the song was recorded.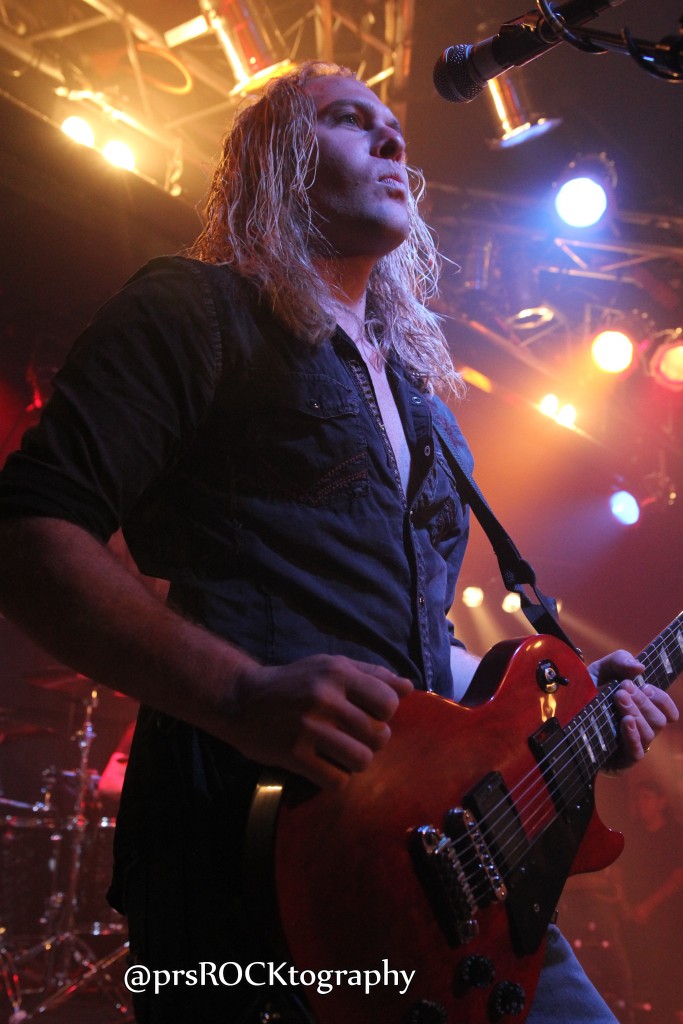 Another teaser was the start of "Hold On," which I was hoping they'd do in its entirety, but it led into the third album's "Lonely Too Long." The pensive "Dream On" (not the Aerosmith song) set the stage for the raucous "Black and White," followed by their cover of Nazareth's "Hair of the Dog," (better than G'NR's later version, I always thought) which to me should've been a third video and hit to drag their second offering into making them headliners then. Somewhere the execs at Columbia dropped the ball here, in my estimation.
Time for the second special guest; Frank DiMino (Angel). His vocals on his old band Angel's blistering "Waited a Long Time" made me look up the song on YouTube hours later and scratch my head as to why I haven't hunted down their oft-overlooked swan song LP, 1979s Sinful on the Casablanca label. But I digress. Not to shy away from deep tracks, "Left Me Stray" led into "Shot From My Gun."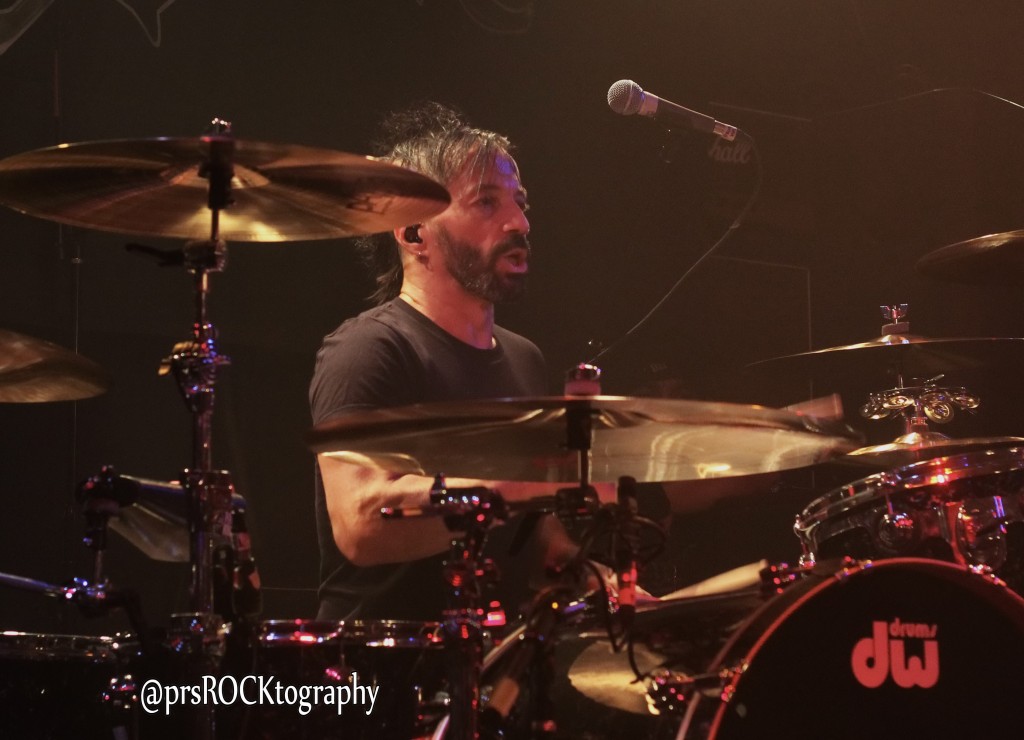 As the night was chock full of pleasant surprises up until this point that didn't disappoint this fan, why not throw in another? This is not to insinuate that the band hasn't had competent, skilled musicians in their fold, but they've been a group to mine territory that Nazareth, Slade, AC/DC, and Aerosmith had tread, while adding their own glam elements in their heyday, trying their best to sidestep the Cinderella comparisons while not exactly hiding Michael's history in that group. So the very neoclassical shredding guitar solo of newcomer Chris Sanders, while masterfully executed, came out of left field to me (as a fellow guitarist AND BF fan), especially since he was pretty faithful to Smith's recorded lead breaks, a smart move. To his credit, it wasn't too lengthy and the man does have some chops, which he reigns in.
The Sensational Alex Harvey Band cover "Midnight Moses" re-ignited the setlist. Another clever intro was the recording of that famous "Do you feel lucky, punk?" scene from Dirty Harry, used to segue into "Six Guns Loaded," the beginning and ending of it nicely sandwiching Dee's short but sweet drum solo.
By this time many must have been wondering what was left for them to play, as they'd certainly exhausted many possibilities. "Louder," the song they shot a video for which debuted Paris' tenure in the unit to the world, was on the set list, but they might've ran out of time or steam, so unfortunately the faithful didn't hear it. Disappointing? Sure, but a standard rule of showbiz is to leave them wanting more. And although they'd also left out "Standing in the Shadows," the first single/video hit off of their somewhat overlooked second offering, and the 2003 album wasn't represented at all, they surely made it up in the volume of songs and unexpected album tracks.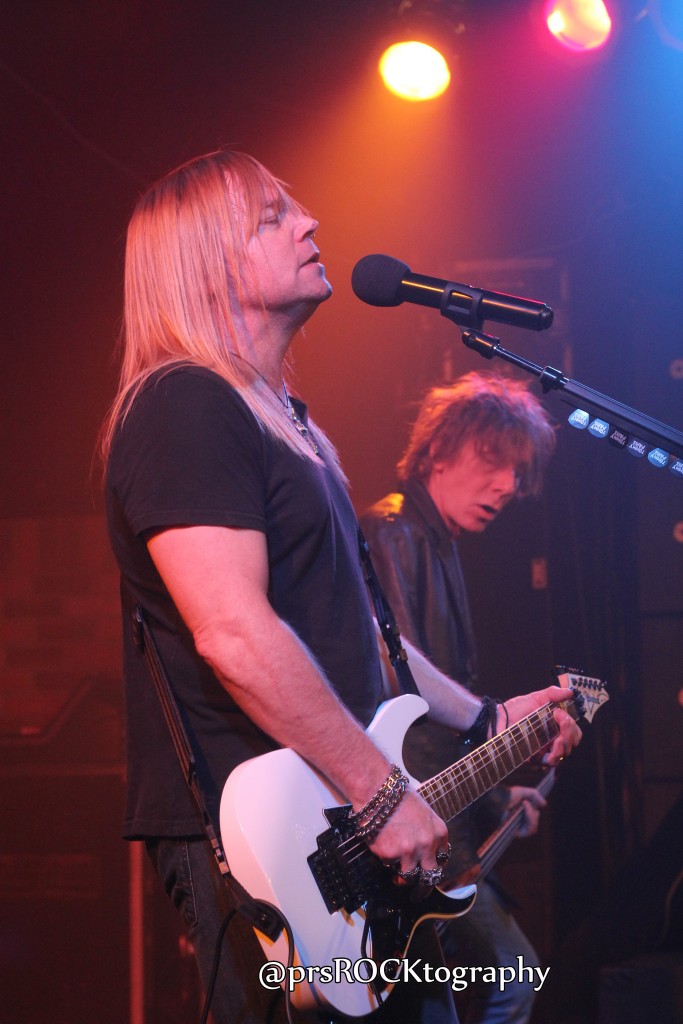 The song they positively, absolutely couldn't get away with not playing was the lascivious "Girlschool," most fans' introduction to the Philly band.
Not to overstay their welcome, but certainly nice enough to show their appreciation by having been away for too many years, instead of saving that last number for an obvious encore, they closed out the proceedings with AC/DC's "Whole Lotta Rosie." This all in spite of Tommy playfully mentioning to the crowd that perhaps it was time for something more serious, such as Yes' Tales From Topographic Oceans in its entirety.
To sum it up, if you weren't there and you are a Britny Fox fan, kick yourself for not re-arranging your schedule. Thursday or not, the place should've been packed, not half full like it was. The price was right, 3/4 of official members were in the line-up, and although I and others long for the days of Dean and Michael being in the fold, time marches on and classic members bow out to seek other ventures. A reunion attempt in 2010 of the original four musicians on the first two releases didn't pan out, so support this incarnation. A new album is purportedly in the works as well. Don't miss out next time if you did this time. They could've charged double and it would've been worth every cent, in my opinion. Over and out.
All photos copyright to Paul ROCK Santos. Used with permission.