On Sunday, November 29, 2015, Vinyl inside the Hard Rock Hotel played host to a performance from some of rock's finest – Eric Martin, the Babys, Firehouse, and Ratt. Needless to say, this was a show long awaited by many a rock and roll fan in the City of Sin!
Vinyl is the small club venue that opened up inside the Hard Rock Hotel and Casino a few years back. This has quickly become one of my favorite venues in Vegas in that it combines the feel of a small, intimate venue while at the same time being able to accommodate a fairly large crowd. A loud and powerful sound system certainly does not hurt either!
Eric Martin will forever be known to audiences as the voice of Mr. Big, one of the (pardon the pun) biggest bands to come out of the late 80s/early 90s. Martin's composition, "To Be With You," was a massive mainstream hit that put the band on the map and thrust him and his bandmates into stardom. Even amidst times when 80s-style bands were old hat stateside, Mr. Big kept on keeping on, establishing a massive fanbase in countries like Japan. Martin has also had a lengthy solo career as well; he was releasing solo albums prior to Mr. Big's formation, in fact! Martin remains active, both with Mr. Big and doing solo albums/shows.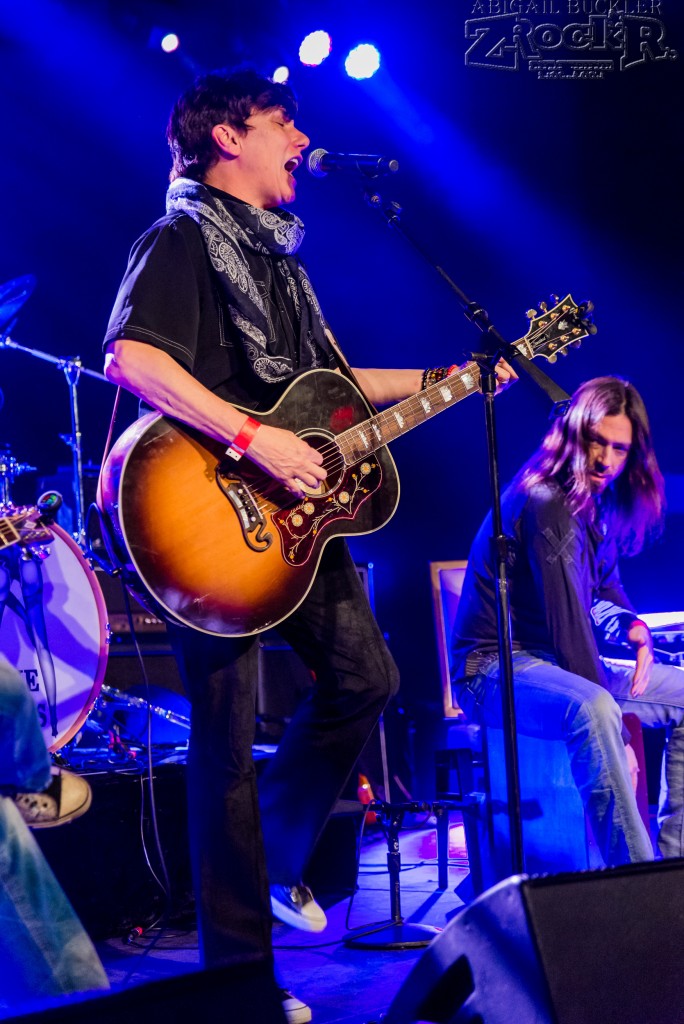 Despite my love of the music of Mr. Big and various bands/artists of the 1980s, this was my first time seeing Martin in concert, and it was definitely an eagerly awaited show, long overdue.
Eric Martin's gig was one of the surprises of the evening; being largely an acoustic affair. Martin, on vocals and guitar, teamed up with fellow guitarist Jeff Young (formerly of Megadeth) and drummer Jeff Tortora, both of whom now call Las Vegas home.
I was curious as to what kind of a gig this would be. Would Martin be playing the Mr. Big classics, or digging into his extensive catalogue of solo work and deep tracks? Most of what Martin played during his set would be unknown to more casual fans, but it was no less excellent. He certainly did not go the obvious route, playing acoustic-driven bluesy material and a few other surprises, entertaining audiences with stories of his past in the midst of it all. With one of the most distinctive voices in the business, Martin definitely knows how to please the fans. Of course, we did get a nice acoustic rendition of the biggest Mr. Big hit, "To Be With You," which is the anthem everyone remembers them for.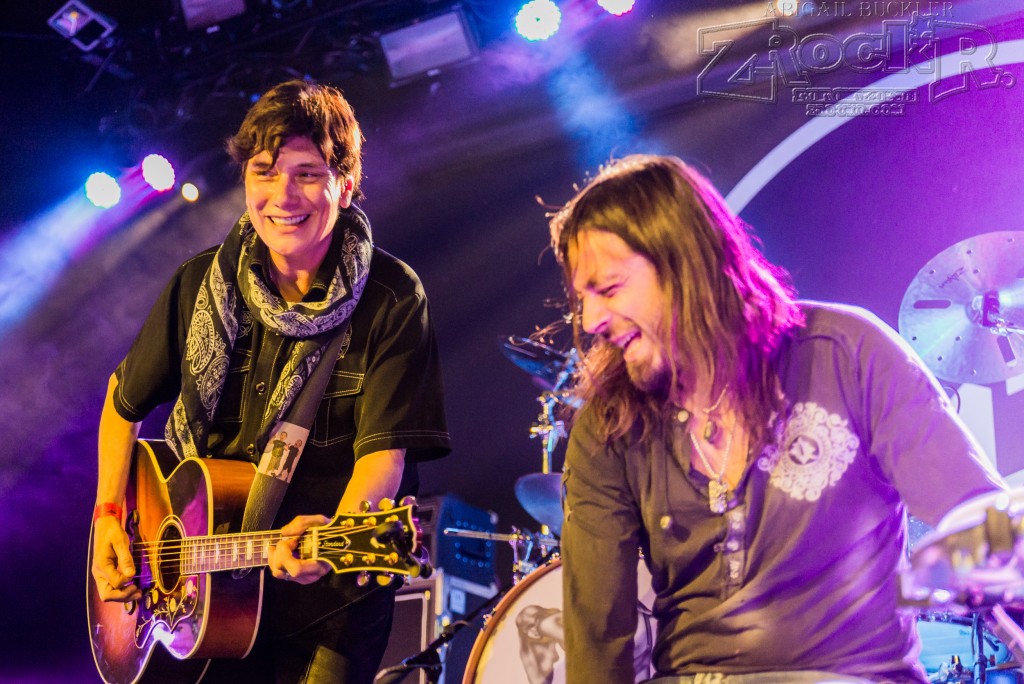 This was a great way to start off the night. Martin also announced he would be returning to Vegas in January, for a show utilizing a full band (rather than the smaller, stripped down acoustic show they played here). Needless to say, this fan will be there!
In the mid 1970s, the Babys came on the musical landscape with a sound that ran the gamut from pop rock hits and ballads, to guitar driven rockers. Their classic albums remain as revered today as ever, and it is not uncommon to hear their hits on classic rock radio. The band spawned musicians like John Waite, who would later record the solo hit "Missing You," Jonathan Cain, later a keyboardist in Journey, and Ricky Phillips, later of Styx; all three of these musicians would later play together in the supergroup Bad English, who recorded two albums.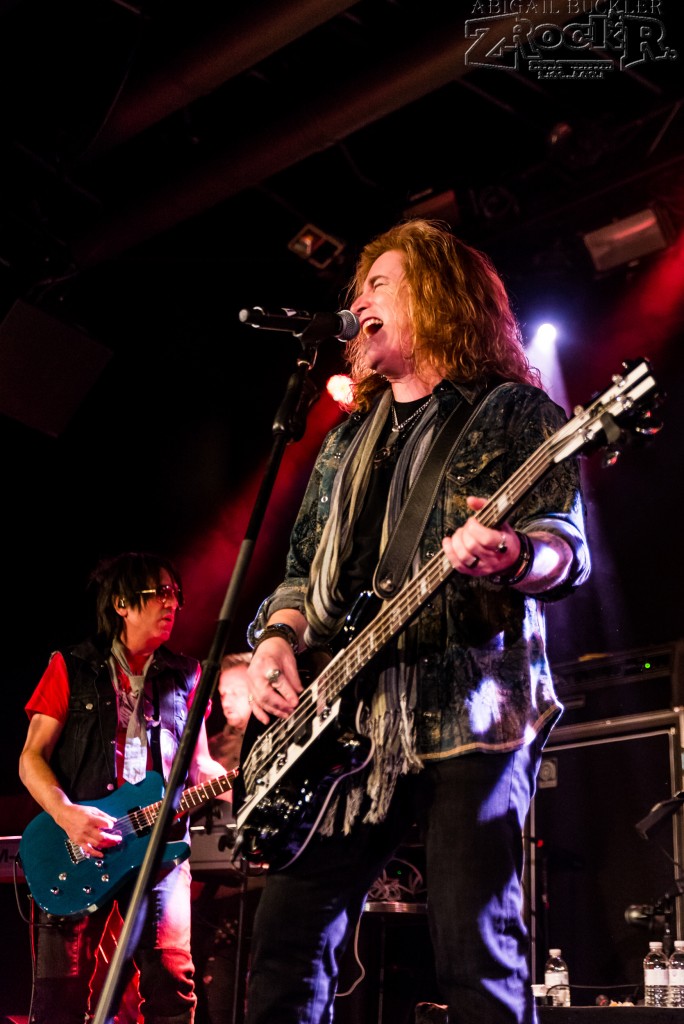 In 2013, original guitarist Wally Stocker and original drummer Tony Brock put the band back together, along with new bassist/vocalist John Bisaha, and a number of other new players. None of the other old members opted to join the new version of the band, but have given their blessing to Stocker, Brock, and their new set of players. The first album from the reunited band, "I'll Have Some of That!," was released in 2014.
The Babys played Vegas two years back out at Vamp'd, at a show I had the luxury of attending; Bisaha has truly stepped up to the occasion and given this band the frontman that they need in John Waite's absence. With the release of their new album, the group is out and about touring and keeping active, so this fan was that much eager to see them play again.
I have long been an admirer of the Babys; they are an impressive band capable of a myriad of sounds. Although the current incarnation of the band only has two of the original members, the musicians that they have recruited are some of the best out there, more than capable of satisfying fans. John Bisaha kicks ass on vocals, and more than does justice to the classic John Waite-sung material that fans have loved and revered for years. Right from the get go, we were subjected to classics like "Back On My Feet Again" and "Midnight Rendezvous," which are songs that sound every bit as good today as they did way back when they first came out. The band has a definite chemistry on stage and clearly loves what they do. Attempts at "semi reunions" like this often meet with disaster and fail miserably for bands. But the Babys are that rare exception; their material sounds great performed by the new lineup, and the release of a new album last year shows just how capable they are of working together, on stage and in the studio alike (though I did admittedly write a negative review for the new album at its time of release).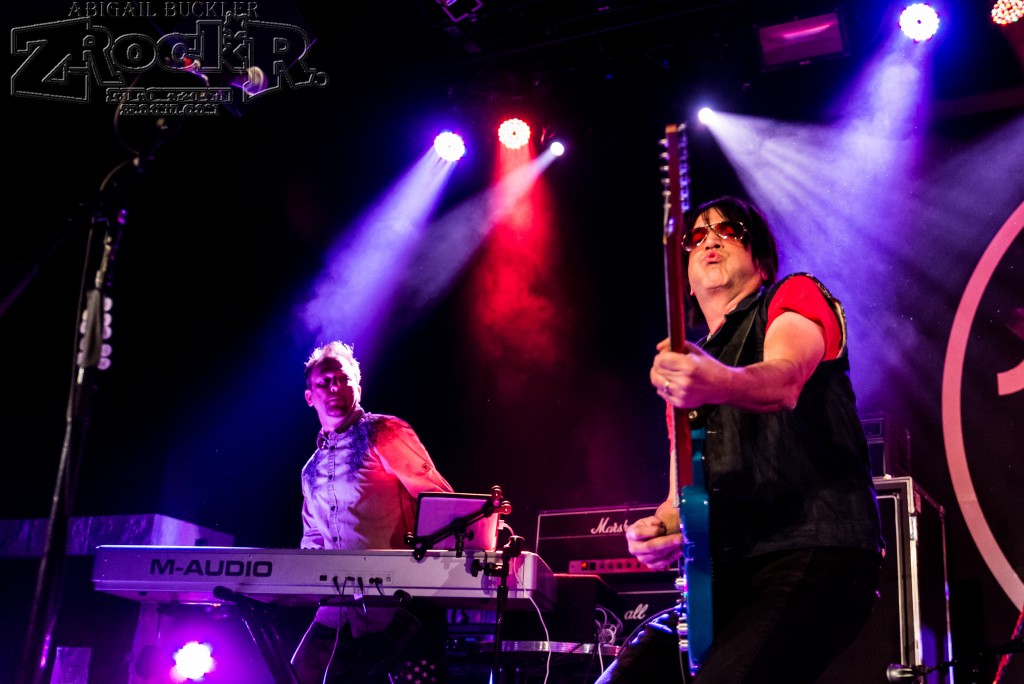 Of the four acts, this was probably my favorite part of the evening. The set was comprised mostly of the big hits from the band's John Waite-fronted heyday, with Bisaha doing justice to every single thing he sang on stage. Classic guitarist Wally Stocker is still on fire and his playing is nothing short of excellent. Of course, we got to hear further classics like "Isn't it Time" and "Every Time I Think of You," but the band also played a few less obvious cuts as well, much to the pleasure of those who admire the band's back catalogue. The only weakness here was the abbreviated length to compensate for the performance times of the multiple acts; songs like "Love Don't Prove I'm Right" and "Give Me Your Love" were sorely missed, but time constraints are what they are, and the band certainly made the most of the time allotted to them. Fans were not disappointed, and I have no doubt the band made some new ones in the process.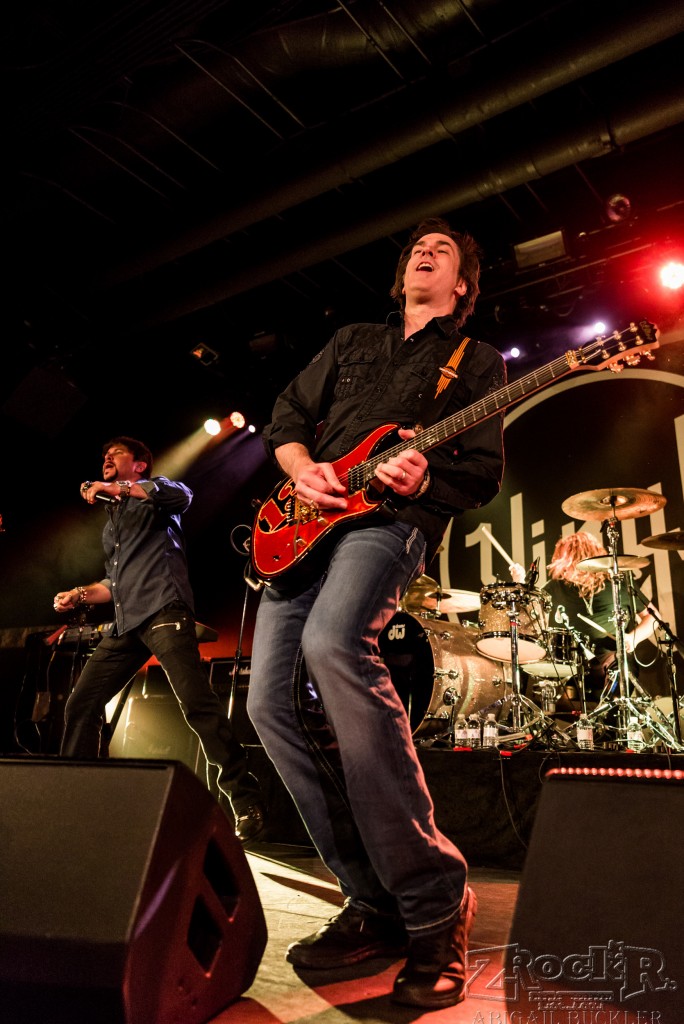 Firehouse is a fantastic band that has recorded great hard rockers, pop rockers, and ballads alike. The band had enormous potential, and even won a number of "Best New Artist" awards upon their arrival on the music scene in the early 1990s. Sadly, it was too little too late, and changing musical trends made it difficult for the band to remain relevant. That did not stop them from marching forth musically, though; they still managed to achieve their share of charting hits! With most of their classic lineup still intact, the band continues to entertain audiences all around the world.
Firehouse is another band I had the luxury of seeing once before, and this fan was eager to see them again. Their classic 1990 debut album is definitely one of the best of its era, and it was great to see these guys on stage doing their thing all over again. From rockers like "All She Wrote" and "Shake and Tumble" to impressive ballads like "Love of a Lifetime" and "When I Look Into Your Eyes," they put out an impressive and diverse mix of tracks over the years, and it is great to be able to hear the band performing them on stage. Their talents have not diminished. Vocalist CJ Snare still has one of the best voices in the business, and is equally impressive when he gets behind the keyboards as well. Watching this set was something of a revelation, and made me realize what a waste it was that these guys never got the full-on mainstream success that they deserved.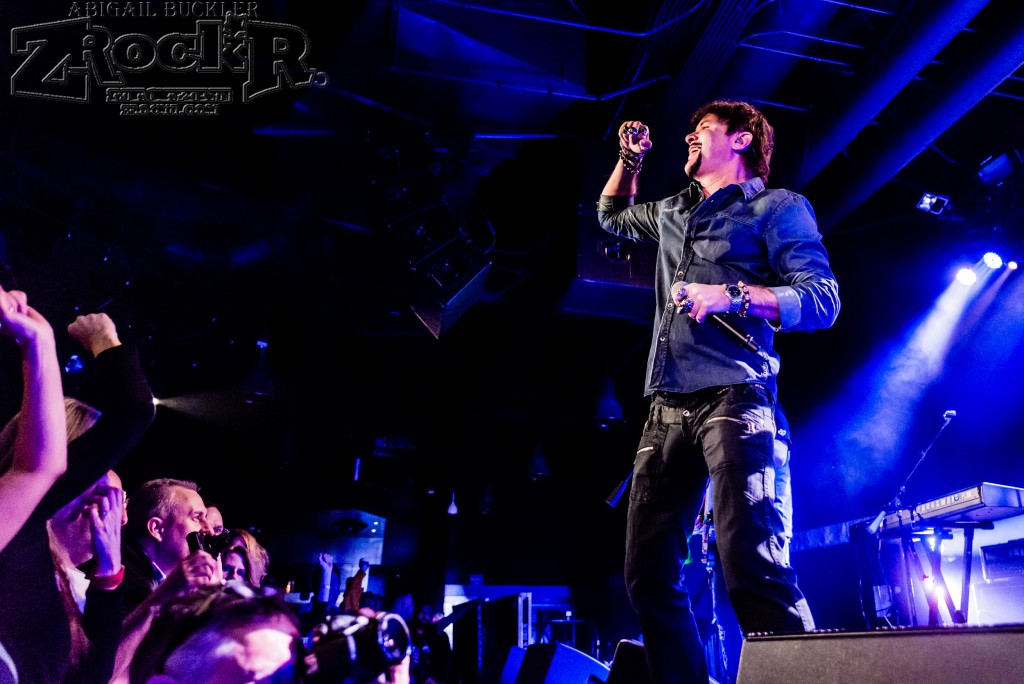 Like the Babys set before, the only real weakness worth speaking of was the brevity; this is more or less required when you have to cram the performances of four talented bands into a single night. Fortunately, Firehouse proved to be impressive and made the most out of what little time they had. During their set, fans in the audience were clearly enthralled with the energy of the performance. This was yet another great performance, featuring a criminally underrated band doing what they do best on the live stage.
What can be said about Ratt that has not been said already? In the 1980s, these guys were the kings of the hard rock that dominated the Sunset Strip scene, with classic anthems like "Round and Round," "Wanted Man," You're In Love," and "Way Cool Jr." But come the early 1990s, things came crashing down on the once successful band, with inner turmoil and changing musical trends.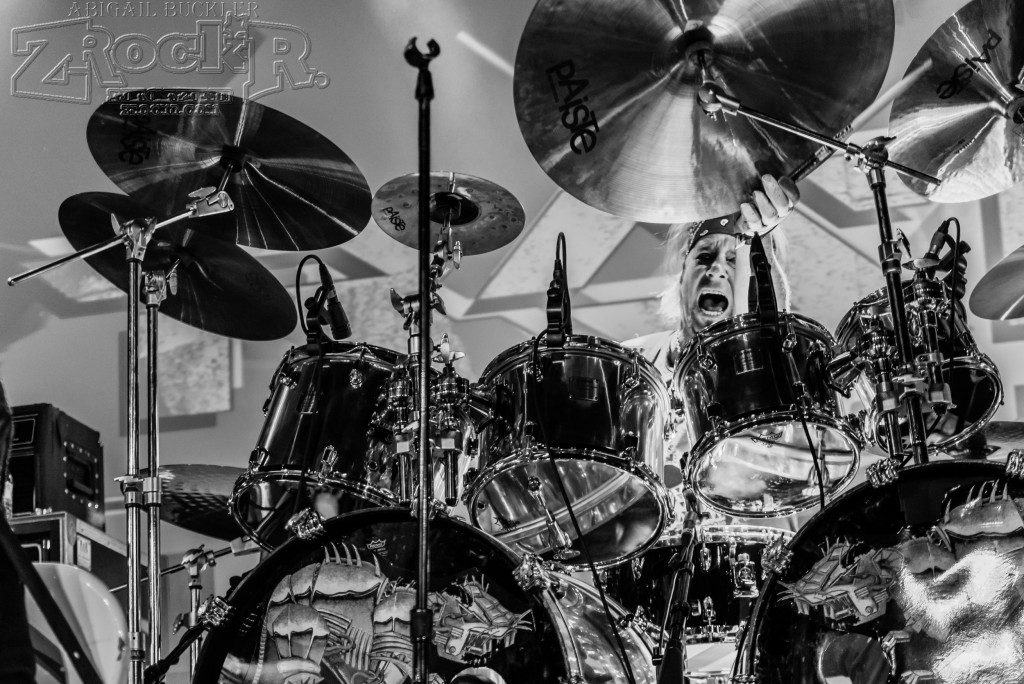 Ratt has since undergone numerous reunions and major changes. With the recent split, Ratt as we knew it has ended, likely for good. Former vocalist Stephen Pearcy fronts a solo band that mostly plays Ratt classics, while former bassist Juan Croucier has "The Other Voice of Ratt," a tribute act to those classic years (I admittedly have yet to see Croucier's band).
Bobby Blotzer, as co-owner of the rights to the band name, has reformed Ratt with a new lineup, comprised mostly of members from the Las Vegas based band, Sin City Sinners. Blotzer's band, now the official Ratt, features Blotzer on drums, vocalist Joshua Alan, bassist Scotty Griffin (formerly of LA Guns), guitarist Michael "Doc" Ellis (also of Jizzy Pearl's band), and guitarist Blaze; this incarnation of the band was previously touring and performing under the name "Bobby Blotzer's Ratt Experience." There has been heated controversy from fans and former Ratt members, including fellow co-owner of the band rights, Warren DeMartini, over this now being the official Ratt.
Controversies aside, the important question here is as to how good the band actually performs and fares on the live stage! Having seen Stephen Pearcy a few months back and being sorely disappointed in his lack of effort and short set time (despite his having a solid backing band), I was all the more eager to finally experience Blotzer's official Ratt, seeing if they are, in fact, the real deal, and capable of doing justice to the classics.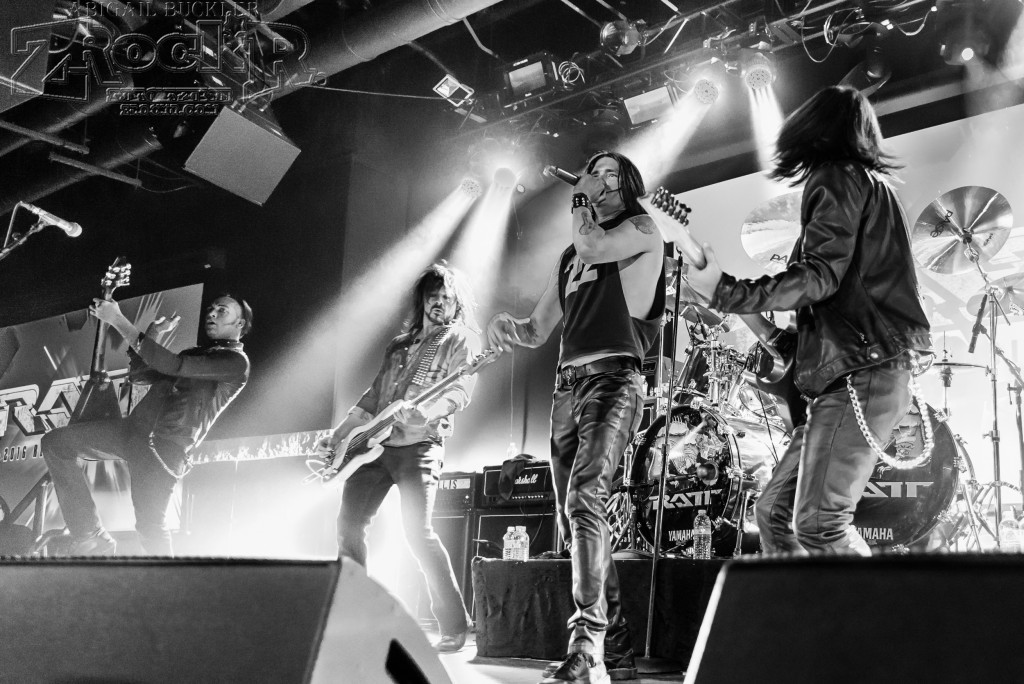 Let me be the first to say that the new Ratt does not disappoint. This fan is personally sick and tired of seeing all of the bullshit that regularly surfaces, claiming this is not really Ratt. In fact I am willing to wager that the people who make these baseless comments have not even seen this version of the band perform live. Blotzer has surrounded himself with talented musicians who are capable of performing these songs in a way other former members are not likely to ever again.
Blotzer remains ever the reliable drummer, pounding away with an unrivaled ferocity as he did in the band's heyday; his contributions to Ratt's glory days are undeniable, and this fan is pleased to see that he is the one raising the flag and keeping the band's legacy alive. I have been watching Doc Ellis perform out here in Vegas as both a guitarist and a bassist, and he is definitely one of the guitar heroes necessary to keep this music alive for old and new audiences alike. His co-lead axeman, Blaze, is barely into his twenties, yet already the guy has proven himself a kick-ass guitarist every time I have seen him play. It is doubtful the old Robbin Crosby/Warren DeMartini twin axe attack will ever fully be replicated by anyone, but with half of that duo deceased and the other half unwilling to have anything to do with the band or music for the foreseeable future, this is a fantastic pair of players delivering the goods.
Of course former LA Guns bassist Scotty Griffin and vocalist Joshua Alan deserve credit for their contributions to the latest incarnation of one of the 80s top rock bands. In particular, Alan finds himself in a tough spot, having to fill the boots of one of the 1980s most legendary and notorious frontmen. Just a few years ago I was watching Alan front a local, more modern-style band called BlackBox13. Last year Vegas rock fans saw him rise up to the mantle as a member of the Sin City Sinners; quite a step forward going from a local based band to playing alongside superstars of yesteryear. And here, yet again, Alan takes another giant leap forward, fronting one of the 80s biggest and most famous bands. Pearcy's vocal style from his heyday is a tough one for other singers to do justice to, which is why other bands trying their hands at performing Ratt songs usually end up disappointing. But Alan proves to be the rock and roll hero once more, coming out of nowhere and giving this band what it needs. His vocals are close enough to Pearcy's raspy, bluesy singing style to make the material work effectively, and unlike other performers, Mr. Alan actually performs these songs with passion and enthusiasm.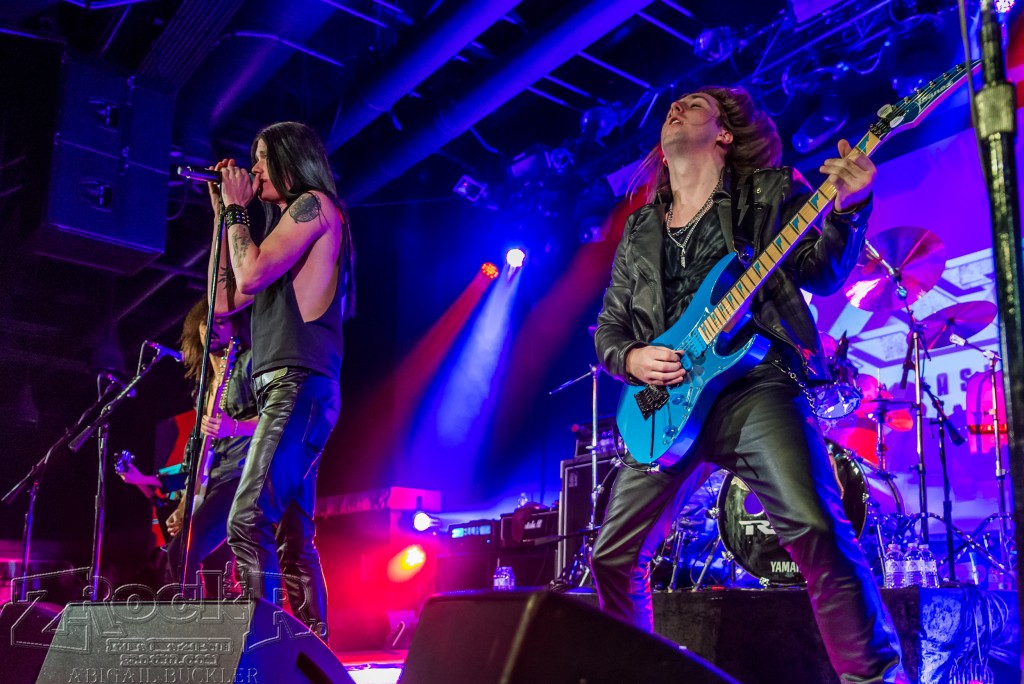 The setlist gave fans the best of the Decade of Decadence, comprised almost entirely of Ratt's classic hits. "You're in Love," "Lay it Down," Lack of Communication," "Shame Shame Shame," and "Body Talk" are just a few of the tracks the audience was subjected to. There were even a handful of deep album cuts in the concert's midsection to appease the die-hard Ratt fans! An encore finished off the show brilliantly, which included "Wanted Man" and their biggest hit of all, "Round and Round." With the audience banging their heads and singing along all the while, one could easily tell that the new face of Ratt is no fluke. Admittedly, there were a few classic Ratt songs, popular and deep alike, that were omitted, but again, there is only so much you can do when you have a limited time on stage and such a big catalogue of music to choose from.
Vinyl is a great venue that can accommodate the best rock bands and plenty of fans eager to bang their heads, and those fans got four great sets of rock and roll on this night. If any of these bands are heading to your town in the near future, and you are a fan. you will definitely want to check their gigs out. For those of you Vegas fans who attended this show, you will be able to catch Eric Martin when he returns to town in early January, at Vamp'd. 2015 has been one of the best years for classic hard rock in Vegas, and this night at the Hard Rock Hotel and Casino stands as proof of that!
https://www.youtube.com/watch?v=QCVKfghFAFw
PHOTO CREDIT: Photos by Abigail Buckler for ZRock'R Magazine- ©ZRock'R Entertainment, LLC – ALL RIGHTS RESERVED