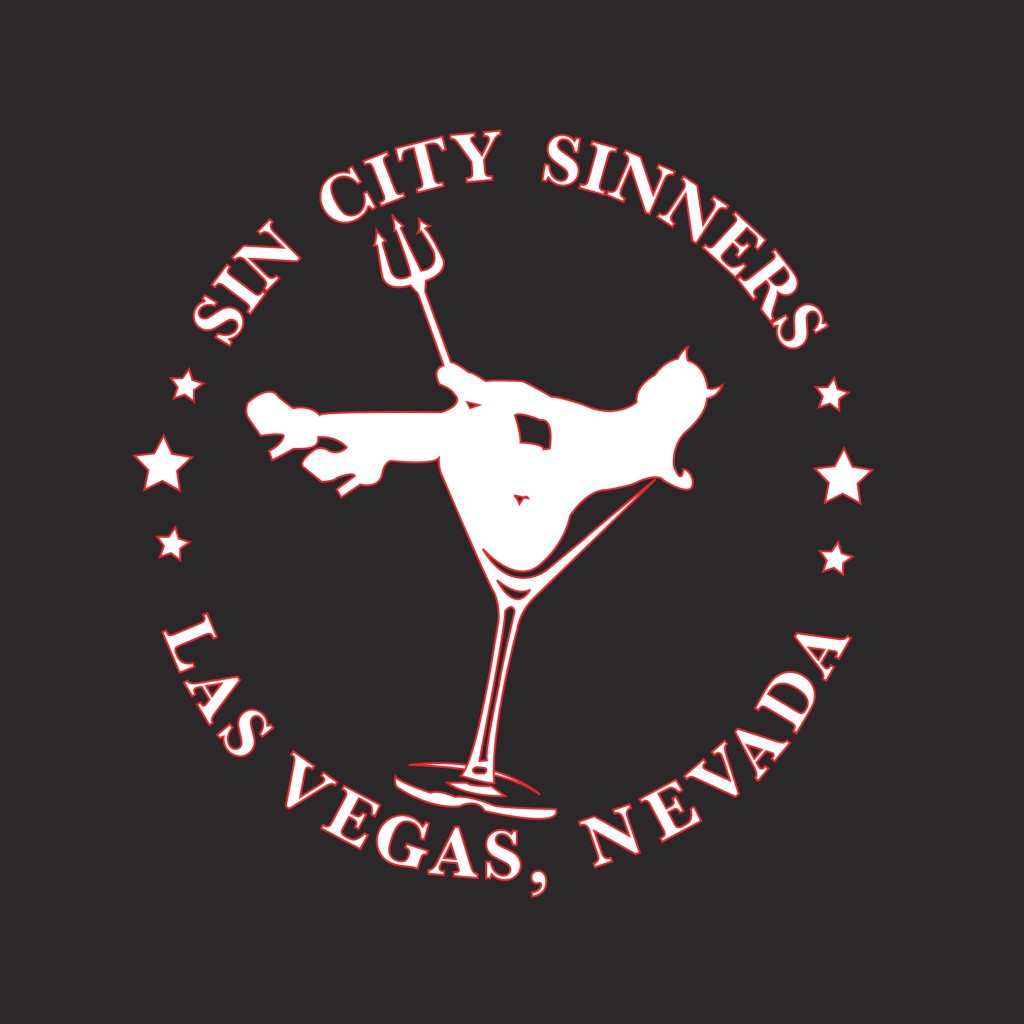 Anyone who follows me at all knows I am a fan of the Sin City Sinners. This is the band that thrust me into becoming a regular concertgoer on the Vegas music scene and part of something huge. It is the band I have seen more times than any other (and quite possibly more than all other bands combined, hard as that may be to believe!) Put simply, the so-called "Hardest Working Band in Vegas" has always been more than just a band to this fan; practically a way of life.
With a new Sin City Sinners album release coming in February, I thought this would be an ideal moment to go back in time and look at the band's discography so far, which is comprised of five CDs. The band's lineup and overall style and setlists have changed considerably over the years, but that has not stopped them from building a massive fanbase that is not limited to Southern Nevada, or for that matter, even limited to the United States!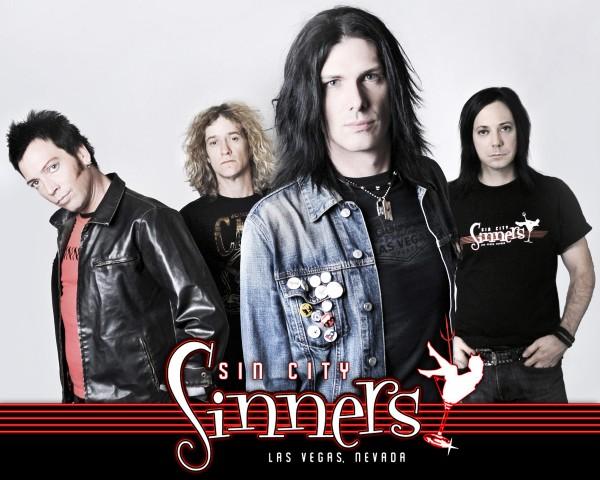 The Sin City Sinners have been performing since 2007, though I first discovered them in 2010 when they began doing weekly shows at Club Madrid inside the Sunset Station Hotel and Casino; these shows were great not only because the venue was close to my home, but also because the band delivered like few others can; the majority of their gigs I have seen have been free of charge, yet their musicianship was tighter than bands had packed arenas and toured the world. Only adding to the experience was the fact that the band was able to regularly get guest stars to play with them, both in live shows, and on their recordings.
The band, when I first discovered them, featured guitarist Todd Kerns (Age of Electric, Slash's band), guitarist Brent Muscat (Faster Pussycat), bassist Michael "The Doctor" Ellis (Love/Hate), and drummer Rob Cournoyer (Raging Slab). The lineup also changed at one point with the arrival of actor/musician Zachary Throne, who filled the gap when Ellis left the band for a period. Periods in which Todd Kerns would leave to tour with Slash saw fill-in players coming in, including Beggars and Thieves vocalist Louie Merlino, and former Aerosmith and Flame guitarist Jimmy Crespo.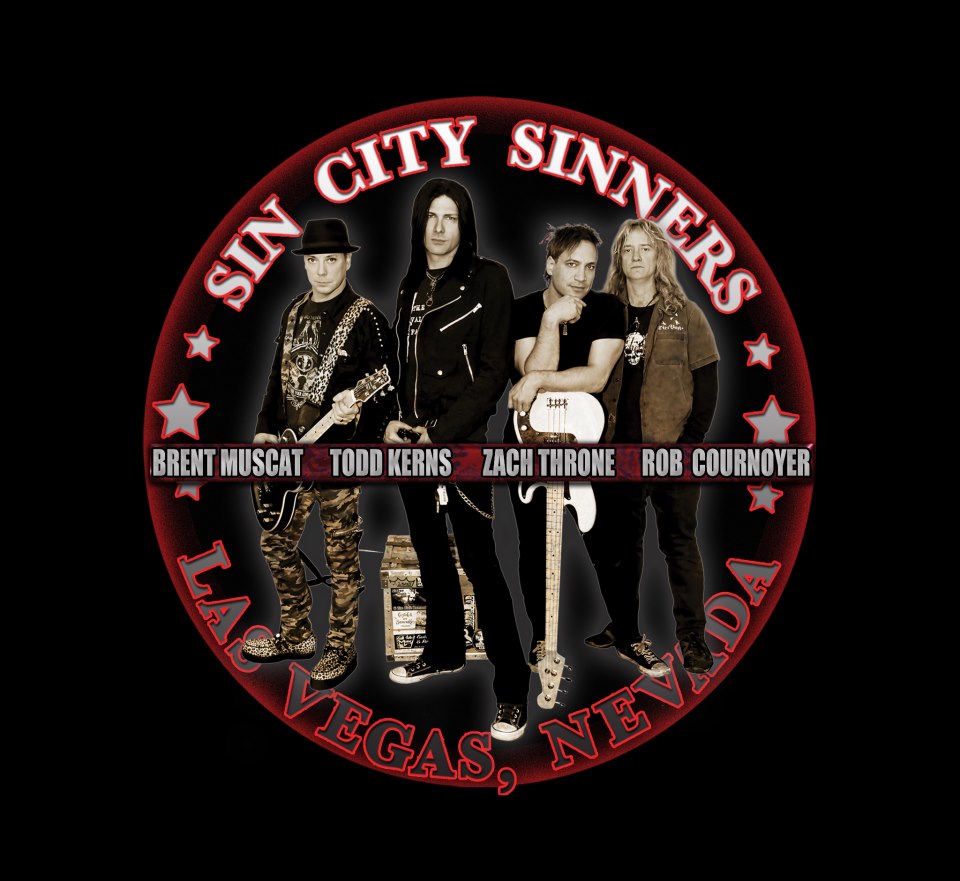 The lineup today consists of Doc Ellis (nowadays playing lead guitar), bassist Scotty Griffin (LA Guns), drummer Blas Elias (Slaughter), and vocalist Joshua Alan (BlackBox13). The hiring of Alan was something that this fan was skeptical at first, with him being so much younger than the other members of the band, and a radically different style of musician, but he has definitely risen to the occasion and become a part of the Sinners family. The current lineup of Ratt consists of Ellis, Griffin, and Alan teamed up with guitarist Blaze and classic Ratt drummer Bobby Blotzer, which just goes to show how talented and diverse a group of musicians this is.
Over the years, in addition to rocking stages all across Vegas and beyond, the band members and manager Jason Green have raised vast sums of money for various charities, further establishing their presence in the City of Sin. In fact, August 27, 2014 (the band's seventh anniversary) was even declared "Sin City Sinners Day!"
The group's style is tough to classify exactly; while much of their original material could fall under a "power pop" sound, they have no shortage of influences and cover songs from a wide variety of rock genres. The members even alternate vocal duties, which makes things all the more interesting and unpredictable (in the best of ways of course!)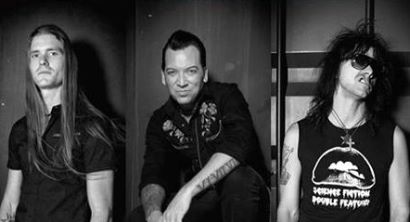 Without further ado, let us get down to business! It is time to take a look at the culmination of several years' worth of sinning, and the CDs that it has spawned!
Exile on Fremont Street (2010)
The first studio release from the Sinners! This is where it all began, featuring a mixture of cover songs, remakes of songs from Todd Kerns' Go Time solo album, and original material. Kerns is vocalist on the good majority of this material, and makes his presence known throughout the release, but the whole band is fine form. Highlights include the blistering opening cut "Numb," rock anthem "Turn it Up," Doc Ellis' humorous but still rocking "Gotta Girl," and the instant classic "Goin' to Vegas." This was a fantastic first CD release from the band, with the only weakness being the overly glossy production that robs the band of their live rawness and heaviness. That said, like all of the CDs listed here, this is one you will definitely want to pick up.
https://www.youtube.com/watch?v=3ZHchcCkpK4
https://www.youtube.com/watch?v=2efBVC0yLO0
Broken Record (2010)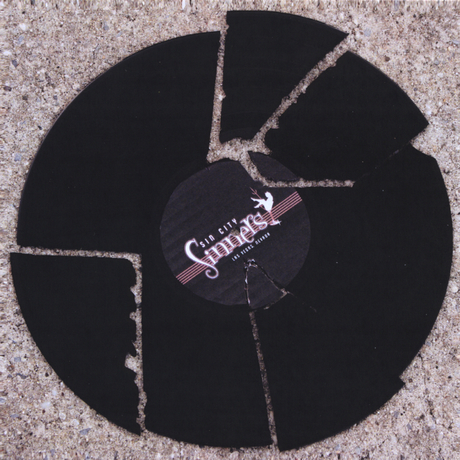 An acoustic EP, featuring new versions of four tracks from Exile on Fremont Street – "It's Not You It's Me," "Arianna Incomplete," "Big Time Superstar," and "Goin' to Vegas," plus two new songs, "Broken Record" and "Hey Hey Rock and Roll." The ballads definitely benefit from the acoustic treatment. As far as the new tracks go, "Broken Record" lends itself beautifully to this format, while Doc Ellis' "Hey Hey Rock and Roll" is one of the best Sinners originals; it is a shame the band has never recorded a proper electric version of the song (it was performed live as such for quite some time). Definitely a worthy addition to the band's canon.
https://www.youtube.com/watch?v=p9_95HM0iaA
A Sinner's Christmas (2011)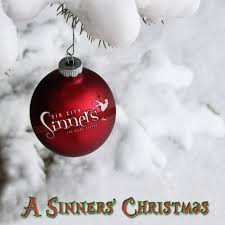 Seems like every band has to do at least one Christmas album (or in the case of the Sin City Sinners, two of them). A Sinner's Christmas takes traditional holiday favorites, and sees the hardest working band in Vegas putting their own spin on them, complete with an ensemble of guest stars. Some of the highlights include a blistering version of "We Three Kings" with Dokken/Lynch Mob guitarist George Lynch, "Run Rudolph Run" with Brent Muscat on lead vocals, a rockabilly-flavored take on "Jingle Bell Rock" featuring Doc Ellis with Stray Cats drummer Slim Jim Phantom, and a "hidden" track featuring Rob Cournoyer singing "I Want a Hippopotamus for Christmas." The music on this CD is heavy enough to satisfy rock and roll fans, but it should not alienate those seeking a more casual selection of Christmas tunes either.
https://www.youtube.com/watch?v=mQq67dvDE1w
https://www.youtube.com/watch?v=f39779femJY
Divebar Days Revisited (2013)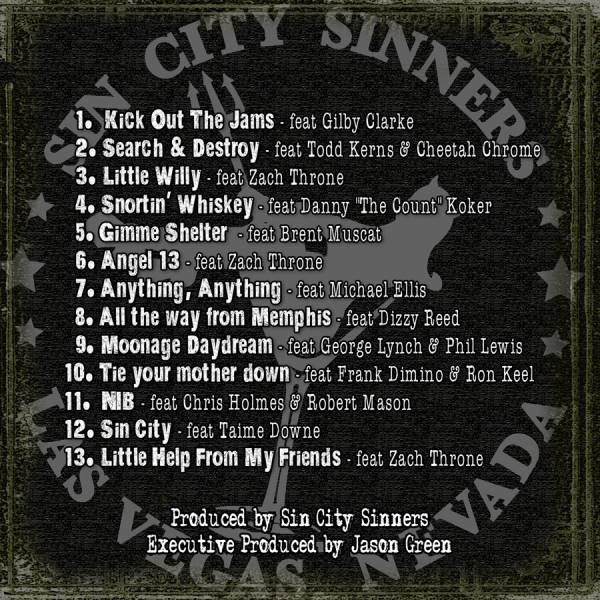 The title of this album references the Divebar, the old venue where the band had played constantly when first starting out. It is comprised entirely of cover songs, with guests on nearly every track. Noticeably rawer than the glossy style of Exile on Fremont Street, this is a great collection of songs from the band. Some of the best cuts on this release include Angel's Frank DiMino and Keel's Ron Keel swapping lead vocal duties on Queen's "Tie Your Mother Down," LA Guns' Phil Lewis trying his hand at some Ziggy Stardust-era David Bowie (RIP), Doc Ellis' take on a medley of Dramarama's "Anything, Anything" and Sponge's "Plowed" (which remains a part of the band's set), WASP's Chris Holmes and Warrant's Robert Mason breathing new life into a Black Sabbath classic, and even a cover of the Joe Cocker version of "Little Help from My Friends," complete with a surprise outro! Of the CDs released by the Sinners so far, this is probably my personal favorite.
A Sinner's Christmas 2 (2013)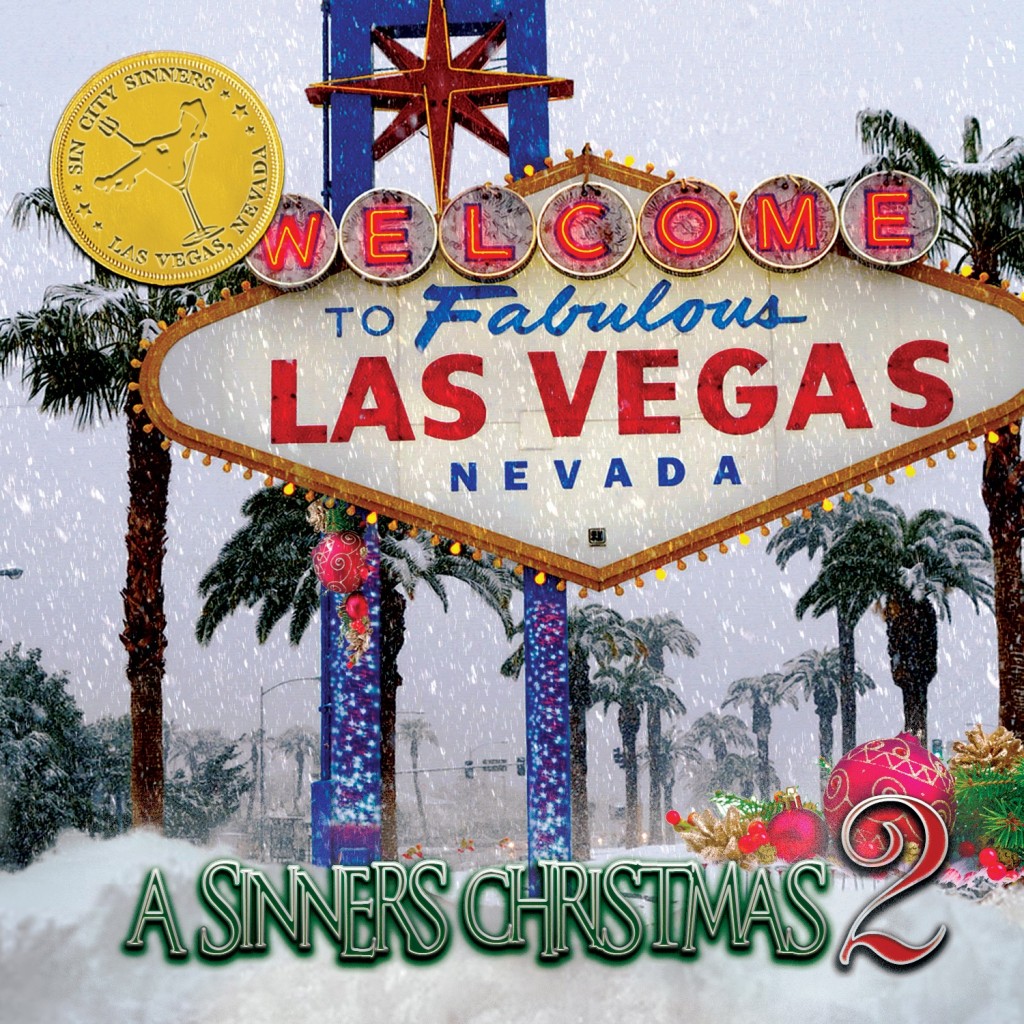 One Sinner's Christmas CD was not enough, so here we are at part two! Naturally the first one is tough to top, but this is a more than worthy follow up. We get a great original humorous tune in the form of "Christmas in Vegas," 80s pop princess Tiffany on "Let it Snow," a balls-to-the-wall all-out cover of "God Rest Yet Merry Gentlemen" featuring Stryper axeman Oz Fox, and a number of other songs ranging from ballads to rockers. If I have one minor complaint with the otherwise fantastic release, it is that Great White guitarist Mark Kendall is relegated to guesting on a ballad; his shredding skills would have been better put to work on one of the faster or heavier songs. Rob Cournoyer gets another chance to shine on vocals on a hidden track, though I will not spoil it for you in this review.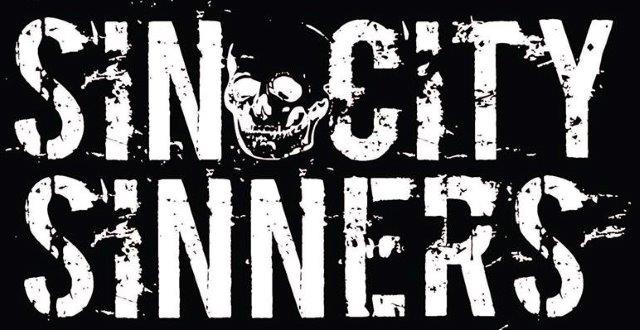 With a new CD just weeks away from release, this is as good a time as any to experience the Sin City Sinners all over again, or for the first time. All of these discs are more than worthy additions to your rock and roll collection!
NOTE: All photos/press images are the copyrights of their respective owners.