Marvel is on a roll. Having conquered the big screen with countless feature films, they now have their sights set on the small screen.
The Marvel Cinematic Universe was expanded in recent years with the release of Agents of SHIELD and Agent Carter on ABC, but was taken into new, darker and edgier territories with last year's release of Daredevil on Netflix, slated to be the first in a line of TV-MA series leading up to a Defenders crossover. Daredevil was the first in this series, and the recently arrived Jessica Jones is the second. It is slated to be followed up with Luke Cage and Iron Fist series, and there have been talks of a spin-off for The Punisher as well.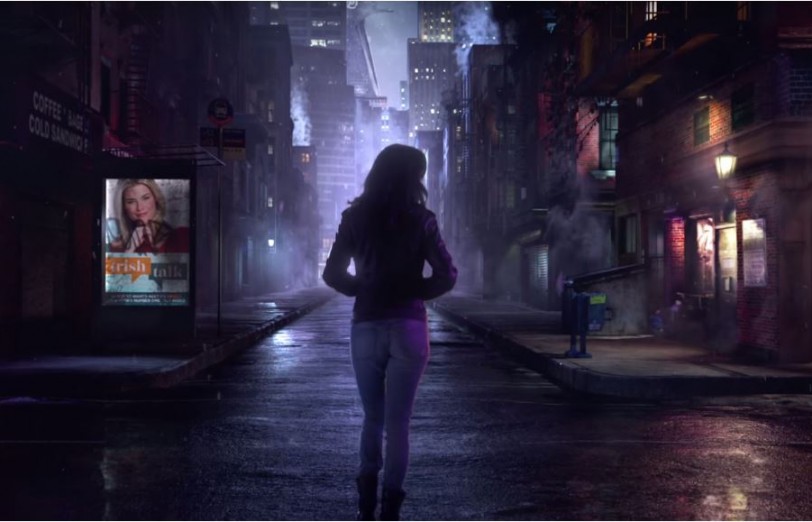 While both Daredevil and Jessica Jones are set in Hell's Kitchen, both shows are wildly different. In Jessica Jones, the titular character is a retired superhero who gained her powers under unknown circumstances as a youth following a car accident that killed her family and left her crippled. After leaving the superhero game behind, Jones became a private eye, looking to help people in need from all different sectors, often working alongside one of the city's leading law practices. Unfortunately, for Jones, things go from bad to worse in no time at all. Kilgrave, a mysterious villain with mind control powers who Jones was once acquainted with, has returned, and his influence has already resulted in catastrophic tragedies for countless Hell's Kitchen residents. Vowing to track town Kilgrave and bring him to justice, Jones allies herself with a number of friends and acquaintances, including her adoptive sister Trish who has become a radio host, residents of her apartment complex, a police officer who was once under Kilgrave's influence, lawyers and law enforcement personnel, and Luke Cage, a bar owner who may have powers comparable to Jones' own.
Following up Daredevil and continuing to set up the inevitable Defenders series is no easy task. While Jessica Jones does not hit the same highs as Daredevil, and has more issues working against it than that show did, the end result is solid enough to merit some binge watching on Netflix.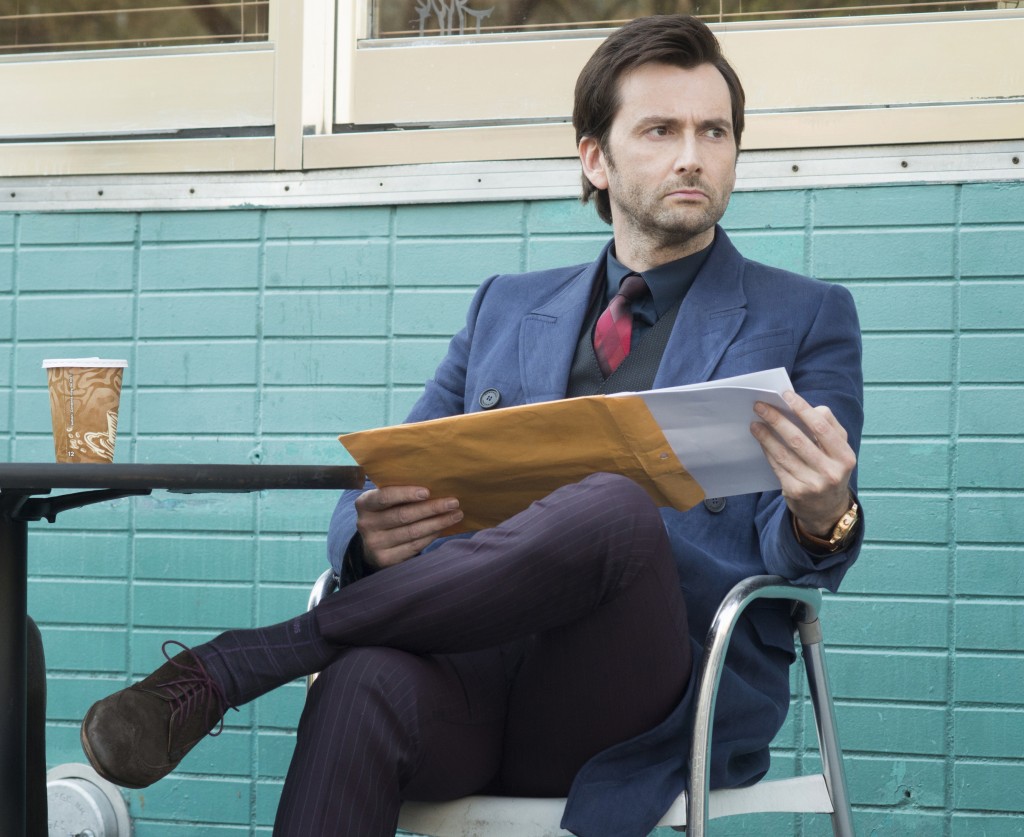 First and foremost, the best thing about the show – Krysten Ritter's portrayal of the title character. Prior to watching this show I was not familiar with the character (and I would be lying if I said I knew much about the original comic that spawned the show). Ritter is fantastic in any scene, whether she is socializing with a friend, or suffering firsthand from the post-traumatic stress disorder that was brought on my her earlier encounter with Kilgrave, which in many ways destroyed her life and who she once was. Ritter's performance is one of the most wide and diverse of any I have seen in a Marvel production to date, and this fan welcomes her to the Marvel Cinematic Universe with open arms.
Of course, the other true stand-out here would have to be David Tennant in the role of the villainous Kilgrave. Able to go from pleasant gentlemen to complete psychotic bastard on a dime, this is another performance for the ages. His mind control powers help to set him apart from other MCU villains; we have seen mind control before in the films but never quite like this. On at least one occasion you will question the character's status as a villain, only to have him go right back to recapturing that evil status. Yet the character is not without his sympathetic side as well. When I first started watching this series, I was highly doubtful there would be a menacing enemy that was anywhere near a match for Vincent D'Onofrio's portrayal of Wilson Fisk/Kingpin in Daredevil. Needless to say, this fan is pleased to report that Tennant did not disappoint here.
The supporting cast is equally solid, including Mike Colter as Luke Cage (rightfully kept on the sidelines for much of this series as he will be getting his own), Rachael Taylor as radio host Trish Walker, Erin Moriarty as a girl who was once a victim of Kilgrave and pays the price for it, and Carrie-Anne Moss as a powerful lesbian lawyer. The Marvel Cinematic Universe has always been amazing when it comes to casting their films, and it is good to see that this translates to the small screen as well!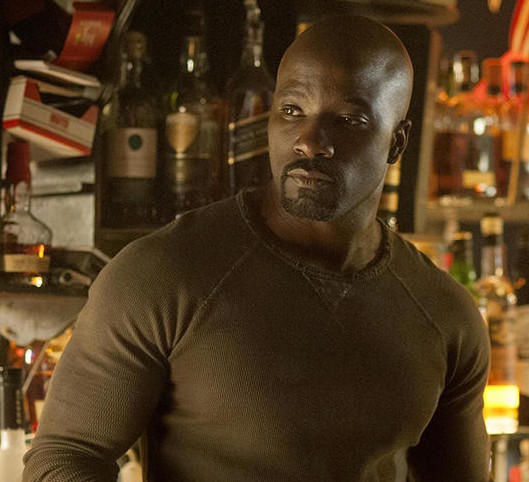 The casting and performances of the players are all spectacular, but unfortunately, the show does tend to have its share of issues. One of the issues I had with Daredevil was an overabundance of characters and subplots, though even it managed to stay focused for the most part. With Jessica Jones, this issue is true again, but to a greater extent. Every show should have a subplot or two to go along with the main story, but when Jessica Jones hits its viewers with about ten overlapping and cumulative stories, things get a little overwhelming. We boomerang between plots, back and forth with little rhyme or reason. Some plots drag on longer than they need to, some end rather abruptly and unexpectedly. I was left pondering if some were really necessary to begin with If the show had been divided into "sagas" or "arcs" it might have been easier to digest than giving us practically everything all at once.
The other biggest problem with the series is the edginess, which in the case of Jessica Jones, seems to be there for no reason other than the sake of being edgy. One of the  antastic things about the Daredevil series was that it managed to be tasteful with the TV-MA rating, showing more violence and using harsh language when it was required, yet never did it milk the rating for gratuitous over-the-top sex and violence. Jessica Jones takes the opposite approach; in the first episode Jones meets Luke Cage for the first time, and they are fucking well before the episode is over. Trish has a similar scene with a character that was previously antagonistic; throughout the series we get multiple sex scenes with these characters that just feel like they are only there for the sake of including sex scenes. Similarly, on top of everything that we already had subplot-wise, did we really need to add in a lesbian love triangle? I have no problem with including characters like that in a story, nor do I have a problem with sex scenes, as long as said content is paced right and done tastefully. A major problem here is that all of the following factors make crossovers with the mainstream/big screen Marvel Cinematic Universe films and characters far less likely. Jessica Jones takes its TV-MA rating and has way too much fun with it. Daredevil was better paced and reserved in this regard, and that is a big part of the reason it was the superior show.
Jessica Jones has its issues, but for every weakness there is a strength. The cast and production values are superb, the story gripping, and the end product one that is worth checking out. The show has already been renewed for a second season, and it will be interesting to see where it goes from here!
All images in this review are the copyright of Netflix, Marvel, and all other associated entities.