Hail, Caesar! is set in the Golden Age of Hollywood, with the movie studios churning out everything from Westerns and musicals, to big-budget epics. Eddie Mannix (Josh Brolin) is a studio executive at Capitol Pictures, whose duty is to keep the stars happy and the negativity out of the press. Amidst the usual drama and having to balance the movie studio drama with his own (often faltering) family life, Mannix soon finds himself contemplating a new career path, and dealing with yet another challenge – the studio's leading star, Baird Whitlock (George Clooney), is kidnapped from the set by a mysterious Communist group that demands a hefty ransom.
Over the years, the Coen Brothers have given us some of the most interesting and diverse movies out there, often merging genres with spectacular results; is there anyone out there who has NOT seen Fargo or The Big Lebowski? Films like No Country for Old Men and their adaptation of True Grit further cemented their place as talented filmmakers. Hail, Caesar! certainly has ambition and an interesting, intriguing premise, but the end result falls flat and feels more like, ironically enough, multiple unfinished films.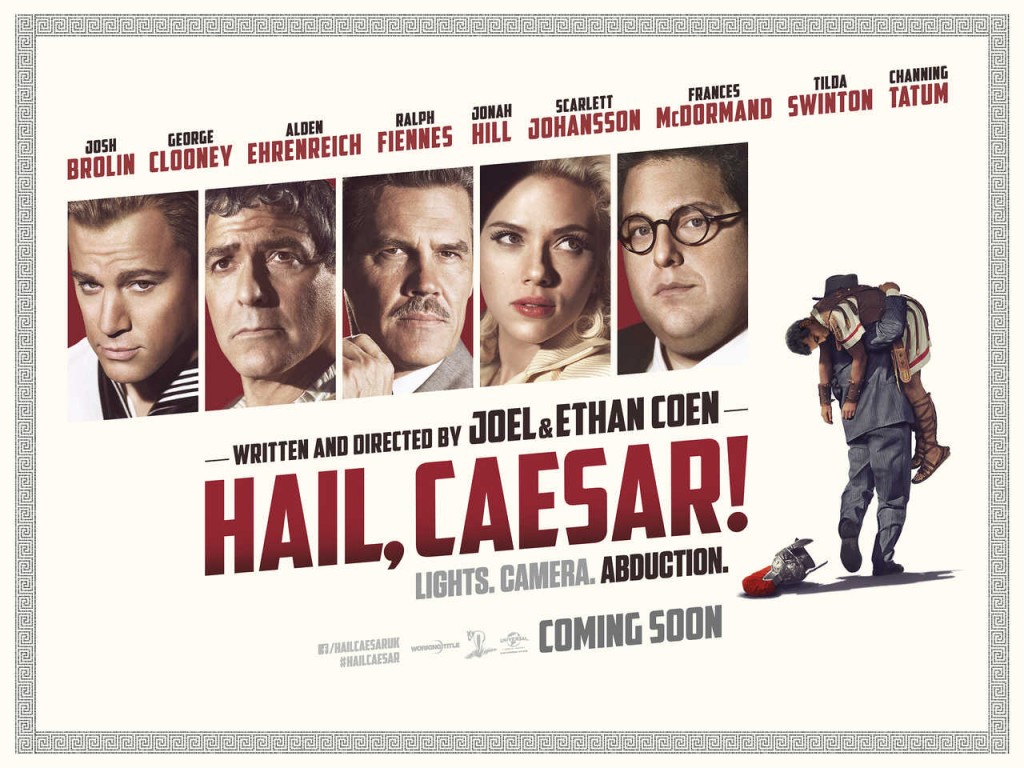 From the commercials and promotional materials, not to mention the title of the film itself, you would think that Hail, Caesar! would focus on the kidnapping of the George Clooney character, and his work on the title film. Yet Clooney and his character's story feels like a half-finished subplot that would have been better off as its own independent film. Sure, his character gets kidnapped by a Communist group, much to Mannix's added chagrin. But we are never given a chance to bond with this mysterious communist circle and what they stand for, so they come off as one-dimensional, and we as an audience end up not caring, not even at the dramatic end of said subplot. This premise deserves its own standalone film; not to be relegated to secondary status.
I guess if there is a central "plot" to be found in Hail, Caesar!, it would be Eddie Mannix, the Josh Brolin character, juggling all of the aspects of his hectic life. Yet still, there are too many diversions. Every time we visit a movie set at the Capitol Pictures studio, the movie screeches to an abrupt halt, so that we can see some of the filming of said movies. This is an interesting premise, but it quickly wears thin, and in too many circumstances, lacks the necessary hook and humor. Some of these scenes strike gold; watching a Western cowboy trying to act in a musical in an attempt to diversify his image under the wing of an effeminate director got plenty of laughs, but in scenes like this there are more misses than hits. A similar scene with Scarlet Johansson bitching and complaining following filming a "water ballet" film is equally funny, but does not live up to the great length of time we had to spend watching the filming of said movie.
It is not clear if the Coens wanted Hail, Caesar! to be a coherent story, or a love letter to the Golden Age of Hollywood and movie making in the olden days. In the latter view, they certainly succeed; Hail, Caesar! feels like a product of its era in all the right ways. As a "period piece" it is a complete, unabashed success. It is just a shame that the rest of the movie is without focus, screeches to a halt on a regular basis, and never quite makes the proper use of its ensemble cast and plot elements; George Clooney is far too talented and entertaining to play "second fiddle," yet that is exactly what happens here.
Hail, Caesar! had enormous potential with a great cast and the Coens writing and directing. The "Golden Age of Hollywood" look and feel of the movie is spot on. But it feels like an uneven, inconsistent series of vignettes that never quite hit the mark. Hail, Caesar! has its moments, but they are too infrequent and the "movie filming" scenes, while intriguing and comical in their own way, slow the pace to a dead halt. When it hits home video, this will make for a decent weekend rental, but do not rush out to see it.
DISCLAIMER: All images in this review are the property of their respective copyright holders. For promotional use only. All rights reserved.