It has been nearly four decades since Finnish vocalist Michael Monroe began rocking the world with Hanoi Rocks, one of the most diverse and appealing rock bands of their era. Fusing elements of glam, hard rock, new wave, and everything in between, Monroe and Hanoi Rocks ranked amongst the most influential bands of their era, even if mainstream success eluded them compared to many of their subsequent successors. Despite this, the influence they left behind in the music world is undeniable.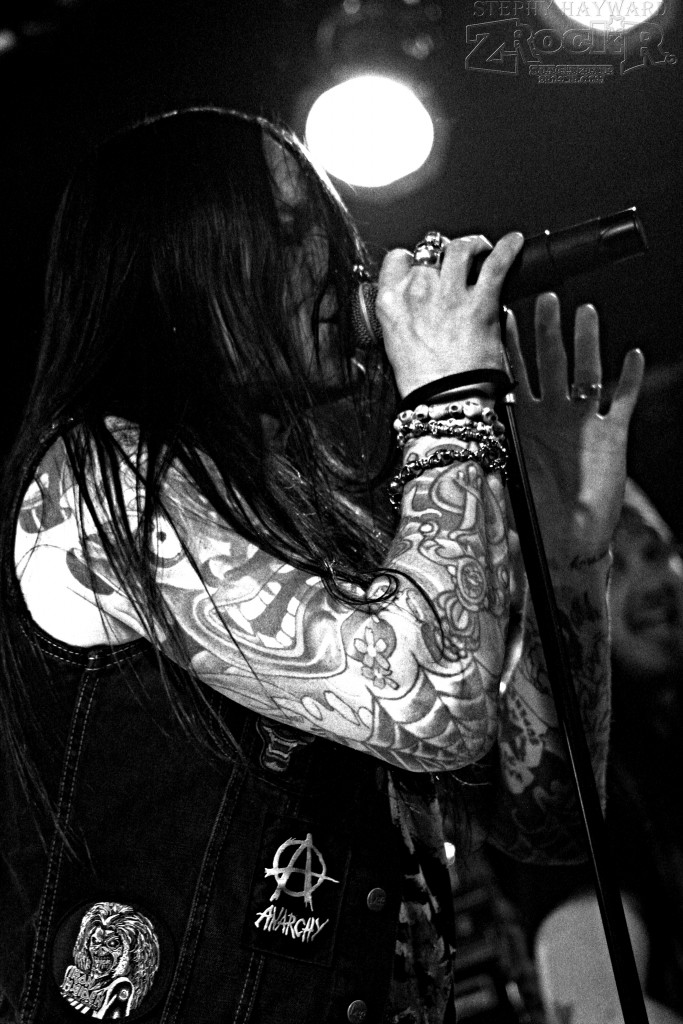 When Hanoi Rocks disbanded, Michael Monroe continued to perform as a solo artist, and even participated in a Hanoi Rocks reunion a few years ago. His latest solo album, Blackout States, came out late last year. With a touring band that includes his former Hanoi Rocks bandmate Sam Yaffa on bass, he came to Vamp'd to rock the City of Sin on February 10, 2016.
Being a Wednesday night, and the fact that Monroe/Hanoi Rocks remains somewhat obscure in the annals of classic hard rock compared to a number of other artists of the era, I was astonished at the crowd the venue brought out. This is not the busiest I have ever seen Vamp'd, but it is far busier than anyone was likely to have expected it to be on a Wednesday night (obviously, the usual John Zito Band Jam Night was not going on). Musicians in the crowd watching Monroe (and who were no doubt influenced by his music) included Phil Lewis, Stacey Blades, Scotty Griffin, and Brent Muscat, as well as hard rock DJ/media personality Eddie Trunk.
This was billed as a co-headlining show, with the first band on being a European group called Hardcore Superstar. I had never heard of these guys prior to the show, but the fact that there was a packed house singing along with their music and shouting out what song they should play next tells me that these guys have a bigger following than I ever would have expected (apparently Michael Monroe was not the only thing attracting fans to the venue!) The group's fusion of styles impressed the hell out of me from the moment they stepped on stage, and it is obvious that this is a group I am going to have to follow from now on. Elements of the glam and sleaze of the 80s fused with the rawness and aggression of the classic punk scene of the late 1970s/early 1980s made this a performance for the ages. Even if you are like me and have not heard of these guys, there is a lot to like about their music and performances, and they absolutely should not be overlooked.
Michael Monroe has long garnered a strong following with both fans and the musicians that he influenced. So, it is good to see that, even midweek with much of the crowd having to wake up early for their day jobs the next morning (this one included), plenty of rockers came out in force to cheer Mr. Monroe on, and to rock out to old and new songs from this multi-talented face of one of rock's most classic and influential scenes.
I was curious as to what kind of a setlist Monroe would give his audience, and he certainly did not disappoint in this regard. We got plenty of tracks off of the newly released Blackout States record (it was in my "honorable mentions" on my "Best of 2015" list), as well as some classic cuts from his earlier solo records, and even some Hanoi Rocks cuts near the end of the set. It was great to hear gems like "Dead, Jail, or Rock and Roll" and the Hanoi Rocks version of "Up Around the Bend" performed live. I was disappointed at the omission of a few of the Hanoi Rocks classics, namely "Underwater World," "Boulevard of Broken Dreams," and "Don't You Ever Leave Me," but these are minor flaws and certainly did not impact my overall enjoyment of the show.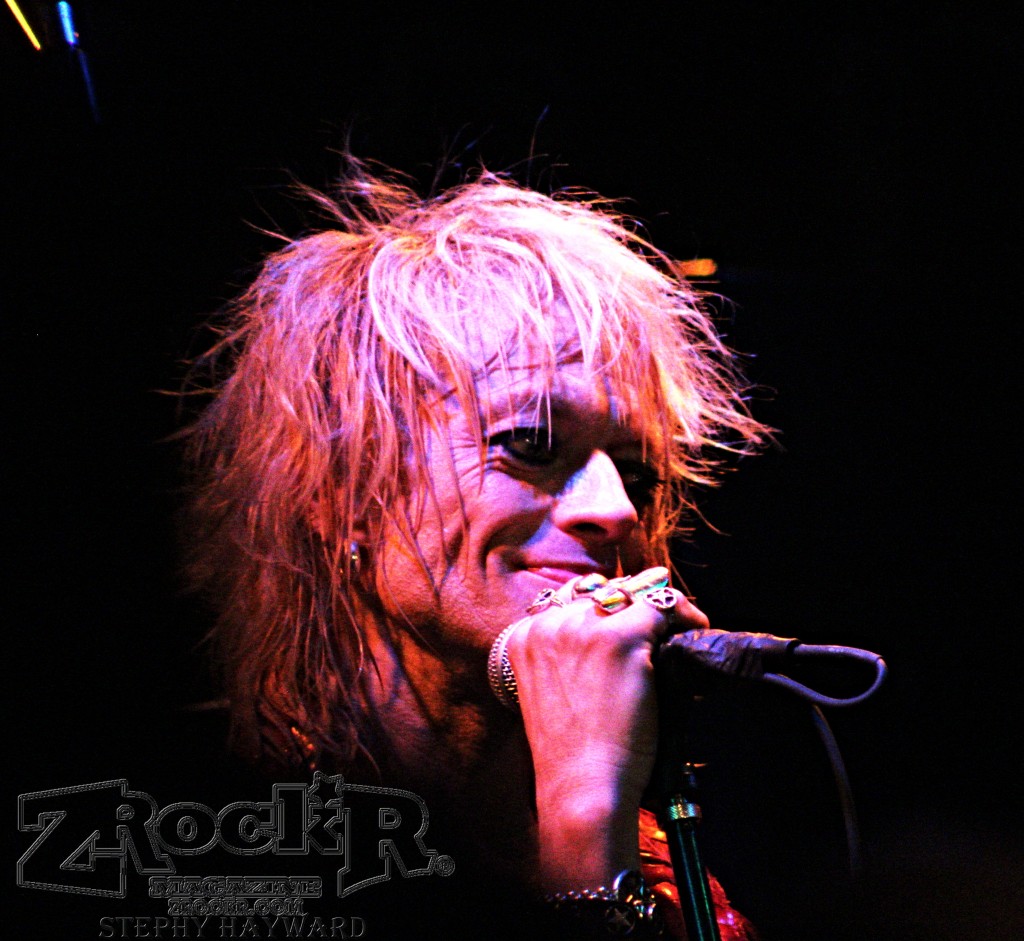 What about the quality of the performance itself? Monroe is a charismatic, entertaining, and at times downright comical frontman. Full of energy and spirit that so many of his aging peers lack, this guy knows how to both command and amuse the crowd. At one point I was astonished at his decision to climb the amplifier towers at the side of the stage, something I have seen no artist playing Vamp'd ever do, despite having attended the venue for years, and seeing hundreds of shows. I never thought I would see anyone attempting a stunt like this, let alone Monroe. He may be in his 50s, but this guy knows how to entertain the audience. He does whatever it takes to do so, whether belting out classic tunes in a voice all his own, garnering attention with his aforementioned on-stage actions, performing an impromptu drum solo to kick off the encore, or comically bitching about microphone problems (in the case of the latter, it is great to see a guy who can keep a cool head and turn a potential disaster like this into a source of amusement for the crowd).
Also worth mentioning are Monroe's bandmates, who had just as much energy and enthusiasm as he did; finding the right players is not easy but Mr. Monroe has certainly brought together a band that does the old and new stuff justice alike, and who can command the stage alongside their fearless frontman. As was previously mentioned, former Hanoi Rocks bandmate (and former Jetboy member) Sam Yaffa played bass at this show, only further contributing to the overall package. Playing the classics is one thing. Getting the right band to play them is something totally different. I am pleased to say that Monroe and company delivered on absolutely every front. He and the band members fraternized with crowd members following the show, signing autographs and taking pictures with them. Monroe in particular was very talkative with his fans, clearly appreciating what they have helped him to achieve over the years.
If you are Michael Monroe/Hanoi Rocks fan, his live show and the latest studio album, Blackout States, are both essential. Hardcore Superstar was no less satisfying, and they definitely made a fan out of this rocker at the show. Do not pass up this tour when it hits up a city near you.
PHOTO CREDIT: All photos by Stephy Hayward for ZRock'R Magazine- ©ZRock'R Entertainment, LLC - ALL RIGHTS RESERVED